Chumley's is Back at Last!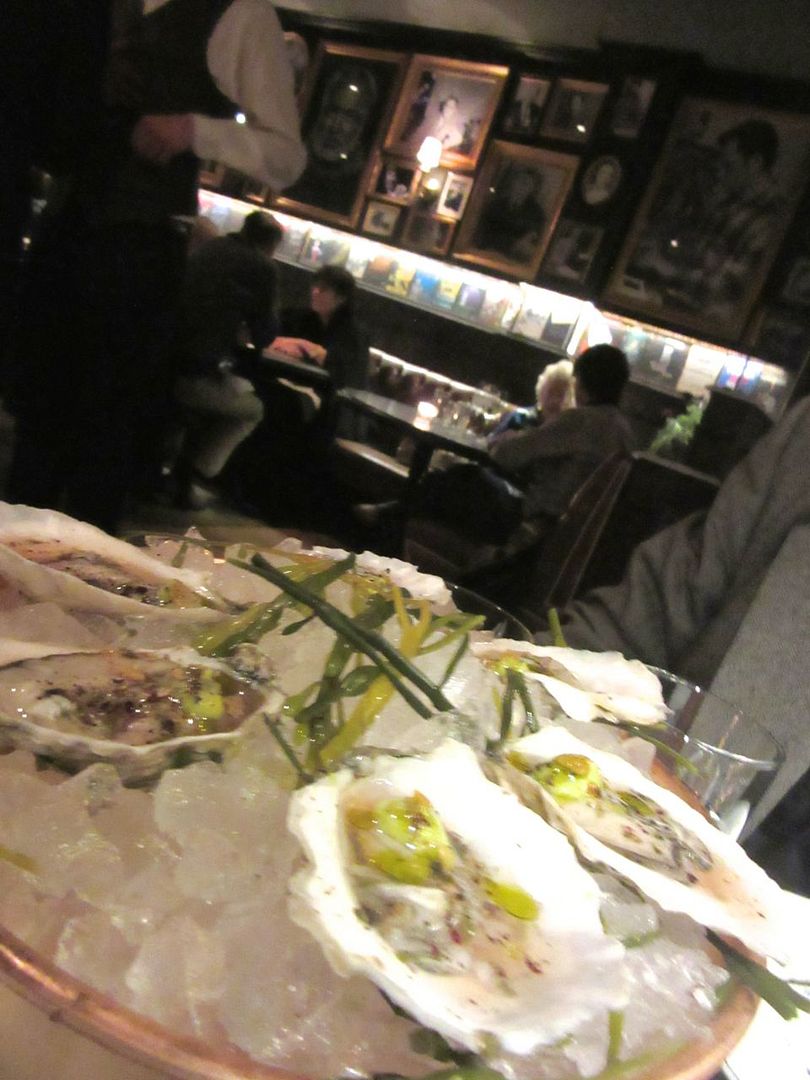 Our irrepressible host sends a gift of oysters with avocado mignonette and crispy garlic.
         The firefighter who inherited Chumley's after the chimney next door fell and destabilized the jazz age pub had spent eight years trying to get it reopened. Then a contractor introduced him to Alessandro Borgognone, the ambitious cook from the Bronx who dared to dream up Sushi Nakazawa.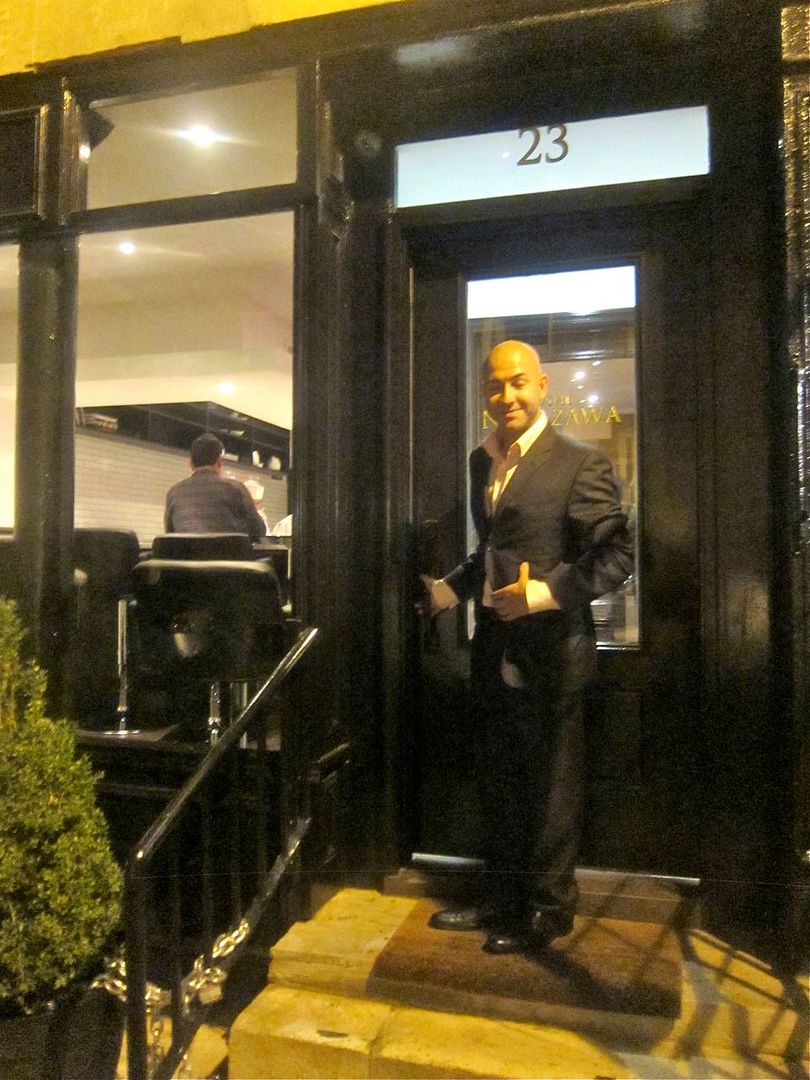 Alessandro Borgognone pose in the requisite black suit on the front steps of Sushi Nakazawa opening night.
        With its team of men in black suits, the counter around the corner on Commerce Street did not look like any other sushi bar. Taking note of Daisuke Nakazawa giggling and painting cool slivers of fish behind the bar, the Times Pete Wells quickly gave it four stars. Borgognone had recently collected the local board's approval for his next neighborhood project.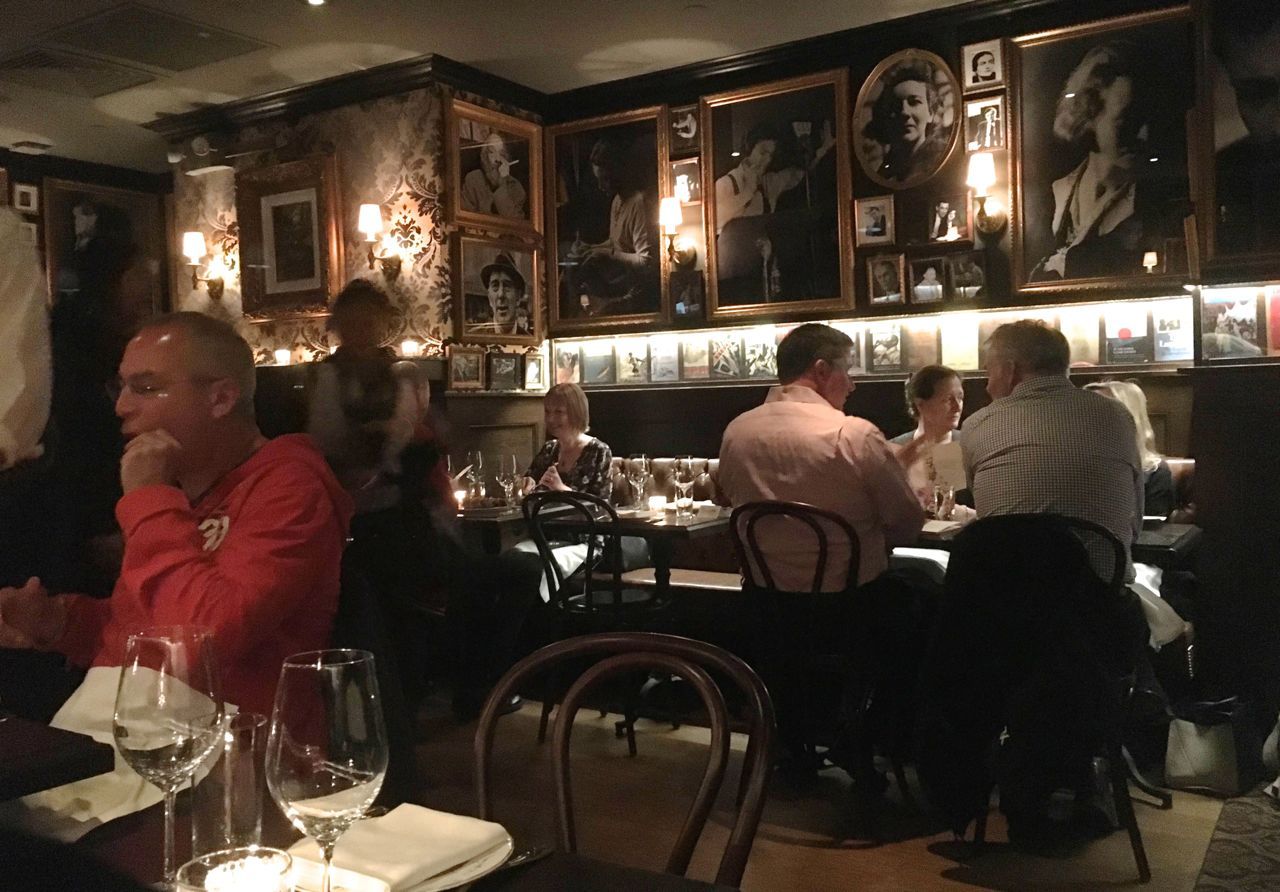 Alessando Borgognone stashes us near Chumley's entrance to wait for our small table to clear.
No one could have predicted that his new passion would involve shoring up and gilding the lily at Chumley's, even quoting Simone de Beauvoir and William Faulkner in the press release that signaled the opening.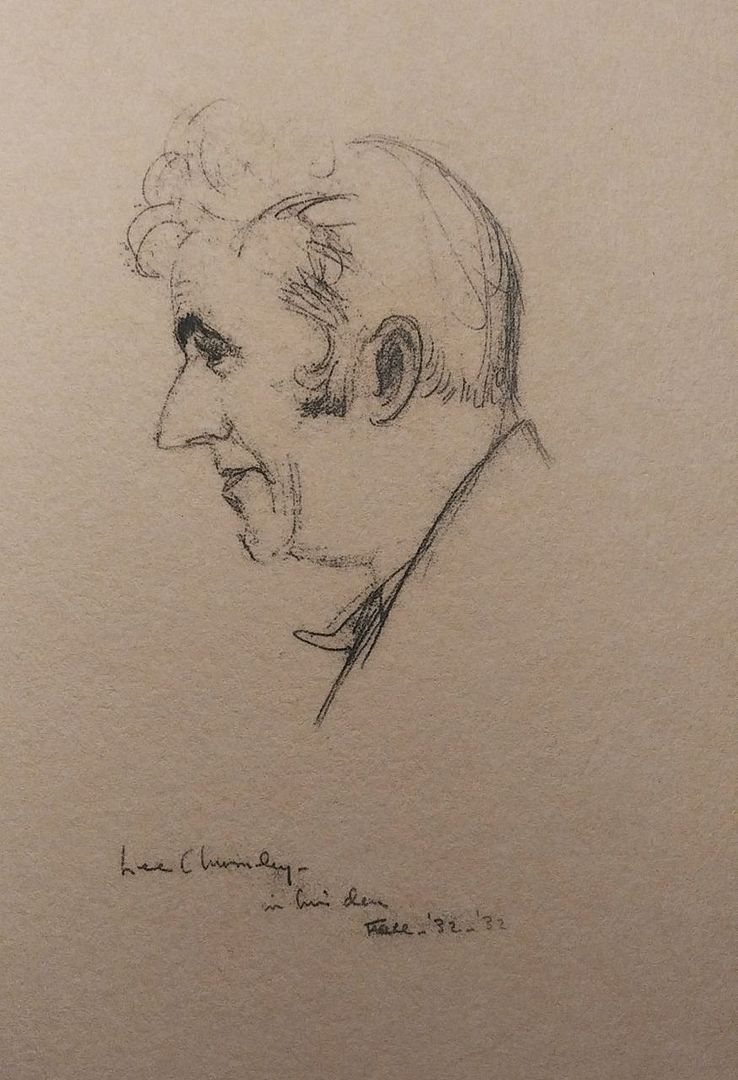 The replica menu has a drawing of Lee Chumley on the back. "In his den," it says, "Fall, 1932."
         "I know how to get things built," Borgogne had said, offering his heft to Jim Miller, a firefighter who worked as a part-time bartender and wound up inheriting the shuttered Chumley's. "I get things built." Borgognoe offered. "That's what I do."
The house savior, Alessandro Borgognone, can barely contain his pride in Chumley's new grandeur.
         Alessandro is not very tall, but he dreams big. He was cooking avant-garde Italian notions at Patricia's, his family's makeover of their popular Bronx pizzeria with its menu of Italian familiars, when a friend brought me to taste. Click here to read Patricia's: The Son Also Rises.
Daisuke Nakazawa stops by to greet us on his way to Chumley's bar after work at Sushi Nakazawa.
         He was watching "Jiro Dreams of Sushi" in bed one night when he announced that he would open a sushi bar. "You're crazy," his wife said. Now he had committed to restore Chumley's in nine months before the Buildings Department permit ran out. "You're crazy," she said again.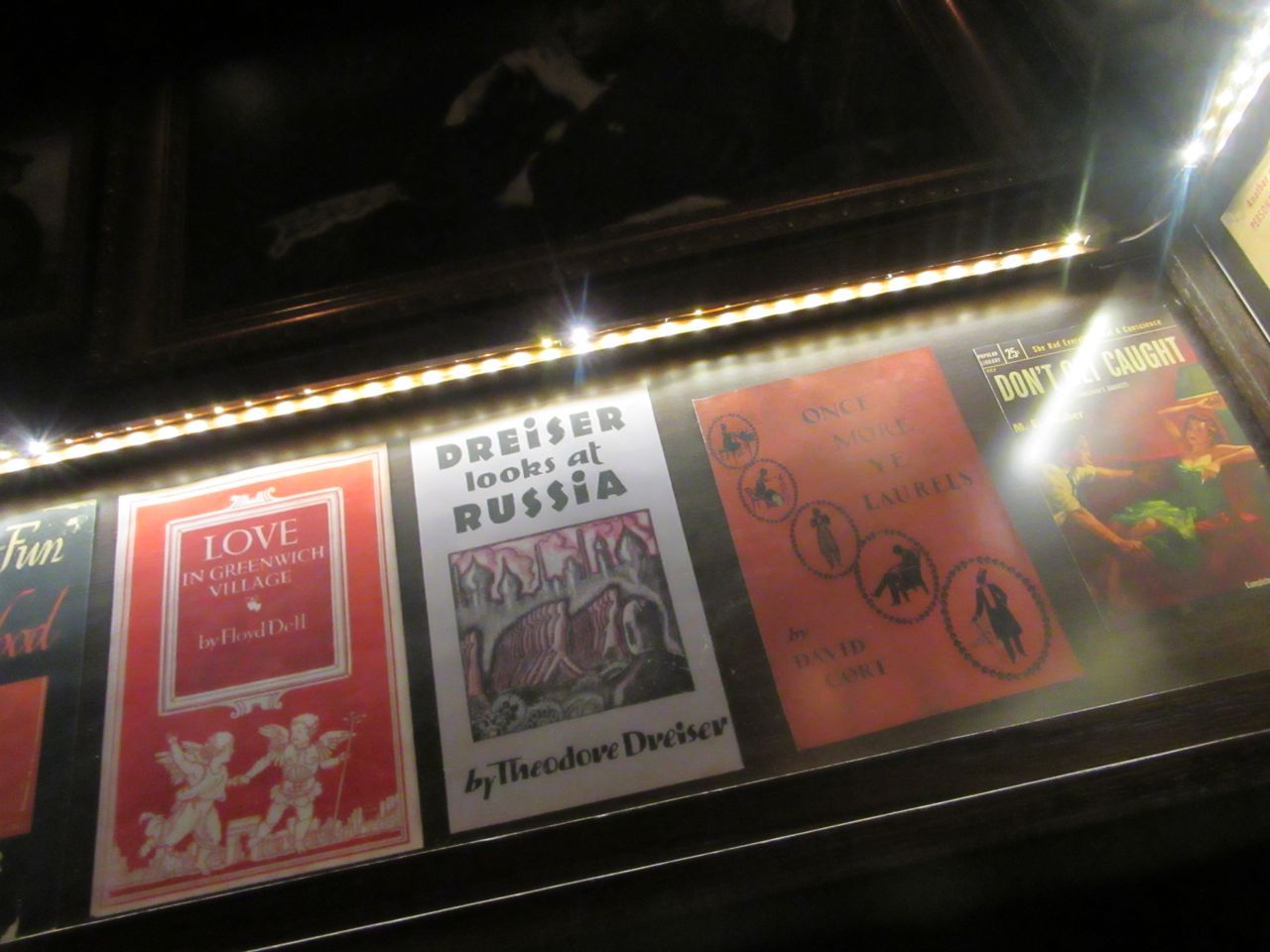 Chumley's longtime curator worked with Borgognone to restore the photos and book jackets held in storage.
"We did it in eight months," he boasts. The Historic District does not permit a sign outside. Chumley's never had a sign. Finding the door, slipping past the armoire, stepping into this astonishing recreation of a Chumley's that probably never was quite this grand is exciting. Just seeing the names on the vintage book covers that stretch in a lineup around the room make me shiver. Theodore Dreiser, Somerset Maugham, Edmund Wilson, William Faulkner, my adolescent heroes.
Just reading the authors names and seeing those old book covers illuminated behind glass gave me chills.
         When the wounded Chumley's shuttered, its longtime curator James DiPaolo had stored the artifacts to preserve them. Not all the jackets wrapped around Fitzgerald, Kerouac, and Salinger survived; some needed to be replaced or copied. DiPaolo consulted with the new self-appointed savior, showing him old house photos he'd stashed away.
          "The room is square and utterly simple, with its tables lined against he walls," Simone de Beauvoir wrote. "But it has something so rare in America — atmosphere." Alessandro had never been to Chumley's. There were only ghosts by the time he arrived, just a bare white space created in the rehab, not even a floor.
The small rough paper menu with hand-written offerings is a reproduction from the thirties. The prices are new.
          Not everyone was thrilled with his fantasy of Chumley's. It would not be the same modest pub and literary hangout after he decreed textured gold and black Venetian wallpaper, a green marbled fireplace, and seductive lighting.  "What Chumley's in the '20s should have looked like," he told James Barron. Atera alum Victoria Blamey would design the food. The steak for two would be $150. Reservations would be taken online. It couldn't survive as only a bar, he noted, defending the swank and ambitious prices.
Hamachi crudo is served with Bordeaux radish and chipotle. There are different service plates from all eras.
           Crafted cocktails would be mixology statements at $16. "These days drinks have to be more elaborate," he points out. Indeed, my smoky "Just a Little Drink" is dazzling, definitely worth $16. In three sips, I'm already feeling wonderfully woozy from the mix of 12-year-old rum, amber agricole rhum, applejack, China Angostura, orange bitters and absinthe.
Foie gras terrine is a delicious patchwork with ham hock and savoy cabbage, apple cider gastrique alongside.
         The three of us are crowded around a small, bare mahogany tea table in a tufted leather corner (replacing bare wood banquettes). I've always had a crush on F. Scott Fitzgerald. Here he is with perfect profile in blowup overhead. Adding theater to our dinner too is Alessandro standing near, hissing commands to the waiters, confiding tales of his master-builder triumphs.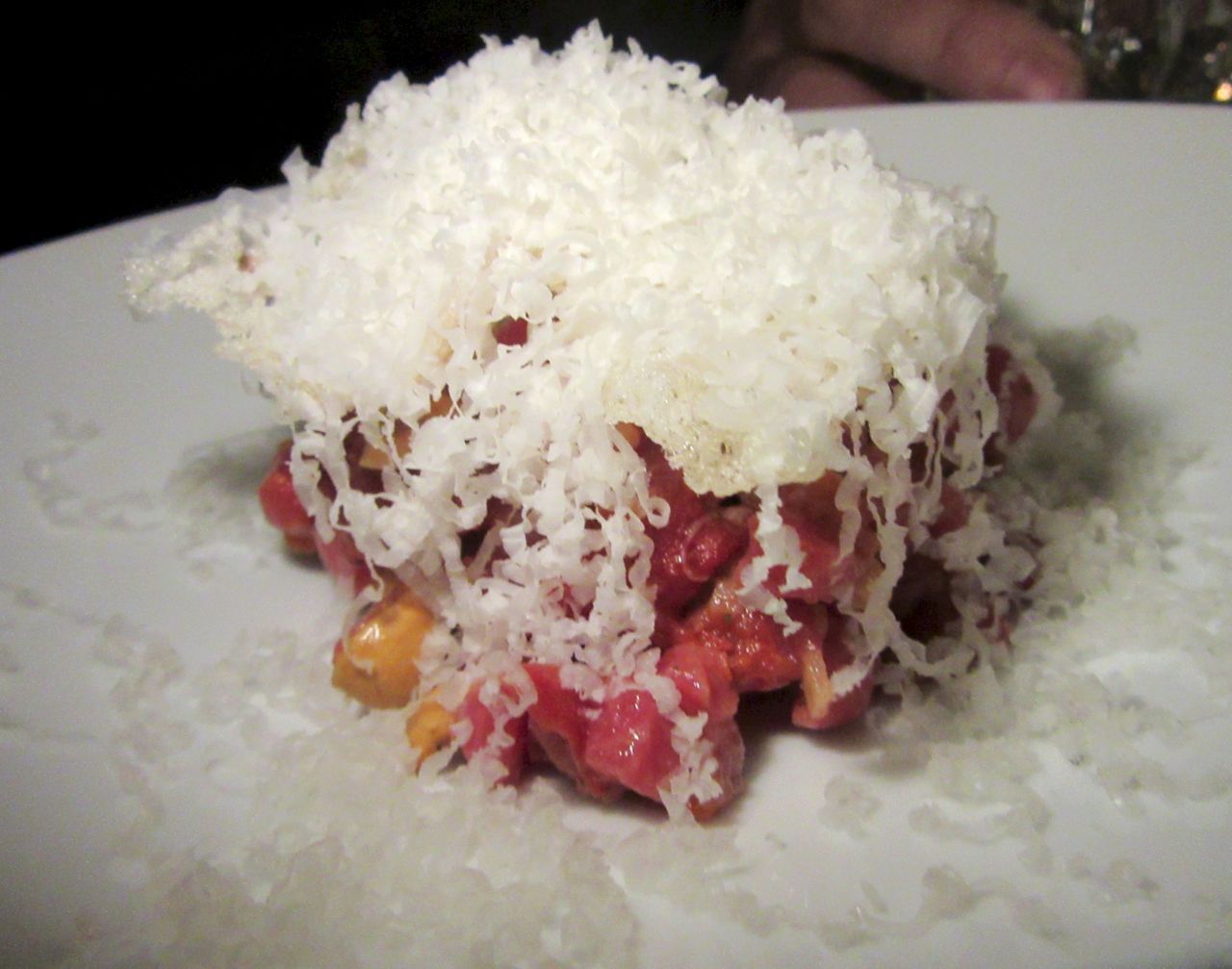 A blizzard of grated Ombra cheese covers beef tartare laced with confited tomato and hazelnuts.
         He insists on sending oysters with avocado mignonette. I suspect I'd be just as thrilled sharing the excellent foie gras terrine with ham hock, savoy cabbage, and a puddle of tangy apple cider gastrique, even if I weren't quite so coddled. The beef tartare laced with confit tomato and hazelnuts under a blizzard of grated Ombra cheese is excellent too.
The burger is two patties with Chumley's sauce, bone marrow, crispy shallots and exceptional fries.
         There are only five entrées on the reproduction of Chumley's hand-written menu. The "86'd Burger" seems a perfect choice to me — its two patties with shallot crisps, the house's bone marrow sauce, and American cheese sliding off the bun may not sound like $25, but these masterly browned fries are the best I've had since I can remember.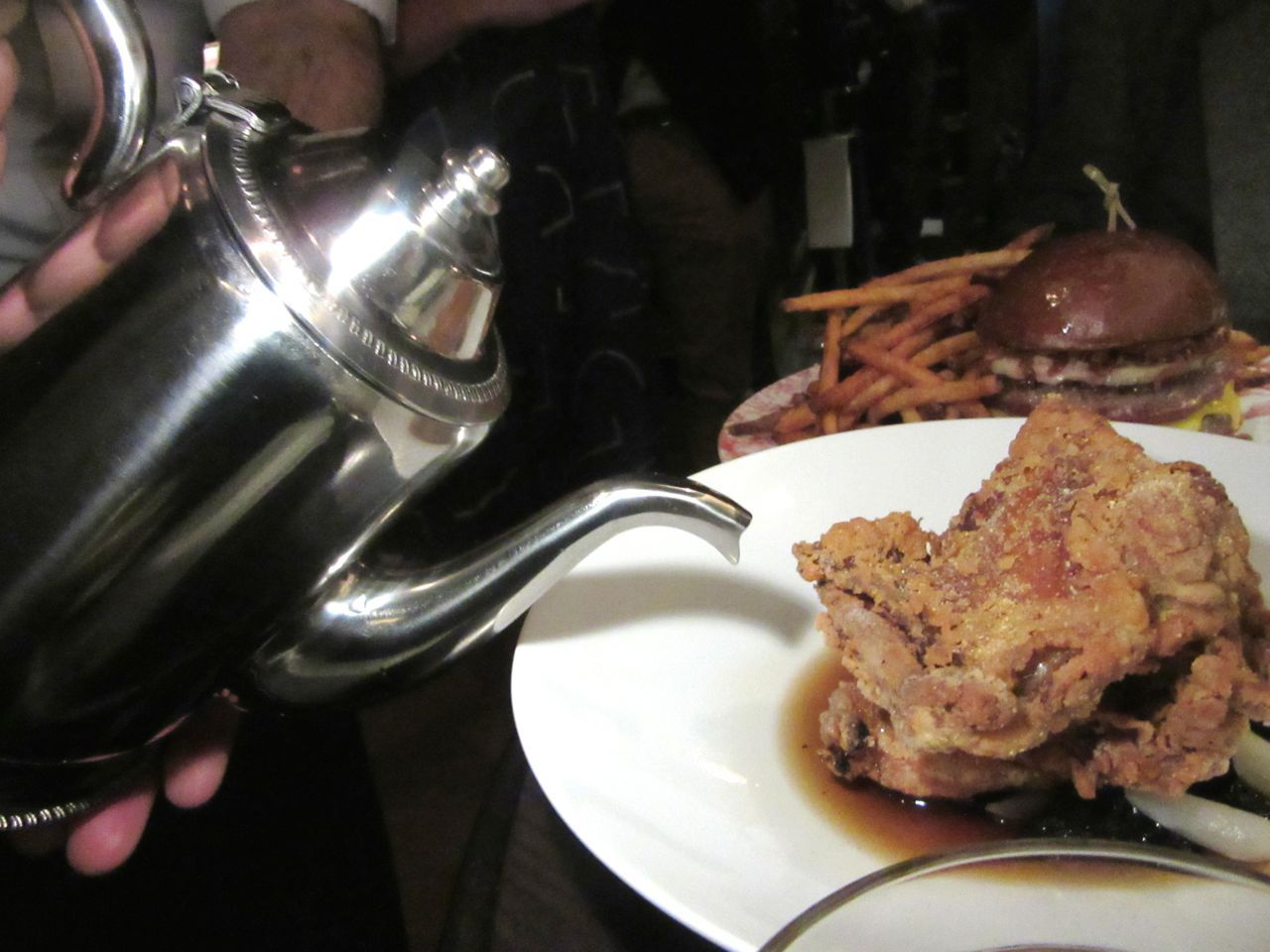 The waiter pours cognac sauce from an old silver teapot onto the crispy fried chicken.
The kitchen offers ocean trout with Hubbard pumpkin and shishito peppers for those who must have fish, and an autumn tart for vegetarians. For us, crispy fried chicken perched on black trumpet mushrooms is more appealing. It doesn't need the cognac sauce, even though Borgognone's pleasure in the waiter's pouring it from a ceremonial silver teapot makes me giggle.
The 30 ounce 30-day dry-aged steak for two in Madiera jus with caramelized onions is seriously fatty.
         I usually ask the price when it doesn't say. Alas, the 30-ounce, 30-day dry-aged steak for two with horseradish in Madeira jus is a very fatty mess at any price, never mind $150.  Vanilla ice cream with parsnip and pistachio is not amusing either. But the raspberry ice cream sandwich inspired by the Carvel flying saucer classic makes up for the parsnip.
Vanilla ice cream in a rubble of parsnip and pistachio with pine honey is not my idea of dessert.
           "There was no dessert at Chumley's," Borgognone advises. He makes sure we notice the excellence of the espresso.  "Look at that crema," he says. "One of my family members and his wife roast coffee in Brooklyn. But it's not just the coffee. It's the coffee maker and how the cup is packed." 
The raspberry ice cream sandwich owes a debt to Carvel's Flying Saucer sandwich.
         The room is dark but there's an aura of neon light surrounding Alessandro. It's the delight in surpassing even great expectations. And yes, he does have one or two other projects percolating. You'll know soon enough.
86 Bedford between Grove and Barrow Streets. 212 675 2081. Open Tuesday through Saturday 5:30 p.m. to midnight. Closed Monday. Food Served only to customers who have reserved "for now."
Visit Gael Greene's web site and sign up for her newsletters.