BarBacon: They're Playing My Song

Our waiter is very devoted at first but then we have to use a lasso to get his attention.
          I wouldn't say I'm a baconista or a baconholic or whatever you would call someone obsessively hooked on bacon. But I'm definitely a bacon lover. Would a Cobb salad be quite as savory without it? If there's a bacon option for my burger or my mac'n'cheese, I'll take it. And later, in my mouth, I'm reminded why Noah made certain to get a couple of porkers onto the ark. The smoky taste, that extra crunch.
I figure sliders will give us a taste of the burger and still leave room for more piggy excess.
I'm hardly a baconarian. I've never been particularly creative with bacon in my cooking. As a child, like Elvis, I did have a passion for peanut butter and bacon on banana. And lately I notice I drift toward an aporkalypse as New York restaurants gang up to glorify the Berkshire ribeye.

Noise and clutter surrounds us. Here's a shot of reflections that captures the ambiance by Dana Sachs Stoddard
I am definitely revved up for our evening at BarBacon. Ninth Avenue is wing to jowl full of eateries, I notice, as we walk north from the corner. It must have something to do with delayed gentrification. We step into a zone of clamor and neon at the end of a little line half inside the door. The threesome ahead of me, rejected by the greeter, seem stunned as they exit.

If it's not at this well-stocked bar it's not worth having –and it doesn't go with bacon excess. Stoddard photo.

It certainly doesn't seem like a joint that takes reservations. But sure enough we're expected. "Say hello to your friends at the bar," the genial greeter instructs, "and I'll bring you to your table."  My friend Barry, always game to try a twisted cocktail, is disappointed in the bacon bourbon Midnight 'n' Molasses. But, for $17 his companion has scored with a subtle Smoked Maple Manhattan. He'll have one, too.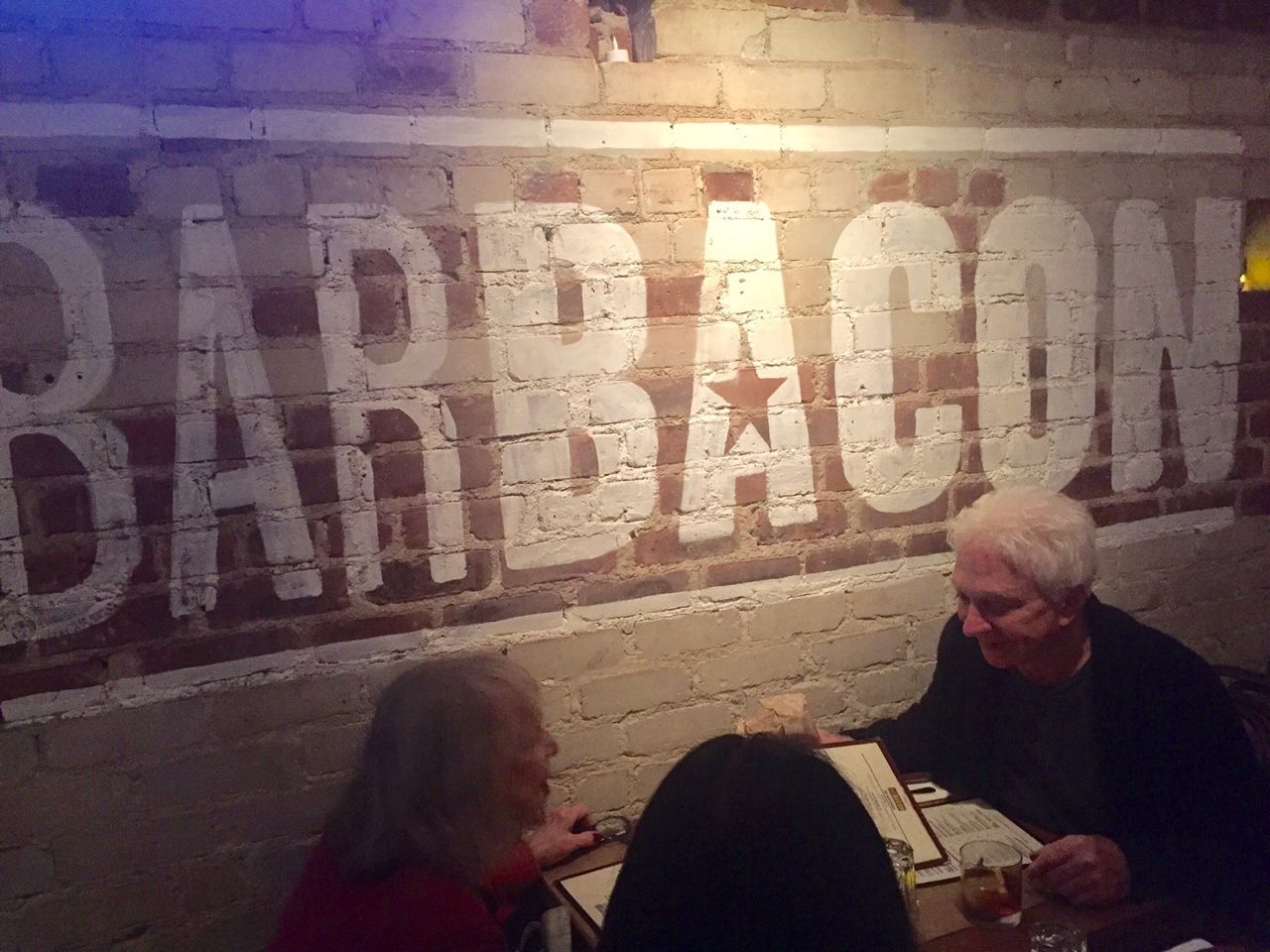 Against the brick well, we get a modicum of isolation from the chaos. Photo by Dana Sachs Stoddard.
We're seated against the bare brick wall, under a silent television screen. I study the options as the others exchange bios in the clamor. The menu is a porkpourri of creativity. I want everything. Should we start with flights of bacon, the house's artisanal bacon tasting?  How about fried pickles as a palate cleanser? Pulled pork dumplings sound intriguing. I weigh the chicken and bacon quesadilla against BarBacon nachos.
There's nothing special about these buffalo chicken wings – just the usual heat and crudité alongside.
My pals urge me to wade in slowly. Buffalo chicken wings is my niece's favorite starter. These are classic, with sticks of carrot and celery, unremarkable. Three little sliders, each encasing a crisped slat of bacon, promise to be less filling then a burger. My choice of the lamb bacon Reuben is flatly rejected.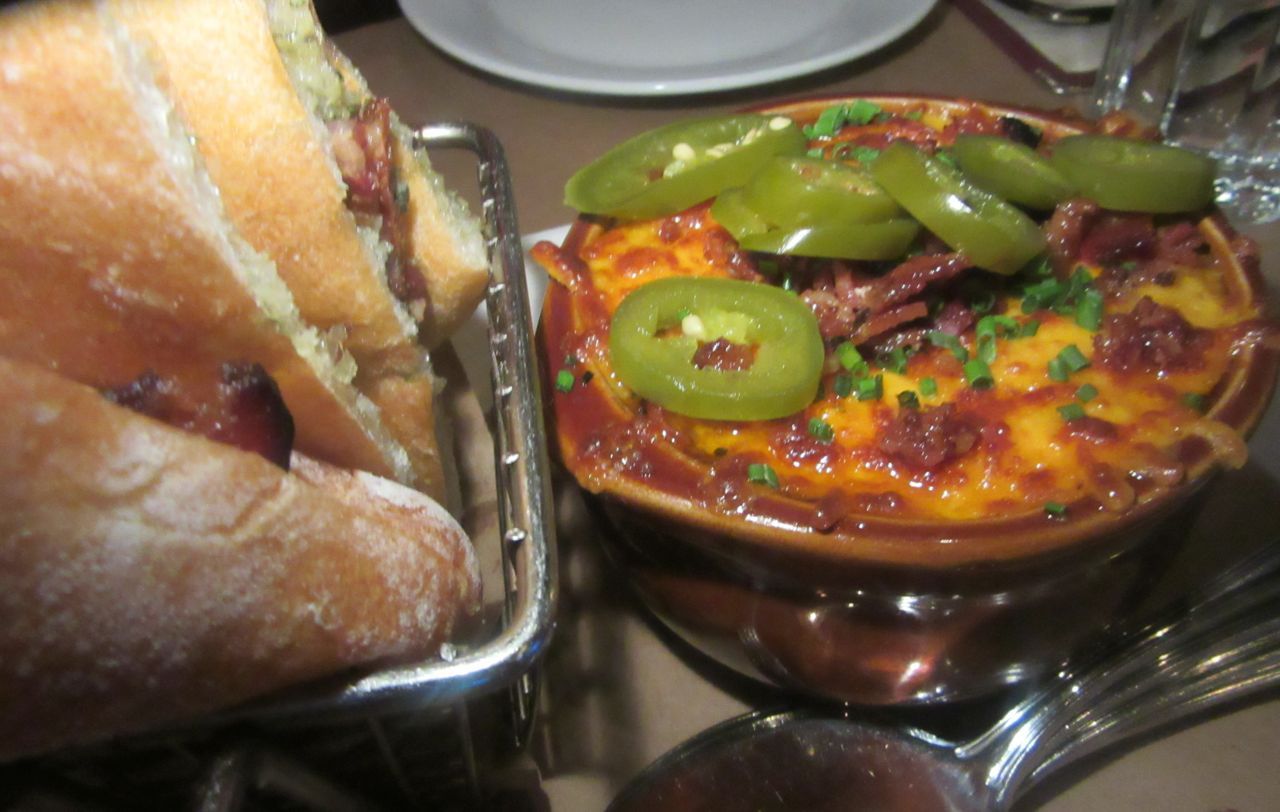 I'm not sure I'd go back but I'll long for this chili piled on garlic sage toast wit bacon. Maybe they deliver.
But the firehouse chili with its coverlet of cheddar and tattoo of fiery jalapeno peppers is a hit. You can spread it on the garlic sage toast with bacon delivered alongside. The bread comes from Amy's Bakery down the street, a smart plus. We get the waiter to bring four small cups, the better to share.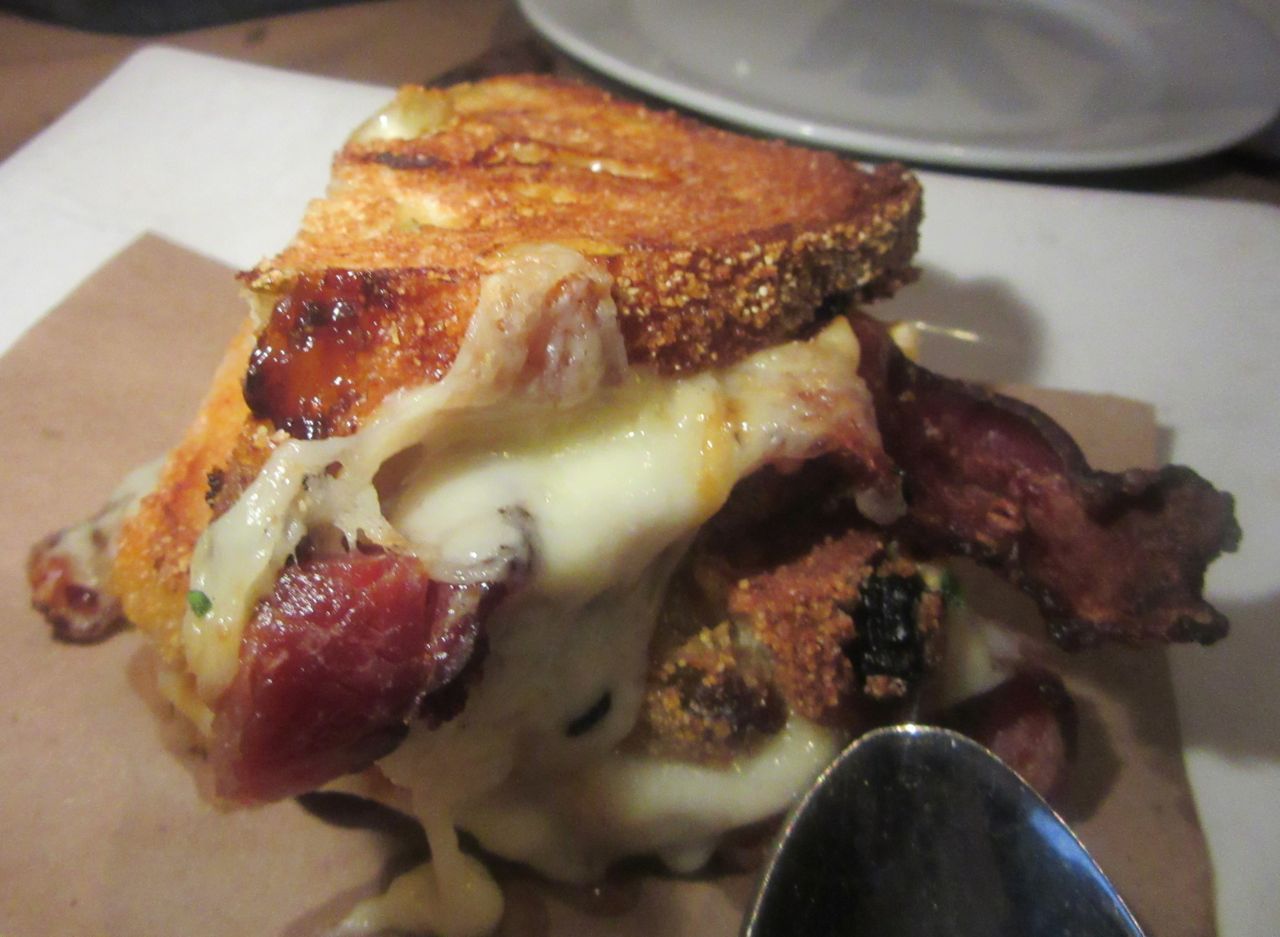 The grilled cheese sandwich oozes fontina and gruyere on Amy's toasted semolina, fennel, golden raisin bread.
I'm leaning toward ordering the bacon lobster roll on chive brioche and possibly the bacon with griddled corn cakes, but Barry wants the grilled cheese sandwich. He carves it into quarters, himself. It's beyond luscious — fontina and gruyere layered with bacon on Amy's amazing toasted semolina, fennel, and golden raisin bread. No one wants the eggplant and tomato soup that comes with it.

None of my pals seem interested in the eggplant tomato soup. At least I tasted before rejecting it.
The cole slaw with mango — a rare bacon-free oeuvre — disappears quickly. My crew ignores the bacon-salted tater tots. I suppose that's because we're devouring the excellent lobster macaroni and cheese – fusilli-like twists of pasta with bacon bits and crumbed chunks of carefully cooked lobster. Critics will not agree on what makes the best mac'n'cheese. It might depend on how you feel about your mother. For me, most macaroni is too soupy. Not tonight's.
The macaroni and cheese with bacon bits is so good it doesn't really need the crumbed lobster. But why not?
The Caesar salad is huge and flawed — too mayonnaisey. It comes with a tangle of very chewy bacon lardons piled at one end: Bar B and herbed croutons nested at the other, and we're eating it anyway. There must be a barrel of bacon lardons out back that get shoveled onto whatever. If I'd ordered more academically, we might have tasted bacon rosemary apple sausage or peppercorn maple glazed bacon.
I imagine the kitchen dispensing the Caesar's almost too-tough-to-chew pork lardons from a barrel out back.
I probably should have consulted the website in advance. Peter Sherman, the owner here, claiming experience with Joël Robuchon, David Bouley, and April Bloomfield, seeks to exploit the nuances of different bacons, pairing them with artisanal beers and bourbons that complement the smoke. Or so it says.

Our crew is so focused on finishing off the macaroni, they ignore the bacon-salted tater tots.
The crowd has thinned out. It's quieter now. Barry is still sipping the superior Manhattan. Everyone is up for dessert. I fantasize an ice cream sundae with candied bacon bits. Our waiter seems exhausted after the rush. He apologizes that there are just three desserts. Chocolate covered bacon with bacon whipped cream. Warm chocolate chip cookies.  Bacon vanilla milkshake. "We're still working on dessert," he confesses.

Yes, cole slaw with bits of mango. It adds a fresh fruitiness to the concentrated porkpourri.
"You're sure you don't have a hot fudge sundae with bacon out back?" I ask.
Barry instructs him to bring the milk shake and four glasses so we can divide it. It's a modest $10 shake. Barry spoons a dollop of bacon whipped cream into each glass and pours a fourth of the shake on top. We each take a sip. That strong smoky lardon taste reigns.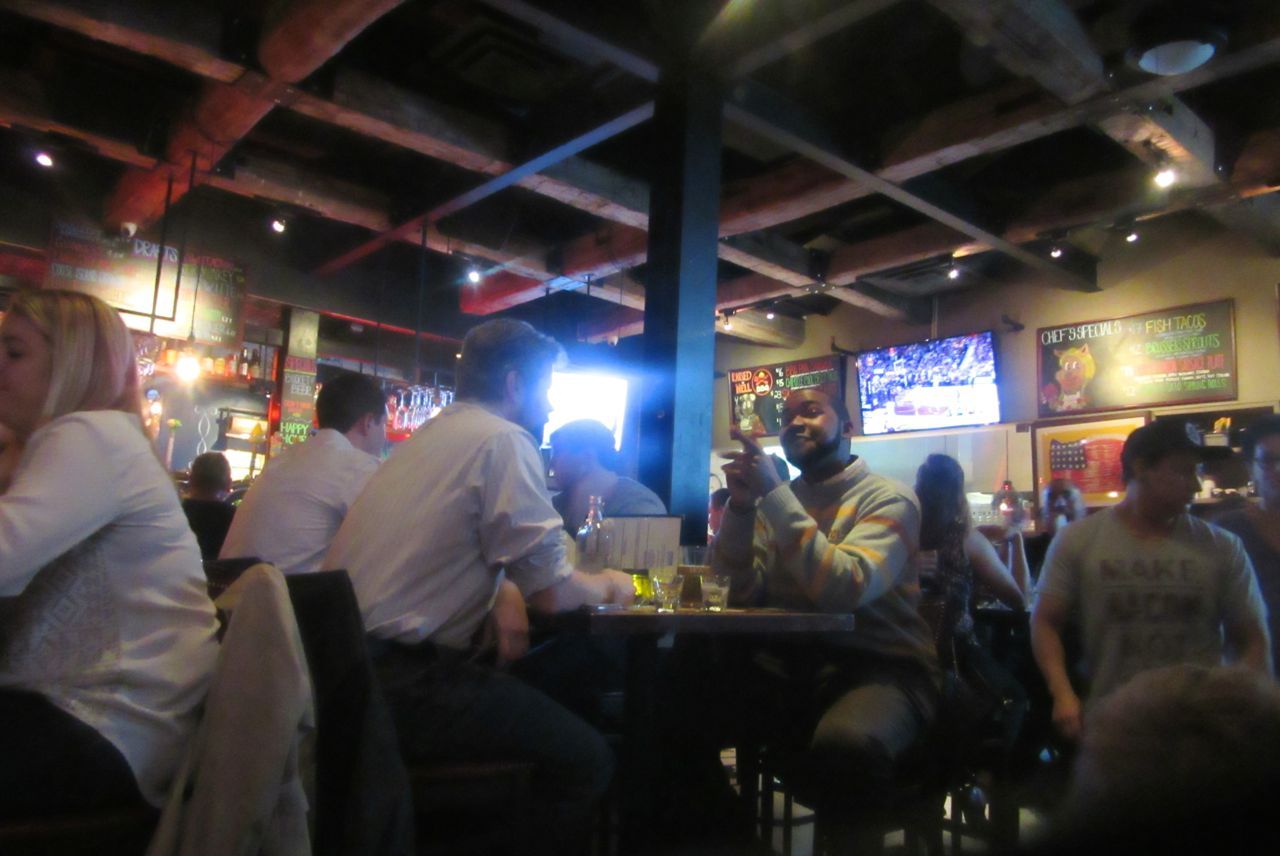 When the room fills up, the noise magnifies but not as bad as it might be if folks weren't so focused on eating.
"Eewww. It's awful." Dana screws up her face. "I hate it," I cry. One sip is too much. We all agree.
Clearly, even baconphillia has its limits.
836 Ninth Avenue between 54th and 55th Streets. 646 362 0622. Monday through Thursday noon to 10 pm. Friday and Saturday. Noon to Midnight. Sunday 11 am to 10 pm. Happy hour Monday through Friday 3 to 6 pm.