Brooklyn Hits Manhattan: The New Chef's Table


Black truffle is grated as we watch over a porridge of Koshihikari rice in a handsome perforated bowl.

I am definitely nervous as my cab lurches toward the new Chef's Table at Brooklyn Fare in Manhattan.  First of all, West 37th between Ninth and Tenth looks very dark, a desolate alley. But then closer to Tenth, I spy the glow — Brooklyn Fare, a giant grocery store. I venture inside. So many departments. Tempting carry-away. Slightly more modest than Eataly. Definitely grander than the original in Brooklyn.

It's a long walk through enticing food displays in the transplanted Brooklyn Fare grocery on West 37th Street.

The Chef's Table must be hidden here somewhere. I wonder if I should shop now or later, before or after dinner. I wander past the polished produce, past the tempting cheese department. It's too late now. I've arrived. Someone takes my coat and someone else leads me to a tall leather-covered stool at the counter next to a quartet of what look at first like frat boys but on second look, maybe young traders.
I hesitate at the cheese department en route to Chef's Table. Shall I shop now or on my way home after dinner?
I spot chef Cèsar Ramirez across the room near the stove with his team. I'm tense. The one time I came for the long tasting in Brooklyn, the dinner stage was silent and grim. No one spoke above a whisper except for the young woman identifying each dish as she delivered it. Cameras and note taking were not allowed. Although the chef greeted a few people he seemed to know, I felt dagger gazes in my direction.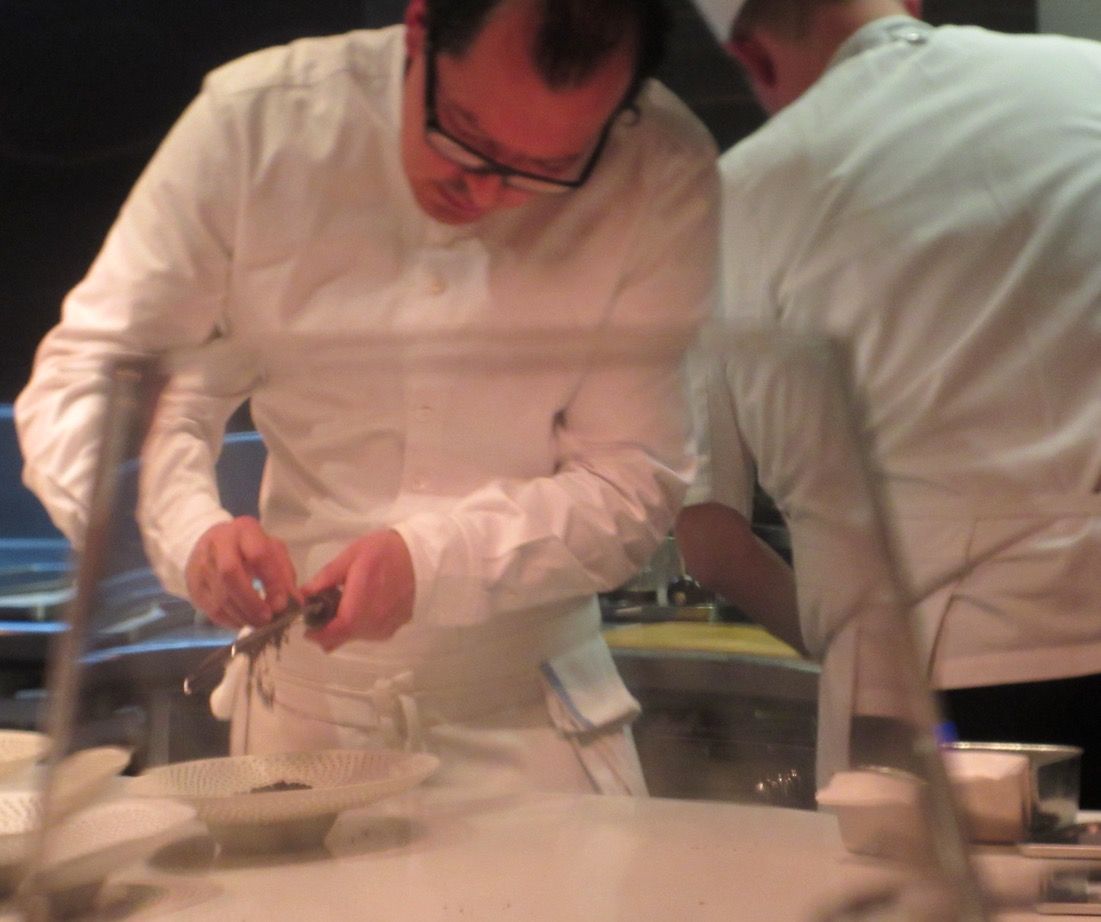 Once the tasting begins, chef Cèsar Ramirez is everywhere, leading the kitchen platoon.
I'm wary and wonder why I'm trying again. I can blame it on Wilfred, my coconspirator in occasional high-priced tastings. It's a Michelin Three star. He's never been. He does not need to call at the crack of dawn 30 days in advance as the website instructs. Wilfred has a contact at American Express who juggles for him. He advanced $656 for two to cinch the deal. I'll send him a check for my share.

Sommeliers like Wilfred because he doesn't blink at expensive reds. Christine Collado here.
Now, Wilfred and the sommelier are engaged in wine talk. They've found a $190 Côtes de Rhône from the 7,000 bottles in the cellar that he will graciously finance for us. Sommeliers tend to remember Wilfred. He doesn't blink at the hefty three figures.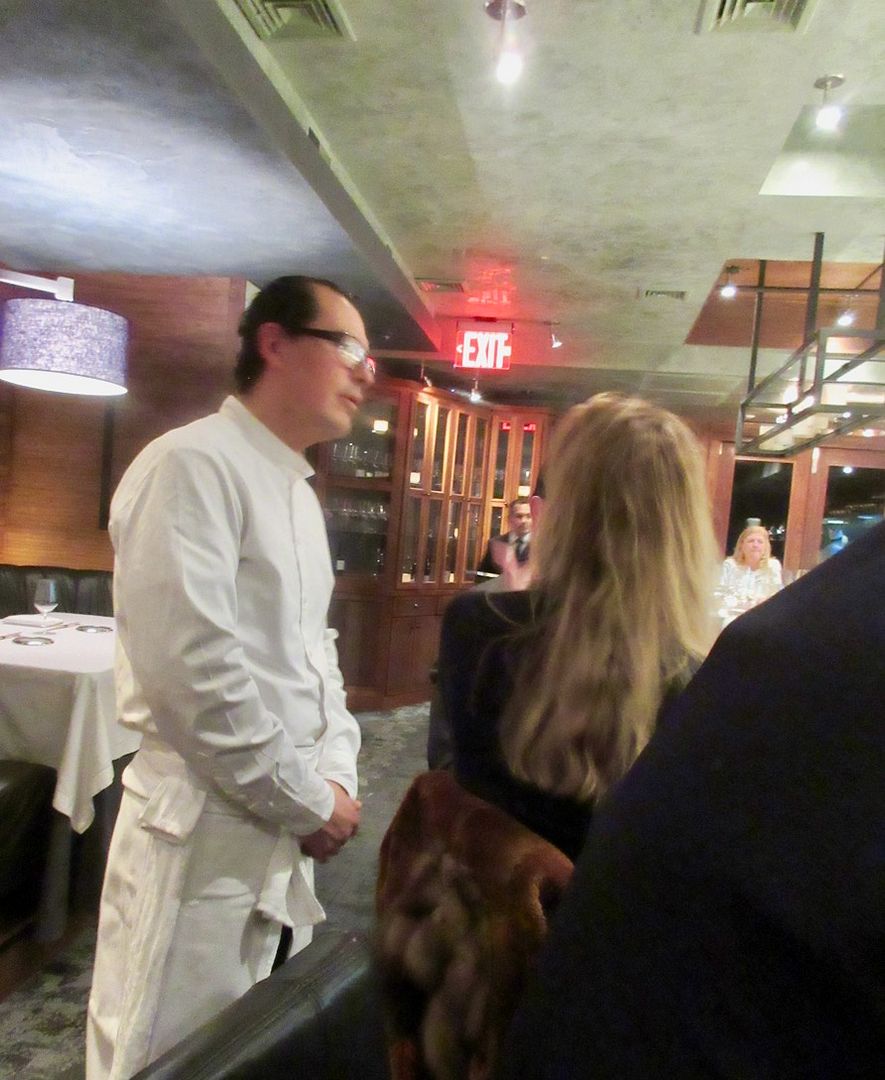 I'm wary as Ramirez bursts into a monologue. Then he switches to Spanish to greet my neighbors.
And now, oh dear, Ramirez is coming toward us. Should I expect an icy blast?  No, not at all. He's actually smoking…sounding off about the price of dinner. "It may seem expensive, but it's not," he says. "You must consider the quality. Everything is the best. I insist on only the best products." Storms have closed the fish market in Tokyo today, but his Japanese buyers have sent a delivery from another port.

Red Sea perch is cooked and basted in Vin Jaune, an electrifying blast of salty and sweet.
Wilfred butters him up a bit as he moves on to welcome other diners, but I'm still nervous. Half the seats are filled. I am determined to photograph everything, quickly, quietly, as discreetly as I can without being evicted. After a rather longish wait — why did I rush to arrive at 7 pm? — a man in a suit delivers little canapés in pastry to the two of us and the quartet on the corner of the counter. I clutch the camera but hesitate. With the moving lineup of cooks and kitchen drones and servers, there's no way to focus without being seen.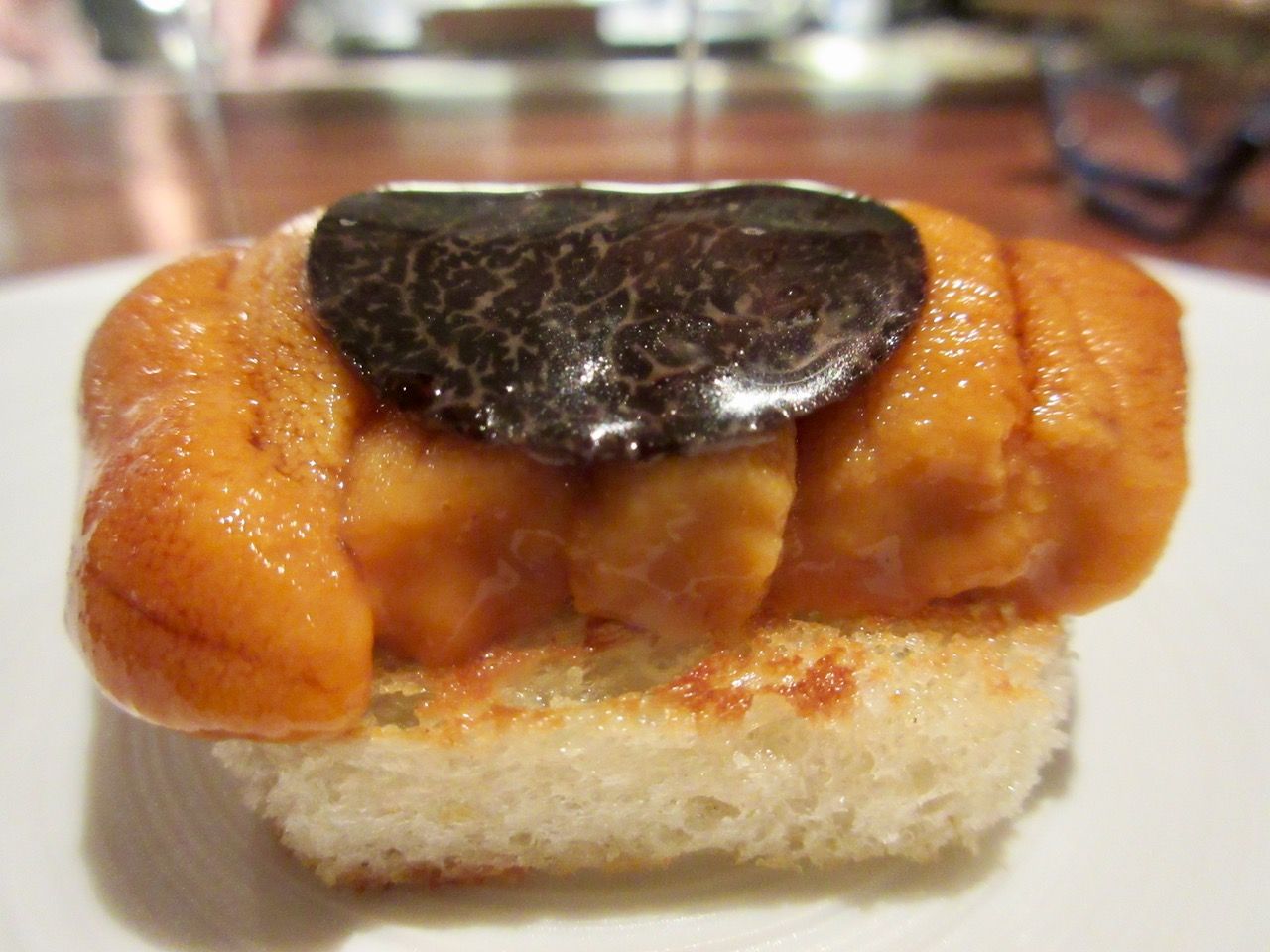 With a weather crisis in Tokyo, the chef's buyers find other sources for fat Japanese uni to nest on toast.
Two small tartlets piled with wild smoked trout roe on petals of Lake Biwa trout appear. I'm still hiding my pocket-size Canon, hesitant to grab a photo for fear of the freeze I recall from Brooklyn.
But I cannot resist capturing a quick shot when  big fat Hokkaido sea urchin saddled with black truffle thins on toast arrives. The earth does not open up beneath my chair. No one snarls. Indeed, no one sees to notice. I snap again: warm mackerel from Iwate with Japanese radish. These tastes seem very Japanese. I recall that earlier Brooklyn feast being more French.

Kinmedai, aka Golden Eye Snapper is scented with black vinegar and topped with a tangle of crisp kelp.
Are these small cuts sushi? Or are they tasting portions? If they are sushi, they must be eaten whole…I'd much rather take a bite and savor, and then another bite. Our server delivers Akamutsu, Red Sea perch, cooked and basted in Vin Jaune. An electrifying blast of salty and sweet.

Norwegian king crab lies under a layer of apple and pear with flower petals and shiso sprigs.
The Kaluga caviar sits on a dashi sabayon. Norwegian king crab is delivered in a big white bowl topped with Bartlett pear, Granny Smith apple, yellow flower petals, and intense squiggles of baby shiso. There is a circumspect pause before the lobster — big chunks from Maine napped with the sweet tartness of clementine custard and topped with tiny coins of celery root.

Big chunks of Maine lobster topped with celery root coins sit on clementine custard.

I finally realize that the camera is no longer verboten. In fact, nothing seems to be forbidden. The young men on my right, fueled by sake, are getting louder and happier. The lovers are kissing. Wilfred has his phone out, taking his own occasional note and posting on Facebook. It's okay to laugh. There is pop music playing. The chefs gather at the range, making smoke by fanning the air. We could be a Montessori kindergarten class. Anything goes.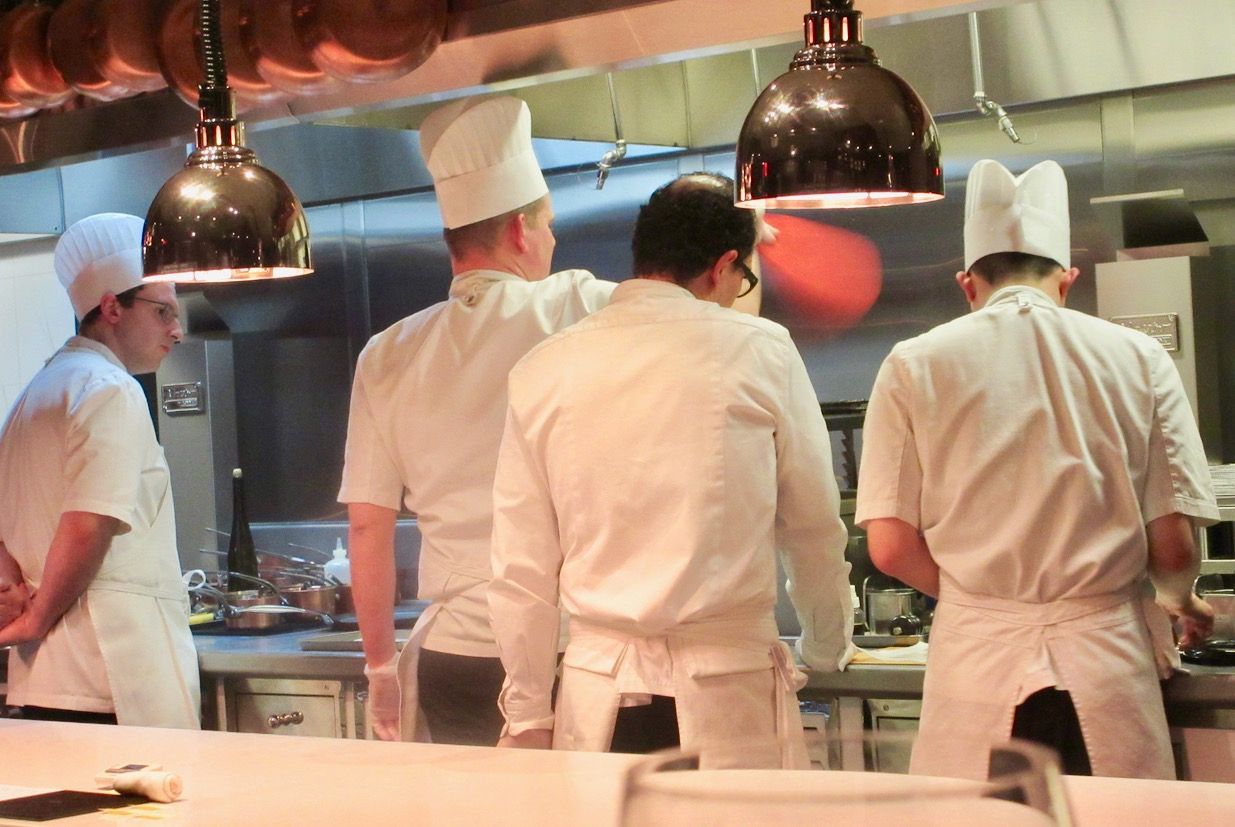 I'm guessing the cooks fan the open flame at the range to create that light smoky flavor.
And the snacks keep coming. Kinmedai, aka Golden Eye Snapper, is bathed in black vinegar and topped with a tangle of crispy kelp. Black truffle gets grated over a porridge of Koshihikari rice in a perforated ceramic basin. It has a surprisingly bitter taste.

The blushing red beef from Japan's aristocratic cows melts like fat on your tongue.

But now, I am focusing on a lush slice of blushing red beef. It almost seems alive, as if it's breathing. "A5 Miyazaki Wagyu," the majordomo murmurs, delivering. That means it's from one of those pampered Japanese cows. The dark glazed chunk alongside is tongue.
I save the voluptuous beef for last, to melt in my mouth. It's the satin of foie gras, sweet, without that faint livery taste, not like any other beef I'm likely to encounter for a while. Just this one small slice is all I can eat.
The kitchen team makes yuzu sorbet to order and sprinkles it with bits of finger lime.
And that's just as well, because now there is an intermission. Most of the chefs are busy slicing and searing and making smoke to feed the new arrivals across the room.  But we are discovering the astonishment of finger limes  — a first for me. Rather than release a pulp for juice, the finger lime has little pods that pop in your mouth. Made into a sorbet à la minute here with a dribble of unbroken pellets on top. A waiter brings a spoon from the freezer.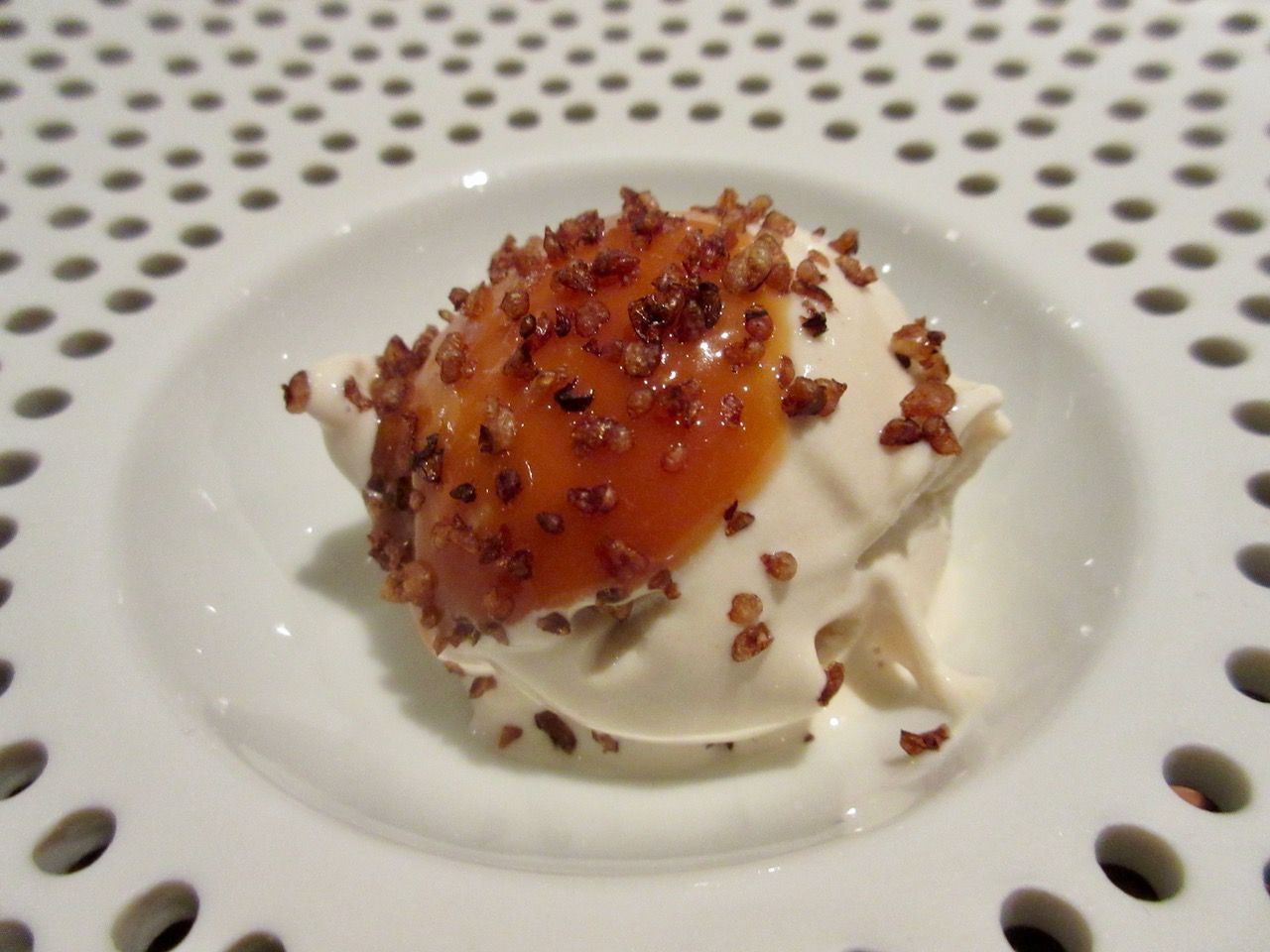 There is a longish pause waiting for dessert. Then comes soba chai and soy in a caramel glaze.
I take a tiny taste of the melting ice and the never-before tasted fruit on the edge of the frosted spoon. I contemplate the three-star flair and perfection in this busy nook at the back of a grocery store. Should you come? I won't suggest you feed your family canned soup for a week to finance a tasting for two here. But if it's just a weekend of skiing that you bypass or a pair of $1000 sneakers, I'd say work your contacts and book now.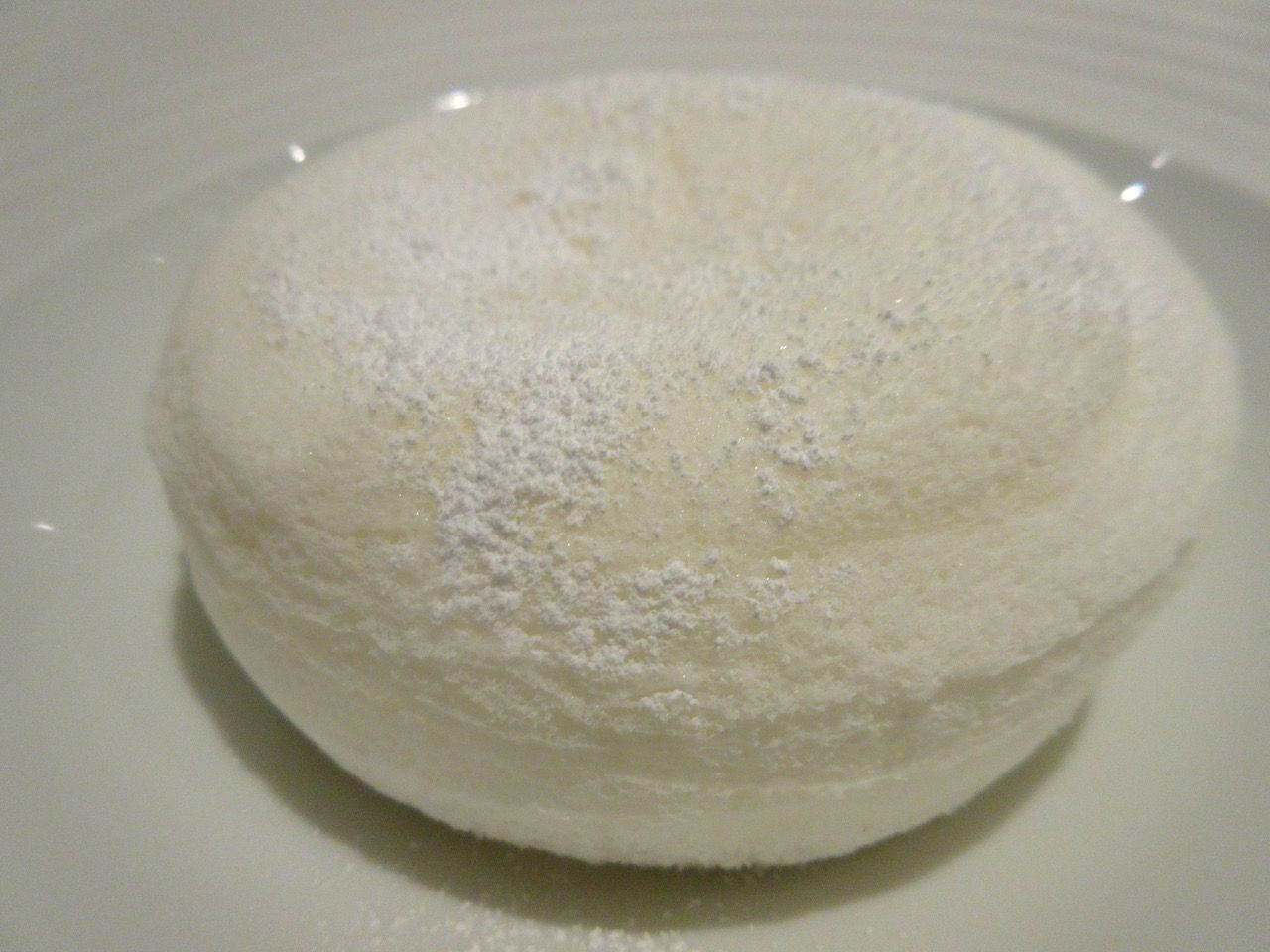 Breathe on this big white pouf of almond soufflé and it melts. A familiar trick of David Bouley.
The big white frozen almond soufflé is just air and liquid nitrogen. An homage to Bouley, perhaps. You can eat it or watch it disappear as it melts. Soba chai soy ice cream with caramel syrup seems to take forever, as if all discipline has suddenly broken down. Wilfred takes the $231.90 check for the drinks, as a metal stand holding tarlets is set between us.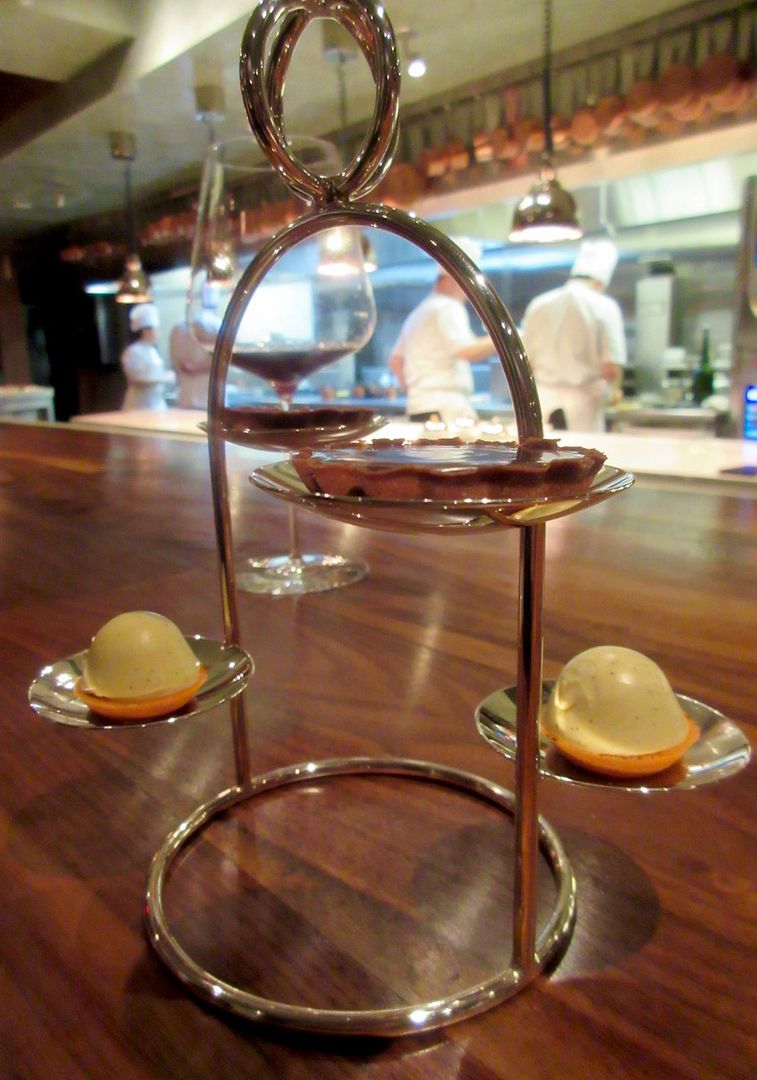 These are not the greatest truffles I've ever eaten, but I'll finish them off anyway. Getting my money's worth.
I manage to finish off two, even though that little drag at the end of the meal has left me exhausted. I bundle up and race past the cheese display. Outside it's pouring. Wilfred, as always the perfect escort, has summoned two black cars to take us home.
431 West 37th Street between Ninth and Tenth Avenues. 718 243 0050. Tuesday and Wednesday, 7:00 and 7:45 pm. Thursday, Friday, and Saturday 6:00, 6:45, 9:30, and 10:00 pm. Closed Sunday and Monday. Reservations are taken by phone every Monday at 10:30 am, for dates six weeks in advance. Seatings for parties of two or four only.