Café Village: An Evening in Azerbaijan

These two regulars know exactly what they want to eat at Café Village. Everything. That's the Sajj.
          Our rotating klatch of adventurers is game to go almost anywhere to explore an out-of-the-way kitchen worth the trip. We're mostly single and open to exotica. We can be lured to Brooklyn and Flushing. We're curious, and we're like family now, teasing but tolerant of each other's flaws.

This is the Salad Delight: fried chunks of eggplant, nuts and feta cheese in a sweet and sour sauce.
          Our usual navigator, Rich Sanders, self-styled ethnojunkie.com, has suggested that Café Village on Coney Island Avenue might be worth the traffic — an hour by car or subway. Rich rarely enthuses. He tends to be cautious and noncommittal, so we can't blame him if the jaunt proves to be less than thrilling.

Rich, the Ethnic Junkie and a veteran here, orders, explaining that we want our choices in three waves.
          As I trot across the heaving parking lot to the door of a simple wood (fake?) paneled diner with its sign, "Café Village." trying not to twist an ankle, I'm not expecting much. I thought Rich said it was Georgian. That's fine. I was totally hooked a while ago by the Georgian hot bread stuffed with feta, mozzarella, butter, and a poached egg at Oda in Alphabet City.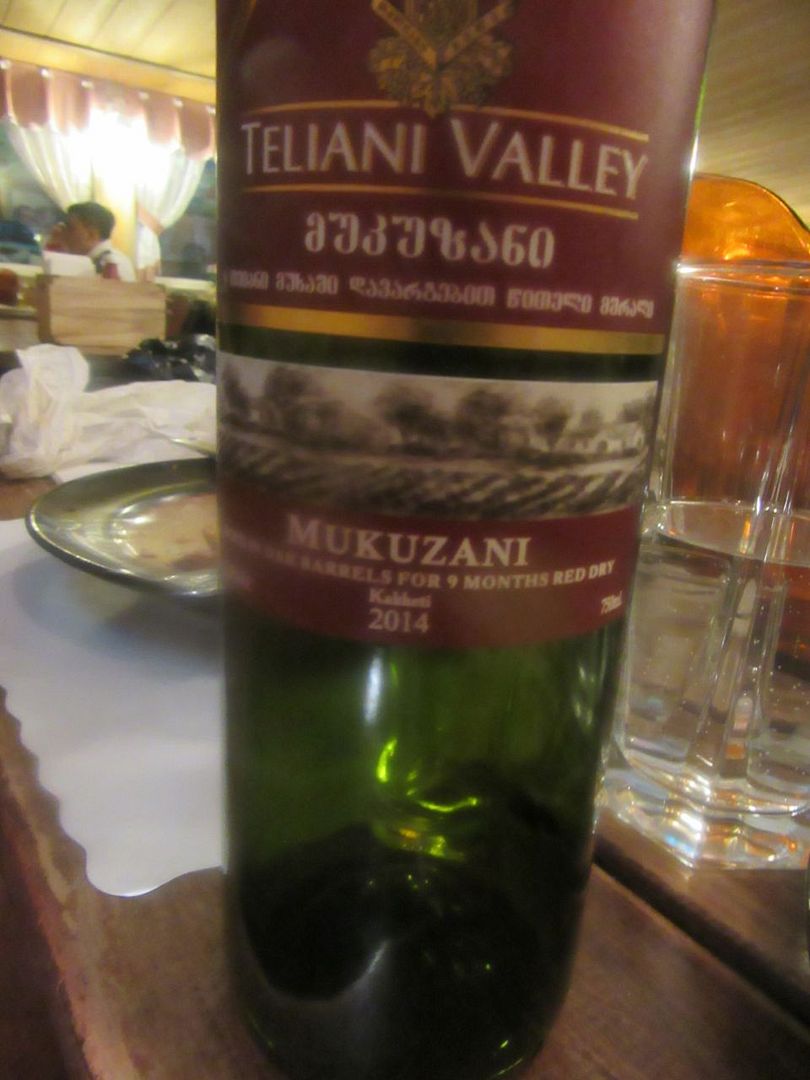 Knowing this is a no-alcohol sanctuary, Rich brings two bottles of Georgian wine, not the best, but affordable.

          Indeed, Rich has brought two bottles of Georgian wine. Tea in a $10 pot is as stimulating as it gets in this BYOB zone. But the theme is Azerbaijan. What? Where? How do you spell that? iPhoneists go tap, tap, tap. The former Soviet Republic, by the Caspian Sea. Oh, that Azerbaijan.
Slivers of boiled beef tongue are served with julienne of white radish, cucumber and carrots and fried onion.
 
          Our guru has compiled a list of his favorites here for our approval. "Don't ask us, Rich," I say. "Just order. And then get a few extras because we're probably not coming back."  It's really a killing subway ride and a huge traffic slog.  And, as I noted, I'm not expecting much.
There's a fake fire burning and collections that say Café Village is someone's second home.
 
          There is a wine glass at each setting on the wood plank table, and a shot glass too, each one different — the kind booze companies hand out free. There is no liquor license, but you may want to bring your own vodka or slivovitz. There's a certain sweet innocence. The fake fireplace, the collection of tarnished samovars and cutsey little china animals. The waiters, too: sweet, folkart. The bussers, some who have yet to learn English, changing plates between waves of Rich's favorites.

The Turkish bread served here is not for scooping, but it's good for piling and also just for eating.
          A duo of cognoscenti at another table — regulars, I'm guessing — has ordered the sajj ($120 and up) — a little of everything. But we're starting with crunchy layered "Turkish" bread, and Veal Tongue Salad with slivers of raw radish, cucumber, carrots, and fried onion in a mayonnaise dressing. The "Salad Delight" combines fried eggplant, nuts, and feta, boldly garlicky, in a sweet and sour sauce.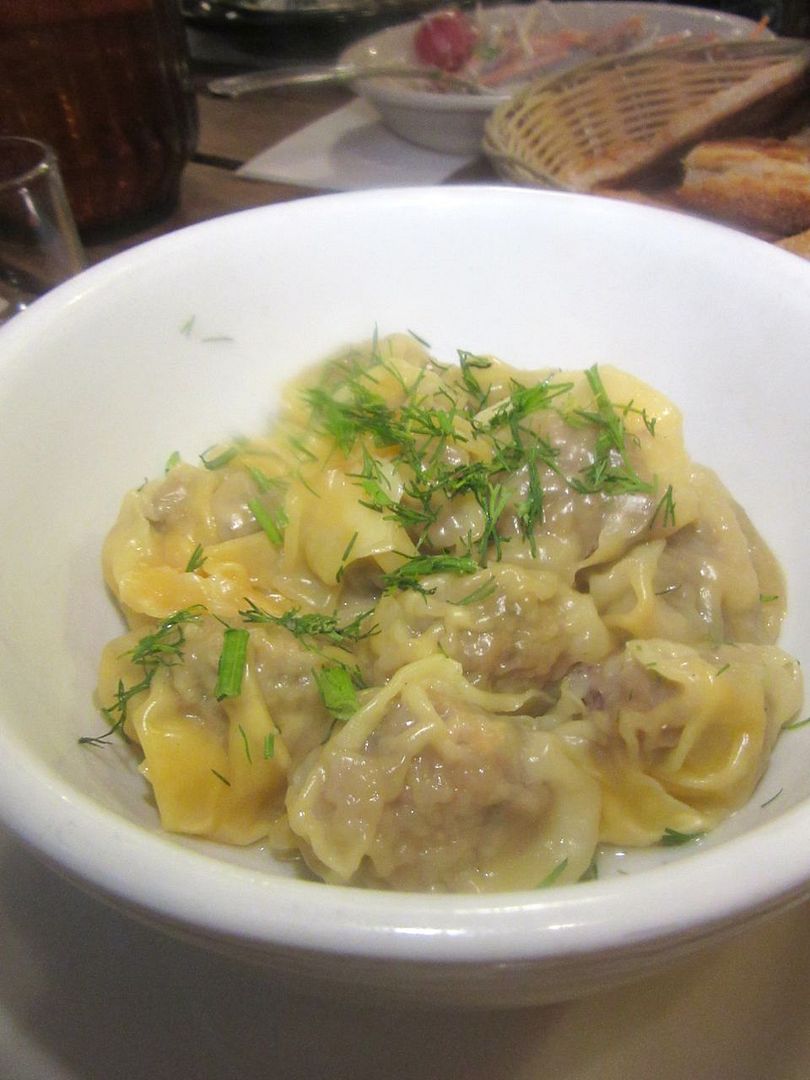 The menu calls these elegant little dumplings ravioli. I remember them as pelmeni at the Russian Tea Room.
 
          A dish of dumplings arrives. The menu calls them Ravioli — there's a choice of lamb or chicken dumplings in butter or broth — ours are lamb in just a shallow puddle of butter. I'm reminded at once of the pelmeni the Russian Tea Room used to serve on Wednesdays. The wrap here is stylishly thin and elegantly pleated. Should we send for another batch? Rich thinks he's already ordered too much. I insist he add Turkish Fried Liver anyway. It comes in small breaded chunks, almost rare, mysteriously sweet.
The noodle dough of the Guru Hingal takes an overnight in the fridge before simmering and saucing with lamb.
 
          Guru Hingal demonstrates the same expert hand with dough — wide bands like pappardelle topped with savory grilled lamb mince "with tail fat and onions." I need to try another square of noodle just to be sure it's as expert as at first taste. And then another because it is, indeed.
The Kutaby looks like a cross between a kulcha and a crepe. It's filled with mince of lamb.
 
          The crepe-like Kutaby are so thin, it's hard to believe there is actually finely minced lamb within. Yes, once Rich annotates, you can taste it, adding to the rich flavor.
My favorite: the Azerbaijani toss of roasted kidney, heart, liver and sheep's testicles with onion and potato.
 
          But the mixed offal, Djiz Bis, is the dazzler. Candied onion crisps and potatoes almost disguise the Azerbaijani toss of roast kidneys, heart, liver, and sheep's testicles in small cubes. If no one mentioned kidneys or testicles, even a devout hater of innards might be seduced. And for a believer like me, it's a meaty ambrosia, a near oh my god. I have to go back for another Djiz Bis and more.
From more than a dozen skewered items, Rich picks lamb chunks, ribs and chicken sausage in a thin wrap.
 
          With yet another change of tasting plates, the Shish Kababs arrive: big caramelized lamb chunks and fatty ribs on skewers. And chicken Lulya Kebabs — caramelized sausages of spicy minced chicken in a thin roti-like wrap. The lusciousness of the chicken makes up for the inedible fattiness of the rib I happen to choose.
Turkish style liver is cut in small chunks and fried, a $10 listing under hot appetizers.
 
          At that can't-eat-another-bite stage, I'm still curious to try the Pakhlava and the traditional Azerbaijani cookies — Shaker-Bura and Mutaki. But before we can get the waiter's attention, Peter has already ordered the check. It's $165 for six. At the exit, I consider buying the cookies to go, but decide they'll be more reason to come back. I can't wait to taste Mother-in-Law chicken.

At one point, our table is covered with hot dishes. Here the Guru Hingal noodles and the Djiz Bis.
          Meanwhile I'm sending you to Midwood for a revelation. I'll risk that it might be chef's night off or that the aggressive Russian ambassador to the United Nations may take over the place for a dinner with Putin and the president's cabinet. The carryout menu says it all. It reads "Café Village: Your village away from home."
Café Village on the menu. Five Star Village on the check. Village Café online.1968 Coney Island Avenue between Avenue P and Quentin Road. 718 975 3373. Monday through Sunday, 11am-12am.