Dale Talde Does Italianish at Massoni

      Our waiter at Massoni has a story to tell. Like a kid coached for a recital, he cannot be interrupted in his performance. "If you look at the appetizers," he begins, holding up the menu so we can follow. "Take the beef tartare." He points. "It comes with a pistachio cannoli. And the roasted beet with burrata agrodolce."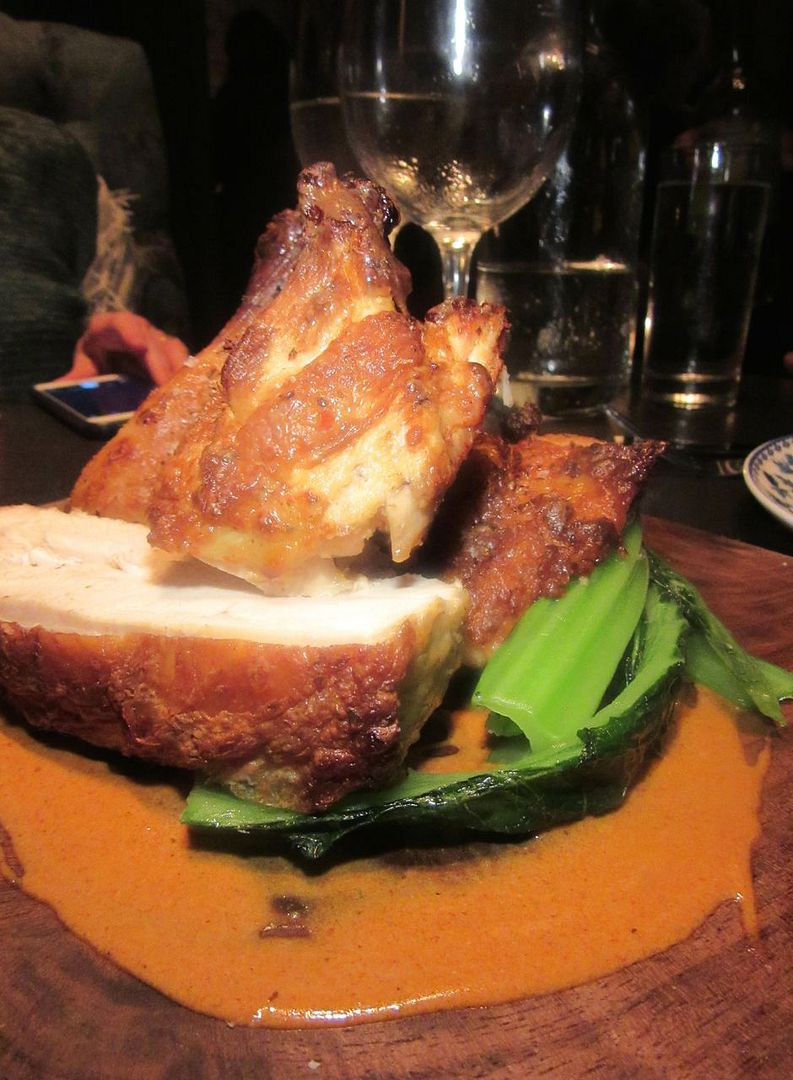 Brick chicken sits on a swath of Calabian chile-spiced yoghurt with Chinese mustard greens.
"You could say it's Italianish," he offers.
The Massoni Caesar has the required romaine with Parmesan breadcrumbs and a distraction of nori snippets.
           "Oh, good Lord," I blurt out. "It's a trend. Playing with the food. Like Chaan Teng a few weeks ago: Playful twists on Chinese classics." I glance at the menu. Malfalde with uni, Serrano pepper, and smoked onion dashi. Biriyani rice balls.

Someone has recognized me because out of the kitchen comes Dale Talde to take our compliments.
           I tasted Dale Talde's food in Brooklyn where he liked to describe his style as "inauthentic Asian." Bacon pad Thai and pretzel dumplings. He'd been hitting a stride that echoed across the East River. I went once to the original Talde with eight pals. That's not exactly the ideal number for a serious tasting. Most notably, Talde was not there to do a little dazzle. He had already moved on to his next venture.
A drowsy Bishop Massoni by graffiti artist Ewoki1 dominates the back wall.
           This first Manhattan gig for Three Kings Restaurant Group partners Talde, David Massoni and John Bush is demanding. They're not only behind dishing out the inauthentica for a full house in this modest little dining cubby at the Arlo Hotel in NoMad; they're also running Barlo (the upstairs bar), a takeout spot called Bodega at the hotel entrance, and come spring, will service the Heights, on the roof.
The design is as whimsical as the menu. The walls of our booth are a montage of letters, stamps, menus, foreign currency and a few scattered picture frames. A Pope-like creature pasted on the back wall dozes, unmindful of many upside-down brass mixing bowl lights overheard.
I'll go back to Massoni just for the clam pie — its thick custard full of bacon, potato and small whole clams.
           I persuade my cronies to let me order a clam pie while we figure out what else we want. Maybe that's too exotic a request for our server, because the pizza has appeared by the time runners start dealing out the starters.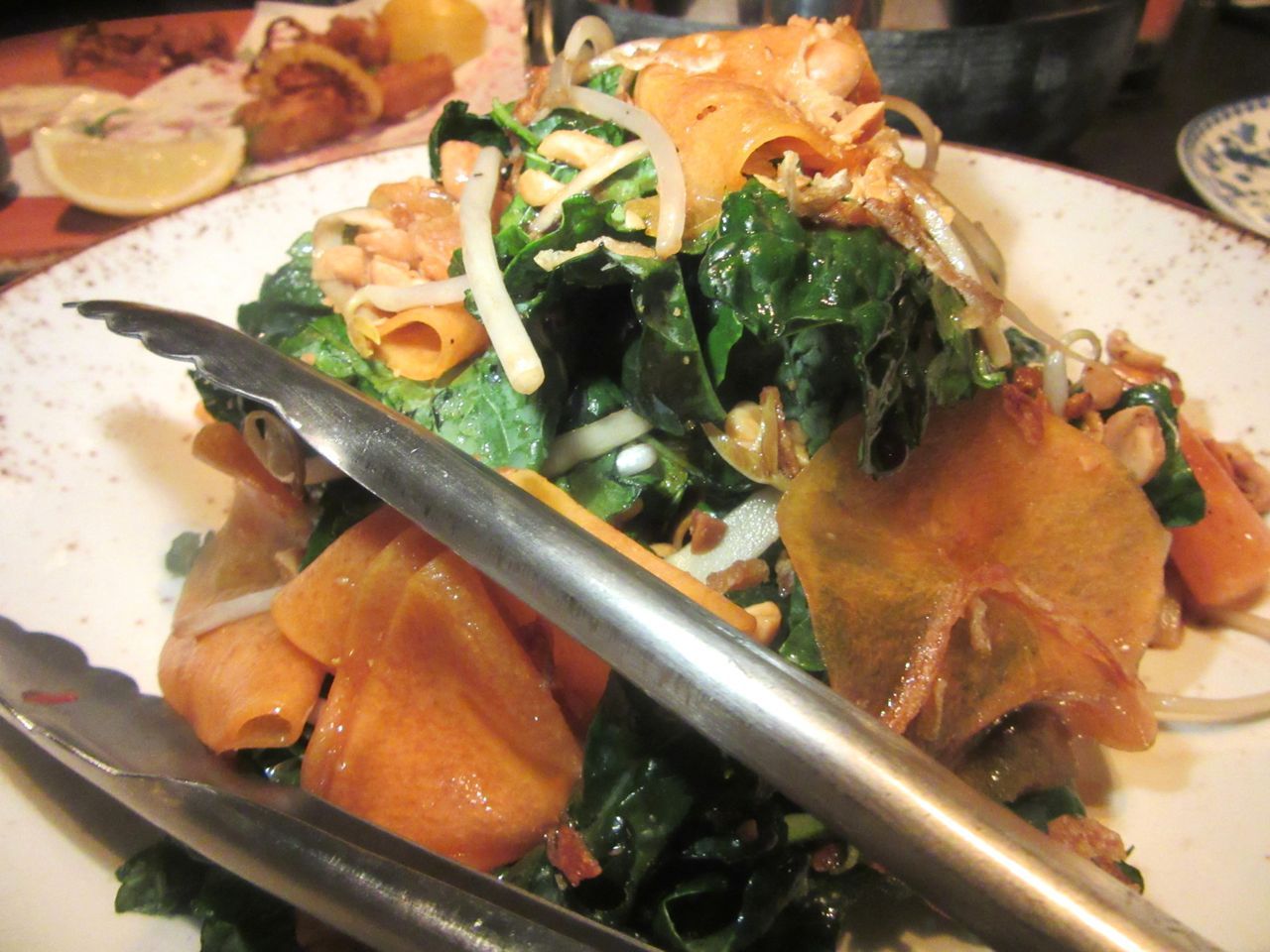 Kale dominates an exotic toss of green papaya, persimmon, basil, peanuts and smoked saba-nuoc mam.
           Tuscan kale would never be my choice, but Juliana's mother-in-law from London says her doctor told her it was good for her glaucoma. "Eat all the kale you can," he urged. If that's true, what does it mean for us near-sighted kale-haters? The chewy green somewhat dominates its diverse companions: green papaya, persimmon, basil, peanuts and smoked saba-nuoc mam.
Parmesan breadcrumbs are not sufficiently cheesy to rescue the Caesar from an overdose of nori snippets. It's not horrible. It's just deplorable.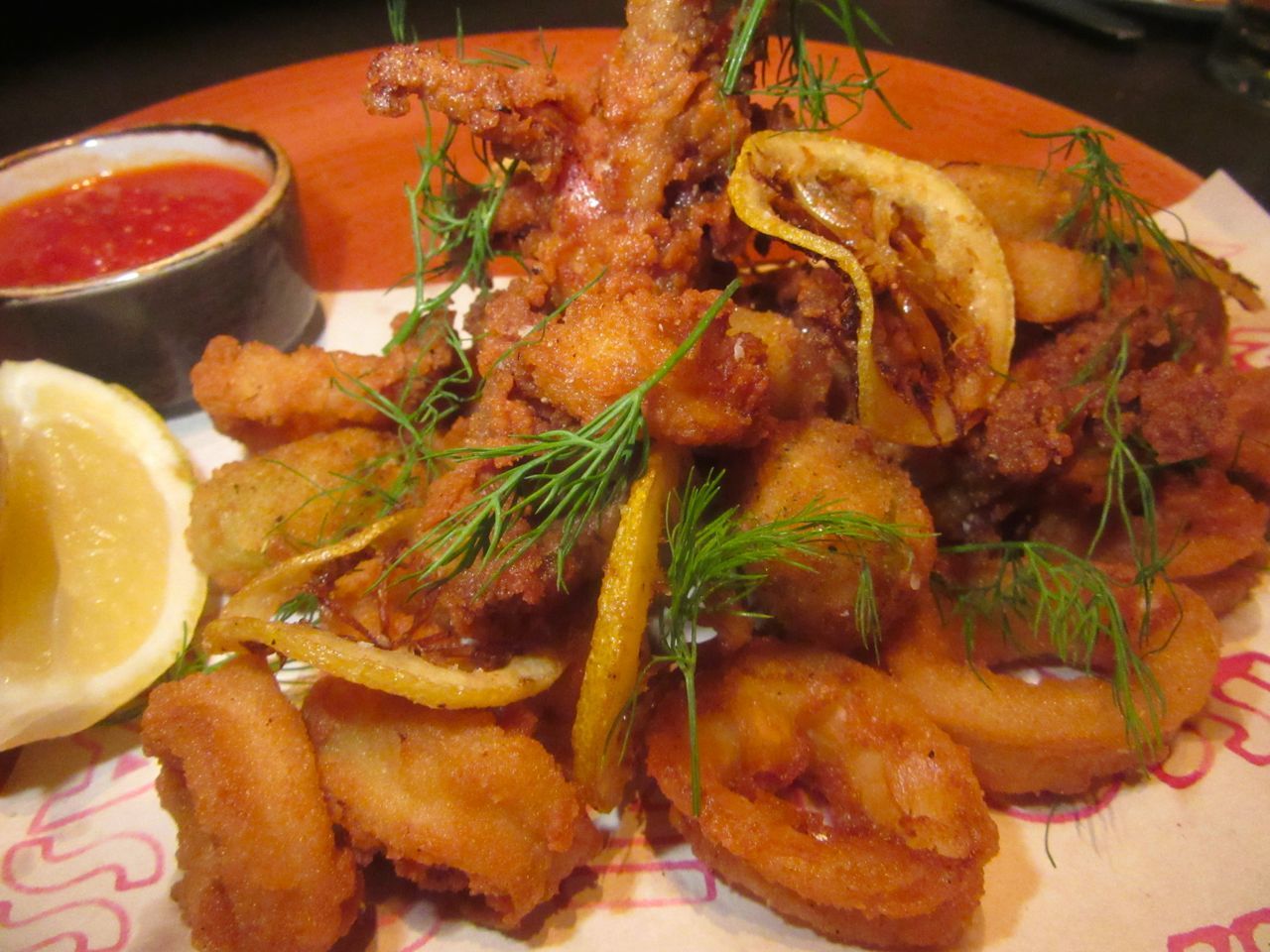 Battered grapes are a surprise in the properly crisp frito misto.
           But the fritto misto! Calamari parts and fried lemon slices wonderfully crisp, would be a winner even without the delicious shock in my mouth of something battered and surprisingly sweet. A grape, of all things. What fun. Really. I mean it.
The square pan pizza lands at last in its pastry frame, so good. Actually the first few bites are rich and savory, with flutters of salty bacon, bits of clam and chopped white potato in a molten filling that is cheesy and custardy at the same time. Never mind if you're a size 2 or a size 22, you certainly suspect pizza is loaded with calories. This one could be give or take 5000 calories. It's also unusually filling.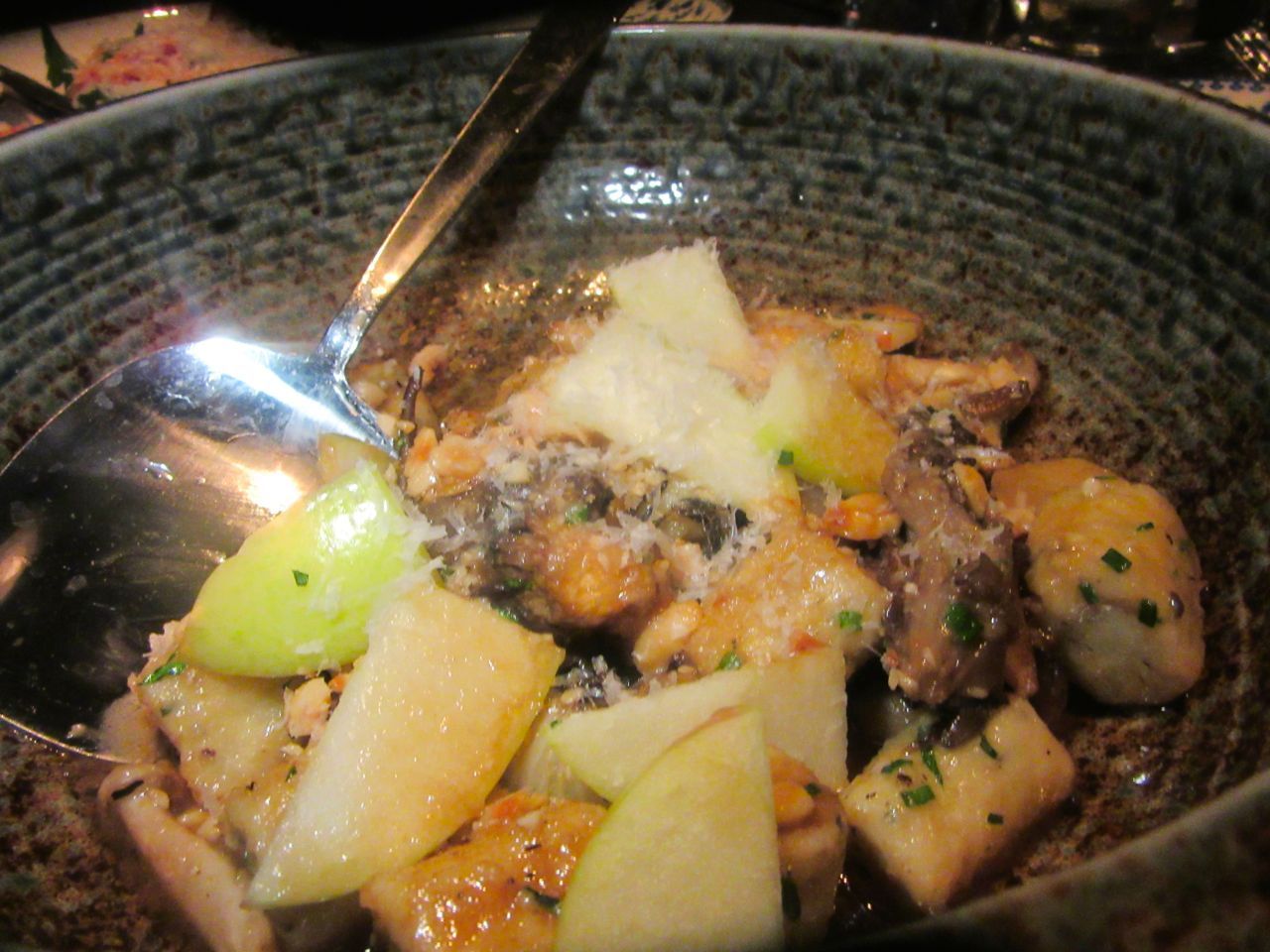 Mushroom, apple and hazelnut are tossed with the goat cheese gnudi.
           So I'm stunned when Juliana insists that we need a second. Pepperoni with pickled pepper and honey is her choice. We'll have the goat cheese gnudi with mushroom, raw green apple, and hazelnut first. And the bucatini coated with marinara sauce. It's peppered with hot chilis needing only its Nueske's bacon to almost add up to amatriciana style. Alas, the bucatini is overcooked. Italianick.
We certianly didn't need the pepperoni pizza after so many dishes, but we finished it off anyway.
           The pepperoni pizza is thrilling, though definitely tropo (Italianish for "too much".) I onl mean to take a bite or two. Somehow I manage to eat all of my thick quarter cut without sliding under the table.
I even rudely grab a chunk of thigh from the brick chicken plate without determining is anyone else prefers dark meat. I drag it through the fiesty Calabrian chile-spiced. But near-paralyzed after succumbing to the rich custard and pastry of spicy sausage pizza, no one else is interested in the bird.
This sundae, lost under a water pouf of whipped cream, is a project the kitchen should work on.
           "We don't have a dessert menu," our waiter confides. "I am your dessert menu." I think that's what he said. I can't for the life of me remember what else he said. It's not in my notes or in my head. But our foursome is unanimous, choosing whatever it was that sounds chocolate. A sundae of sorts, covered with sprinkles, that isn't chocolate-enoughish. It's strangely liquid, with two much whipped cream.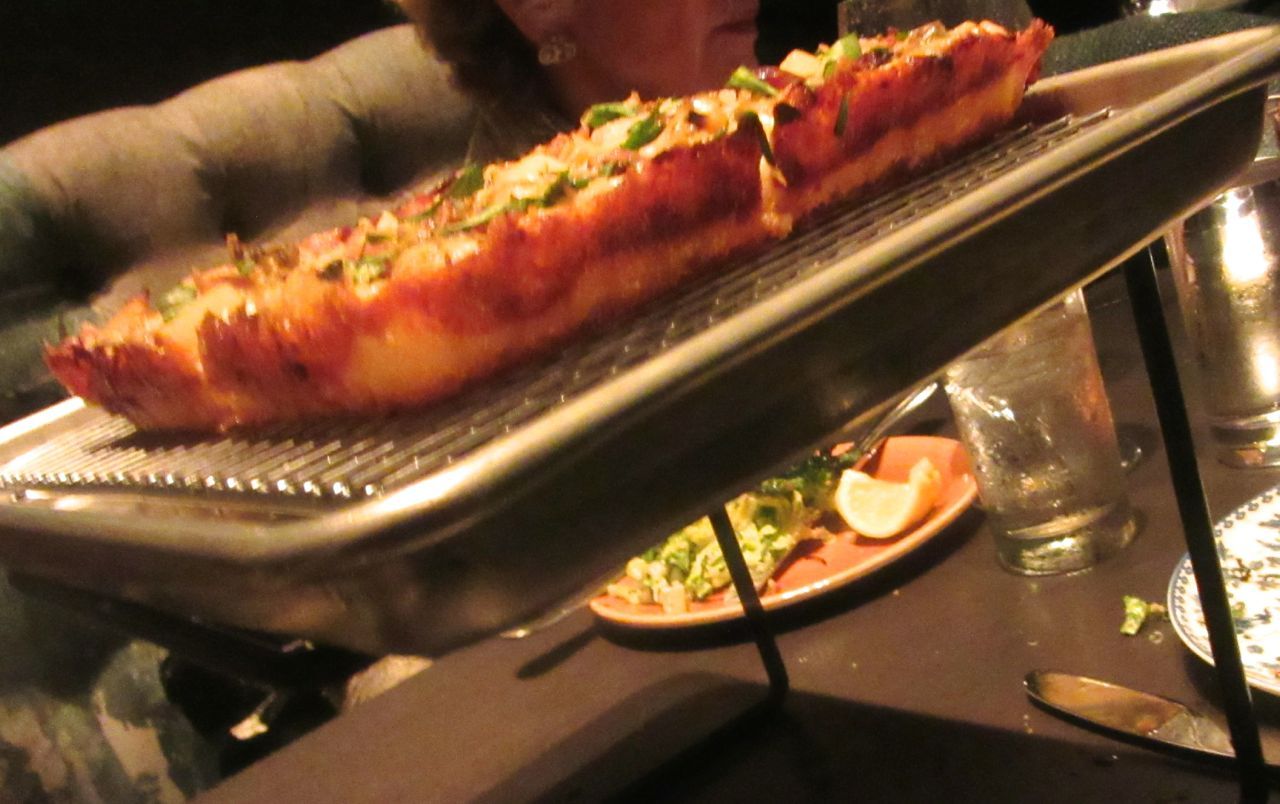 Massoni's pastry pan pies are served on a classic stand, leaving room below to fulfill other desires.
           My friend Lyn reserves to return with her guy on the weekend. Maybe they'll try the charred Brussels sprout pie with pistachio pesto and ricotta salata. I would go back soon, too, if it weren't on the east-side and so far downtown. But pizza fans should not be discouraged. And don't be put off by our tab – an outrageous $350 with tip for four. I blame it on the frivolous demands of Juliana.
11 East 31st Street between Fifth and Madison avenues. 212 951 1141. Breakfast 7 am to 11 am. Lunch and so on. 11 am till last seating at midnight.