Daniel in the Lions Den
          It's spring. Of course, there will be pea soup. If there were an official flag for spring, it would be the intense, almost iridescent green of Daniel's minted green fusion. I watch as the waiter pours it around an island of crayfish in the shiny white soup bowl. The trio of bright orange crayfish anchored in islands of green puree on the indented edge strike me as overly fussy.


It's spring. Of course there will be minted pea soup, poured over crayfish by a hovering waiter.
          Then I taste one brilliant little sea creature. Something crisp crackles in my mouth and a gust of organic pea takes over. Flavor wins. I decide to forgive Daniel Boulud and the house's long time executive chef Jean-Francois Bruel. Yes, it's the school of fuss but I won't say fussy, I'll call them designer touches.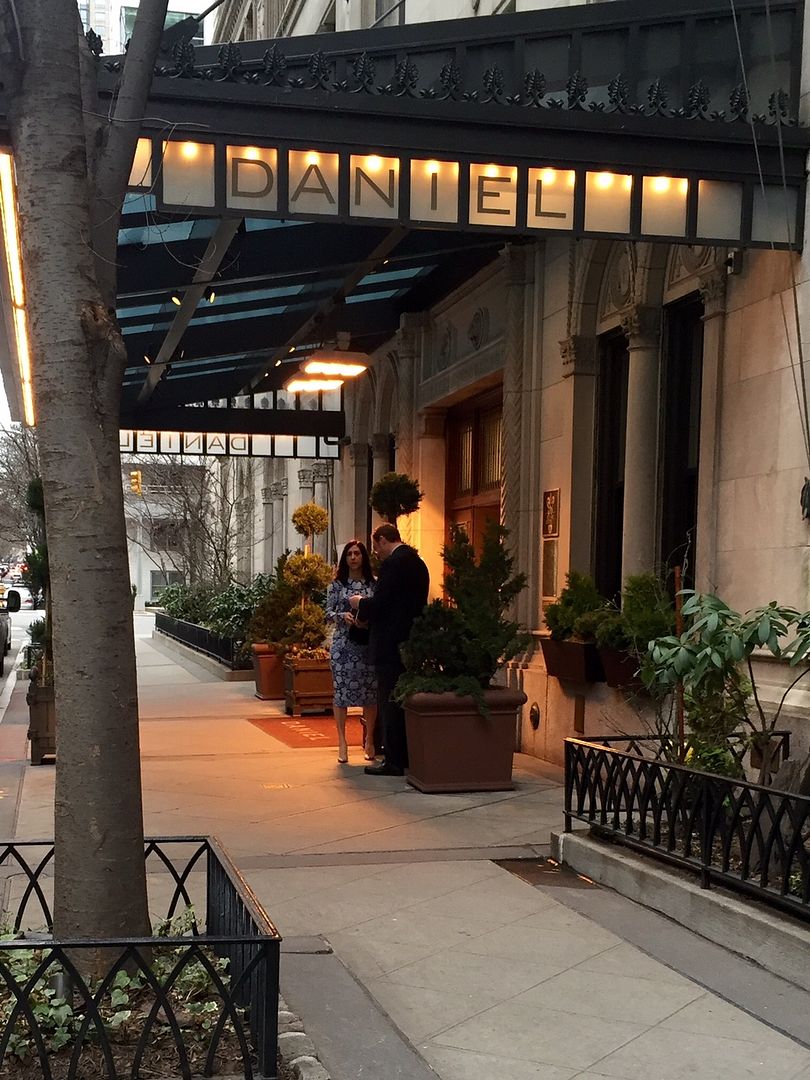 Whenever I enter Daniel, I think of all the drama played out over decades behind this door.
          I've been exploring and critiquing Boulud's food – much to his bemused forbearance — since he arrived at the Polo in the Westbury as emissary from the Michelin-starred Roger Vergé. I witnessed his early confidence at Le Régence in Manhattan's Plaza Athénée. How many times has he told the story of how it was my fault the fish was overcooked?

Daniel Boulud's passionate support of Citymeals on Wheels had led to his being co-president.
          Perhaps you discovered Daniel in the hyper-oxygenated air of the kitchen at Le Cirque, and followed him off on his own. Now as the dedicated co-president of Citymeals-on-Wheels, Daniel Boulud is family and it's a challenge to review his flagship Daniel. I hated my last tasting dinner here – too many ditsy little buttons and mounds, ruffles and innocuous rivulets. Friends brought me for my birthday. I couldn't bring myself to write about it. But others did not hesitate to find lapses.
Like everyone who is fond of Daniel, I shuddered as he took the slams. But our relationship became complicated as I felt the energy of his expanding attention to Citymeals. Now, I'm back tonight with a champion of Daniel who has no journalistic DNA to struggle with. We'd come to show our affection, our gratitude. And maybe…just maybe, I'll spot a renewal.

A Granny Smith consommé is poured around local fluke with sea urchin  and white sturgeon caviar.
          Of course, we will be seated up front like royalty, or regulars, or family. I won't throw a napkin on the floor to see if anyone picks it up. I can't judge the slings or arrows of getting shuffled onto the balcony. I suffer as my companion accepts the house's champagne since free champagne is forbidden in my book. My pal notices new trees in each corner, young spring branches. Does the room look different too? Are all the Bernardaud plates new? As you might imagine, Daniel has girded for the lions. 

It's a first. Watching a bartender use a paint brush to drop crushed fruit into Planter's Punch.
          Is it possible the staff has doubled? Or is it just that half the tables have disappeared? A parade of drilled cadets and familiars, possibly recycled from Downton Abbey, marches attendance. There's theater, too. At one point a bartender sets up a moveable podium in the center of the room and crushes fruit, using a series of long paint brushes to add his muddle to a Planter's Punch.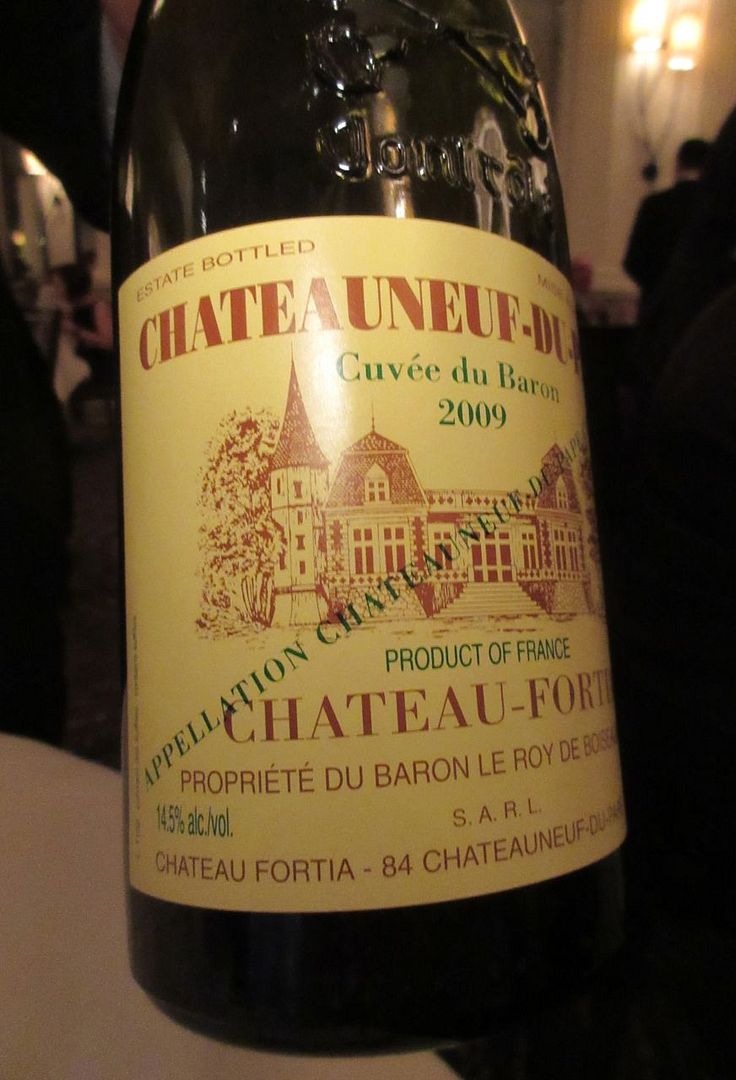 My pal selects a Chateau Fortia "Couple du Baron" Chateau Neuf du Pape for our red wine.
          We choose six dishes we both want from the three-page menu of the $142 four-course prix fixe, planning to trade. It isn't exactly simple. For instance, why is there seafood on all three pages and foie gras on two?  But we are not tourists, just hatched in Cleveland. We're spoiled New Yorkers. We know what we like.

Bread is a downfall for both me and my pal. We can't resist the many choices at Daniel.
          If you're celebrating or feeling flush, you might start the evening with champagne. But for me, bread has always been the first seduction at Restaurant Daniel, since the boss gave baker Mark Fiorentino his own corner in the cellar. Now the bakery team works in a brightly-lit East Village hideaway, creating different breads for the Boulud empire. 

I decide Mark Fiorentino's bread is too good for butter. Bob disagrees.
          In front of us, a young man twirls the metal bread dispenser and twirls it back again so we can see both stashes, reciting the lineup: sweet garlic focaccia, parmesan cheese brioche, French epi-baguette with sesame and poppy seeds, buckwheat, the three-seed roll, brioche feuilletée, an olive roll, raisin-nut bread.
          "I want them all," Bob cries.  "Give me one of each." I love going out with Bob. It's good to be with someone even greedier than I. I want them all, too. I start with the parmesan brioche, a sooty-looking epi, and a buckwheat roll. The baguette is very hard. I decide not to risk my front teeth.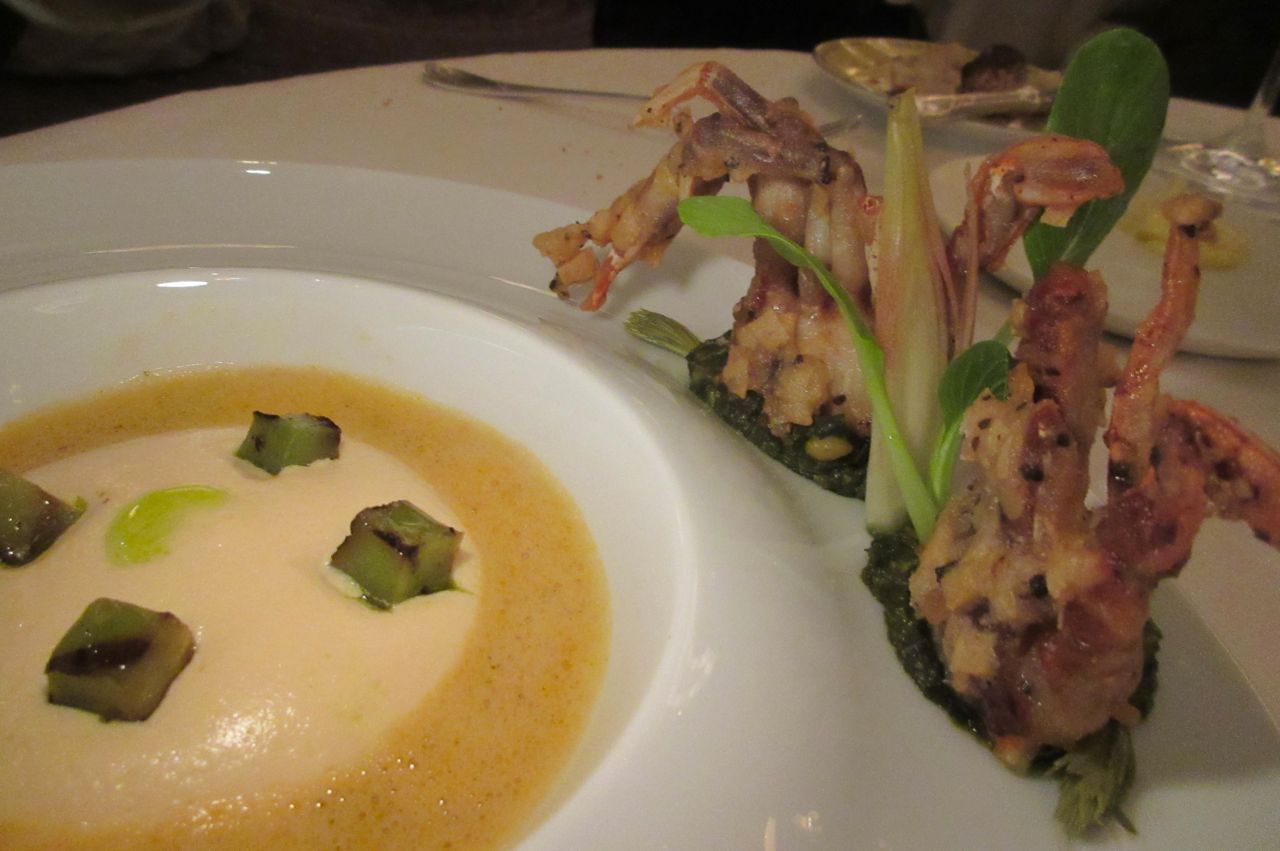 There is much delicious ado about the tempura'd crab legs waving pornographically in the air.
          The bakery courier piles Bob's bread plate high and sets down a saucer with a shiny yellow egg yolk of butter, an anthill of coarse sea salt and a charcoal line of smoked salt. The captain passes a small driblet with too many ingredients to remember. It reminds me of the too many teensies in that disappointing birthday dinner.

The three amusing phases of beet: with shrimp, in a puree with cardamom and with smoked salmon.
          But then the featured amuse arrives – a variation of beets in a trio set on a black wooden brace that fits across the service plate. Very fancy furniture, but so are the beet miniatures. Bob is won by the beet puree with cardamom, basil oil, Granny Smith apple and micro anise.  The marinated shrimp with horseradish vinaigrette, on a roasted yellow beet with pistachio, gets my attention. Small, yes, but aggressive.

Liberty Farm duck breast comes with Dandelion flower marmalade, gooseberries, gojis and fennel.
          Once the server has poured on a Granny Smith potion, I snitch an extra sea urchin from the pile of raw Long Island fluke sashimi with white sturgeon caviar, and a matchstick seaweed crisp, hoping Bob won't notice. The slightly excessive sweetness is definitely balanced by tang of the yuzu vinaigrette and sweet pepper coulis in the citrus-cured Hamachi.

          Deliciously crunchy legs of tempura'd soft shell crab sprawl in the air from the lip of another oversized dish. But I'm also snared by the many exotic add-ons – yuba, grilled celtuce lettuce, pickled spruce tips and the poured-on Kaffir-lime bisque.

These voluptuous beauties are the Mae West of white asparagus with hollandaise au Vin Juane.
          "I've never had white asparagus I liked as well as green," I had muttered earlier. "Somehow they always taste watery, as if canned or defrosted." But not these white asparagus. Tonight's voluptuous blond beauties are the Mae West of asparagus – coated in a glasslike glaze of chervil, with almond oil behind her ears and a nasturtium leaf corsage.   
          You might not notice a recurring new theme if you just sip your wine and eat.  But study the menu of your dinner that the captain may offer to print up for you. Spruce tips. Wild mustard. Celtuce stems, Pennycress weed. Aralia (evergreen) tempura. Goji berries. Knotweed. Does that sound like someone's been foraging? Does the devotion to sticks and leaves and weeds bring to mind Blue Hill Farm or seem a tad Noma?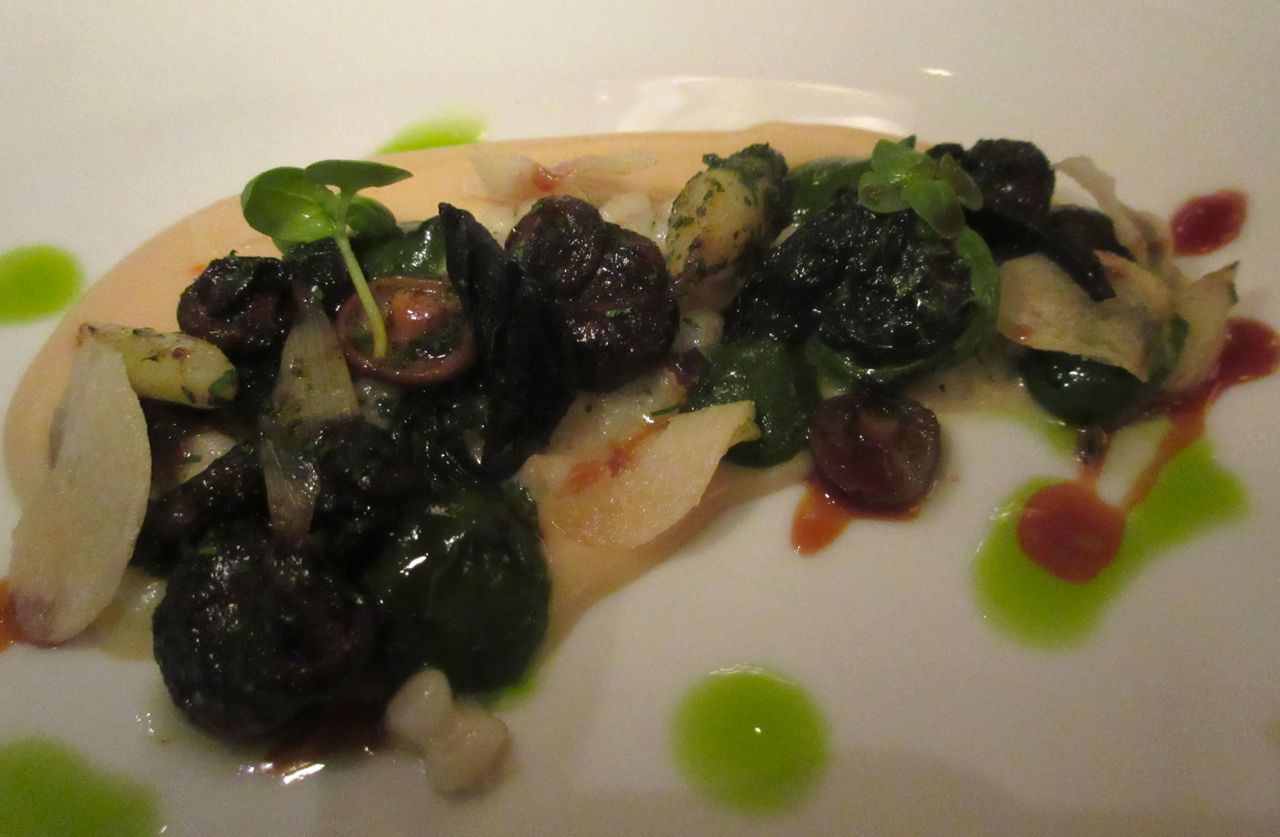 These "Petit Gris snails" with pioppini mushrooms and green garlic sprawl on creamy barley.
          I guess we can't blame our Lyonnaise import and his seconds for getting mired in weeds trying to understand Noma's culinary appeal. Not as long as they can wrangle "Petit Gris" snails into a delicious stew with peppery pioppini mushrooms, creamy barley, and basil salad.

Pan-seared swordfish comes with red mullet bottarga, celery anchoïade, and Castelvetrano olives.
          I've already dismissed the clumsy swordfish presentation, as I succumb to the miraculous other-worldliness of the black sea bass, dressed for the prom on a bed of semolina with an avocado-cucumber emulsion, a hint of wasabi and a yellow flower. I find myself intoxicated by the velvety pink flesh, slowly cooked, barely warm, painted with yogurt cream. The burgundy elegance of the Domaine Bzikot Puligny-Montrachet, " suggested by the sommelier, financed by my companion, adds to the rush of free fall.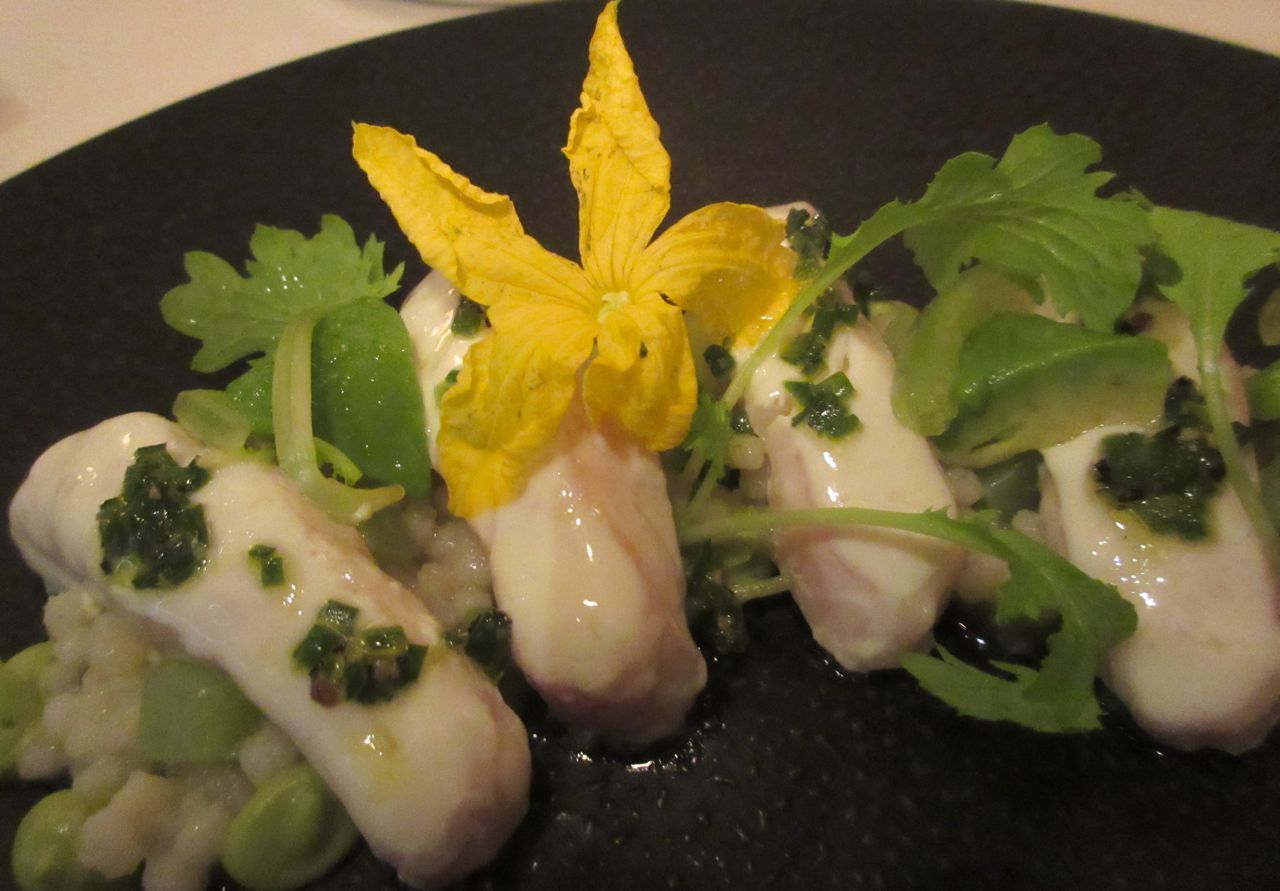 The slow baked, barely warm sea bass with creamy yogurt sauce and wasabi haunts my memories.
          The duck might seem overly ornate, too, if it weren't so delicious. There is just enough meaty rare roasted breast with dandelion flower marmalade, gooseberries, gojis and a side of fennel in a kampot pepper jus – all we can eat at this point after the kitchen's gifts and the bread indiscretion.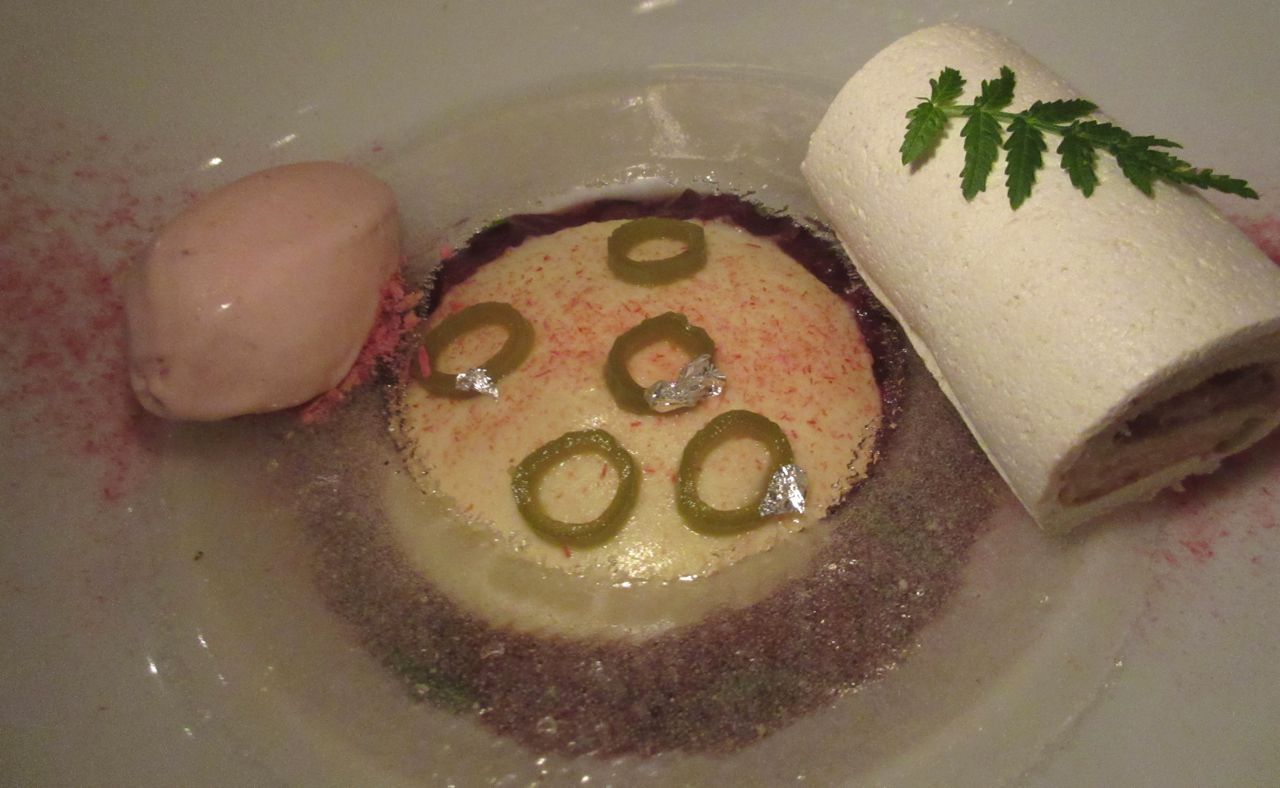 Almond sponge roll, Riesling sabayon and knotweed confit come with rhubarb-hibiscus ice cream.
          Bob and I agree that dessert should be half rhubarb because the season is so short. I would have preferred a classic American rhubarb pie, but pastry legend Ghaya Oliveira must add to the sophisticated wow here. And the almond roll with Riesling sabayon and rhubarb-hibiscus ice cream fulfills the mission, even to the confit'd knotweed.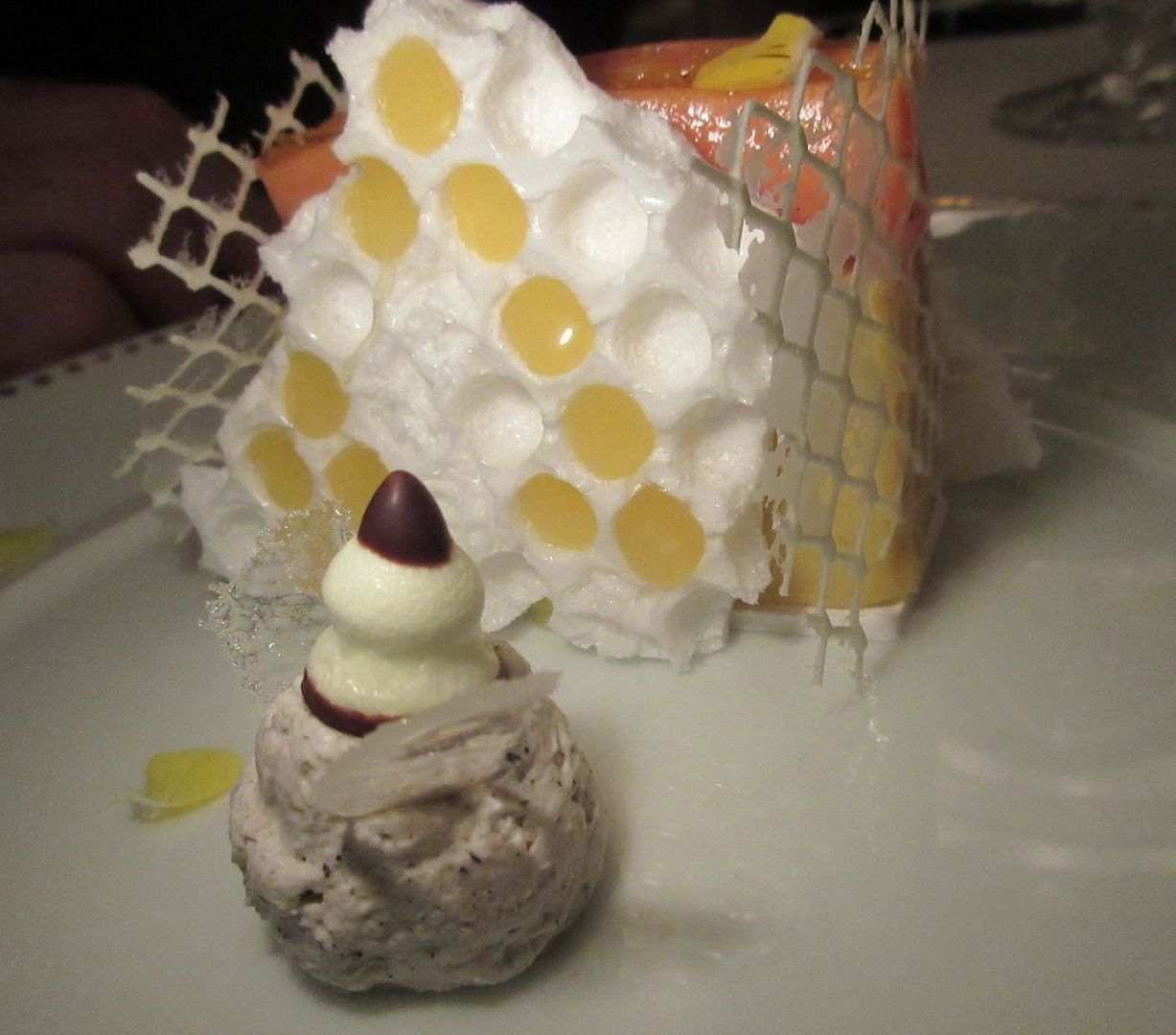 Lemon-bee pollen sorbet accompanies Honeycomb meringue with mango and papaya.
          Bob chooses "Honey," mango and papaya wrapped in honeycomb meringue with lemon-bee pollen sorbet, for its citrus. The Saint Honoré with salted pistachio cream piped onto a Linzer cookie, glazed cream puffs, and wild strawberries — the dessert classic of the night – comes as a gift, followed by three miniature pastries for each of us and even tinier chocolate.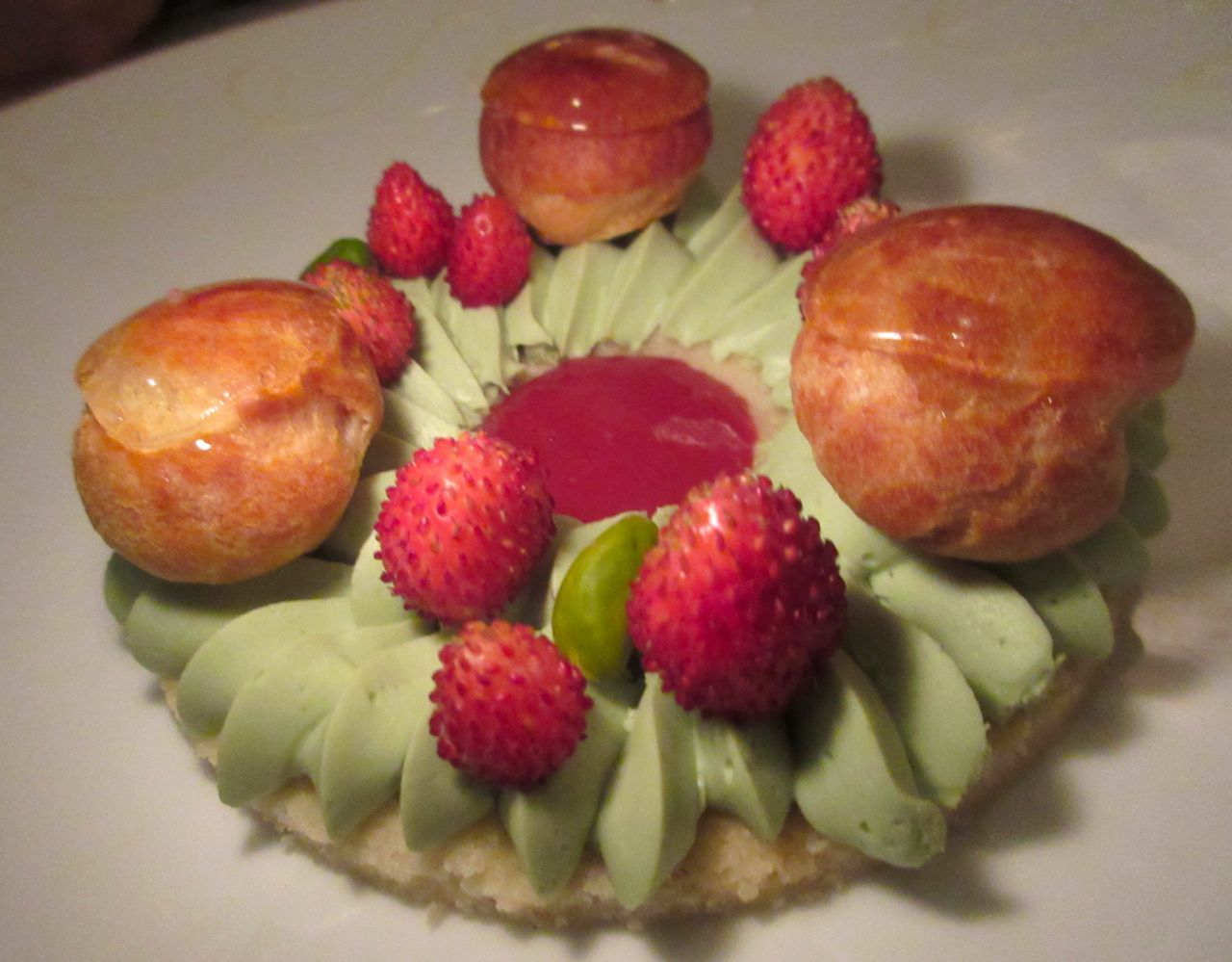 The Saint-Honoreé with its Linzer sable, fraise des bois and salted pistachio cream needn't be classic.
         

It seems to me that "An Evening at Daniel" is mobilized for a rematch with the critics. Drunk on the excess and the fantasy, I want to go to a hotel room and wake up in Paris, or, at the very least, Copenhagen.
 
60 East 65th Street between Madison and Park Avenues. 212 288 0033. Dinner Monday to Saturday 5:30 to 10:30 pm. Bar & Lounge Monday to Saturday 5:30 to 11 pm.
Photos may not be used without permission of Gael Greene. Copyright 2016. All rights reserved.