Dominique Ansel's ABC of Pies
Eight years baking pastry at Fauchon in Paris, six years as Daniel's pastry chef…You would imagine that Dominique Ansel was a master of dough. But, he will be perfectly frank, he wasn't totally prepared for American pies. "Crust is a new thing for me," he confides, soft-spoken, surprisingly unassuming. "Here in our kitchen, each person has their own family recipes."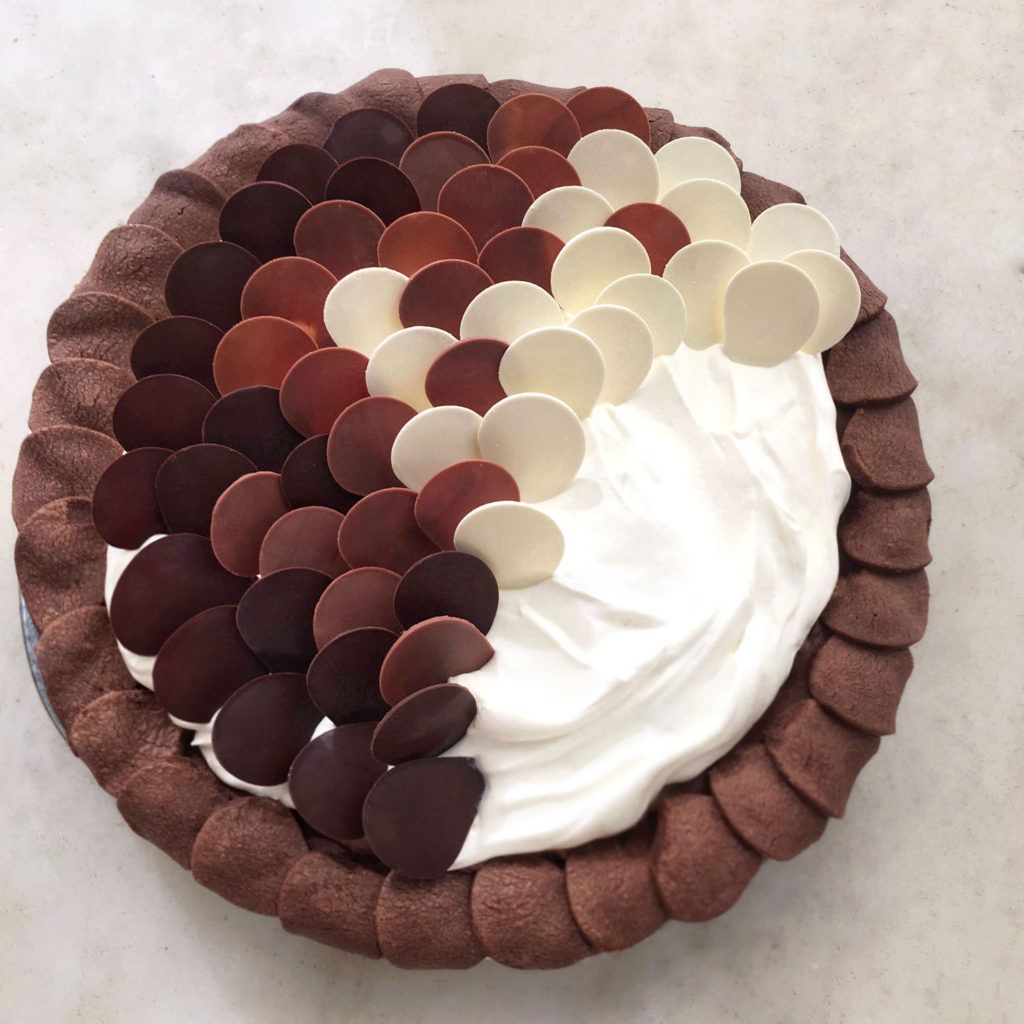 Pie Nights are sold out, so order online. Silk Chocolate Ombre Pie with Mascarpone Whipped Cream.
No way could I move fast enough. As soon as I saw the alert about "Pie Nights with Dominique," they were already fully subscribed. The rush of reservation seekers crashed the site. I definitely could not get a seat for the first Pie Night, Wednesday, September 14.

A pot pie designed for dark meat chicken lovers with a dividend of pork belly.  
At Pie Nights – there would be three sessions each Wednesday and Thursday in September, $45 per person — guests can have unlimited slices of 11 different pies, sweet and savory, with "a glass of bubbly" as the team circles with homemade ice creams to make any pie à la mode. And take home treats, too.
I wrote the in-house publicist, asking if I could come as an extra on the first Pie Night. I mentioned my 218,000 followers on Twitter, many of whom would certainly want to order pies during the very limited time they were available. Impossible, she responded, "due to very limited seating in our shop."

To many of his fans, the chef is a rock star. See how she clutches his hand in both of hers.
But she'd spoken to Dominique, and he would like me to try the pies. He was offering to make pies just for me. I was invited to come for a private tasting in his Seventh Avenue South Dominique Ansel Kitchen. She sent a menu and pictures. All of the pies are paraded online – porn for pie-fans like me. Also, they're available for preordering to pick up during the weekend following each Pie Night.

Will he pose for a photo? Ansel's enthusiasm seems matched by his cordiality and good nature.
I'd totally missed out on the Cronut sensation. Dominique Ansel Bakery began as a little bakeshop at 189 Spring Street that opened in November 2011. I don't hang out much in bakeries because I eat out six nights a week and have more than my share of desserts. I wasn't aware that Ansel's place was named the best new bakery of 2012 by Time Out New York. And "Best Bakery of 2012" by Metromix (what is Metromix?).

He has asked me to come down to the original bakery on Spring St. I might get a Cronut at last.
Then came the Cronut. No New Yorker even mildly obsessed with food could miss the Cronut madness. Ansel's fried and cream-filled romantic dalliance between a croissant and a donut made "The Jimmy Fallon Show" and "Good Morning America." Lines formed outside 189 Spring Street before the sun came up.  The Cronut was the precursor of "Hamilton." You could only buy two, so others could have some. Eater kept hourly tabs of "Cronut Mania." Bloomberg's Ryan Sutton reported "Cronut scalping."
Would it go into my obituary? Would they say she wasn't a serious food critic because she never tasted a Cronut? What does it mean to have 218,000 Twitter followers, if not one offers to pick up a Cronut for you? I'm trying to untarnish my image with this pie alert.

Monolithic steps provide seating for lunch or snacks, savory and sweet. Some baked to order.
I'm early at the bakery-café last Wednesday. A few outdoor tables are still occupied. I take photos of the pastry vitrine. I settle on a tall stool at a counter where water waits –Fiji and something fizzy. Between my table and the window is a wooden monolith with steps where customers can sit, sipping coffee with sweets or savories delivered by a server.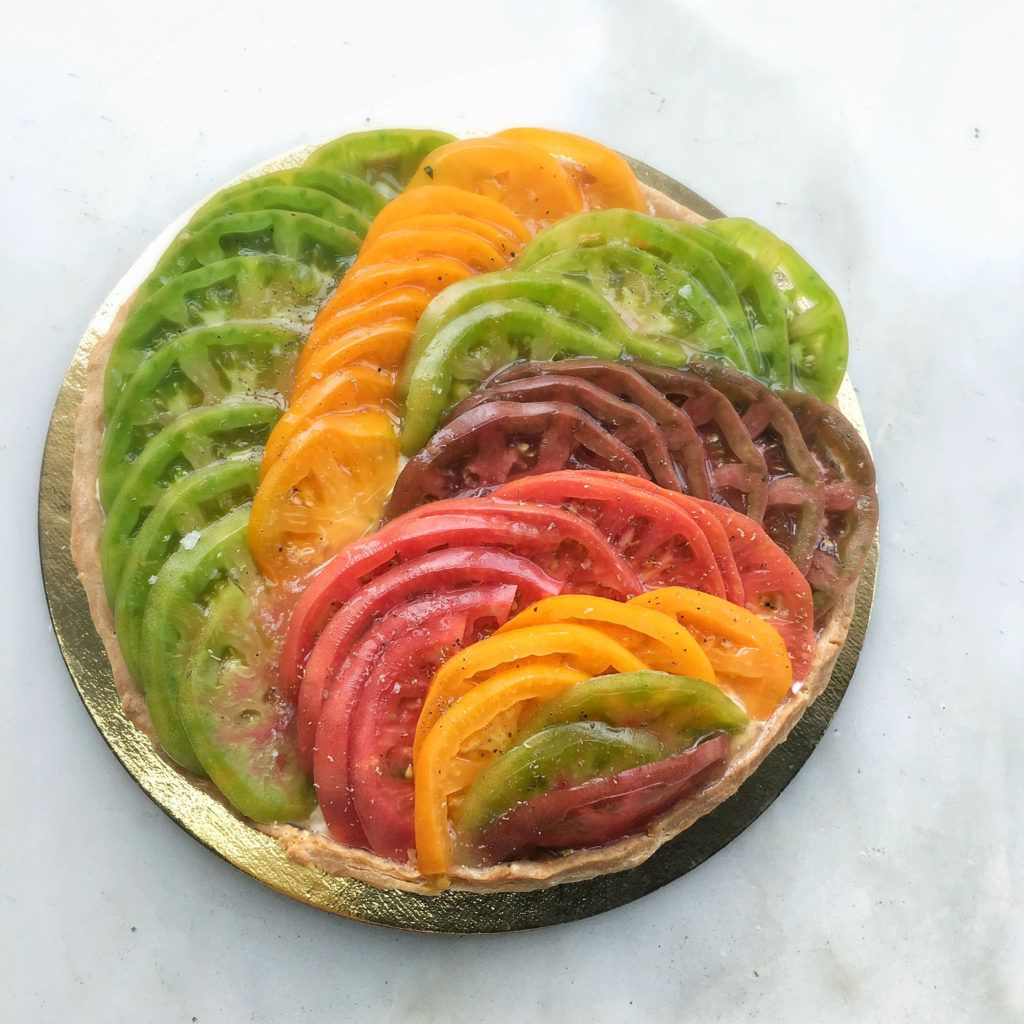 Order the heirloom tomato tart with fresh ricotta soon because it's gone after Pie Nights.
The guardian flack introduces the man in his classic white jacket with sleeves neatly rolled. He is tall and thin with close- cropped hair, emphatic dark brows and looks very young considering the dark near-beard that is scarcely more than a mephistophelian 5 o'clock shadow. Two waiters follow with our four pies.

Here are my pies to taste: Banana Cream with gold leaf, Lime with meringue and Salty Caramel Apple. 
Ansel delivers a descriptive caption for each. Key Lime Pie with Coconut Milk Whipped Meringue and Homemade Graham Cracker Crust. (Yes, everything in caps.) Flambéed Banana Cream Pie with Buttered Speculoos Crust. Salted Caramel Apple Pie. And…Burgundy Short Rib Cottage Pie with Whipped Yukon Gold Potatoes. How would you like to start?" he asks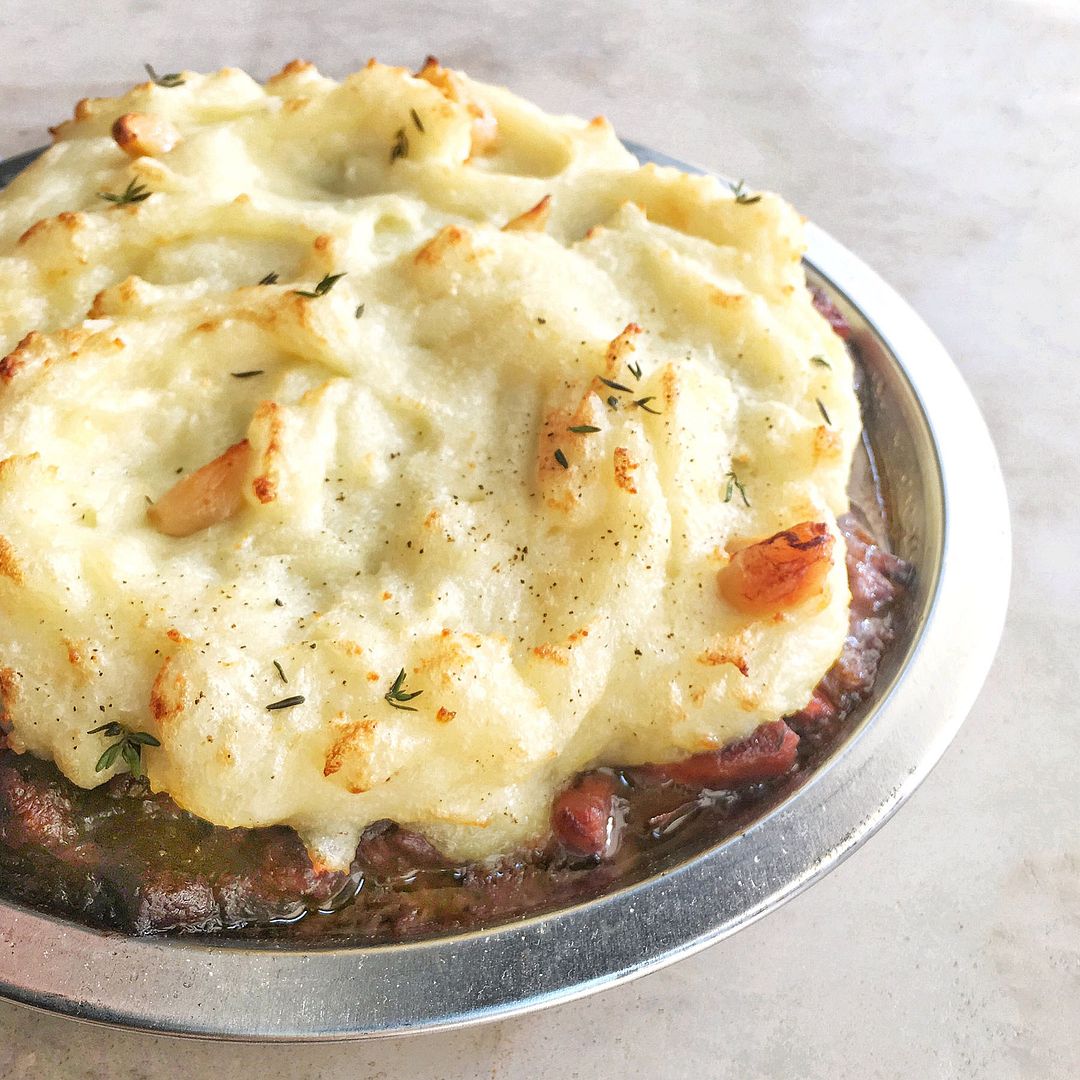 He didn't ask if I'd like to take my leftover short rib-cottage pie home. He's got more class than I do.
"Short rib first." He cuts me a piece. Peaks of mashed potato frost the delicious meaty stew. "I added the garlic confit," he says. I want to finish the small plop of umami and ask for more. I skipped lunch to save myself for this. But we're moving on.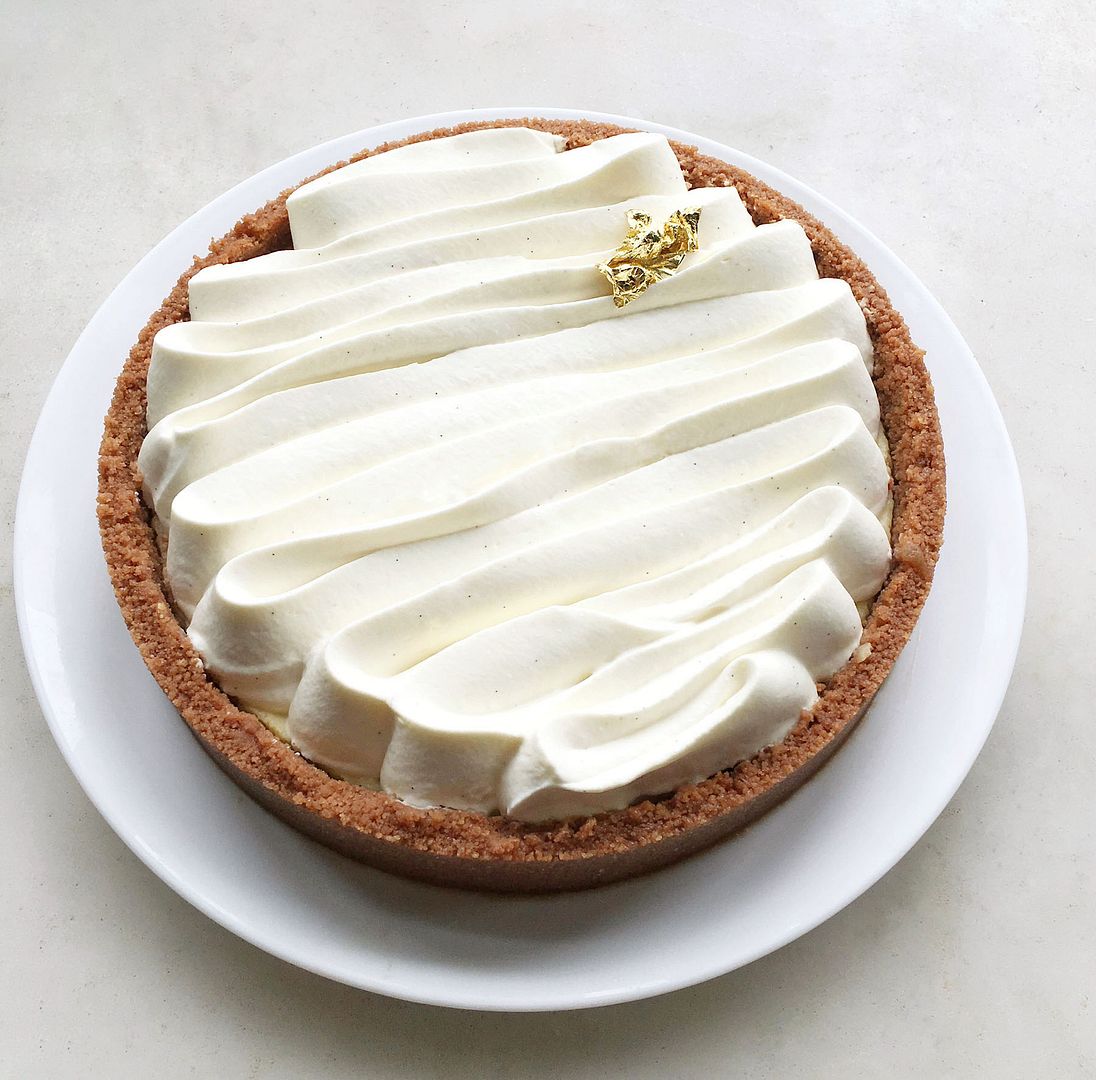 I think of my friends who would bow to the flambéed banana cream pie with buttered Speculoose crust.
Speculoos biscuits – spiced short crust cookies – make the crumb crust for the rich banana pudding with its core of caramelized bananas. The smartly tart key lime is my favorite. The lattice of the apple pie seems too thick to me. I'm shocked at the stumble. But I appreciate the sturdiness of the apple. So I comment on that.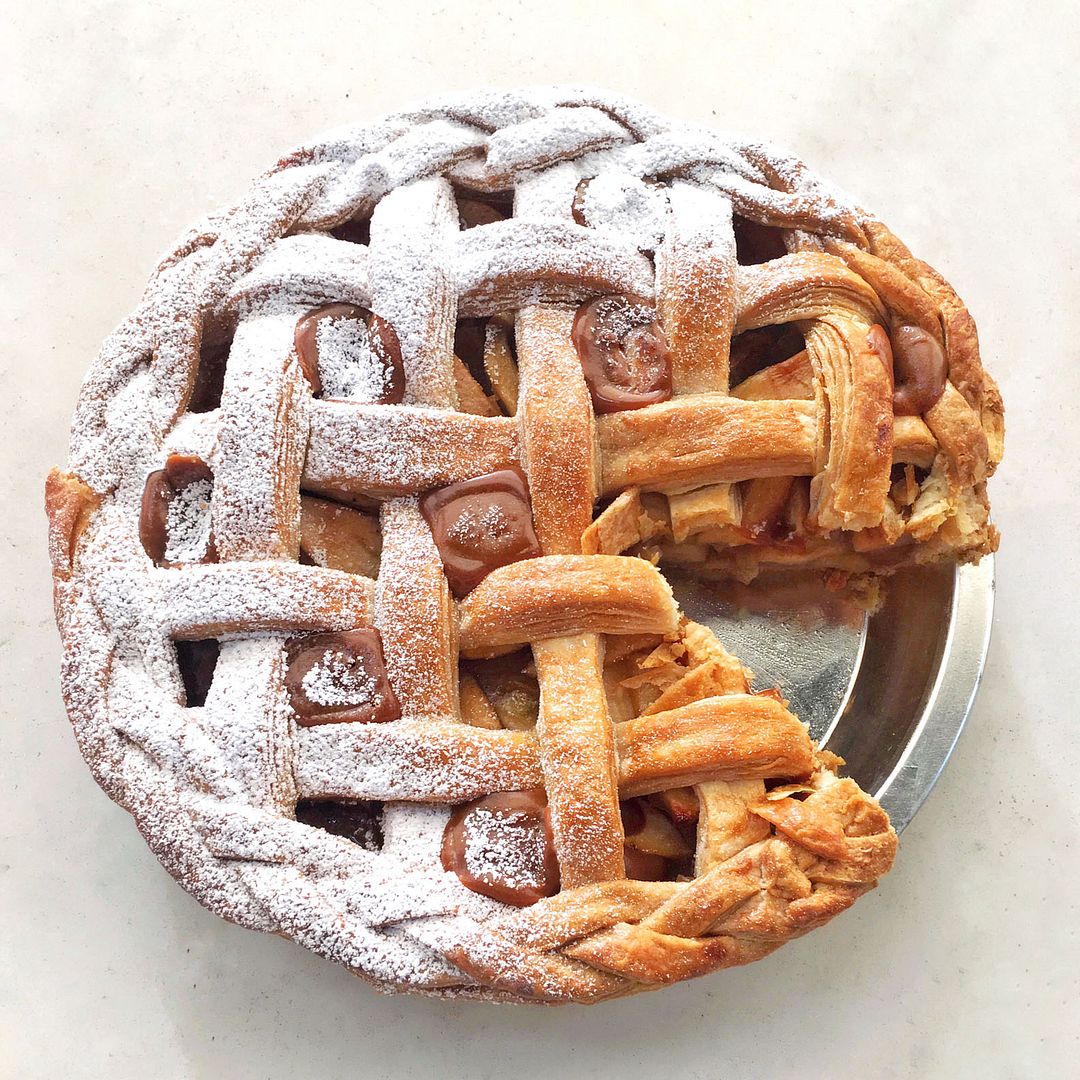 The thickness of this salted caramel apple pie is deliberate, of course, but I'd like it more delicate.
I think I could have tasted two or three more. And I longed to explore all of the pies that would be offered on Pie Nights. But that might have led to a sugar surge coma. Ansel is probably a better judge of pastry tasting capacity than me. He leads me upstairs to see the tiny laboratory overlooking the street where four or five staff members are occupied. Sun pours in the tall windows.

The small laboratory-bakery upstairs overlooks the street and a table is strapped to the ceiling.
Strapped to the ceiling is a large table that lowers for "Unlimited Possibilities," small tasting dinners that are not scheduled for September as the chef and his team focus on opening in London. For Japan, his first overseas venture, he created "Mr. Roboto" buns and "Tokyo Paris," a play on the Paris Brest with matcha ganache and passion fruit curd. His "Frozen S'mores," torched to order, proved so popular, he was inspired to open a "S'mores Pop Up" shop.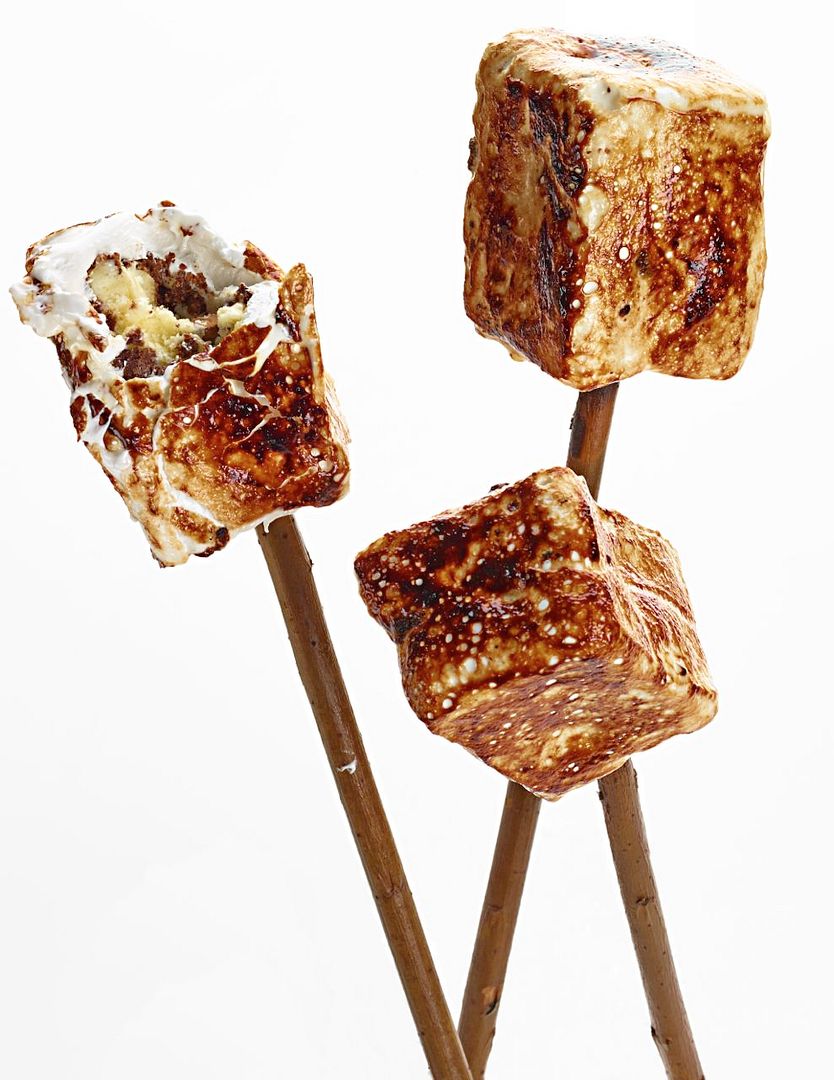 The frozen s'mores, ignited to order, are a triumph at Dominque Ansel's Tokyo bakery. 
I did not write this just to torture pie lovers. Currently, all 11 pies can be pre-ordered on the site.And there will be a new menu when "Unlimited Possibilities" nights resume in October.
Dominique Ansel Kitchen 137 Seventh Avenue South between 10th and Charles Streets.212 242 7333. Monday to Sunday 9 am to 9 pm.

Dominique Ansel Bakery 189 Spring Street. 212 219 277. Monday to Thursday 8 am to 7 pm. Friday and Saturday 7 am to 8 pm. Sunday 9 am to 8 pm.