Feeding Summer Hungers: Hampton Eats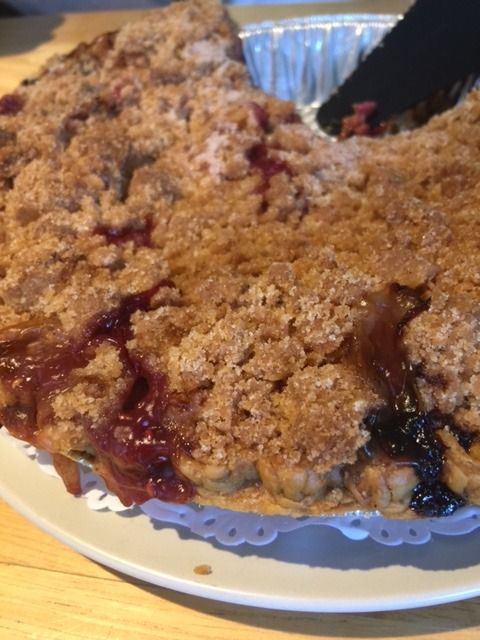 I brought raspberry-peach pie from Round Swamp Farm and enlightened my hosts on pie for breakfast.  
As soon as I arrived in East Hampton last Friday, I started thinking about pie. I love American pies — fruit pies especially. It was after two o'clock, and I worried that the Round Swamp Farm stand would already have a line out the door and there might not be a pie left on the shelf.
But the Gods of Pie were on my side. The parking lot was full, but the store was not. I slithered past the tempting coffee cakes and dove for the pie shelf. I had a choice of Peach Rhubarb or Raspberry Peach. "Raspberry Peach," my friend Howard counseled. I bought two. One for him and his family. One for my hosts, cookbook writer Hillary Davis and her guy, architect Jim Barclay.

As soon as I get off the jitney in East Hampton, I rush to Round Swamp Farm stand before the pies disappear. 
Hillary and Jim welcomed me like long-lost family, but they seemed pretty nonchalant about the pie sitting on their kitchen counter. Next morning, Hillary offered to make eggs for my breakfast. "Oh, I'll just have some of this fabulous coffee and a piece of that pie," I said. Outrageous, I agree. Terrible etiquette. Usually, I wait till someone in my host's house takes the virginity of my gift pie before I dive in. But it just wasn't happening. Hillary photographed the pie for Instagram and then joined me.

On the second morning, I put a slice of pie on top of my yogurt. Hillary was into the morning pie mode, too. Escaping to the Hamptons is a joy in any season – especially in the stone-fruit season. But what's most thrilling is that out-of-town calories don't count.
Round Swamp Farm. 184 Three Mile Harbor Road. East Hampton.
---
Jean-Georges Gets His Hampton Mojo: Topping Rose House

Jean-Georges in the kitchen at Topping Rose—Photo by Lindsay Morris from Edible East End.
I've eaten Jean-Georges' steak in Las Vegas and his spicy chicken wings on a rooftop of the W hotel in Istanbul. He established a stand on Avenue Matignon, steps from the Champs Élysées, decades ago. I had dinner with friends and family the evening he opened his Pound Ridge Inn. So, recruiting Jean-Georges to shore up Topping Rose House should be no surprise. Only how long it took to land him.
Am I imagining it?  Even the valets seem more cheerful as we pull up to the big, white, 1842 Greek Revival style mansion. It stood mysteriously empty for so many years until it opened in 2012 with Tom Colicchio in the kitchen. Yes, it does seem livelier tonight. Everyone is smiling. Jean-Georges said it would be less formal. And it is — bare tables pressed close together, votive candles in glass ovals, a small bouquet of field flowers, the waiting cadre in denim aprons, bushy-tailed and intimate. I notice our waiter actually squeezing the shoulder of a woman at the next table. I'm shocked, but, apparently she's not.
There is a welcome of radishes, two sculpted beauties, echoing the menu's dainty logo. The lineup is familiar, not sharply different from Pound Ridge, with dishes from ABC Kitchen and ABC Cocina. We'd planned to be three tonight, though there definitely is not enough room for six adult legs under our teeny corner table for two.
And there is just enough parking space, placing the very good country bread half off the table, for our server to drop off tangy fluke crudo, the crispy calamari with citrus-chili dip, and a starter of crunchy salmon sushi. The waiter is in despair when he returns belatedly with a gift from the house: pea guacamole to pile on warmed tortilla chips. I divide the salmon sushi to our share plates, freeing up a platter for him to carry away, and beg him please not to bring anything else for at least half an hour.
I'd asked that my pal's local bass be "more lightly cooked than usual." Alas, the small wedge of fish is dry as cardboard. The waiter promises to report it to the manager. Still, we're content, the two of us sharing my outsize portion of rigatoni with meatballs in a chipotle-tomato ragu. The meatballs are ethereal. I'm delighted the oddly shaped pasta does not look like any rigatoni I've ever encountered. It's firm and delicious.
Dessert feels a little bit like work now. (Well, it is. I need to report on it.) I'm tempted by glazed peaches and apricot sorbet on almond cake, but decide I can't deny my friend, or myself, the salted caramel sundae with peanuts and popcorn that is a must for me at ABC Kitchen. Tonight, the chocolate sauce is scant, but I don't complain. The house has sent the almond cake as well. By the way, the inedible bass has not been taken off the bill, $100 pp. With the demanding late-night crowd pressing in, I'm guessing the manager has bigger snarls to deal with.
1 Bridgehampton/Sag Harbor Turnpike. Bridgehampton. 631 537 0870.
---
Truckin' and Trawlin' to the North Fork for Lunch
We join the crowd on an August Sunday lining up at the North Fork Inn lunch truck.
Elvis drove a truck. But that has nothing to do with why we're driving to the edge of Sag Harbor and taking two ferries to Greenport for Sunday lunch. My friends who live year-round in East Hampton like to escape August madness once or twice a week for a lazy al fresco lunch they pick up at the truck parked behind North Fork Table & Inn. Inhaling the breeze as you cross the bay starts the fantasy of escape.
Leaving Greenport behind, we aim the car toward Southold. Alas, the tranquility of weekdays is splintered this August Sunday. There's a line leaving orders, a line waiting to pick up, and out back on the green, all the tables are taken. But we don't pay that no never mind, as Elvis might say. My friends unpack their own table and chairs from the trunk and unfold giant napkins.
As a habitué here, my pal Howard explains the drill. At one window, a woman takes orders and cash. Pickup is at the second window. As a close-cropped, white-haired woman whirls and turns and leaps, I recognize Claudia Fleming, once the celebrated pastry chef at Gramercy Tavern. She and her late husband, Gerry Hayden, created the award-winning North Fork bed and breakfast with another couple in 2005. I've come often with South Fork playmates for dinner. We shake hands and she ducks and bends away, off to wrap two more hot dogs.

I take a bite of my friend's steak sandwich because it seems like my fried chicken burger will take forever.
I consider a Berkshire pulled pork roll. I think how long it's been since I had posole. Do you like hominy, too? My friends order two steak sandwiches and fries. I like the idea of a fried chicken sandwich with chipotle aioli and cumin-lime coleslaw. With three lemonades and three chocolate chip cookies, the tab totals $59. It's all made to order, Howard says, walking me back to our table to wait with Fran.
We wander to the edge of the property, overlooking a shallow stream and rocks where a young man is fishing.  "This seems to be taking forever," I complain. Howard goes off to fetch the steak sandwiches and fries. "Your chicken had to be fried," he says. At last. Super crunchy and freshly cooked. One of these days, I might learn to shed a little urban angst.
57225 Main Road. Southold. 631 765 0177.
---
The Tale of a Cucumber: Osteria Salina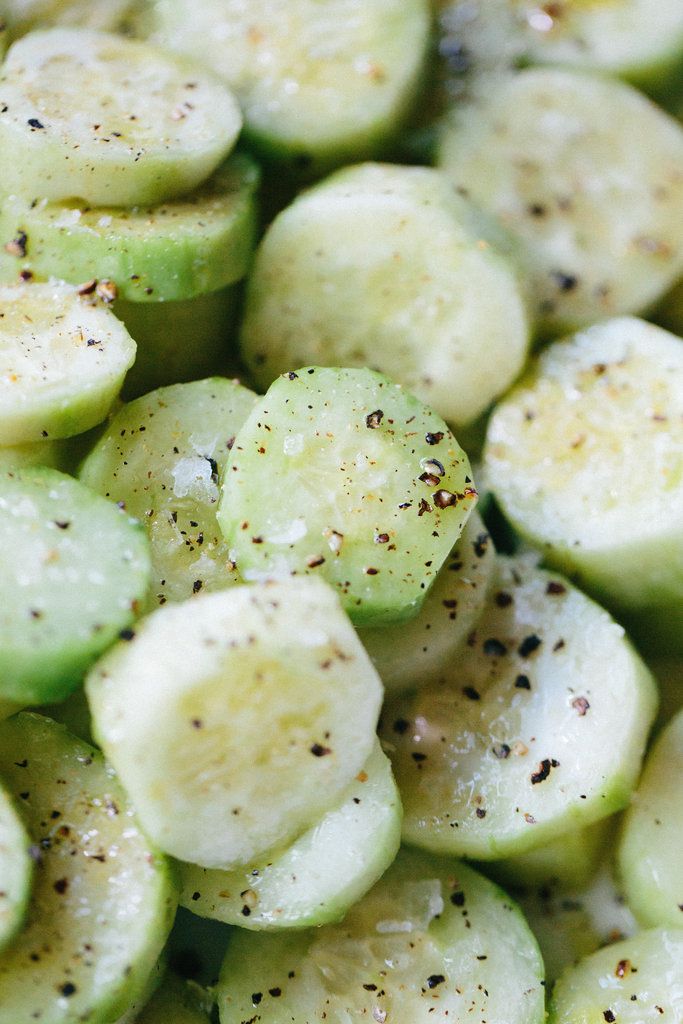 Osteria Salina is known for its thick cuts of salty Kirby cucumbers, the house giveaway.
The Osteria Salina in its new ritzier quarters off the highway in Wainscott was not even officially open last May when I stopped in. Even a month later, the crew was not yet racing across the floor to feed the entitled hordes as they are tonight. Tim Gaglio greets me and delivers thick chunks of salted cucumber slices himself.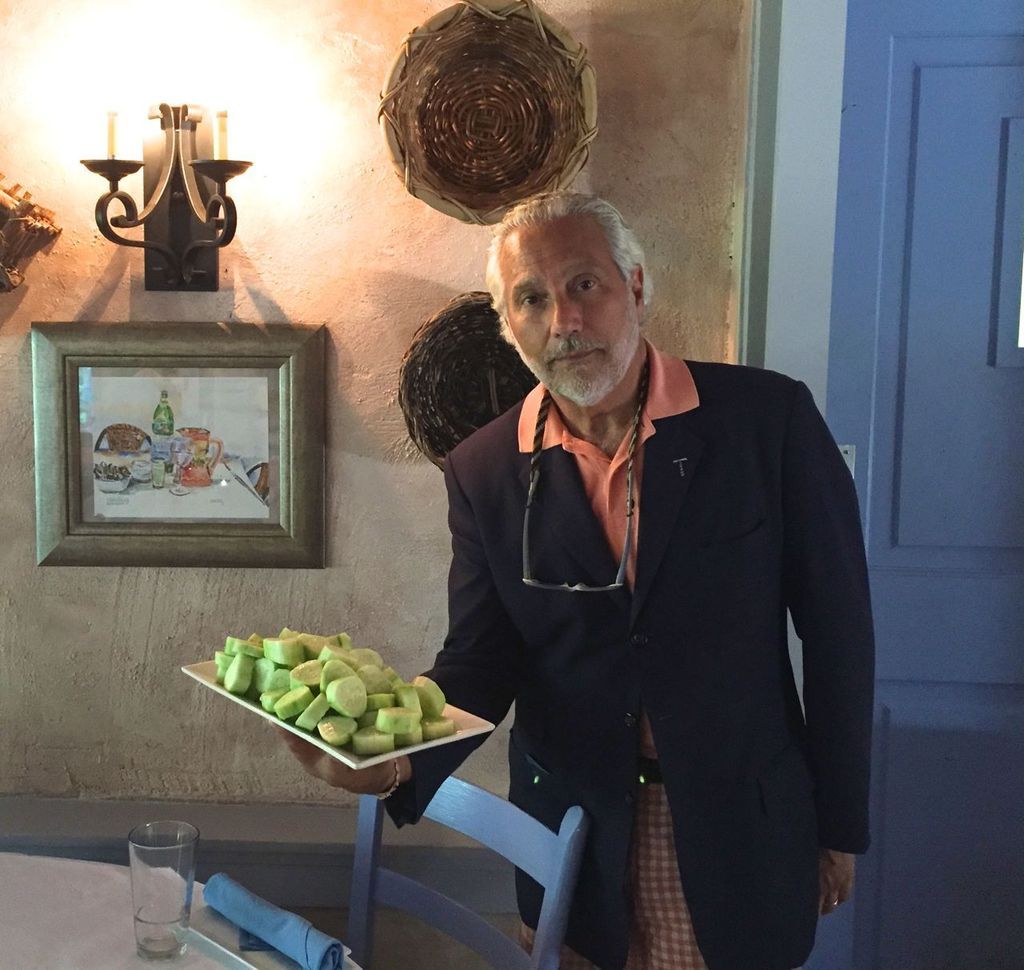 And Salina's host Tim Gaglio is known for the cucumber and bare legs in short pants year round. 
We're not at the VIP table in front of the sedate Georgica Room overlooking the pool I thought I owned. We're in a low-ceilinged den that magnifies noise. Even so, the waiter delivers the Osteria's voluptuous caponata with melba toast as a gift of the house. Gaglio's son strides past, saying hello.

Here's a second gift from the kitchen: classic Sicilian eggplant caponata with melba toast.
Still, I'm sad when my insalata Salina arrives – flat on a dish, a lawn of lettuce flutters with some scatterings of chickpeas and ricotta. I'm remembering the mountainous pile of Grandma's Misticanza salad that first night. There was no way I could make much of a dent in it. My fritto misto is smaller, too – the same collection of sea creatures, zucchini and battered lemon peel as before, but not as crisp.
My friend Hillary's special pasta of the evening, a classic puttanesca with tuna, is excellent. But something is seriously wrong with her guy's $38 Doppio Nero – black linguini with jumbo shrimp and basil pesto. It's soft and sticky and hopelessly clumped.  As Tim rushes by, catching his foot and almost falling, I stop him. "Tim. The squid. It's a mess."  He grabs the plate and races away.
Two minutes later he is back with a perfectly cooked version of the squid ink linguini dish. All of us are amazed at the speed of exchange. "I wasn't going to send it back because I thought we'd have to wait too long," Jim says. The Saturday-nighters are arriving now in groups of eight and ten, claiming corners and whole rooms. This is surely what the Gaglios had in mind when they took on this immense space. But outside, thunderstorms threaten. We decide to skip dessert.
"You're having dessert anyway," our waiter says, bringing plates and flatware. Suddenly, there at the table is Cinzia Gaglio. She has brought what looks like a brioche. "It's my zuppa inglese," she says, cutting it into three buttery, caramelized pieces. "It's deep fried brioche with vanilla and chocolate custards, Campari,  Carpano Antica Formula Vermouth, and Sag Harbor rum." I taste the enchantment. Hillary Davis, whose French Desserts is out next month from Gibbs Smith, gasps.
So, maybe Osteria Salina isn't my own private castle anymore. It's August in the Hamptons and I'm just a weekend carpet-bagger. Cinzia can't possibly touch every dish with this magic. I promise myself to return in October.
108 Wainscott Stone Road.Wainscott. 631 527 5396.