Gramercy Farmer & the Fish Goes Urban
From the Farm in Purdys: Colorful farmers salad with field greens, shaved root vegetables and cheese shards.
This noisy fantasy arrived at the perfect moment. Just when the nastiness of the political stage has left us weeping to the therapist or collapsed in a fetal position, Gramercy Farmer & the Fish moves in to Park Avenue South. It's the timely alliance of finicky backyard farmers in Purdys, New York, with a fussy seafood wholesaler at Hunt's Point Market in The Bronx.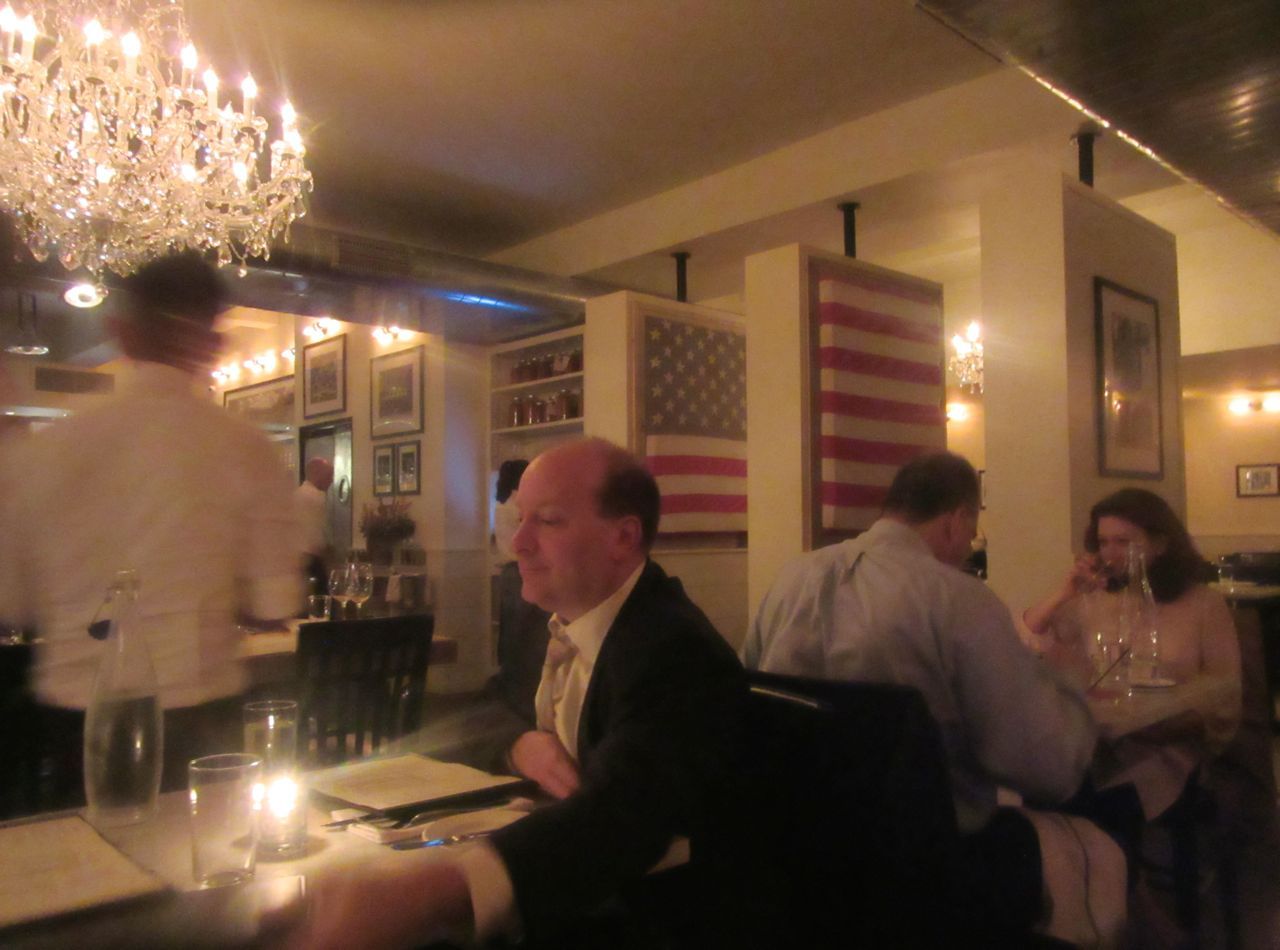 It's early and not yet bustling, but the bookcases are turned open to the back room so you can see the flag.
Just in time — a prescription for sanity. Aren't we all longing to grow lean and mean on scarlet turnips and fall raab and aggressive Sungold tomatoes? We know we need to eat more fish (even as we succumb to a crusty pork shank.) As my friend, a Gramercy-Flatiron-Photo District local, notes, this sprawling invasion of what used to be Tasca Chino, is exactly what the neighborhood needs.

In just an hour you won't even be able to see the bar or get close enough to study the many oysters on ice.
The basic architecture is the same. The bar up front is crowded with drinkers, snackers and a dozen oysters on ice with their shuckers. If there is no party booked for the communal table, it's dressed for twos, with baguette trays marking boundaries. The skyscraper beauty at the welcome stand leads the way. At 7:30, when our quartet gathers, the hundred or so seats in the front room are sparsely occupied but it's already painfully noisy.
By 9, it's packed and the din is torturous. "What did you say?" the waiter asks. The fuzz stuffed under our chairs is a feeble attempt at muffling the racket. "We've already ordered the panels," the manager assures us. The bookcases closing off the back room are propped open, showing their painted stars and stripes.

When dusk falls, we can't see the photos of fishing friends on the wall over our heads or the food in front of us.
It's too dark too. Two chandeliers, misplaced in a rustic theme, do not penetrate the murkiness at our table. We need a flashlight to see the collection of fishing photographs on the bare brick wall above our heads.  And as night falls with no remorse, we cannot see our food.
My local pal has come twice with her guy. "I like the look of the butter on this marble rectangle," she notes, as the waiter drops off warm rolls.  She especially approves the salmon. "It didn't come with autumn squash risotto last time," she notes.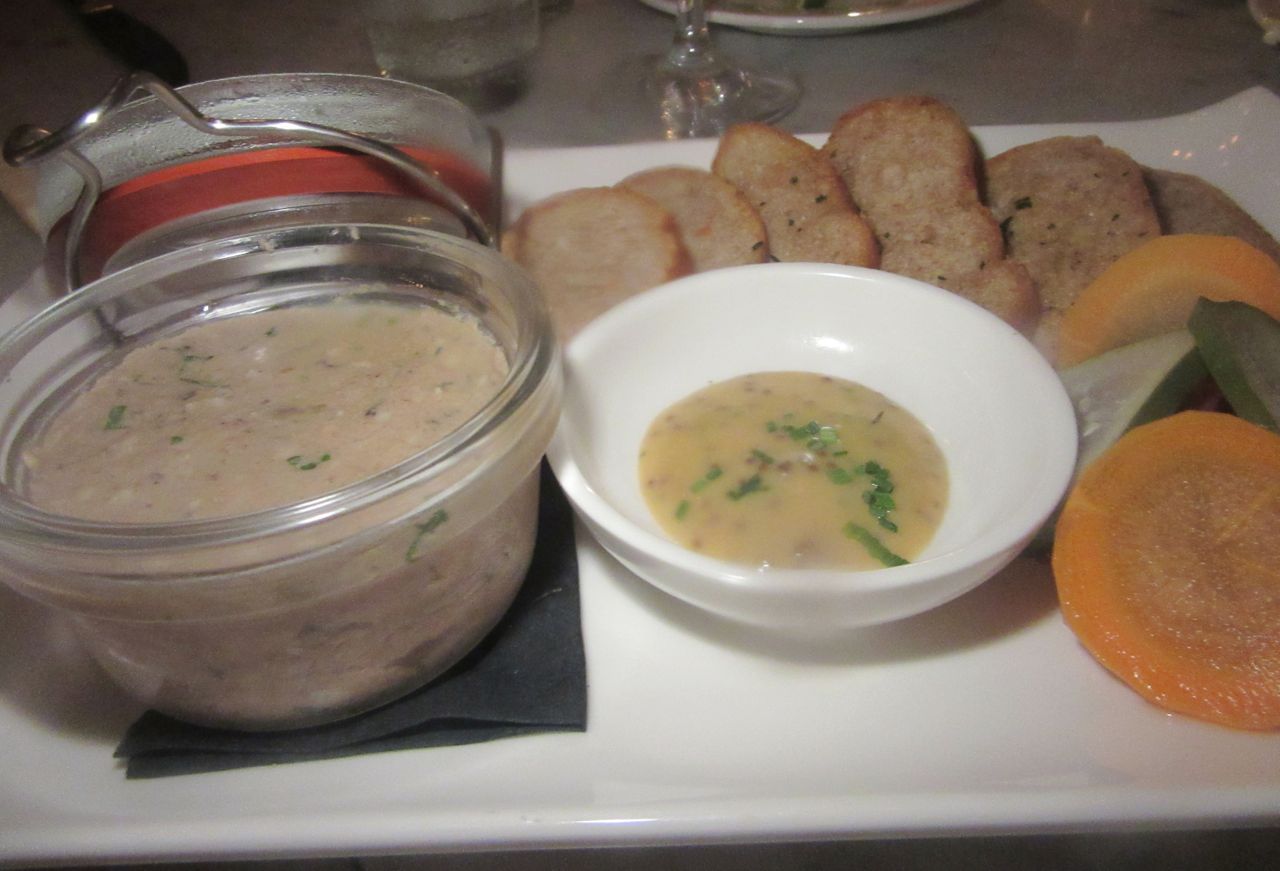 Bubby's chopped chicken livers with croutons is more than enough for four of us to share.
She's not as fussy as I am. But after sampling more dishes than four of us can finish, I'm longing for a farmer and a fishmonger to set up shop in my neighborhood. What's good is very good. "Bubby's Chopped Chicken Livers" come in a canning jar to spread on croutons with fresh pickled veggies from the farm. "The livers are sautéed and ground by hand for more mouth feel," executive chef Michael Kaphan tells me.

The frisée salad comes hidden inside a tower of sunny side up fried eggs with scallops en garde.
An attractive tower wrapped in fried egg with seared sea scallops alongside gets pulled down, unleashing a delicious tumble of frisée with slices of fingerling potato and crisps of bacon. House-cured pancetta adds flavor to the bibb salad. The Montauk squid nested in grits gets a piggy oomph from chorizo. "Country Crostini," if you must ask, are classic crostini with alliteration.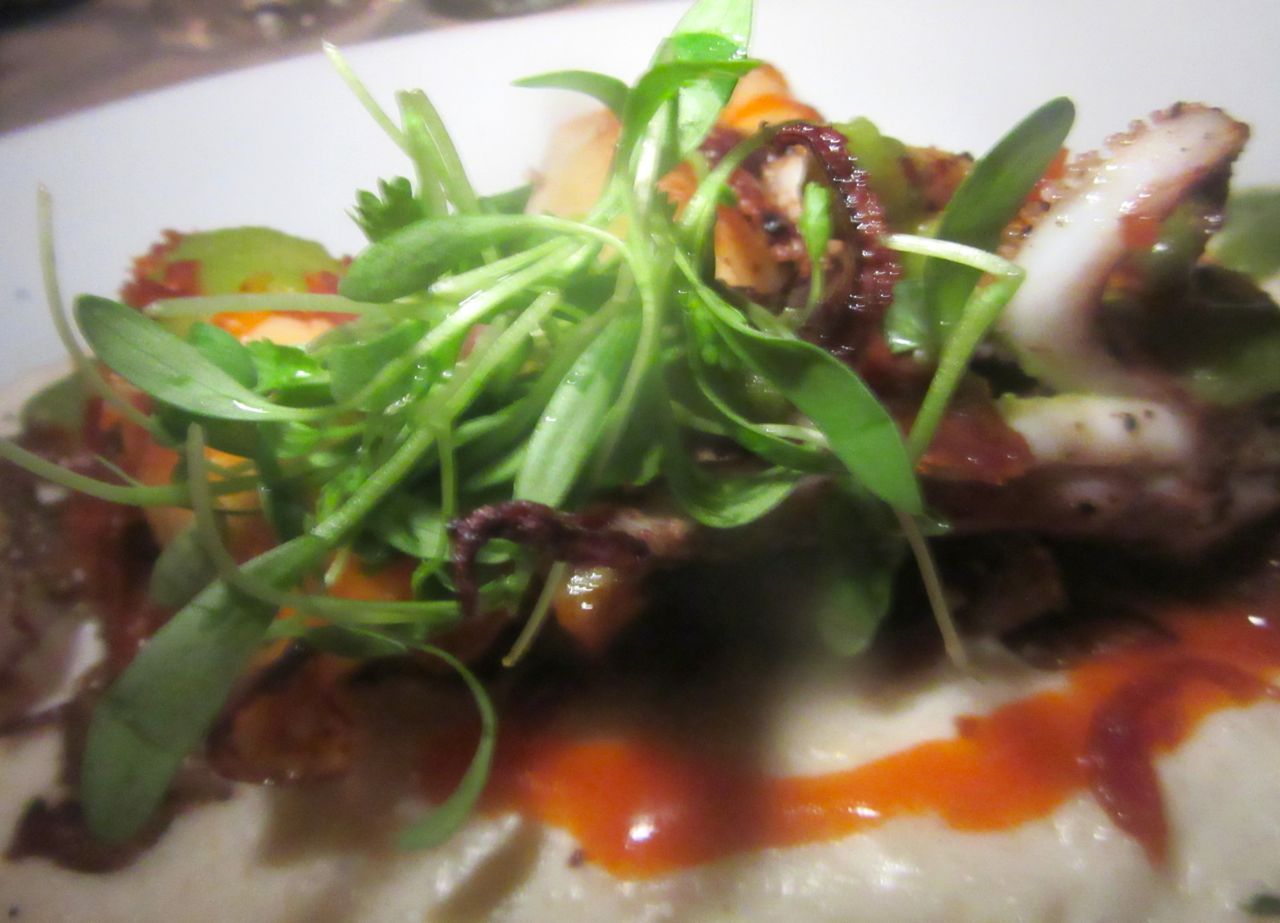 Greens tangle in the chorizo-stuffed squid on Tumblewood cheese-flavored grits.
The kitchen sends out a gift of "Farmer's Sushi." Alas, slivers of big eye tuna and salmon on small nests of chopped scarlet turnip laced with African blue basil suggests that farmers need to get out more often.
The large and juicy Amish chicken sits on Fontina-mashed potatoes with fall raab and rosemary jus.
But order the fine Amish chicken, a large juicy bird on fontina mashed potatoes, and you will quickly forget the sushi. A whole local sole on the bone in brown butter with capers and cauliflower is excellent, too, fresh and not overcooked. A manager walking by stops and offers to bone it.

So sorry about the grease spot on my lens. I'm mortified. It doesn't help the monkfish Milanese much.
Here's a trend caught in the breading. Last week at Sistina I had swordfish Milanese. Tonight, it's monkfish Milanese, with a luscious toss of salad — arugula, shaved root vegetables and tangy yellow Sungold tomatoes. Maybe it's not such an inspired trend.

The lobster roll would be more exciting if the promised lemon aioli had arrived. But the fries are exceptional.
Asked to choose warm lobster with bone marrow or cold lobster with lemon aioli in her lobster roll, my salmon-loving friend chooses the cool. "Why is this so boring?" I complain. "Where is the mayonnaise?" It seems the kitchen forgot the aioli. Both sides I've ordered are winners: the Tumblewood cheese-pepped up grits and Brussel hearts with bacon. Trust in bacon.

Brussels hearts & bacon, the menu promised. As always, it's the bacon that cinches it.
The chef and his partner. Edward Taylor, met before thoughts of farming when Kaphan, a veteran of Coco Pazzo, La Goulue and Zoe found himself patronizing Taylor's Down East Seafood. When they decided to do  Purdys Farmer & The Fish together, they discovered ways to exploit the four-acre backyard to grow their own vegetables, prolonging most growing seasons. (Box Tree Inn once lived here.  Click to read of its wonderfully preposterous luxury in l977).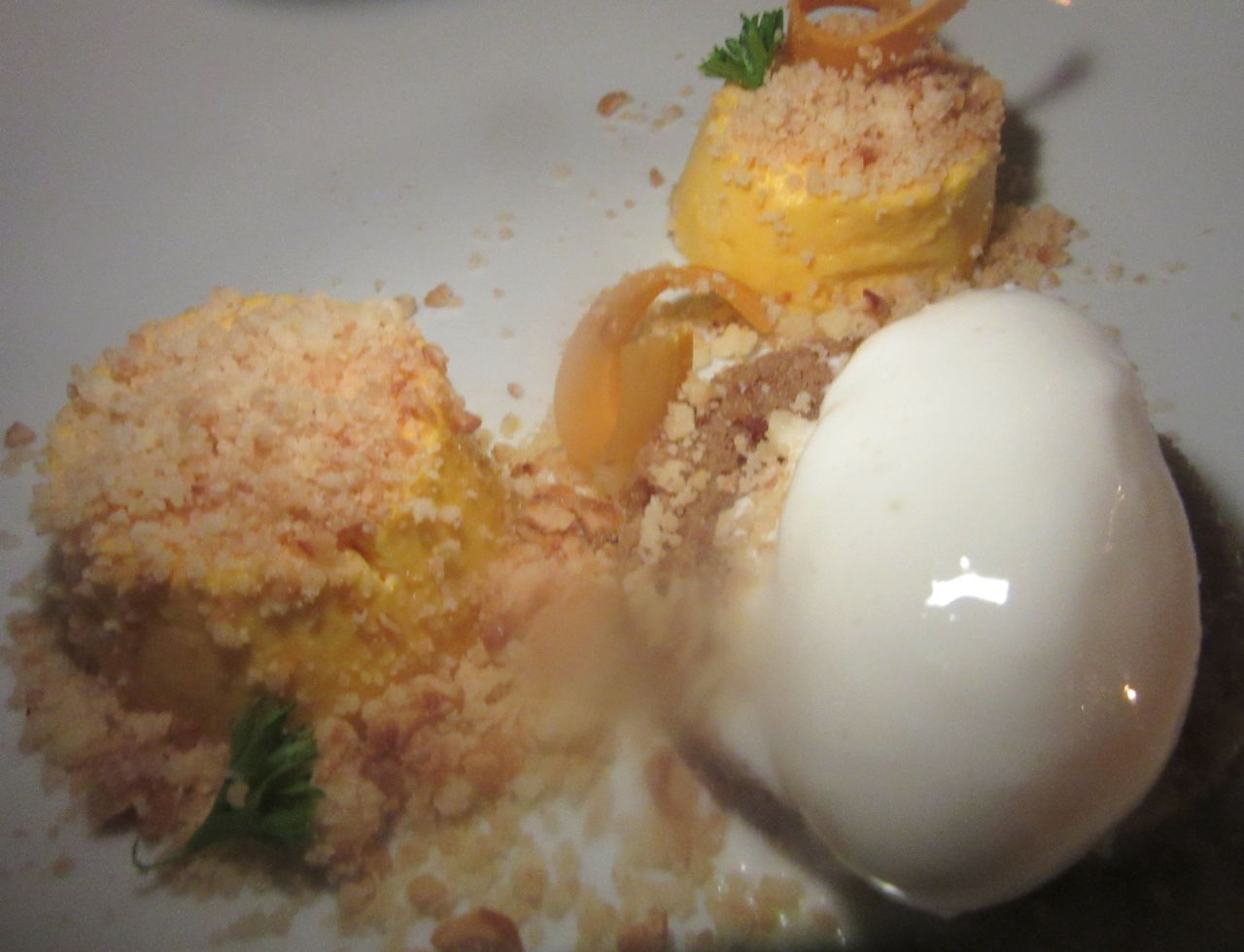 Better give me old fasshioned carrot cake than this effete mousse with tiny doormat of spice cake.
Like Marie Antoinette who had her milkmaid days, not long before they cut her head off, I'm enjoying seduction by vegetables I've never heard of or rarely tasted. One of my new favorites, sunchokes, will be in very soon, Chef Kaphan promises temptingly. Gramercy Farmer's prices seem reasonable too. Starters from $10 and up. Oysters $3 and $3.50, clams just $2. Entrees $20 to $42 (for a 14 oz. strip). Sides $7. Desserts $7 to $10. The bill will arrive tucked into a Farmer's Almanac or a Fishing Guide.

A monsoon of chocolate sauce pours down on the ice cream and walnut brittle of the fabulous farmer's sundae.
Carrot mousse and a teensy island of spice cake is a poor excuse for carrot cake, but the "Farmer's Sundae makes up for it.  "Shall I pour on this chocolate?" the waitress asks, swirling a pitcher of excellent chocolate sauce onto a pileup of Neapolitan ice cream, walnut brittle, Amarena cherries and dried pineapple. I'm not sure where our mythical Purdys farmer is growing his dried pineapple.  But way to go.
245 Park Avenue South 646 998 5991. Lunch Monday to Friday noon to 3 pm. Abbreviated bar menu from 3 to 5 pm. Dinner Monday to Friday 5 pm to 10 pm. Brunch Saturday and Sunday, noon to 3 pm. Dinner Friday and Saturday 5 to 11 pm. Sunday till to 9 pm. Late night bar menu every night.