Green Living, Yarnscape, Book Fest, Wisteria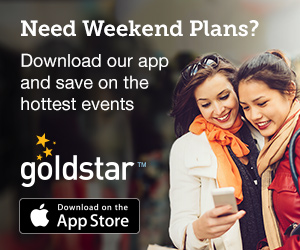 Hey Hey Hey Tomatoes! With all the green around us it seems appropriate to mention the "Green Living Fair" in Studio City.  Tomatoes can also feast their eyes on one of the Seven Horticultural Wonders of the World right here in Sierra Madre.  Wondering what that might be? Well…it starts with a W. The Autry Museum has a new astounding exhibit and it is all about yarn. I kid you not.  And the grand dame of poetry, Emily Dickenson, is getting her due at the Grand Park Free Downtown Book Fest where the whole day is devoted to her poetry. Here Here for women poets!
March 11. The Green Living Fair
Green is the thing this month and The Green Living Fair is no different. Over 25+ exhibitors, live entertainment, demonstrations, free trees and even a good old fashioned homemade pie contest. They had me at "pie".  You don't want to miss this ultimate celebration of nature preservation and conservation.
This event provides a platform for nonprofits, educators, organizations, and City, County and State Agencies and Departments to highlight their conservation, preservation, and sustainability programs and services to engage the Los Angeles Community on the many ways to make our city a more sustainable and environmentally responsible place to enjoy our lives here.
March 11. Downtown Book Fest
Grand Park is hosting a FREE Bookfest, honoring Emily Dickinson, with a full afternoon of readings, performances and other activities. Some of Los Angeles' most important literary organizations and lots of other Victorian era surprises will help make this day special tomatoes.
This festival is part of the Downtown park's L.A. Voices programs, which also includes a lunchtime concert series, writer meet-ups and other afternoon activities.
March 12. Wisteria Festival
Yes indeedy, Sierra Madre possesses the world's largest blossoming vine with millions (literally) of huge fragrant purple and lavender Wisteria blooms.  After your visit to this wonder of the universe you can enjoy 150+ juried artisans, car show with 75+ vintage cars, a playland for children and more at The Sierra Madre Wisteria Festival.
I love Sierra Madre village and the local restaurants (and there are many good ones) are featuring indoor and outdoor dining.  Tickets for the Shuttle to the vine are quite reasonable and I would suggest getting them ahead of time. It happens only once a year and it really will blow your mind.
It is believed William and Alice Brugman purchased the small plant at a local nursery and in 1894 it had outlived the couple who planted it. The renowned vine contains 1.5 million luxuriant lavender blossoms and is more than one acre in size. It is named by the Guinness Book of World Records as the largest blossoming plant in the world and one of the seven horticultural wonders of the world, along with the redwood forest in Sequoia National Park, Brazil's tropical jungle in the Amazon Valley, Mexico's Xochimilco floating gardens, India's gardens of the Taj Mahal, Japan's Yokohama rock gardens, and the gardens of Buckingham Palace. Hey California tomatoes we've got 2 of the 7! Woo hoo!
March 14-June 25. Yarnscape 
Geez Louise.  If this is hard for you to wrap your head around then I suggest seeing it in person because it is hard to imagine how 50 local artists, including fiber artists, knitters and crocheters, collaborated to create a 60 foot "California Yarnscape". They were each asked, "What is a California landscape to you?" The result is breathtaking.  It's the latest installation at the Autry and it is a one of a kind event tomatoes.
This ingenious work of art in yarn encircles the upper portion of the Autry Museum Plaza Rotunda with a knit and crochet California landscape. All this was in collaboration with Yarn Bombing LA (love the name gals) YBLA's mission is to create a form of community-generated, site-specific public art that is tactile and accessible, while at the same time initiating dialogue about cross-generation connections and craft history.