Where I'm Eating Now

I said I'd be back again just for Bevy's crusty, paprika-dusted, thick steak fries with garlic aioli.
          The past few weeks have been a time of delicious discovery. I've found so many new places I want to return to even after writing about them, when normally I would be off in my obsessive quest for the next new best.  In between, as always, are disappointments. Long-awaited launches are occasionally less fulfilling than expected. Expose them?  I'm not likely to blow strivers out of the water in their first few weeks. I'll give them time and wait for some good word.
Those of us who loved the Four Seasons will be cheered by how beautifully it has been preserved and restored. 
          I love the Southern cooking at 33 Greenwich and would return for more of Alex Stupak's excellent inventions at Empellón Madison. But I haven't been back to either yet. And twitter followers know I do go again and again to Red Farm uptown and L'Amico. Here's what's new, where I'm sending friends, where I'm going right now, not for research anymore, just for good eating and in one case, being witness to the scene.
***
Feeling My Oats at Avena
Avena chef-owner Roberto Deisco has a gifted way with these gargantuan langoustines.
          True, I haven't been back to Avena since I raised the flag there just a week ago, but I'm eager to return anytime friends long for elegant Italianate food in midtown. Avena's sending an offering soup in a big bowl as an amuse wins me at once. Definitely an advance over the usual little, overworked tidbit.
It's not the classic vitello tonnato you may be expecting. It's meatier and very good.
          There can be a longish wait between courses while you eat more of the house-baked breads than you meant to. Veteran chef Roberto Deiaco may need an extra hand in the kitchen. Even the cocktails are slow to appear. But then the generous platter of vitello tonnato with big Pantelleria capers or the crudo di mare trio arrives. Contemplate the big eye tuna with citrus chunks, a branzino tartare, and a Brodingnagian langoustine topped with minced green apple. A wave of deliciousness chases the why-are-we-waiting blues.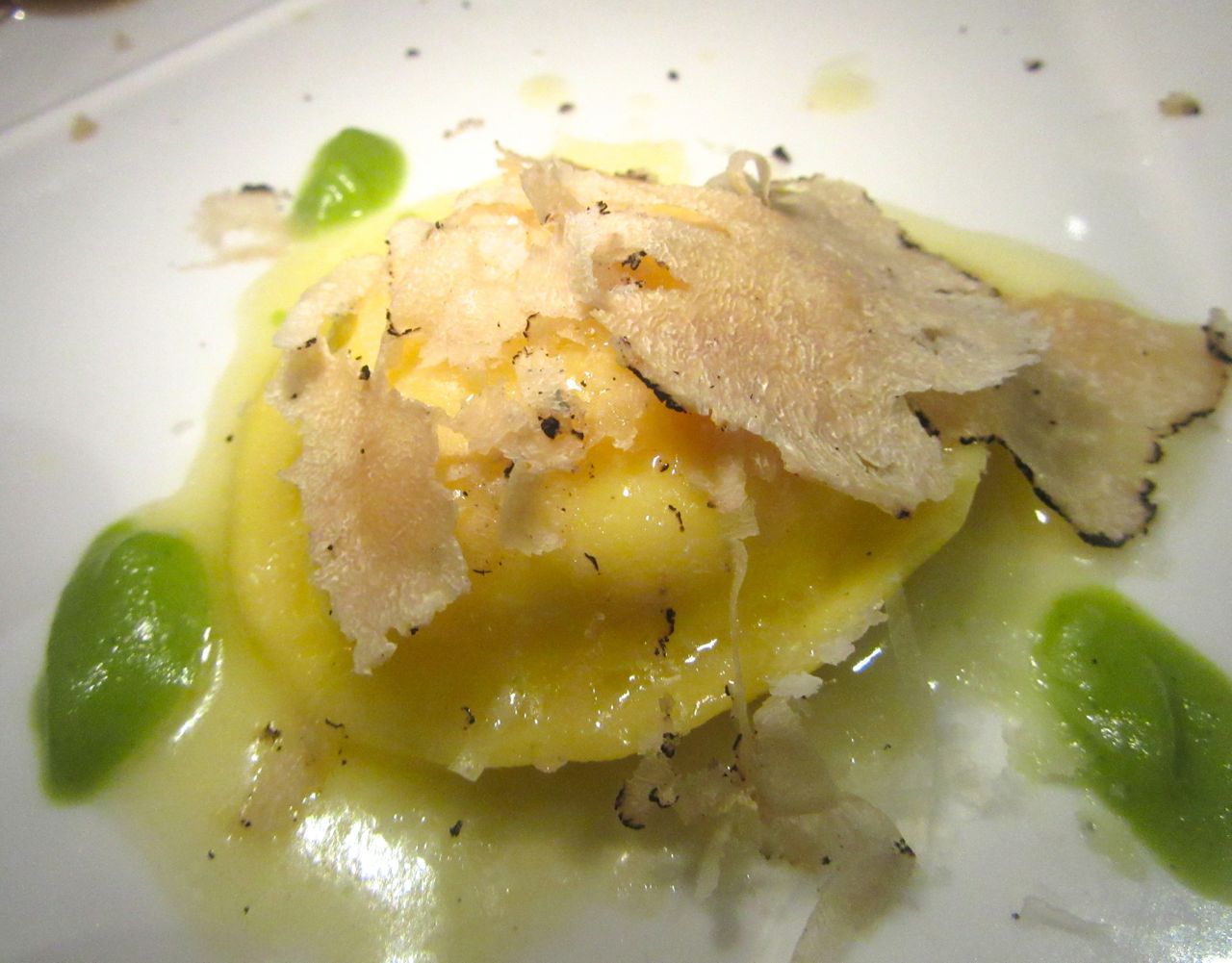 Avena's ricotta and quail-egg-stuffed ravioli may be one of the richest little pasta-packages you've ever had.
          An order of ricotta and quail-egg-stuffed ravioli is almost too rich for just one human, even a carefree gourmand. Share it and divide a portion of lobster fettuccine too. Finish with the lobster caprese or suckling pig, and whatever the dessert special might be. Cherries from the market with pistachio gelato are a hit with our spoiled crew. 141 East 57th Street between Lexington and Third Avenues. 212 752 5323
***
Following a Tapas Hero to Ortzi
The Spanish affection for preserved seafood is celebrated by this tuna with remoulade to spread on toast.
          On my third visit to Ortzi in the small Luma Hotel, we are celebrating a friend's birthday with my favorite tapas and the supernal casserole of cod with baby clams in a garlicky green sauce. It's an early summer weekend and the room is only sparsely populated. It has occurred to me that this street, a block from Times Square, is easy to ignore and I worry that the nocturnal nomads who can make a hit will never find it. It feels invisible even though it's just steps from Broadway theater. Refugees from the hotel are not enough to fund the payroll.
Ortzi's morcilla with apple is a delicious discovery for blood sausage lovers and first-time tasters.
          Frankly, this spot isn't sexy. The ambitious chef Jose Garces has a following in Philadelphia, but that doesn't mean much here. Still, consistently excellent Basque food emerges from the tiny kitchen, where the chef-expeditor stands with his back to the room.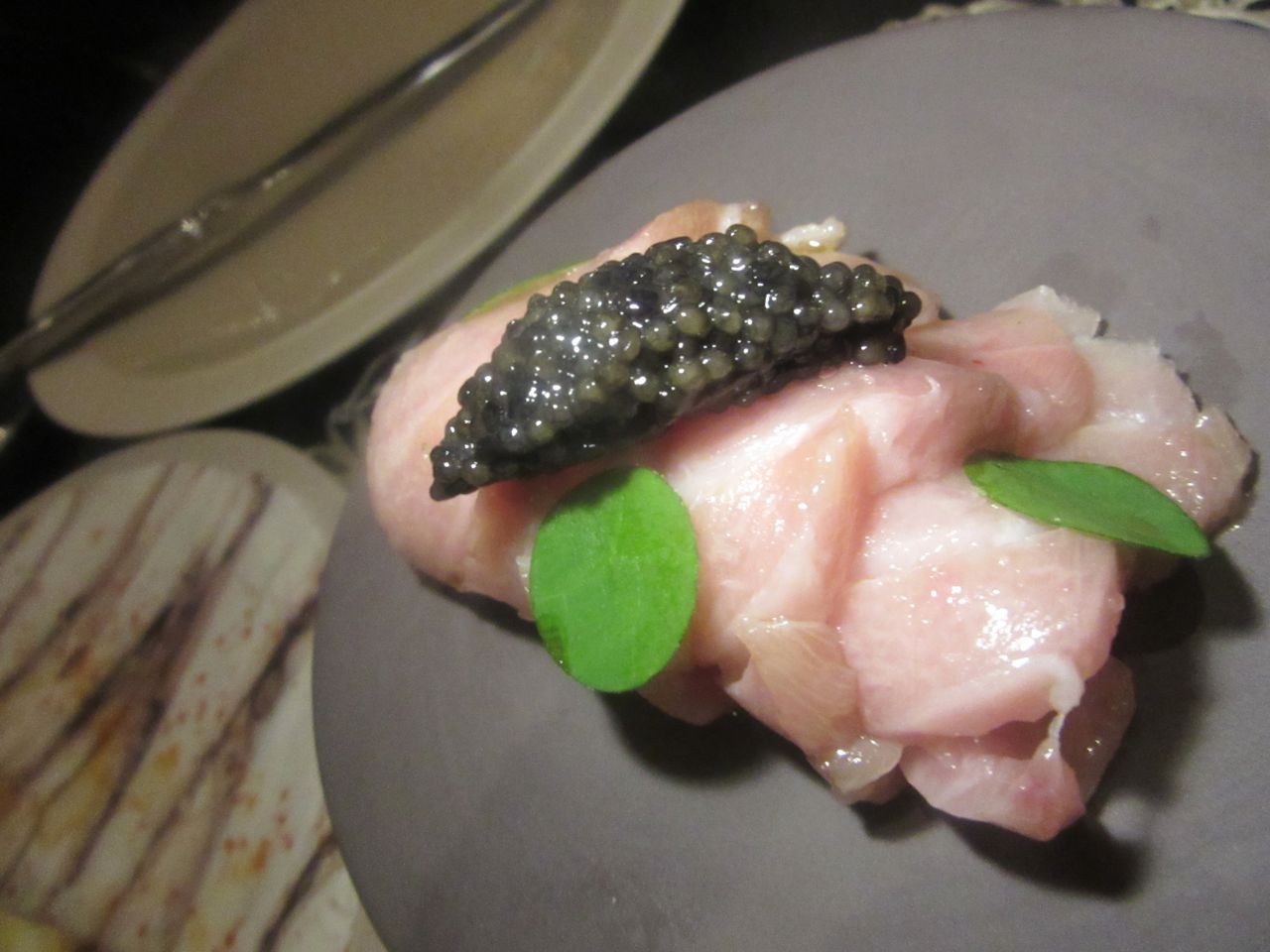 The toro crudo is blue fin belly with Arbequina olive oil and caviar. Put a bit on your tongue. Close mouth. Inhale.
          You might start with a crudo — tuna with caviar or sea trout with orange — or cockles on potato purée with chorizo and pine nuts. The house also honors the Spanish tradition of great canned foods, like the tuna with remoulade to pile on crustless toast. Shall it be vegetables first? Favas tossed with olive chunks, wood-roasted cabbage with anchovy, and the crispy patatas, a must whatever you order.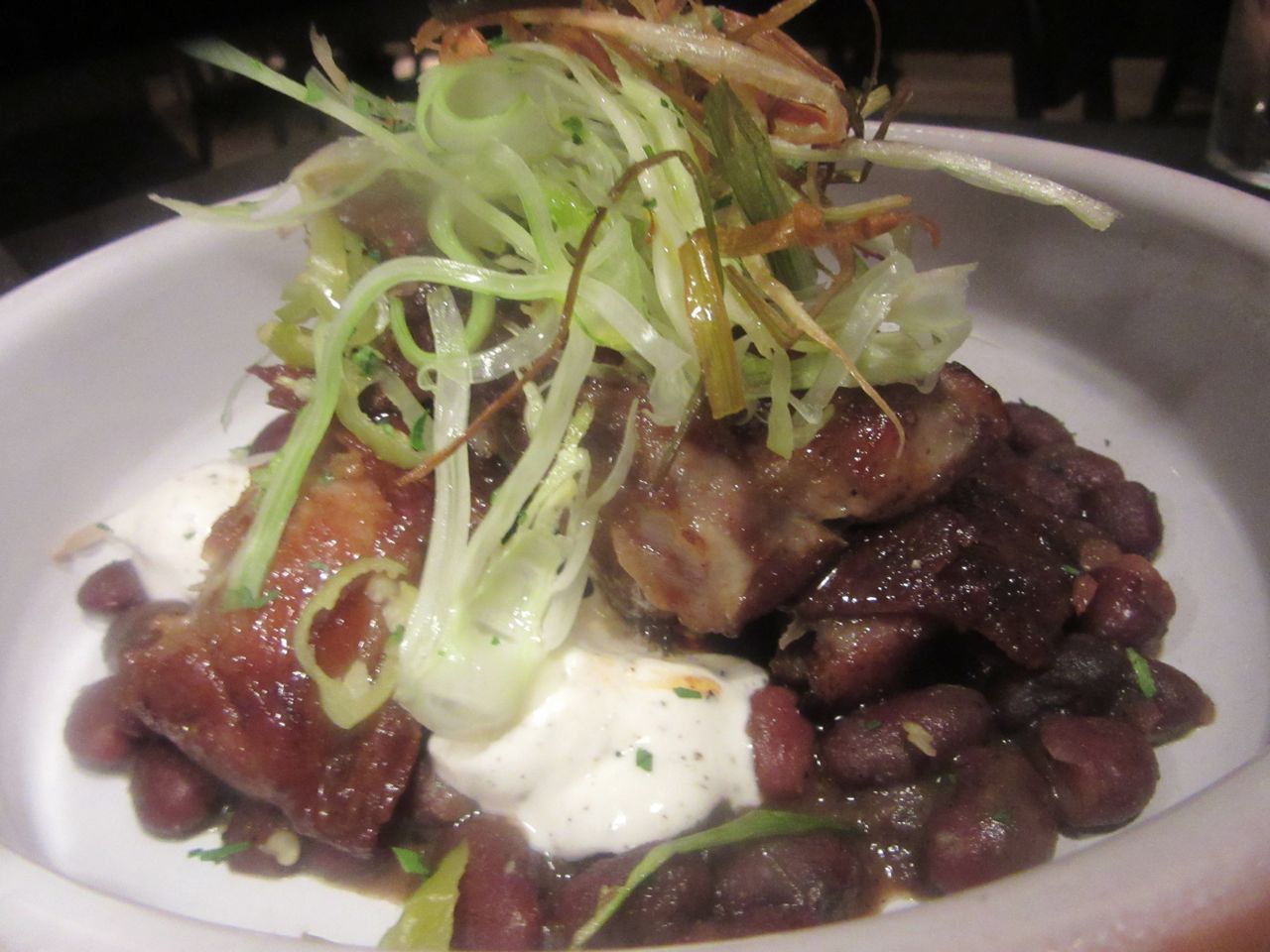 Pork ribs come with a fragrant black bean stew: the celebrated Alubias de Tolosa.
          There can be occasional over-salting. I like salt, but I don't want it to be the first taste. Have the baby poussin cut up on grits with fresh corn, or share ribs with meaty Basque beans, or simple lamb chops. Yes, dessert if you still have room. The Basque-style custard tart, perhaps. 120 West 41st between Sixth and Broadway in the Luma Hotel. 212 730 8900.
***
Some Like It Hot. The Grill.

The Grill's delicate crab cake wears a crispy potato galette hat.
          The Grill, where the Four Seasons used to be, is expensive and almost impossible to get into unless you know someone. This is not your daddy's power lunch. In fact, so far, it's just dinner. You might see the Seagram Building owner Aby Rosen holding court with his wife Samantha at a royal booth, or Gwyneth Paltrow queen-Gooping at the big center table. The place draws a sterling generational mix.
Luis Sarabando, who played the bandit at Carbone, charms as the manager, sending this excellent squab.
          Mario Carbone, Rich Torrisi, and Jeff Zalaznick, the Major Food Group, spent hours poring over old menus to recreate a vintage chophouse. But most of the classics get some clever and delicious tweak. Crudités with green goddess dip make a fine starter for a group. I like the fragile crab cake under its fried potato galette, the squab and the guinea hen and perfect raspberries on a pistachio marzipan tart.
Aristocratic spit-roasted, salt crusted roast beef  ($62) arrives in a $10,000 mahogany and silver chariot.
The spit-roasted prime rib rides to your table in one of two $10,000 silver and mahogany carts. Two or three of us share it and the juicy devilled bone that comes from the kitchen. Your captain will toss a salad or flambé the cherries tableside. The staff costumes and the old-fashioned serving fuss make it worth the price.
Your escort from the lobby welcome stand escorts you past the Chef's Buffet.  Go back to get a closer look.
          Sometimes the salt gets out of control. I sent back my pasta. I'm also not mad about millennials in their shirtsleeves, but the house encourages it, so what the hell. I hate the music too. I assure you none of these complaints will keep me away.  99 East 52nd Street between Park and Lexington Avenues. 212 375 9003.
***
If At First You Don't Succeed, Try Bevy
The whole bourbon-infused chicken feeds four, but our companiomns are vegetarian. We take the leftovers.
          I never got to the restaurant that failed at the grandiloquent Park Hyatt on West 57th Street. But I was charmed by the house's savory "Bites" and the marvelous whole bourbon-infused chicken when friends suggested we meet at the new Bevy. Back on my own, I notice two vases of flowers on our table, the calm and the gift of being able to hear my companion across the table.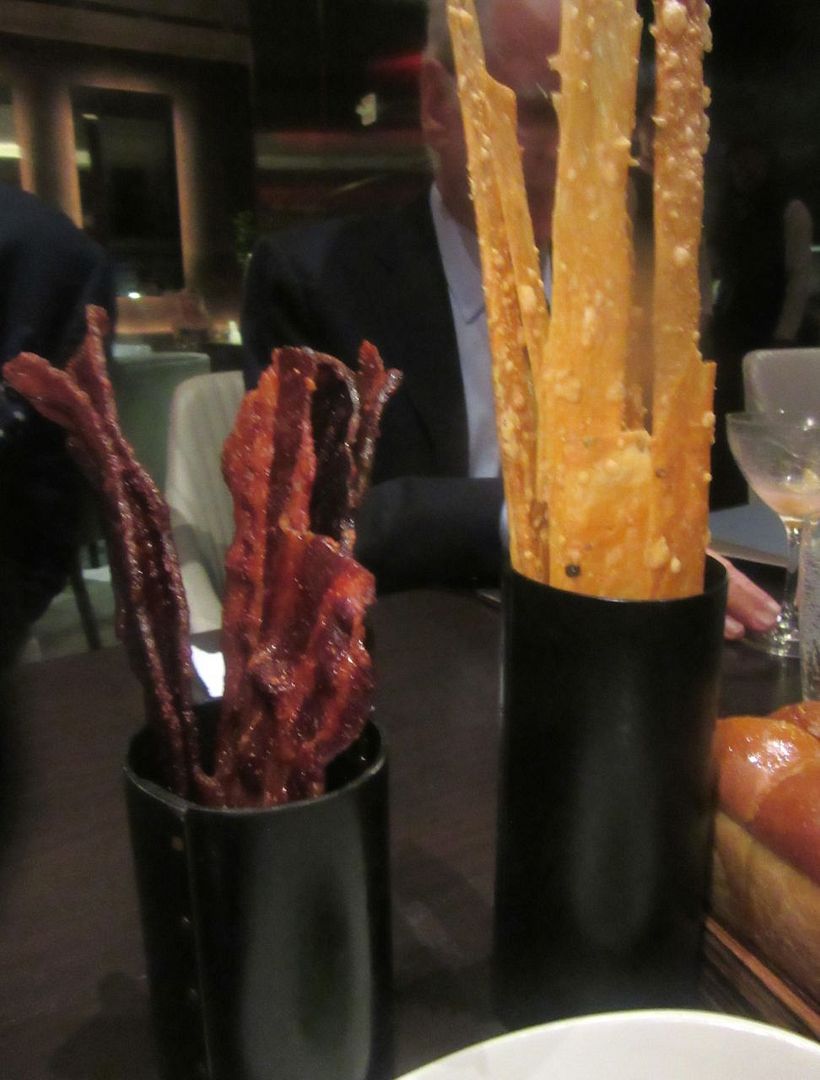 I start with BITES: candied bacon, lavash with spicy green pea hummus, sweet potato chips & onion dip.
          I also discover the "Bites" are not free, but we can order intoxicating candied bacon strips, sweet house-made potato chips with a French onion dip, and tall twigs of lavash to spoon up spicy green pea hummus. You'll pay $7 for the onion-slicked warm, pull-apart bread that comes with a mound of herbed Boursin balls. Onion dip. Boursin. You'll get the deliberate retro vibe, even without the Trader Vic's cocktails in Tiki glasses.
The kitchen sends out these astonishing white asparagus one evening to honor our companions.
          The einkorn risotto with morel cream, mint, favas and asparagus is a newfangled notion and the juicy caramelized Mangalitsa pork collar would be a hit even if it didn't arrive as dramatically as Glenn Close in Sunset Boulevard with smoke in a glass bell. If you've eaten too much as we tend to do, consider sharing the apple pie in a sugar-cookie crust. 153 West 57th. Third floor Park Hyatt. 212 897 2188.  
 ***
Finding Charlie at Charlie Palmer Steak
A tower of prosciutto di Parma with burrata, cape gooseberries, kale pesto and aged balsamic.
          I wanted to love Charlie Palmer Steak on West 54th Street a while ago, because I've been following Charlie since the days of Aureole on East 61st and I'm fond of the man himself. I'm especially grateful for his activism as a member of the Citymeals board. Sorry, even the macaroni uptown failed to move me.
Executive chef Ryan Lory sends scallop crudo, a stilllife of violets, pomegranate seeds and salmon roe.
          But now he and executive chef Ryan Lory have been invigorated by their move into the Archer Hotel on West 38th Street. The various rooms look good with accents of blue, little flowers in glass bubbles, and quilted mats on bare wood tables and a collection of photographs you stop to study en route to serious business. The steaks are rare and meaty. Lory gets to do his tasting dinners. His cannelloni is wonderful as a prelude to porterhouse. Amanda Streibel commands the wine list even if all you order is the cheapest red by the glass. Yes, I sent back the wildly salty soft-shell crab.
The tuna tartare with avocado and citrus ponzu comes with sesame crisps.
          Start with Ryan's chopped salad or CP Bibb with Nueske's bacon, endive, and ranch dressing or the tuna tartare with citrus ponzu, pickled peppers, and sesame crisps. Many of my pals think dinner without octopus is like a day without sunshine. But this charred Spanish mollusk with chorizo, white beans, and smoked chili vinaigrette pleases me too. I've never tried the house-made charcuterie, but that's only because I like a salad before my steak. The CP hash browns are not even close to my idea of what hash browns should be, but fat, skin-on fries are a hit.
We ask for our bone-on ribeye "rare," and it is, warm and meaty, not "cool" as the menu threatens.
          I've been happy sharing thick slices of the bone-on strip and twice contentedly divided the fattier bone-on rib- eye. With a group of size-2 females in tow one evening, I got to taste the very good striped bass.  As Julia Child said, "The only time to eat diet food is while you're waiting for the steak." Interestingly, these same dames abandoned discipline with the arrival of Ryan's sticky bun oozing cream cheese frosting. 47 West 38th Street between Sixth and Seventh Avenues, 212 302 3838.