LA LIFE: Giraffe Feeding, Free Trees, Remembrance, Open Stages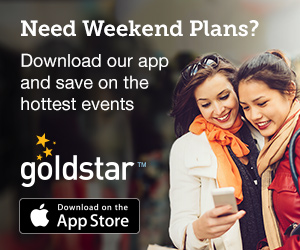 Oh, my Gosh! Oh, my Gosh! Oh, my Gosh tomatoes!  You can now hand feed the giraffes at the LA Zoo including the baby giraffe born in November! Can you tell this is my favorite wild animal? City Plants is back with events where tomatoes can get free trees again! Mr. Tomato and I got 3!  "Days of Remembrance" is the premiere of 2 incredible documentary films on Holocaust memory from highly acclaimed director Sergei Loznitsa and it's free to the public. Antaeus is celebrating the opening of their new home with the "Open Stages Festival" for three days and it's also free. Good stuff happening gals!
---
Giraffe Feedings
Special privileges are being handed out at the LA Zoo for their 50th anniversary and it tickles me pink.  LA Zoo is offering Zoo feeding sessions, twice a day, with our 6 Masai Giraffes, tomatoes. What an opportunity to get up close and personal with these beautiful and friendly gentle giants. And that's not all gals!
You just might get a glimpse of our new baby giraffe too! And if you would like to meet our beloved hippos, Mara and baby Rosie, the LA Zoo is making that possible as well. There is always a lot going on at the zoo but these events are a totally new experience for all ages of visitors to our zoo! I might be pushing the kids aside. Tee hee!
---
Feb 27. The End of Remembrance. 
 This is a  FREE public premiere screening of two extraordinary documentary films; "Austerlitz" and "The Old Jewish Cemetery" at the James Bridges Theatre on the UCLA campus. Ukrainian director, Sergei Loznitsa, will be there in person to discuss his films with the audience.  Loznitsa and his films may not be well known in America but he is widely renowned in Europe for his pioneering work.
These two films ponder the horizon, the limits, and the disconcerting spectacle of Holocaust memory in the present day. Loznitsa's latest feature-length documentary, "Austerlitz", is an observation of tourists at the site of a Nazi concentration camp at Sachsenhausen.  His 2014 documentary short, "The Old Jewish Cemetery" ponders Jewish memory and its erasure in Riga, Latvia. The conversation with the director will be moderated by UCLA post-Soviet cultural scholar, David MacFadyen. This sounds like an incredible opportunity tomatoes.
---
 March 4 and Beyond. Free Trees.
A heads-up tomatoes! City Plants "Free Tree" events, where you can pick up a tree or trees of your choosing, are up and running again. Soggy soil filled with vital nutrients from the rain, with more rain on the way, makes it the perfect time with the right conditions for planting a tree.  We can always use more trees ladies!
These events are happening all over LA and every weekend to be exact. And if you don't know how to plant a baby tree , City Plants has help for you.  City Plants provides free trees to LA residents, plants street trees in the City of LA, and educates and trains community members in maintaining and caring for their canopy. They work with multiple City departments and seven non-profit organizations to plant and give away 15,000 trees each year!  Thank you City Plants!!!!
---
March 2-5. Open Stage
It's been said that "Antaeus is one of the most important classical ensembles in the country" and now after 26 years of bringing wonderful theatre to LA and 4 years of construction they have a new home! "Open Stages" is their 4-day festival of free events to celebrate with the public, the momentous opening of the brand-new Kiki and David Gindler Performing Arts Center in Glendale! Way to go Antaeus!
And a big congratulations! Don't waste a second tomatoes making reservations because space is limited. Ron Irwin of The Examiner says, "FIVE STARS… Antaeus delivers at the very pinnacle of the art." And they do ladies! This remarkable cooperative of actors concentrating on bringing the classics to life on stage, developing the growth and training of actors, exploring new ways to rehearse/perform and creating a safe environment to risk without fear of failure, is a leader in the theatre community of Los Angeles and I'm so glad their new dream has come true.