LA Life: St. Patricks' Day, Oscar Costumes, Nature Fest, Hotline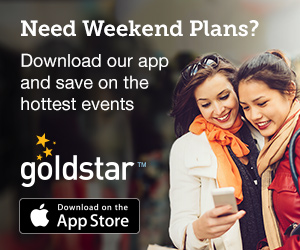 Top o' the Mornin' to ya tomatoes!  Today every tomato and bloke is Irish and you won't be able to turn a corner where there isn't a celebration, but  I noticed a few standouts for you. One of my favorite things all year is the Oscar Nominated Costume Exhibition at FIDM and it is back.  Wildflowers are everywhere and there's a hotline to tell you when and where they are. The Natural History Museum is hosting a weekend of getting up close and personal with nature in LA.  Wherever or however you celebrate St. Paddy's Day, this tomato hopes you do it with a twinkle in your eye and a song in your heart.
---
St. Paddy's Day
There are so many celebrations tonight spreading green cheer that it makes my head turn green but here are a few suggestions.   Angel City Brewery has got it going on in the arts district till 2 am and the Farmers Market has an all-day celebration happening till 9pm. The Scottish Tam O'Shanter turns green and Irish today and if the budget allows The Reagan Library is a good place to be on St. Paddy's Day tomatoes  or should I say Green Tomatoes?
St. Patrick's Day at the Farmers Market on Fairfax is an all-day out door celebration with Magee's Kitchen serving up their famous nitrate-free corned beef, cabbage and potatoes and keep an eye out for the Bagpipers ladies.  The Tam O'Shanter will have a tented area to accommodate all those celebrating and the boat loads of great Irish bands that will be playing till closing time.  Angel City Brewery is serving green tacos and ice cream with an evening of live music and churros from Ridges Churro Bar. It's only in its second year, but the celebration at the Reagan Library tonight sounds unique.  Under the wings of Air Force One they've created an Irish Pub filled with Irish Music and an Irish Pub menu.  May the luck of the Irish be with you tomatoes!
---
March 18 & 19. Nature Fest at Natural History Museum 
The Natural History Museum of Los Angeles' "Nature Fest" is back for the third year in a row with a chance to explore, learn and interact with nature in their wonderfully beautiful nature gardens.  These gardens are a great place to just pass the time but they are also chock full of wonderful surprises, discoveries and education that the Nature Fest will illuminate.
Scientists and wildlife experts will be your guides and lead you through t both days of information, activities and workshops The Nature Fest is great for your kiddos, grandkids, nieces, nephews …adults…you get the picture and the experience even includes "A Bird Life in Urban L.A. tour" along with many extraordinary demonstrations.  I'm loving this way to commune with nature gals.
---
Now till April 22. OSCAR Costumes
Oh, boy oh boy The Fashion Institute of Design & Merchandising (FIDM) Art of Motion Picture Costume Design Exhibition is back and I can't wait to go! As in the previous 24 years, FIDM has outdone itself again with this year's Oscar Costume Exhibition which features more than 100 costumes from 23 movies, including several from Oscar nominees for outstanding costume design from the 2016 season. And tomatoes, this 3-room exhibition, which I would gladly pay top dollar for, is…FREE!
Among the designs featured are costumes for "Fences" "Star Trek Beyond", "Alice Through the Looking Glass", "Hail, Caesar!" and you can feast your eyes on the Oscar nominated costumes for "La La Land".  Other Oscar-nominated costumes in the exhibition include those for "Florence Foster Jenkins", "Allied" and "Fantastic Beasts and Where to Find Them". And that's just the beginning gals! This is a great opportunity to see breathtaking artistry and craftsmanship by the best in movie costume design.  Costume design is an integral part of bringing a character to life and making it memorable.
---
Now till May 26. Wild Flower Hot Line
They are calling this season of wild flower blooms a "super bloom" due to all the nurturing rain California has received. Emmy winning actor Joe Spano is here to help ease your confusion from the deluge of info out there. He is now the voice of the Theodore Payne Wild Flower hotline and I'm here to tell you there is no better place to get your wild flower info tomatoes.
Joe Spanos' recorded message is not only current and updated each Friday but sounds more like soothing and beautiful poetry than just a list, ladies.  Truly. Nothing like a wonderfully talented award winning actor to give you the latest insights on the blooms surrounding us. Of course, there is also a PDF text driven list on the site as well if that is more to your liking. Even if you don't plan on seeking out the blooms I highly recommend taking a moment to listen.