Le Bernardin: Of Time and the Sea
I planned to order the fluke spring roll, but much to my surprise I found myself asking for the kampachi, a great choice.
I was pleased and excited when my friend Elizabeth said her guy wanted to take us to Le Bernardin Tuesday night. I tried to remember the last time I'd been. Was it possibly at the fall 2011 re-opening that unveiled the dramatic new design by Bentel & Bentel?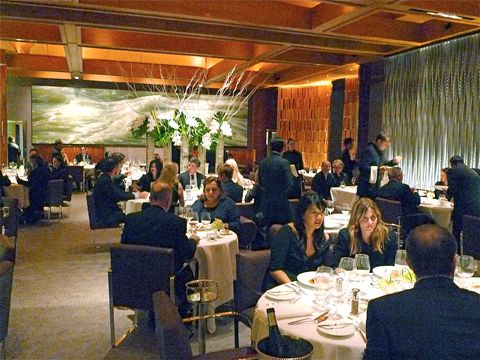 The new design is elegant, modern, luxurious, warm and sexy though I'm not happy with the crowded entry.
Actually, that would have been the Tuesday before Friday's official opening, a by-invitation only preview for family, friends, a few journalists: the first celebration of Le Bernardin's new look. Click here to read "A Lift for Le Bernardin."
The room was blue and perhaps a bit more corporate when Gilbert and Maguy opened in 1986.
Maguy Le Coze was a knockout in her bangs and Dutch bob hairdo I remember from when I first met her at the original Le Bernardin, on a Left Bank quai in 1976.  Now she was wearing a jeweled brooch from Istanbul on a chain around her neck, rhinestone straps on spike heels, and a jaunty jacket of woven black ribbon.
  "Chanel?" I asked. In the early years on West 51st Street, it was always Chanel. "No," she told me "It's Giorgio Armani. I needed a change too."
My guy Steven Richter took this photo of chef-owner Eric and Maguy framed by the new design.
But tonight neither Maguy nor Chef Eric Ripert is here. I don't recognize the faces at the maître d's podium, though maybe I should. But I'm familiar with our table – a VIP station up front with a screen shielding us from the crowded Bar and small tables in the Lounge where jackets are not required. I'm early. A waiter brings a footstool to hold my handbag and the foldup umbrella I refuse to check.
Yellowfin tuna carpaccio with Iberico ham "chutney," sea beans and a lemony olive oil.
We're three now – the champagne seems to be "offert" on the house. My host orders an elegant white wine, Friulano Borgo del Tiglio, Collio Goriziano, 2014.  We agree on the $160 four-course tasting and proceed to study our menus. Choosing dishes from the long lineup under the three categories — Almost Raw, Barely Touched and Lightly Cooked — seems difficult. The preparations are eclectic, slightly Japanese or French, a tad Spanish, and notably classic. It's a lot to consider.
Of course, I must read the descriptions of each dish, all thirty of them (even though I have no interest at all in the rack of lamb offered for pescaphobes). Then, as we do, your team may each want to choose different dishes to trade. You may even want to influence your tablemates as I sometimes dare.
Kampachi sashimi slices are drizzled with crushed Niçoise olives and accompanied by islands of Greek salad.
I have announced that I will be ordering the fluke-enoki mushroom spring roll with junmai-shiso infused tomato water. But by the time the captain has taken my companions' orders, I seem to have abandoned the fluke and ordered the kampachi sashimi with crushed Niçoise olives and "Greek salad."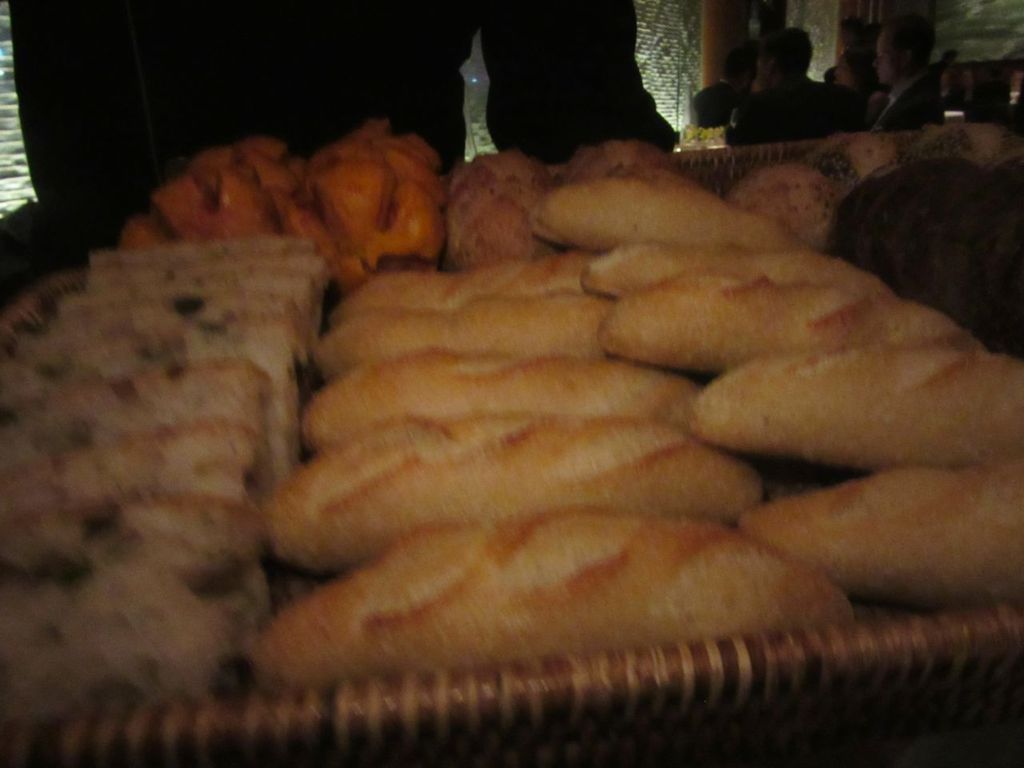 The bread choices take thought because, after all, the bread dish is small and you don't want to seem greedy.
          Now the bread emissary approaches with a tray of possibilities. Cheesy puffs, mini baguettes, focaccia. Elizabeth chooses a couple and asks him not to go too far away. "I'll stay close by," he promises.
The abstract black lacquer tower carries a collection of amuses, small tastes and sips. 
An oyster nests in its shell in some greenery on a lacquer shelf of the tower of amuses.
The salmon rillettes amuse I used to eat too much of is no more. Instead a huddle of waiters encircle us, delivering canapés on lacquer towers. These asymmetric black objects are jarring, I find, not Bernardin-like at all, outliers among the beautiful Bernardaud china plates.
This charred tomato hides in the rear of the balck lacquer tower.
Some might call it divine guidance. Others would lean in favor of simple brain damage. That last-minute change of plan. But the fact is my thrillingly fresh kampachi with its necklace of jet olive bits and splashes of fruity green olive oil is the best of our Almost Raw selections.
  My Barely Touched scallops with sea beans in a bonito butter sauce are thrilling too. Not that the lacquered lobster tail with black truffle tagliatelle, and the yellowfin tuna carpaccio with Iberico ham "chutney" aren't sprightly and elegant too.
Baked lobster floats in a red wine-gumbo sauce with creamy corn polenta in a separate bowl.
Elizabeth utters the word bread, not at all loudly, and in an instant, the bearer swirls and taxies in. We marvel at his telepathic power and wantonly take more. In the pause between courses our host studies the guests around us. "They are mostly New Yorkers," he guesses.
Pan-roasted monkfish on a bed of squid ink fideos gets a last minute dousing of chorizo emulsion. 
The crab-filled calamari à la plancha in a smoked tomato broth would not be my choice. And ordering an artichoke if you are not a vegetarian is definitely a mistake. (As I say, so many offerings on the menu can be confusing.) But I might recommend roasted monkfish on squid ink fideo noodles in a chorizo emulsion and my own superb Lightly Cooked choice, baked lobster on red wine-gumbo sauce with a side of white corn polenta.
 Lightly sautéed Dover sole with lemon-potato mousseline and shallot emulsion carries a $22 supplement.
I would hesitate to order the Dover sole with a lemon-potato mousseline because of the $22 supplement if we were all sharing the check, but not if I knew the host had a fondness for extravagance. Elizabeth's sole is firm and sweet.
 Suddenly, I am being invaded from behind. It is Maguy. Home from Mustique. She looks very rested.  I introduce her to our host. Maguy does not recognize Elizabeth from her many times at Le Bernardin. She smiles and walks on to greet other tables.
I order the apricot confit and macerated raspberries on almond cake, but I don't need the greenery.
My friends order dessert from the selection of ice cream and sorbets.  But I must have apricot confit with macerated raspberries and almond cake – I love apricots and this is the only time of year you see them on a menu.
The caramel cream layered into an egg shall has become a classic dessert finale at Le Bernardin.
I vaguely recall more desserts dropped off in the center of the table. Rhubarb? Coconut? Fig? Probably. The familiar finale, caramel cream in an eggshell, follows. I revive to finish that. And then a long oval plate of mignardises for each of us: a gell, a lemon macaroon, a tiny tart, a chocolate-covered truffle. Resist? Not me. What torture.
A collection of mignardises on an oblong plate by Bernardaud. Think you can't possibly? You probably can.
155 West 51st Street between Sixth and Seventh Avenues. 212 554 1515. Lunch Monday to Friday noon to 2:30 pm. Dinner Monday to Thursday 5:15 pm to 10:30 pm. Friday and Saturday 5:15 to 11 pm. Closed Sundays. Jackets required for men in the main dining room at lunch and dinner. In the Lounge, jackets are recommended.
Follow the evolution of at Le Bernardin by clicking on these links:
Le Bernardin in Its Prime, April 28, 2008
Eating Up Paris September 1, 2004
Where to Eat in the Millennium January 3, 2000
Le Bernardin: Loaves and Fishes July 20, 1990
Le Bernardin Beguiles Our Crocodiles February 24, 1986
Latest from France: The Eloquent Dollar
What's Nouvelle? Le Cuisine Bourgeoise