Le Coucou: Hello, C'est Moi
Grilled asparagus and seared bonito painted with smoked wood vinegar.
          These are not the typical New Yorkers, perennially poised to engage the hottest new chef in town, swooping down to Canal Street. I'm at Le Coucou, half a block north of billowing Chinatown, not yet a week old, and the dining room is full of — I can't believe it — the elderly. I don't recall when I last saw such a gray-haired gathering. 
A block above Canal, a pink neon cuckoo signals chef Daniel Rose has arrived at 11 Howard Hotel.
My dining compatriot Peter, who usually looks around an overheated dining scene and announces that he is the oldest person in the room, doesn't know quite what to say. "That's my crowd. That's my following," chef Daniel Rose confides.
But never mind. I'm excited. A friend who booked early, before it even opened, has given me her table at the happening spot to eat right now. It's the alliance of restaurant baron Stephen Starr and Daniel Rose, the young American who found fame all by himself as a fledgling cook at Spring in Paris. Now he's cooking for the first time in his homeland.
As onetime Quilted Girafe chef Barry Wine, another regular at my tasting forays, tonight notes with pleasure, it's a grown-up restaurant. A veteran of Starr's team is at the welcome stand. The music is turned down very low, and there are handsome chandeliers, tall, white tapers and tablecloths. The fabric may be enough, it seems, to absorb the din of enthusiasm given brick walls, the original scarred ceiling, and an open kitchen where Rose himself is plating the food with a cordon of voyeurs.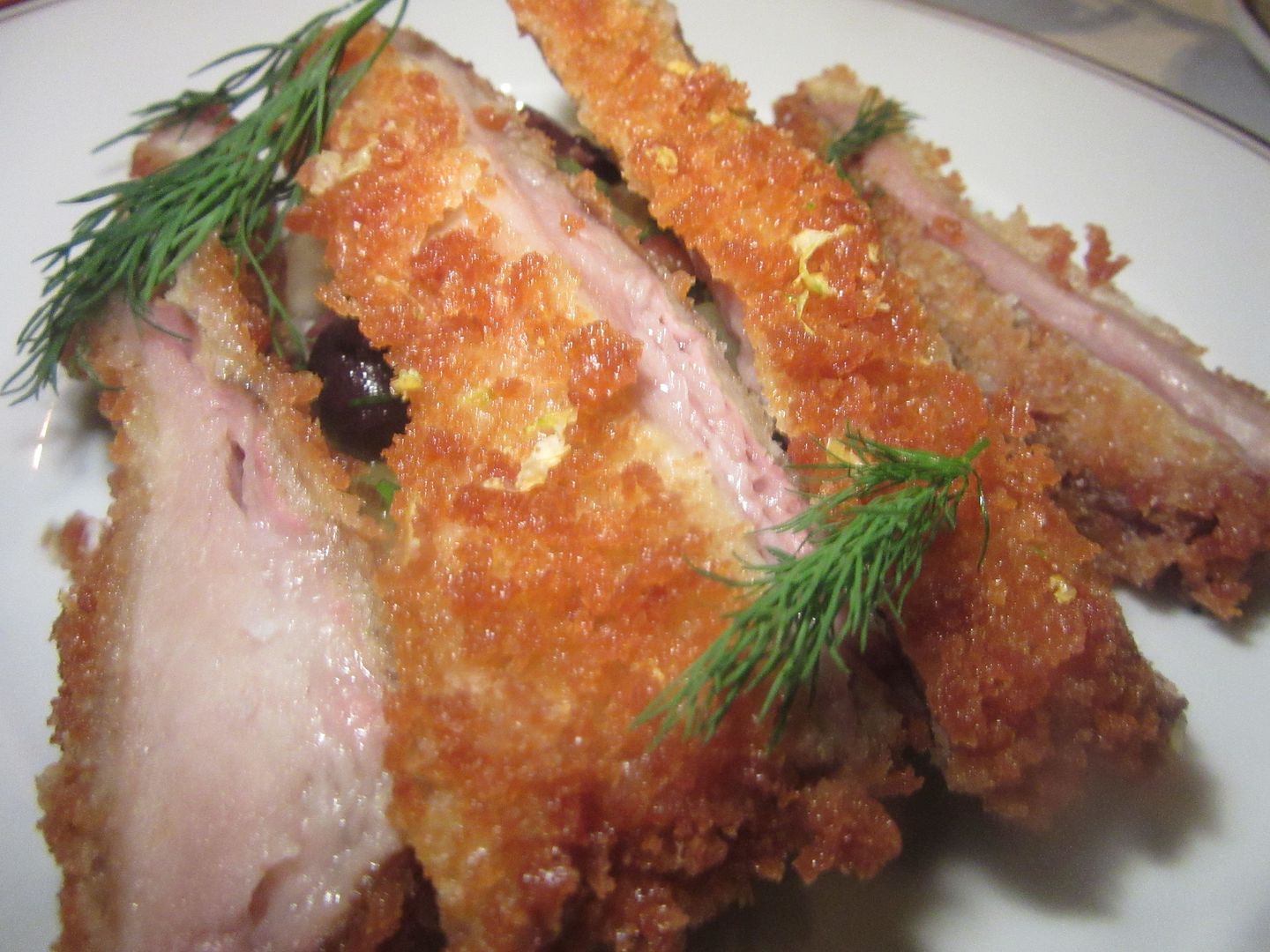 Even if you think you hate tripe, you could fall for these crusty fried ribbons of deliciousness.
          An all-star front-of-the-house cast has been assembled, too — Starr stalwarts to know who's who and where to seat them. Troy Weissmann to manage. Wine merchant Aaron Thorp to be sure there are bottles that are ready to drink and a cellar to please a chef who won him by saying: "I don't make food without talking to the sommelier."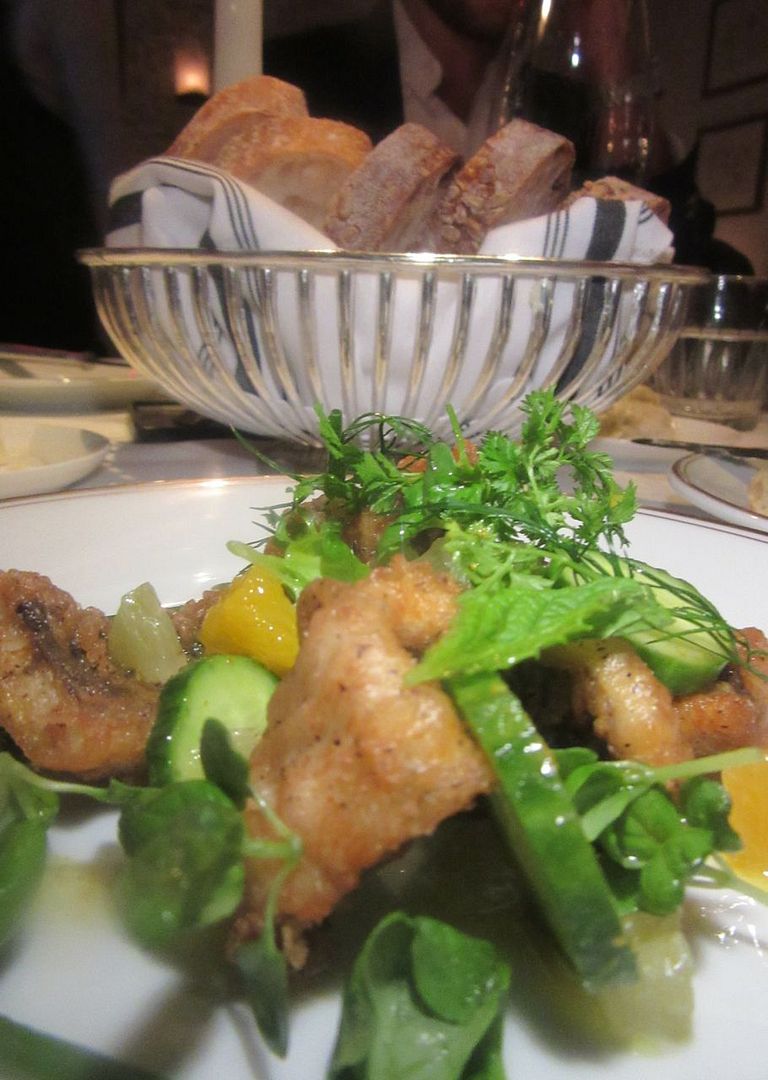 Buckwheat-battered Delaware eel is fried, then served in a curry vinaigrette with citrus and herbs.
          I am recognized at once. Still, our waiter in that first week has a newbie just-hatched shine, as he greets us by noting that the section of the menu under the title hors d'oeuvres are hors d'oeuvres.  We're already debating who will order what from the tailored menu — seven starters from $11 to $19, "Gourmandises" in the middle $18 to $38, and Poissons et Viandes $33 to $45. Even with our town's resurgence of small French restaurants, there are not many offering fried eel, tripe, and veal tongue. No wonder we're excited. 
A large cut of lobster floats alongside the classic pike dumpling in a sauce Américaine.
          And though there's definitely a revival of that classic gossamer pike dumpling – the quenelle de brochet — there may not be any quite this delicate. It sports a large float of lobster in a blushing sauce Américaine. It's been a madeleine for me since the days of Le Pavillon. 
I can't recall any recent veal terrine as tasty as this bold mosaic brushed with olive oil and lime zest.
          The emphasis on charcuterie at Bar Boulud may have inspired an uptick in that classic French art, too, but I cannot recall any recent veal terrine as good as this bold mosaic brushed with olive oil and lime zest. Why does pickled milkweed lie alongside?  I've never heard of milkweed myself. It seems someone gave the chef a jar of milkweed pickles and, as he explains when I ask, "there are always pickles with a terrine."
Two at our table refuse to taste the unlikely union of veal tongue and American white sturgeon caviar with crème fraîche and watercress — for me, it's another reason to return soon. I'm not sure if that is before or after Rose rushes over to deliver a gift: the lobster salad with tomato, peas, favas and basil. He seems very young and conspiratorial, smiling as if we share a secret joke.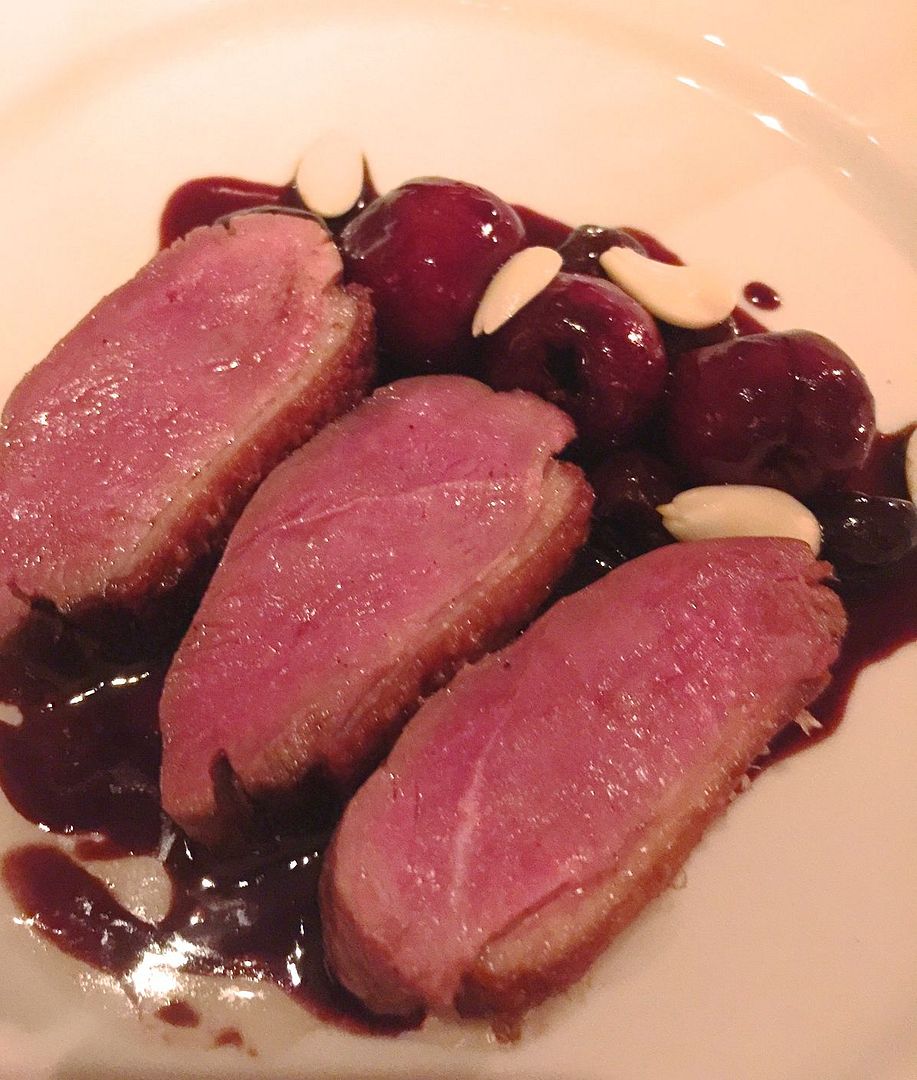 Thick slices of rare duck breast come with cherries, black olive and a side of foie gras.
          I relish the potatoes boulangère with shredded oxtail more than the mundane filet in marrow juice it accompanies. And too-cooked Dover sole folded over chanterelles with the sweetness of green tomato broth poured over is not for me. But I'm seduced by rare duck slices with cherries and black olives and the expertly sautéed foie gras that comes in its own copper pan, and I can't wait to return to try everything we skipped.
Chanterelles and greens are stuffed into a folded filet of too-cooked sole in green tomato juice.
          Two weeks later, I'm back with other friends. There is a table of French tourists next to us, and outcroppings of chef-diners behind me. Highly anticipated restaurants don't get to ease in. Even given the demand audience, Le Coucou is already steadier. They've bought more expensive candles, too, it seems. Less sputtering, slow burning.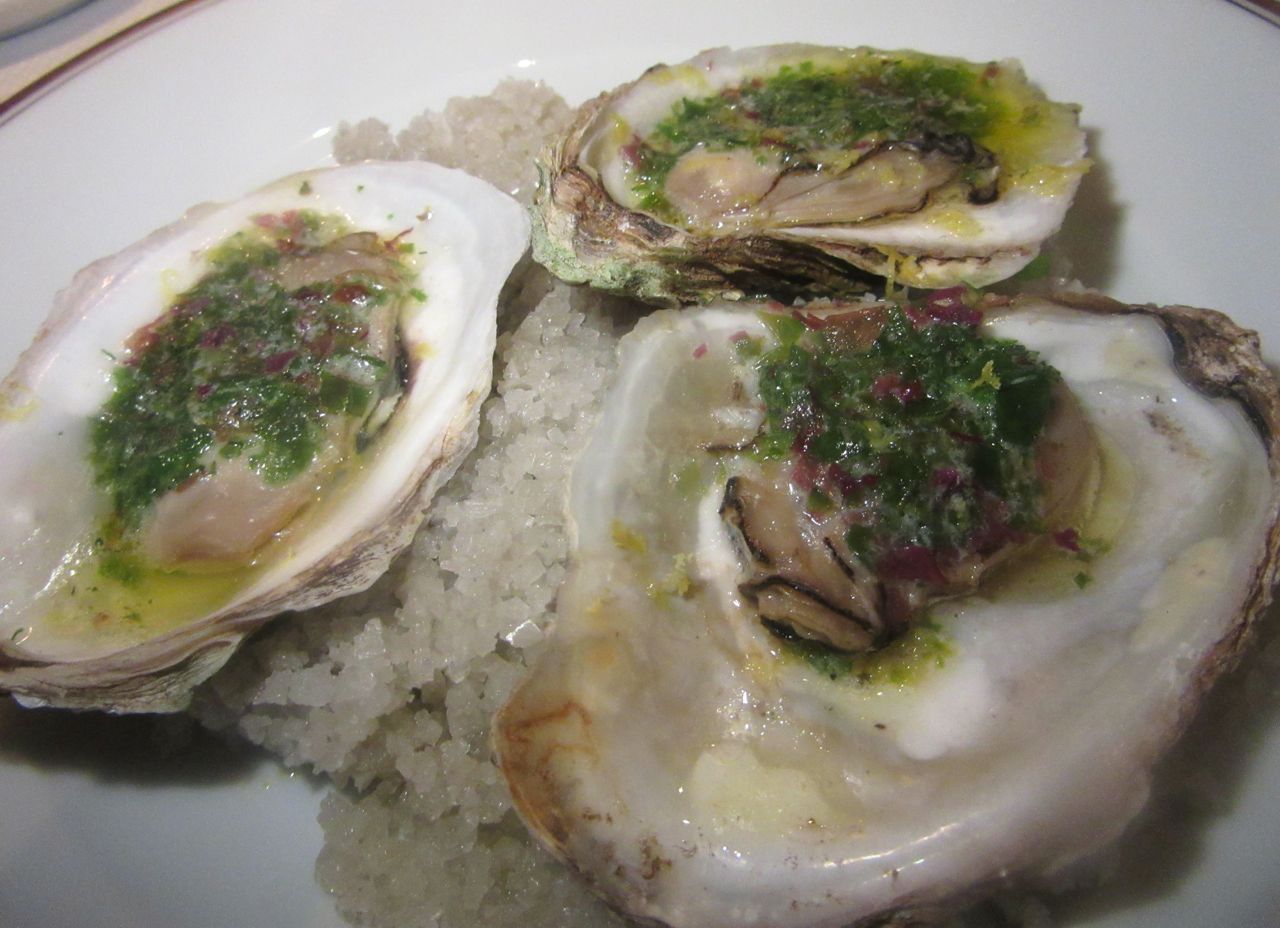 Lukewarm oysters are painted with seaweed butter. They are three, and we are four.
          I confess I'm embarrassed when one of my companions asks the waiter for a 4th oyster and it's Daniel Rose who delivers it — not one extra oyster, but a second portion of three. He insists there is no way he could send out one oyster. I feel it as a reprimand. 
  Our quartet is divided on the veal tongue. Two like it, two just nibble the caviar.
          It's not the lukewarm oysters with seaweed butter I want anyway. It's the excellent, crusty ribbons of fried tripe sitting on bits of green tomato, olive, and onion that I cannot bare to share. Or I'll have thick triangles of rare bonito balanced atop a lattice of grilled asparagus in smoked wood vinegar, or that supernal veal terrine.
At both dinners, my friends are high on the tomato and pea salad "refreshed" with strawberries.
          And if you don't order it yourself, you might insist that someone offer you a few minutes with the salad of tomatoes and peas "refreshed," as the menu puts it, with strawberries and pistachios. I feel I should apologize to my companion who orders the bourride at my suggestion, even though it comes with a powerfully garlicky aioli on toast, the dish itself is boring. 
Two big meaty lamb chops, deliciously rare, with shredded lamb shoulder on tomato halves.
          Meanwhile, I've chosen a duo of meaty, rare lamb chops with shredded lamb shoulder on tangy baby tomato halves. I notice how one chop is hidden under a folded cloak of dark green sorrel leaf — a Daniel Rose touch that makes clear this is not just another lamb chop.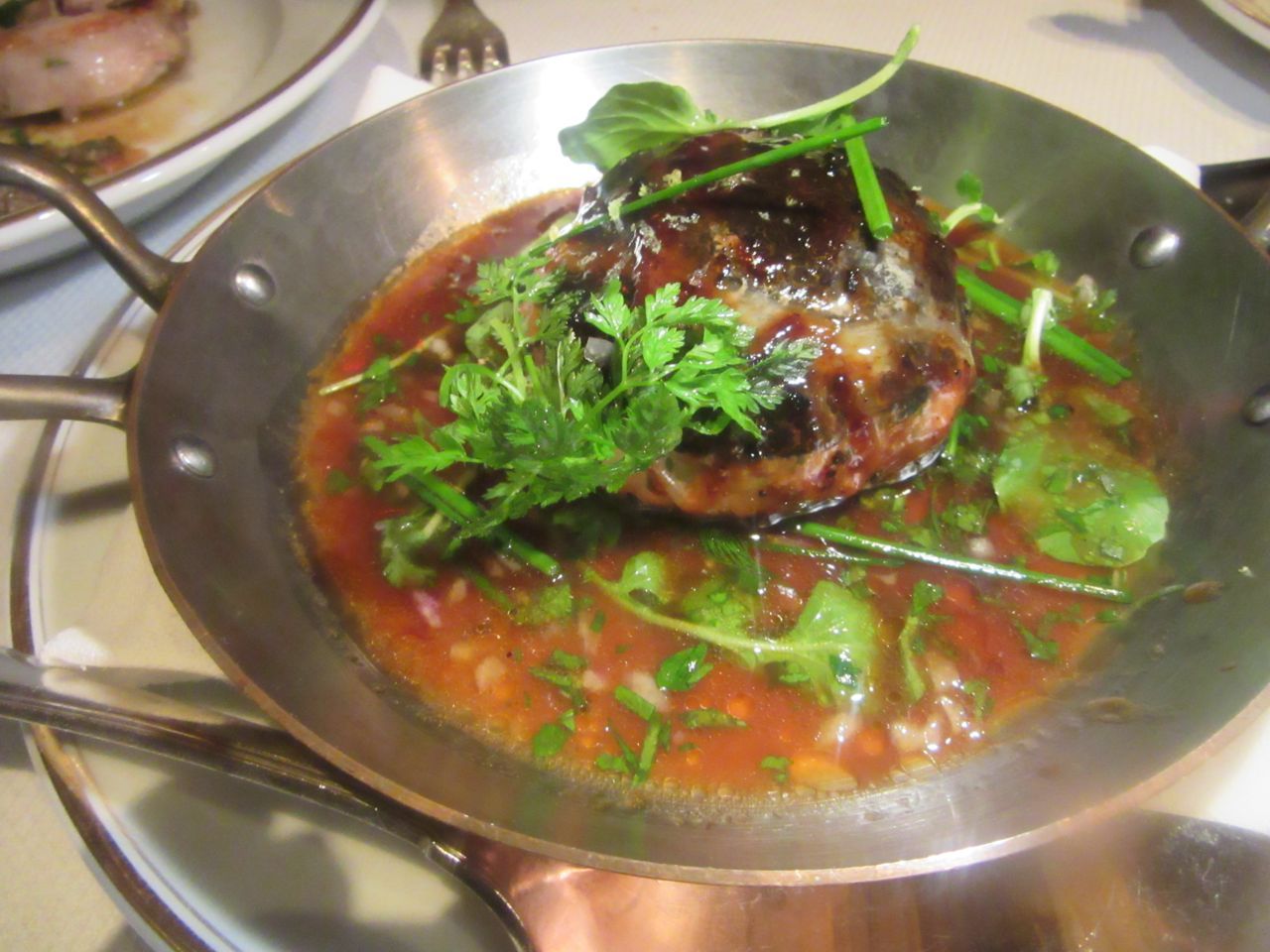 "All the rabbit" comes with a savory, truffled crepeinette the chef plans to offer by itself.
          Rabbit is almost always too dry, and I avoid it. But not tonight's bunny. My friend Harriette is surrounded by juiciness of rabbit — a pot au feu of the meat in a bouillon made from the legs in a copper pot. A crépinette of the saddle with a vinaigrette of the liver and giblets, and black winter truffle from Australia. And a leg cooked in white onion and mustard. (Rose tells me he plans to serve the crépinette separately on the menu in a few days.)
          Starr pastry chef Daniel Skurnick does the desserts: strawberries with tarragon, apricots with thyme sorbet, an opera cake, rice pudding with chartreuse, chiboust (pastry cream and egg whites) with cherries. I'm not thrilled by these sweets, though the chocolate mousse is good enough, and excites my friends. I like the butter cookies and the intensely mango'd patés de fruit that arrive as the finale. 
Staff Pastry chef Daniel Skurnick does a chocolate mousse that definitely scores.

          Well, this is just a first, very early impression. And the menu will change as the season and harvest evolve. When he opened Spring 10 years ago, Rose was alone in the kitchen and dining room, cooking, serving, clearing. Now he's attached to a hospitality mogul, a partner with departments and systems. He's found a home for his wife and two young children in Dumbo and he plans to commute between Paris and New York as he develops Le Coucou. "Sweetly crazy," he translates it. 
I prefer the mignardises – butter cookies, chocolate thins and intense patés de fruit.
          André Soltner and the legend of Lutèce, with its focus on French classics, are on Rose's mind. He told Jeff Gordinier in the Times, he thinks of his place as a "Lutèce Reboot," even though he never ate there. "Crazy, right?" Gordinier quotes him. "I'm talking about what my idea of Lutèce is."  Sweet cuckoo.
138 Lafayette between Howard and Canal Streets in the 11 Howard Hotel. 212 271 4252. Open seven days breakfast 7 to 10:30 am. Dinner from 5:30 to 10:30 pm.