Samui Lights the Way to Fort Greene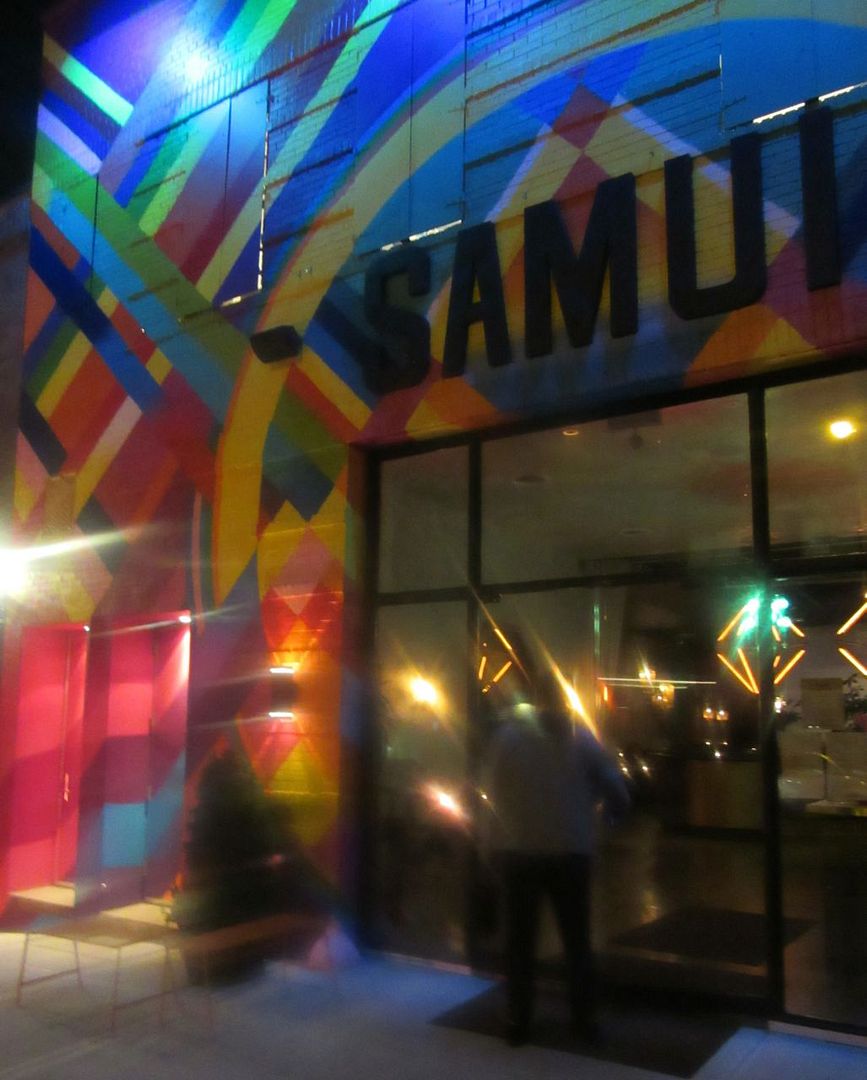 I stand outside, mesmerized by the flashing rainbow of lights on the façade of Samui.
          The publicist for Samui, a restaurant named for an island off the east coast of Thailand, insisted it would be upscale, different, modern, definitely worth a trip to Brooklyn. Yeah. Sure. Isn't that the usual publicist talk? I'm not one to race off to Brooklyn at the drop of a peppered chicken wing. Figure $80 round trip and it adds an hour to the evening. But there she was, offering to drive. I was a pushover.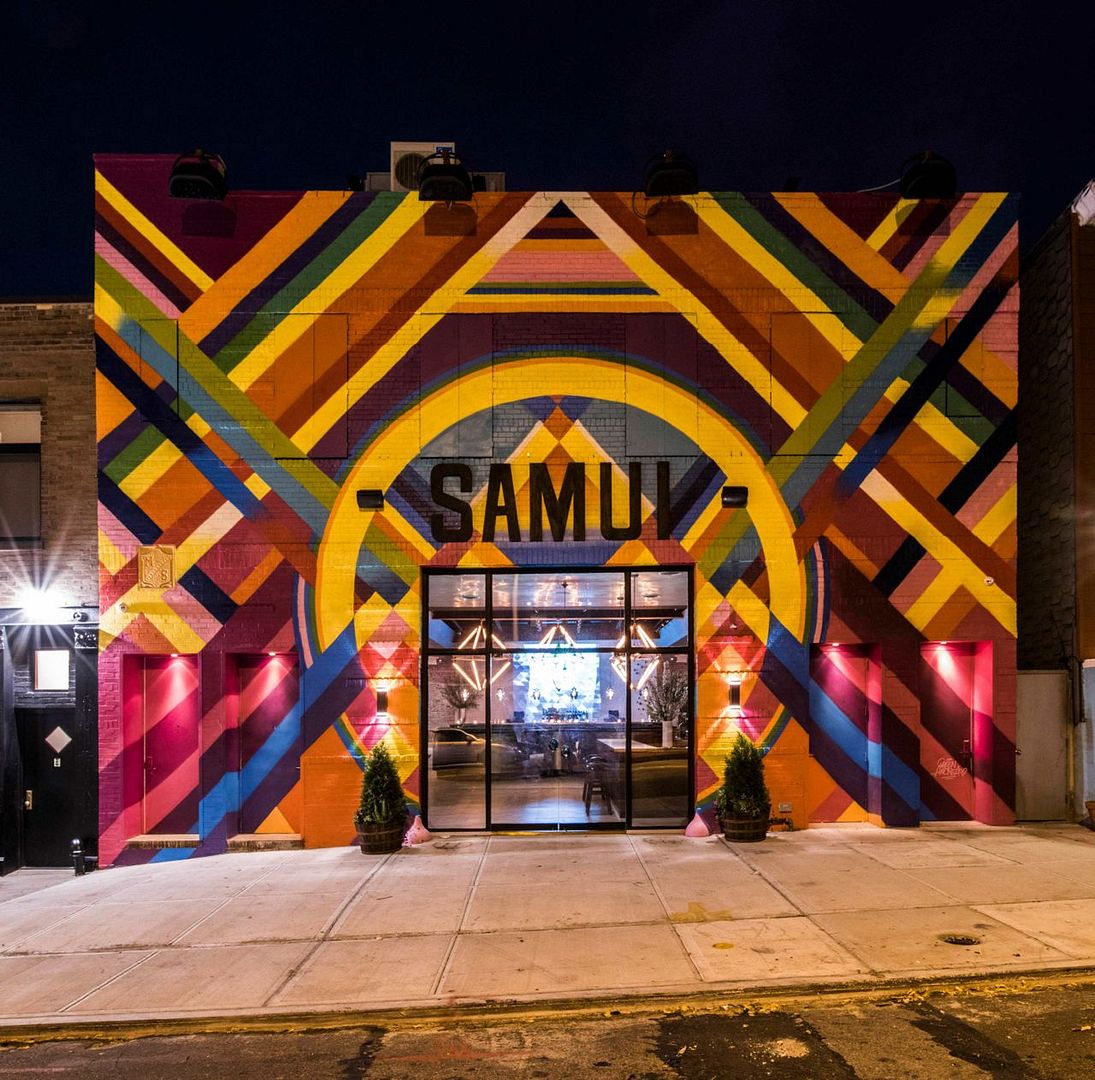 Here's the carnival entrance by graffiti artist Andrea von Bjdoss in the daylight. 
          She picks me up way west on 73rd Street in a vintage red convertible. I must admit I'm already impressed. But then we pull up in front of Samui, across from the Brooklyn Navy Yard.  It's a knockout. I stand mesmerized by the giant circus façade, flashing red, then royal blue, then purple, then green. Inside, there are three giant geometric copper chandeliers and hand-blown blue glass barnacles crawl on the curved white wall behind the bar. It's bigger and grander than I could have expected.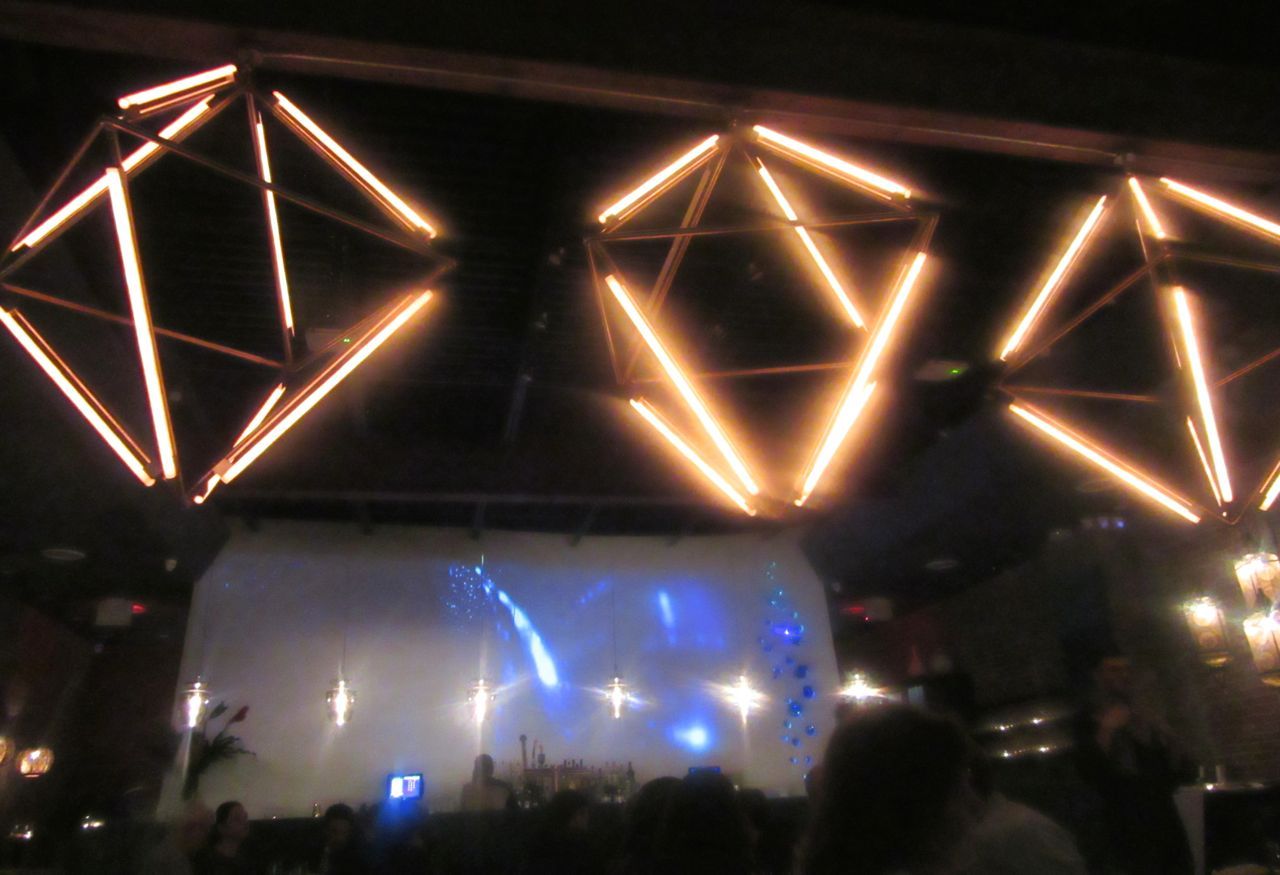 Geometric copper fixtures hang over out booth with blue glass bubbles moving on the curved walls.
          I can hear the tropical strains of music as if in my living room. With my disco-damaged hearing, I almost never hear music in restaurants, only noise, or loud beats, never the actual rhythm. Maybe it's our tall circular booth, padded with turquoise velvet, acting like an acoustic delivery system.
There's nothing unique about the tumeric garlic wings except that they're moist and delicious.
          It takes a while for cocktails to come. The turmeric garlic chicken wings land first — fried, of course, juicy and greaseless, the garlic elusive, not necessarily needing the sweet chili peanut dip. I can't say there is anything remarkable about my chili margarita — yes, at last — a moderate kick of jalapeno in tequila with pineapple and lime.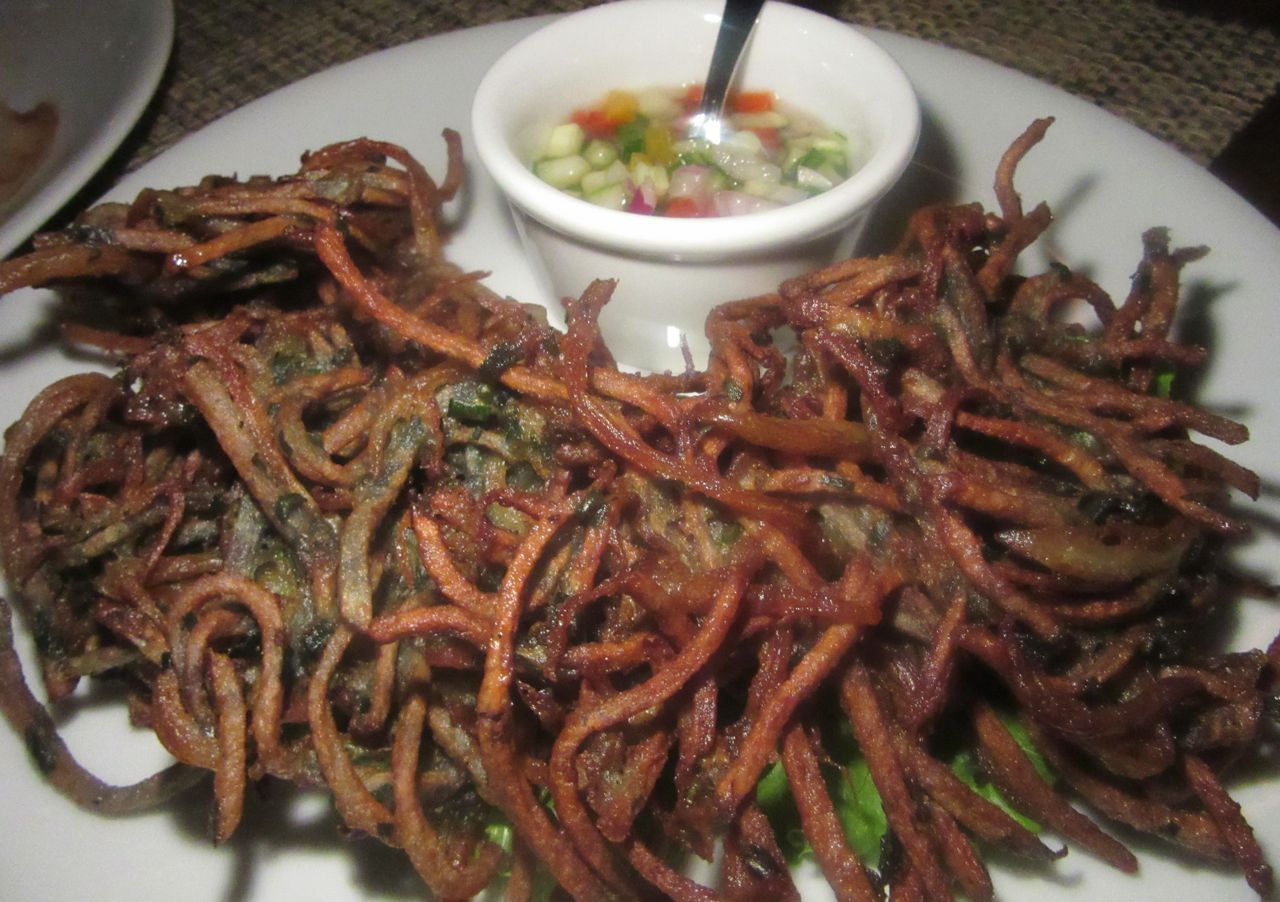 Best to eat the blue potato noodle fritters while they're hot, like I did. Before my pals notice.
          But then pushed toward me comes a plate of crunchy fried noodles — blue potato chive fritters in dark knots — a largish portion for a $9 "small plate," and a delicious notion. I snatch a second helping before passing them across the table. You want to eat them really hot.
In decades of reviewing Thai spots, I've never come across a mussel pancake like Chef A's invention.
          In a few decades of checking out the city's Thai outposts, I've never come across anything like Samui's pancake studded with mussels and garlic chive, some bean sprouts piled alongside. And the crispy shrimp and chicken-stuffed pancake with coconut that Napadol sends out for us to sample will be an elegant addition to the menu.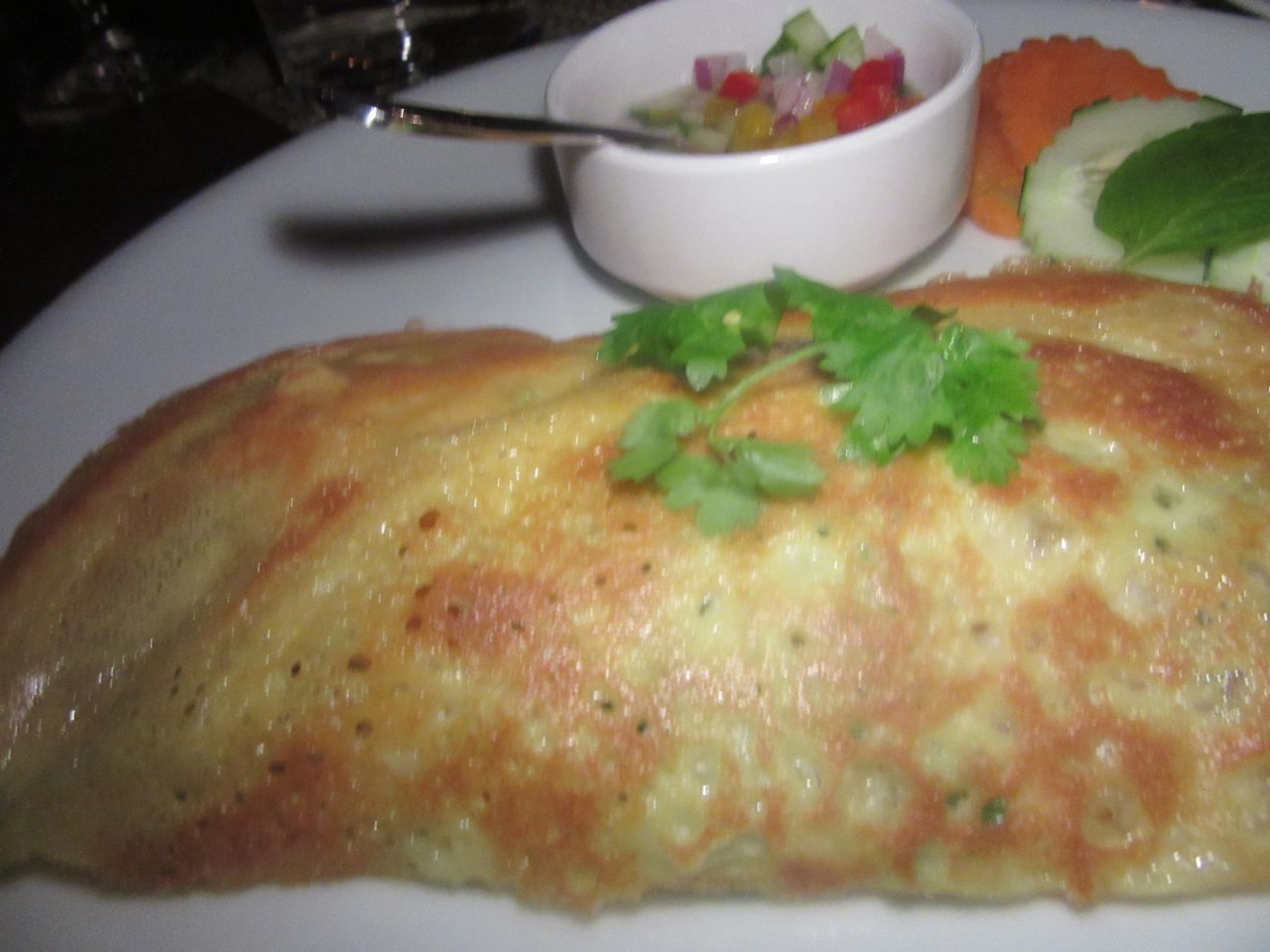 The chef sends out a coconutty crispy pancake filed with shrimp and chicken she will add to the menu.
          Now, I wish I'd asked for the curry puff and the crispy shrimp roll, too. This is probably the first time I've bypassed papaya salad and not tried the Tom Yum King soup at a Thai evening. I considered the spicy grilled beef salad, but worried we might not have room for entrees.
I fell for the irresistible adjective "crispy," and this fish definitely had a crunch, but not much else.
          Yes, we need to ask for serving spoons. Again and again. We need to ask for soup bowls. We need to ask for clean plates. The servers are smiley and good-natured, but perhaps the local clientele has not been as demanding at this early date as we are.
The intensity of the duck broth caught me by surprise, and I let out an involuntary OMG.
          I dish up a chunk of duck, a few slippery rice noodles, a big brown sculpted shiitake from the duck soup. "Taste the broth," our guide and goad cries. I take a slurp.  It is fiercely intense and complex. "Oh my God," I cry. She giggles happily.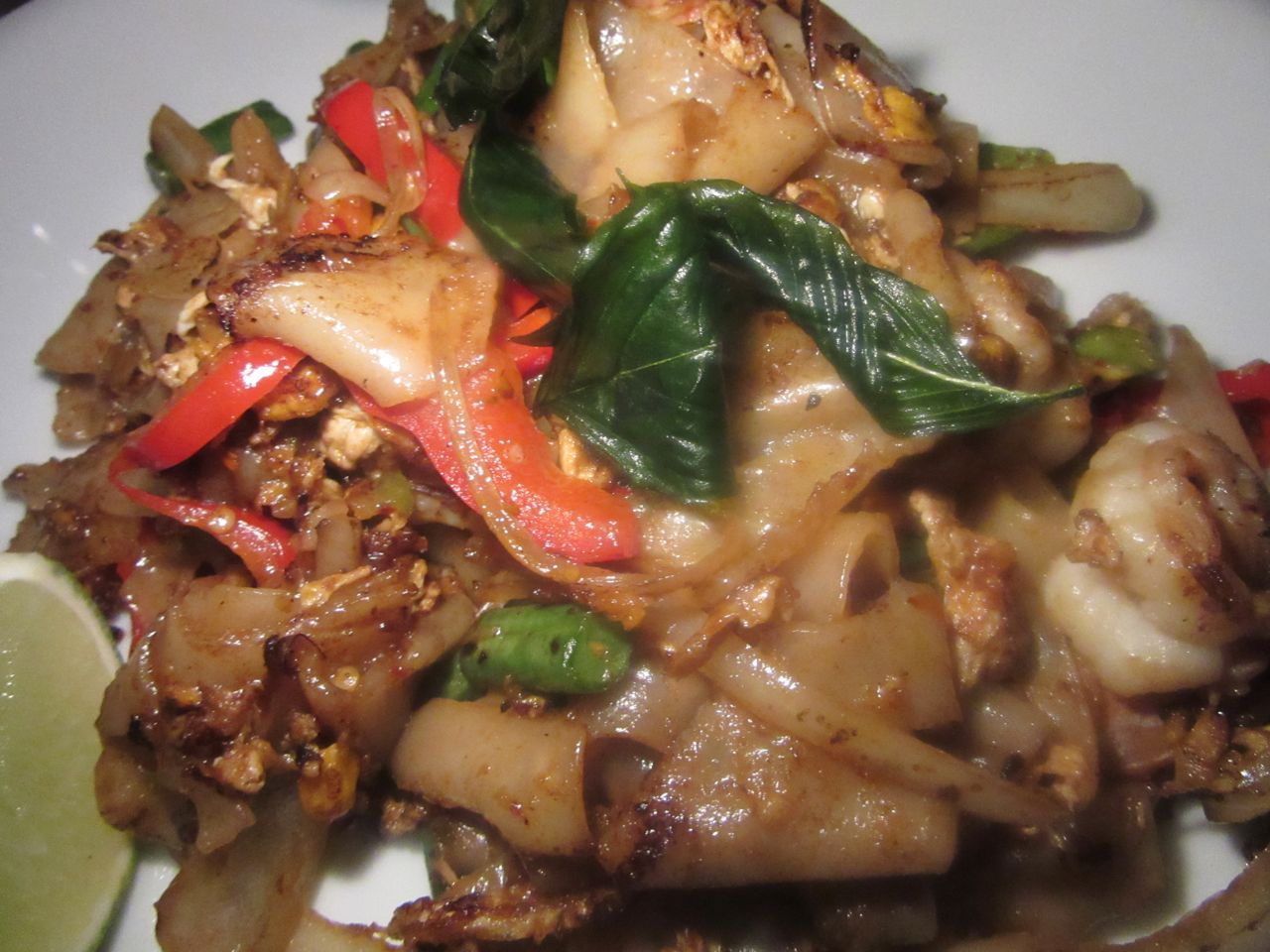 Wide rice pasta of the drunken noodles is flecked with sweet peppers, onion and fried basil leaves. 
          I have nothing against pad thai, but I'm glad my crew lets me choose the Drunken Noodles instead tonight. The satiny and sticky wide rice pasta is flecked with sweet peppers, onion and fried basil leaves.  The smartly savory short rib in the fine coconut creamy maksamun curry is juicy, and not as fatty as it might be. "She cuts out a lot of the fat," the promoter notes. There are roasted carrots and potato chunks alongside, too. And sticks of cinnamon. I've sampled less than half the menu, and so far everything is good or very good.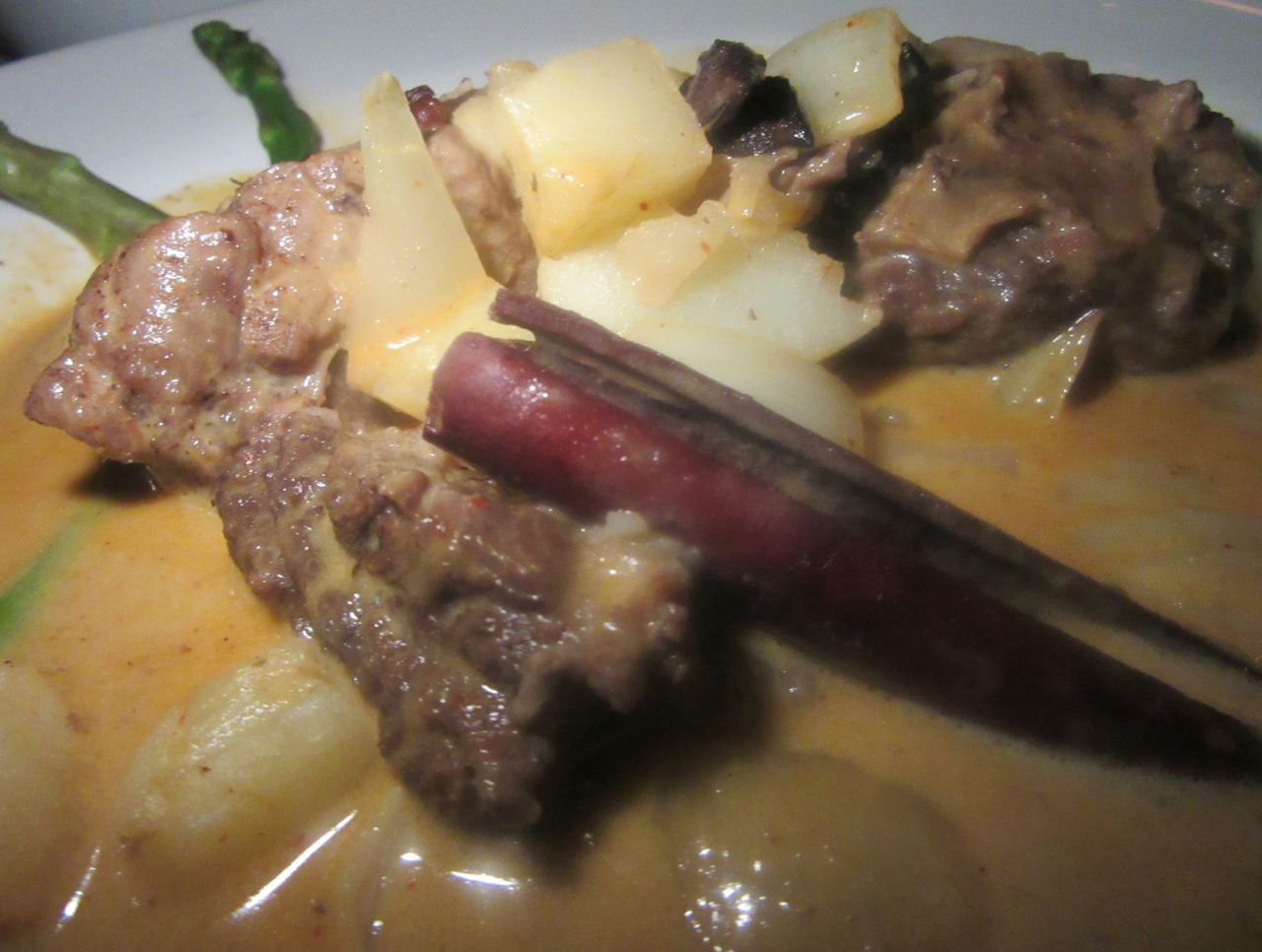 The short ribs in the fine coconut creamy maksamun comes with carrots, artichokes and cinnamon sticks.
          Indeed, the only dud is the crispy red snapper. I fell for the "crispy." And the mango salad promised with it as an alternative to tamarind peanut sauce. Certainly, the curls of fish look assuring.  I bite into one. It's flavorless. Almost all of it goes back to the kitchen, though no one bothers to ask why.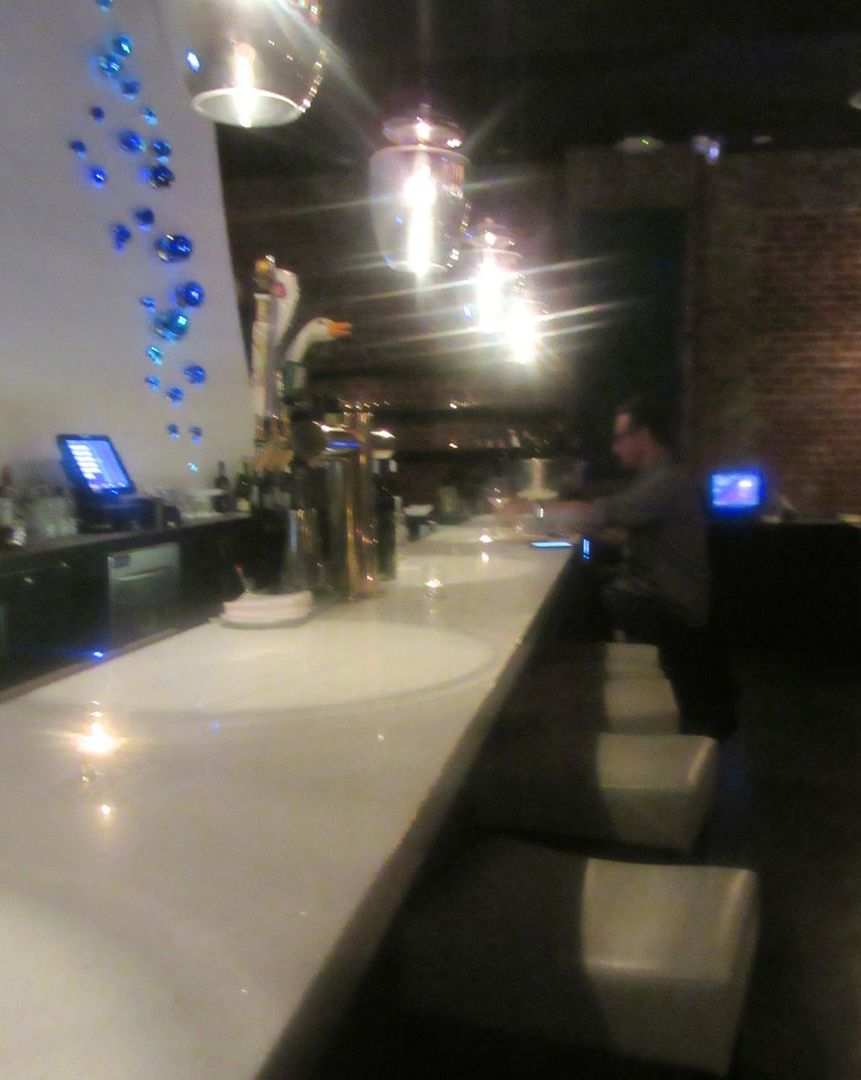 The bar is a little lonely on a Wednesday evening, but late diners crowd in for dinner.
          There are local beers on tap at the bar upfront, along with a collection in bottles including Thai. But after our cocktails — chili margaritas, cucumber ginger sangria and the Mekhong Thai Whiskey with Thai ice tea —  my friends move on to Albariño, a Spanish white wine by the glass.
The poached pear is a little too bland. Maybe Asian bananas in vanilla flavored pandan is better.
          Desserts could be more memorable. The poached pear is wishy washy, and I'm not sure what my pals see in Asian bananas cuts afloat in pandan soup.
Clearly, I'm fascinated with the rotating colors of the façade. Here's a fuscia moment.
          Samui stands out like a carnival on a quiet street. There's not a lot of Brooklyn heat in this corner of Fort Greene right now. But the Brooklyn Navy Yard is supposedly about to have its moment. Chef Napadol and her music-producer husband HaNi Al-Bader live next door. She had cooked in her grandmother's home-based restaurant kitchen before coming to America and finding success in jewelry and real estate.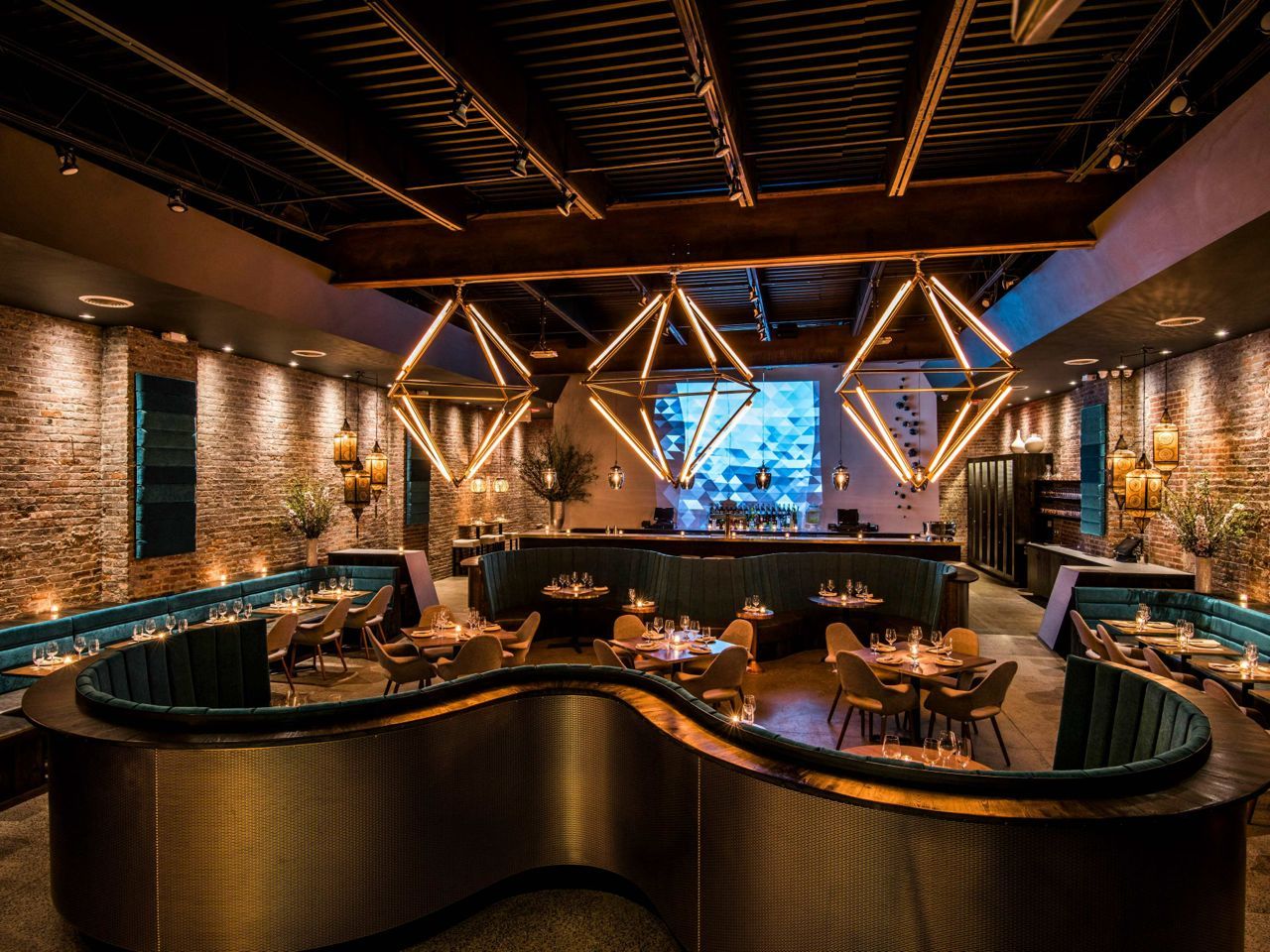 The beat-up garage with its 25-foot ceilings has been transformed into a vast, art-filled supper club.
          The shabby garage with its 25-foot ceilings just steps away got her thinking about cooking again, creating a lighter, more modern version of Thai food. StudiosGO created the stylish 109-seat space from the brick-walled shambles. Graffiti artist Andrea von Bujdoss (aka Queen Andrea One) was hired to paint the sweeping Technicolor façade.
The wave in the bar wall acts as a canvas for 3D projections of local artists' work created by Aryn John Freysteinson of RabCup Corp. Other craftsman fashioned the copper chandeliers and the hand blown glass "barnacles" that climb the bar wall. Of course, the sound and seasonality of the music come from a playlist by Al-Bader. 
Al-Bader and A Napadol make the rounds of tables tonight as a late crowd pours in. It's a big investment in a neighborhood that is barely budding. Still I think it's clear A. in her soft flowing turquoise Thai dress. is here for the long haul. I know because those are Uggs I see on her feet.
15 Vanderbilt Avenue just off Flushing Avenue, Fort Greene, Brooklyn. 917 909 1032. Dinner Tuesday to Thursday 5:30 pm to 10:30 pm., Friday and Saturday 5:30 to 10:30 pm. Brunch Saturday and Sunday 11 am to 4 pm. Closed Monday.