SF Life: Bollywood, Defying Rules, China Live, Summer of Love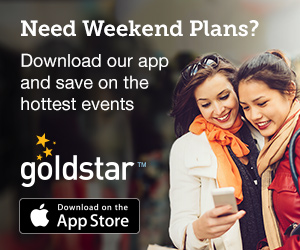 Bollywood and sci-fi come together this month in a musical – a combustible experience! Ariel Levy, famed New Yorker writer visits and converses at the JCCSF this month.  China Live opens – be prepared to be wowed! Looking for a fun outing in the sun, Summer of Love tours will bring you back to the 60's – oh so groovy!
---
Kronos
Bollywood meets Sci-Fi in this new production by esteemed Bollywood musical company Solskrit. With more than 1,500 costumes, 750 props and 100 performers, Kronos is a sci-fi musical extravaganza unlike anything you've ever seen. This Bollywood-inspired production takes us to Earth and Saturn, with both planets on the brink of extinction. Amid the drama, a celestial visitor arrives that will change the fate of both worlds.
There are soaring song-and-dance numbers, drama and excitement in this unique combination of genres. VVIP tickets include a special Indian boxed meal and backstage access. Time to break out of our movie rut and experience something "out of this world". March 24 – 26 at The Mexican Heritage Theatre in San Jose. Get more info and discount tickets.
---
March 21. Ariel Levy at JCCSF
The JCCSF has another remarkable interview coming up. Ariel Levy, staff writer for The New Yorker and gifted tomato with quite the stories to relate, will be speaking on March 21st. In her new memoir, The Rules Do Not Apply, Ms. Levy tells the story of how she built an unconventional life and then watched it fall apart with astonishing speed. Her story of resilience is an unforgettable portrait of the shifting forces in our culture.
In conversation with Kelly Corrigan, you will get to see her vulnerability and strength in this intimate setting. My favorite story about her is that she worked for Planned Parenthood right out of college, and was fired after a week because she couldn't type fast enough. I hear ya sistah! March 21st at 7 p.m. For ticket info: www.jccsf.org
---
China Live
My fortune cookie says go visit Chinatown! The celebrations to ring in the year of the rooster have ended but China Live opens next week. In case you aren't aware, this brand new complex will have more than 30,000 square feet and offer an experience like no other, immersing guests in Chinese cuisine and culture, local ingredients and recipes, while providing education on the history and influence of Chinese gastronomy.
The first floor is now open and features the Market Restaurant & Bar, offering seasonal and fresh Chinese dishes; a Marketplace, featuring curated retail items; and the Oolong Café, offering an extensive selection of uniquely sourced teas from Asia. Above the first floor (which will open this spring) will be Eight Tables by George Chen, an elegant, intimate restaurant, offering a seasonal eight-course Chinese tasting menu, accompanied by a bar and lounge, plus a banquet and event space. Not just for tourists, but a great new way to immerse yourself in Asian culture – a vital part of our bay area. China Live is located at 644-660 Broadway. For more info: http://www.chinalivesf.com
---
Summer of Love Tours
Walk this way to the iconic locations where the summer of love occurred. You can experience the free love movement by following in the footsteps of these most delightful, yet quirky tours. Bring your tomato gal pals and spend a day laughing and learning. I love going on these walking tours that enlighten and educate and make me smile. Here are a few of my favs. Do not wait for Aunt Mabel to come to town, do it now!
Flower Power Walking Tours
You can walk in the footsteps of Janis Joplin and the Grateful Dead on the Haight-Ashbury flower-power tour. Touching on the history of it all, from rock and roll to art, fashion and architecture this tour is billed as 60% hippy history and 40% neighborhood history and architecture and always 100% fun. Every Tuesday and Saturday at 10:30 , Friday at 2 p.m. Just $20 pp. Groovy Details here: www.haightashburytour.com
San Francisco Love Tours
Grab a seat on the Love Bus – aka a VW Hippie Bus complete with neon blue seats, beaded curtains and orange shag carpet, and explore the city. Peace, love, freedom and adventure are espoused on this tour that gives an authentic and enthusiastic way to experience the city. Infused with the spirit of the '60's they remind guests on the bus to appreciate every new experience of every day. As you ride through the city amidst cheers and hoots from pedestrians, you can't help but smile and laugh and enjoy unusual tour routes. The best is that they adapt the tour to your requests. So even if you are a native to SF, you will explore our new and ever changing city by the bay. Get the love on here: www.sanfranciscolovetours.com
Wild SF Walking Tours
 Since the summer of love was a musical explosion, you might enjoy these tours that are alternative journeys through history led by sharp, musical and big-hearted guides. Exploring off the beaten track locations and unknown histories of the city, this musical tour will have you tapping your toes as you learn about the unforgettable characters of SF. For a walk on the wild side: www.wildsftours.com