SF LIFE: New Girl, Eat Pray Laugh, Robots, Cheech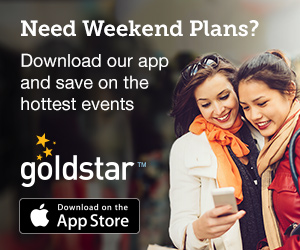 Happy Spring everyone.  This week you can see a classic Broadway musical,  New Girl in Town, fa la la. Or laugh yourself silly at standup Alicia Dutter's one woman show, Eat, Pray, Laugh. There's a new guy in town, ok, he's a robot ready to serve you at the Oakland Airport and Cheech Marin shares a side-splitting evening with Will Durst. Laughing is good for the soul!
---
March 29 – April 16. New Girl in Town
If you are a true fan of American Musical Theatre it is imperative to know about the to the 42nd Street Moon productions. NEW GIRL IN TOWN, originally produced in 1957 is the only Eugene O'Neill play that was set to music. Rarely produced, it opens at the Eureka Theatre on March 29th and runs through April 16th. Set at the turn of the 20th century, this classic love story revolves around a "tomato" with a checkered past. She returns home to join her father, captain of a coal barge, and meets a nearly drowned sailor. Lives are changed, songs are sung and life is good.
42nd Street moon is the only theater around that is dedicated solely to classic, and rarely performed musical works. I love that their educational programs and community outreach help increase the awareness and appreciation of musical theatre and it's influence on the world stage as we know it today.  For more info: www.42ndstmoon.org
---
Opens March 25. Eat, Pray, Laugh!
Jewish princess seeks Indian guru for one life stand!

In this true-life story, comedian Alicia Dattner leaves the safety of her identity as a comedian in San Francisco for a three-month solo adventure across India, in search of self. Ha! From seductive French yoga teachers to scary Indian toilets, she pokes fun at her Western monkey-mind irritations, including the Italian fashion exporter with a Krishna fetish and mosquitoes the size of small ponies, to the Chabad House on the Ganges, ultimately, discovering the true meaning of mustaches and masala chai. This hysterical Jew – In – India experience is delightfully recounted with Sanskrit music and the lovely comedienne outfitted in a flowing silk sari. Performances March 25, 30th and April 1st at the Marsh Theater in Berkeley.  For discount tickets via Goldstar.
---
Pepper – The Robot
If you're catching a flight at Oakland airport, take a seat at the Pyramid Taproom in Terminal 2 and let Pepper, the humanoid robot, take care of you. Pepper— a four-foot-tall robot in all white—can show you the menu, provide food and drink recommendations, and, if you are not satisfied with Pyramid's offerings, suggest other places to dine throughout the airport. Via an interactive map displayed on the screen mounted on its chest Pepper can also help passengers find their gates, the nearest restrooms, the baggage claim, and more. Only in our tech savvy locale would you find a robot.
Pepper is equipped with artificial intelligence and facial recognition software top help it understand human feelings and interact with passengers. Thanks to its built-in 20 motors, Pepper can gesticulate, move its head and arms, walk towards you, shake your hand, and most importantly, bring you a beer. Get more info on Pepper.  
---
March 31. Cheech Marin
Cheech Marin, you know, one half of the legendary comedy duo Cheech and Chong, is coming to San Mateo to join political comedy legend Will Durst in conversation. Come on tomatoes, you know who he is! You may not have been enveloped in a cloud of smoke like those two during the '70's, but their humor is legendary.
Cheech shares a side-splitting evening with Will that will have those endorphins lifting you up so you leave with a natural high. Marin has performed, directed, written children's books and brought humor in his stand for issues of Latino identity. He continues to reinvent himself by performing in such movies as Cars, Desperado and The Lion King. Will Durst has been hailed by The New York Times as "possibly the best political comic in the country." Both humor heavyweights get together for this crackerjack show at San Mateo Performing Arts Center. Get more info.