Southern Style and Creole at 33 Greenwich

The $65 bone-in breaded veal chop is a supper for two that comes with two "accoutrements." Get carrots.
          It looks like the partners invested loads of time and cash in infrastructure at 33 Greenwich -– splashy murals, scarlet neon, an exterior crown. I wonder why they didn't take another five minutes to come up with a catchy name.  "Southern style and creole" is what caught my eye in the opening announcement.
"Let's go to 33 Greenwich," I email my friend.
 Kelly Beeman did the murals, a vision of the eclectic crowd 33 Greenwich hopes for.
          "What's the name of the place?" she asks.
"33 Greenwich is the name and 33 Greenwich Avenue is the address," I email back, a bit confused myself. Greenwich Avenue in the West Village is one of those streets where restaurants bloom and fade. Or is that Greenwich Street? I need to look it up on the map every time.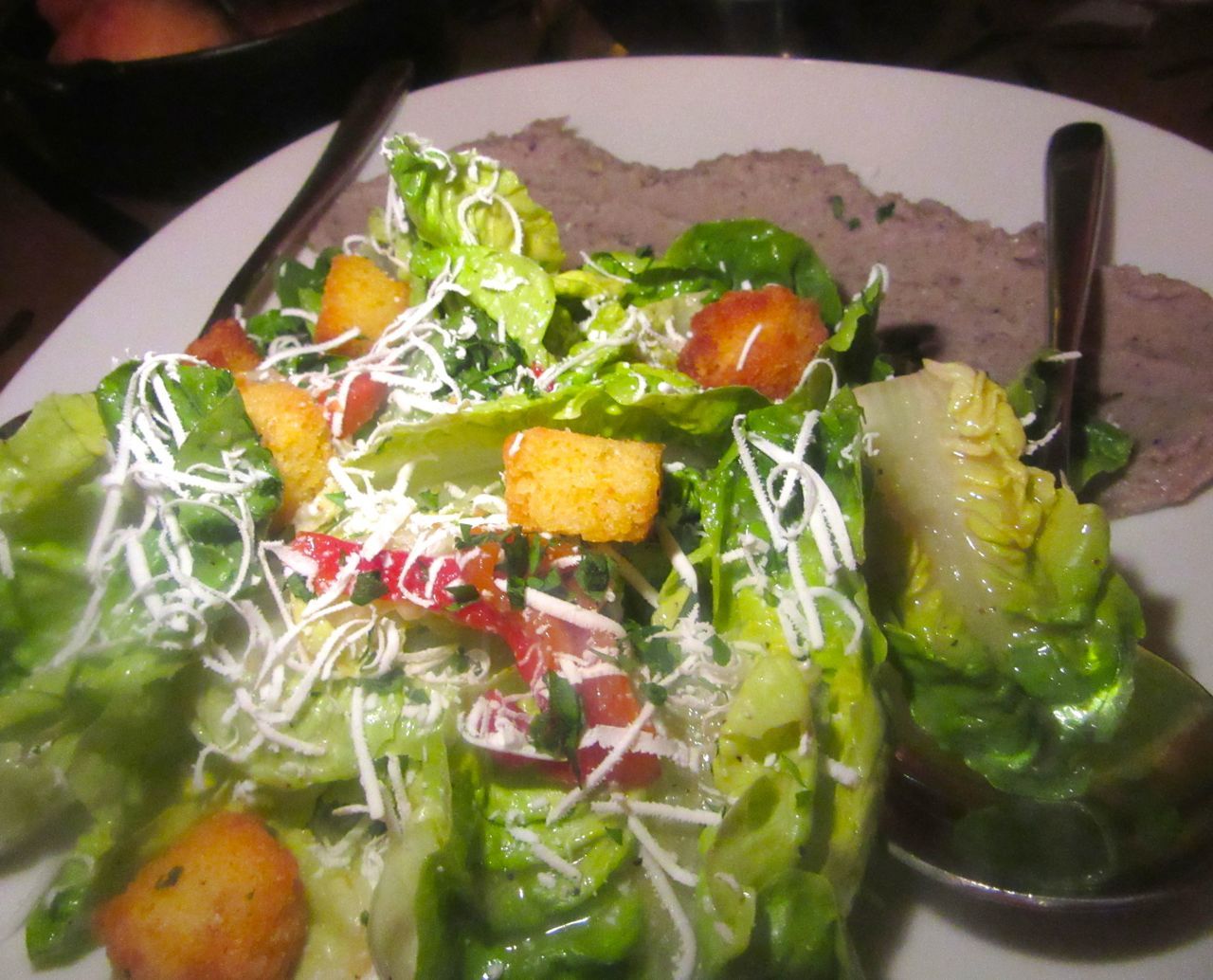 L'il gem lettuce is tossed with smoked black-eyed peas, cornbread croutons and ricotta salata.
         Arriving that first week, I did not expect to be quite so enamored with the unusually lush and crusty green tomatoes, a lusty little gem salad with cornbread croutons, and a mountain of moist and crispy fried chicken jeweled with pickled watermelon rinds.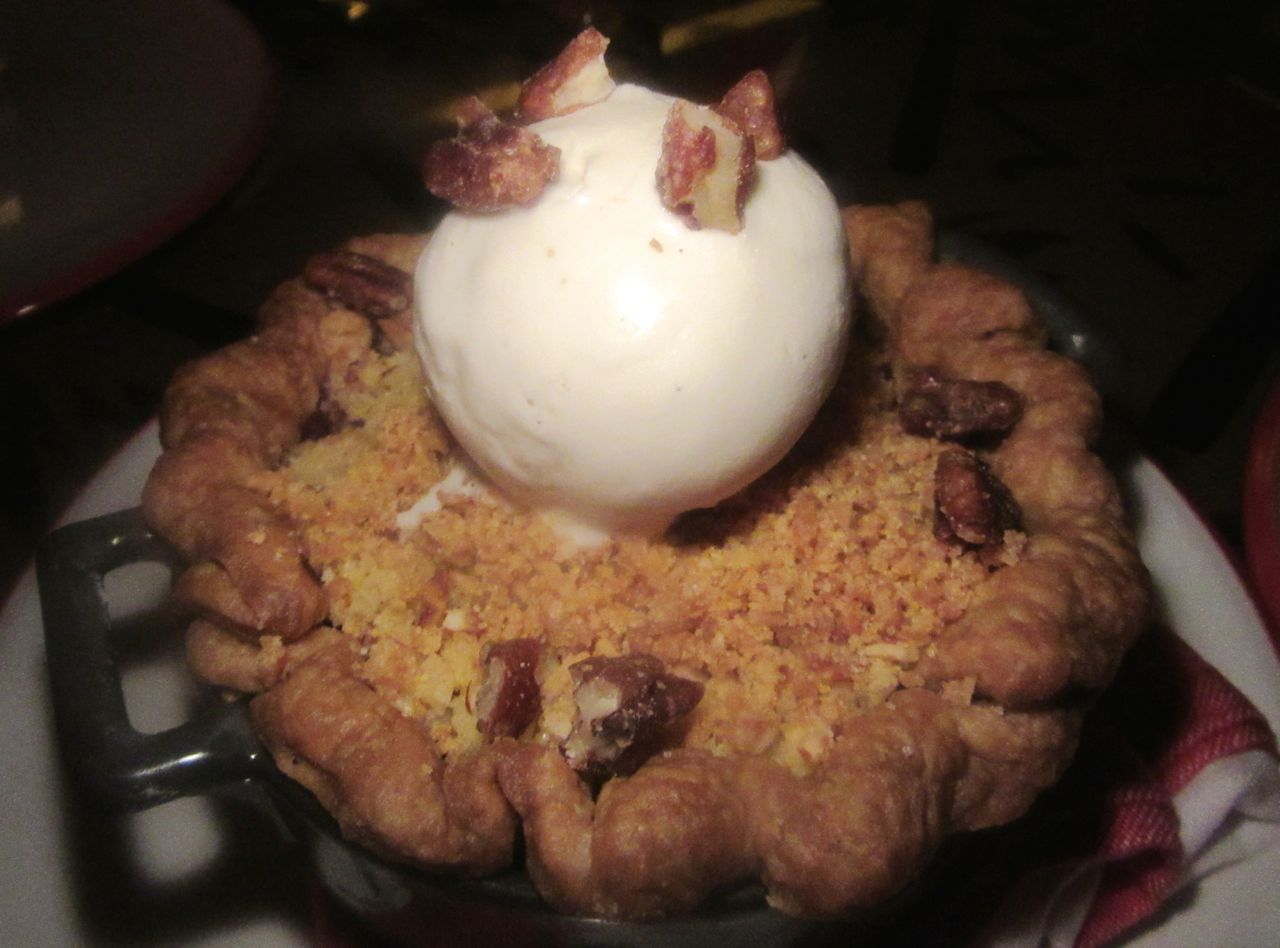 I am stunned to find this crumble-topped sour cherry tart  — the pie I dream of.
          And sour cherry pie. It comes in a bowl, not too sweet, with a crumb crust. Could someone be reading my mind? How I long for sour cherry pie.
Anne Thornton, that rare chef in cascading chains, a turban, and mascara, does upscale Southern and Creole. Photo by Dana Stoddard
          Chef Anne Thornton emerges from the kitchen to collect our comments. She's jeweled too, draped in a black turban with a cascade of silver chains at the neck of her black chef's coat, black Converse sneakers, mascara and eye shadow.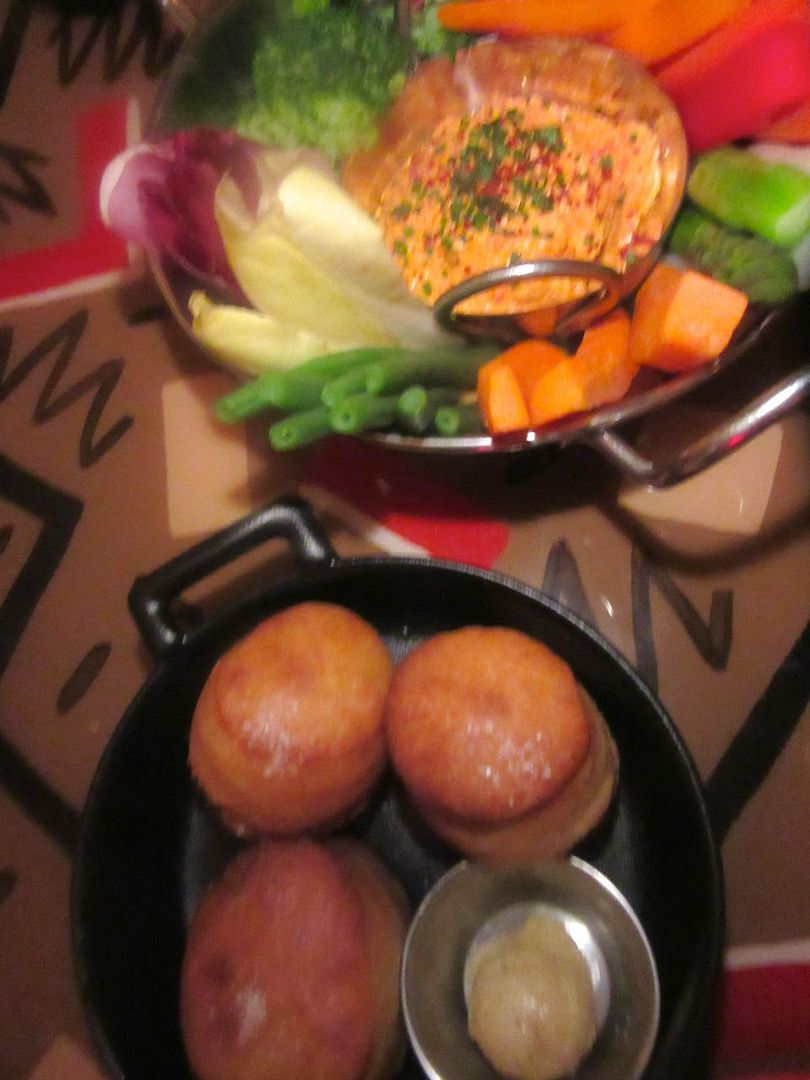 Biscuits with peppered honey butter and pimento cheese surrounded by crudités are the way to start.
          Certainly, we've eaten more than enough to get her attention. Made a big dent in the menu, from the biscuits with peppered honey butter (maybe not the lightest or flakiest ever, but I do love biscuits) and pimento cheese with crudités, to the shrimp and grits with batons of spicy Andouille sausage. "Georgia ice cream" is another name for grits, she explains. Hers are especially complex and rich because she adds Gouda. She's always adding something.
 What gives Chef Thornton's shrimp and grits with Andouille sausage its extra pow is gouda
          The secret of the exceptional chicken, posted under "Suppers for Two" (but easily enough for four at $55), is brining it in tea, then buttermilk with barbeque spices. Mustard seeds add texture and blast to the crust. There's herbed buttermilk under the panko-crumbed fried green tomato batter too, as well as in the sauce you want to pour on and lick off your fingers. The spring beans and radishes are on the plate because vegetables are good for you.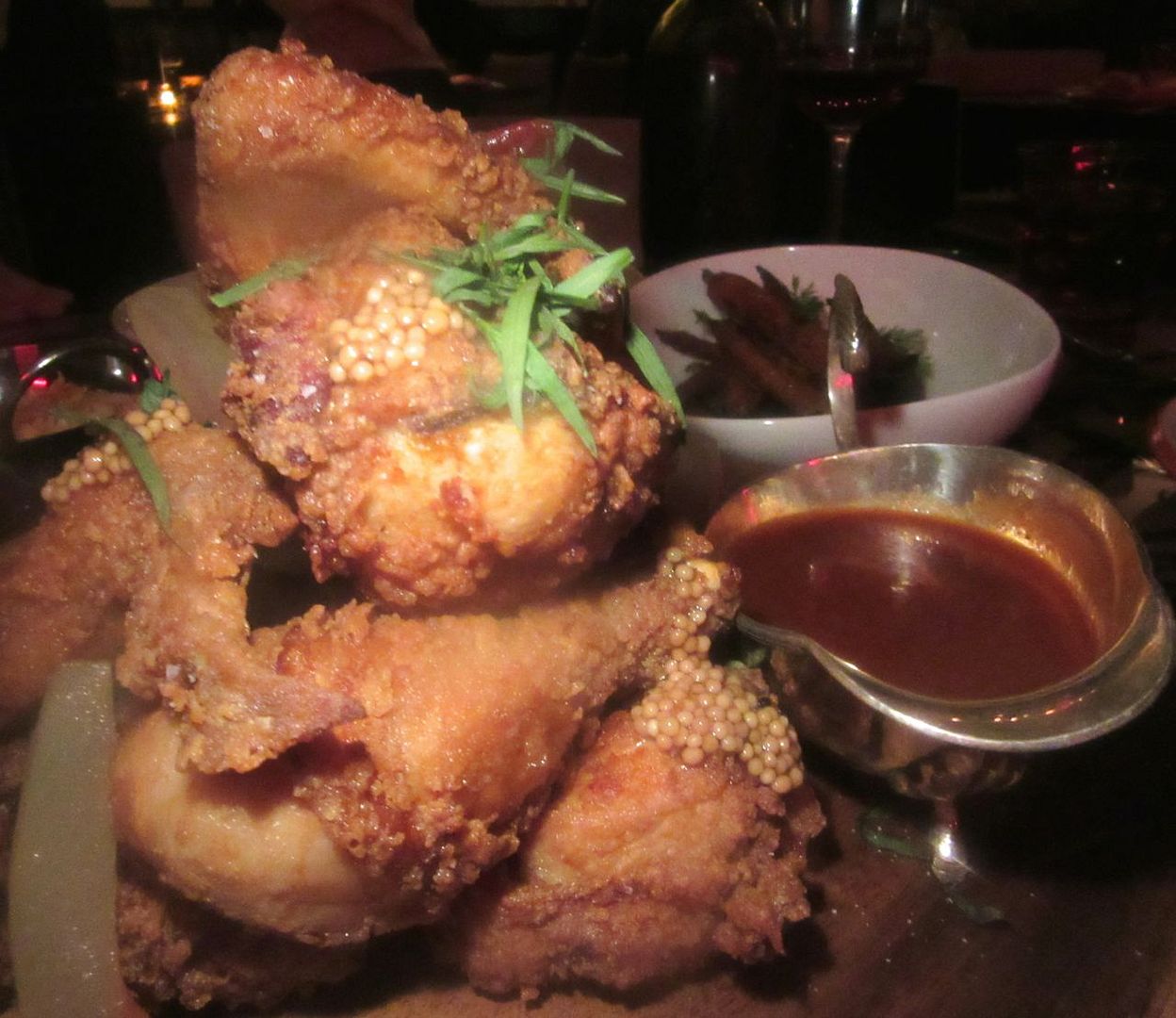 Candied watermelon rind is scattered through the mountain of crusty fried chicken – enough for four.
          The spot is so just-hatched, I give our waitress a pass for not knowing that we need serving pieces when we're sharing everything, even though I get a little testy the fourth time I have to remind her to bring a soup spoon for dishing up the grits and a fork for the rotisserie carrots. Cooking them in the drippings from the rotisserie is what makes the carrots so good. (Needless to say, the vegan carrots are more spartan.)

Why are the carrots so good? They're cooked in the rotisserie drippings.
          Managing partner Danny Volk, an operator at Catch before opening Upsider on Second Avenue, worked with the creative team Kizmet here. He credits them with the design, the branding, the cute menu font, and everything else. Including the name (Greenwich, Connecticut lends cachet, he tells me when I ask why the redundancy).
The cauliflower creamed spinach sounds more exotic than it actually is.
          Kizmet partners Kelly Framel and Zachary Lynd collected the art, works by artist Joel Mesler, drag queen Steve Willis, collage artist Miguel Rangel and muralist Kelly Beeman. Framel knew the chef from her chicken potpie at Waverly Inn and from Moby's vegan spot in California.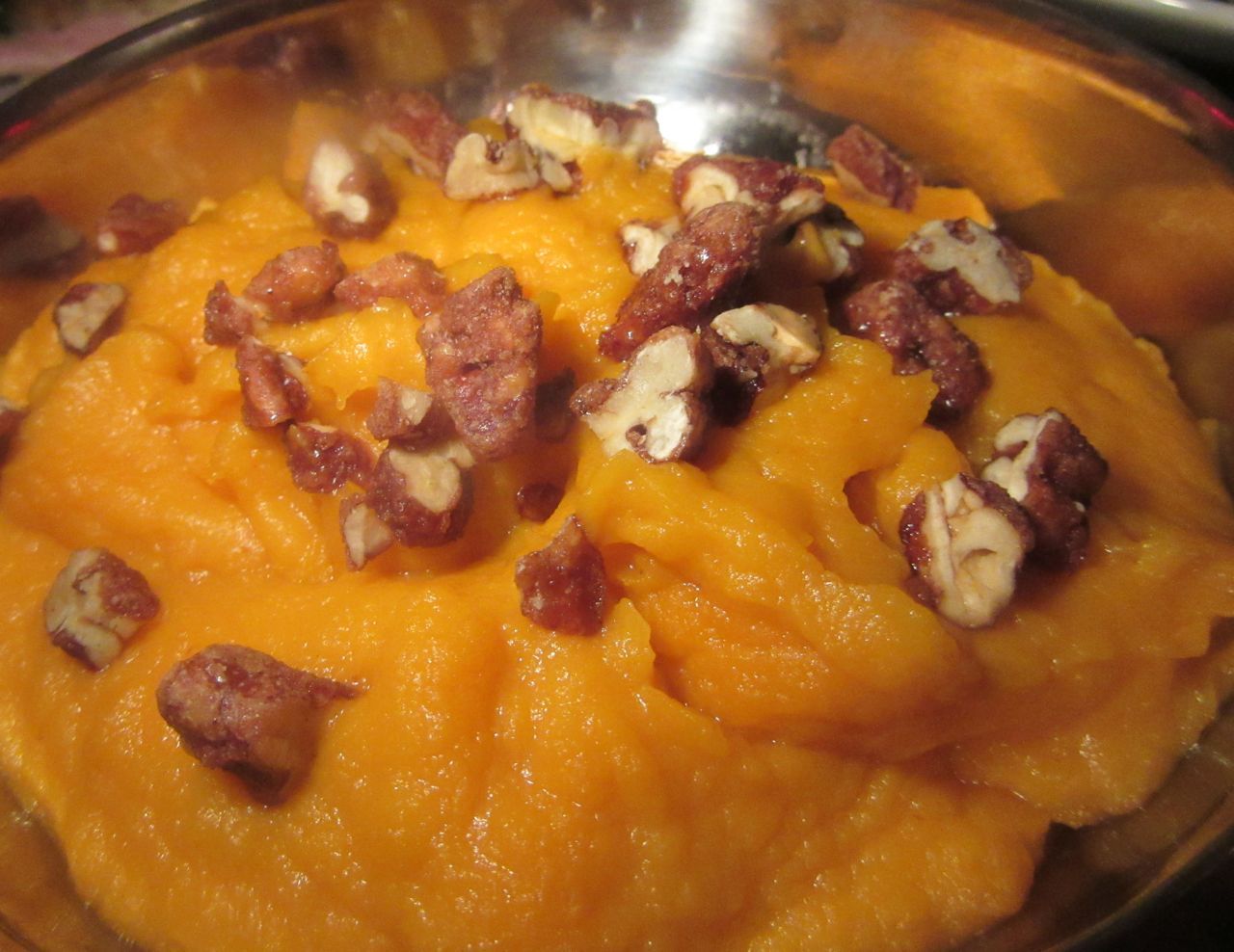 Maple syrup and a big dose of cream sweeten the sweet potato puree.
          Volk says he worried that Southern food would be fried and heavy. He was right. A lot is fried and wantonly rich. The seared Arctic char comes with beurre blanc. Marcona almonds and goat cheese garnish the rotisserie chicken. The dry aged meatloaf burger is layered with caramelized onion and tomato jam. Maple syrup-dosed sweet potato puree is larded with cream. But the chef has her limits. "No ham hocks ever," she promises.
You can see the action in the open kitchen through the neon wrapped bar.
          It's Friday, first week, and the place is already full, tables turning. Earlier, young families, lots of millennials in caucus later, like me leaving with their leftovers. The sound-track, favorites of Volk and investor Brian Fitterer, gets hotter as the strollers roll out.
 I caught this closeup of the kitchen crew keeping up with a full house on Friday evening.
          I decide I need to return Monday to taste more for this first look. It's drizzling. The place is almost empty. I won't deny my companions those fried green tomatoes or the pimento cheese with crudités. The biscuits arrive.
 Buttermilk basting and a side of buttermilk sauce make exceptionally rich fried green tomatoes.
           They are willing to go without fried chicken in the cause of research. From "Suppers for Two," we choose the $65 bone-in pork chop. I ask for it rare, assuming it's a giant veal chop. What comes is a large panko-breaded veal cutlet with fried baby mozzarella, cherry tomatoes, watercress, and basil pesto. Good enough, but not to rival the fabulous fried chicken.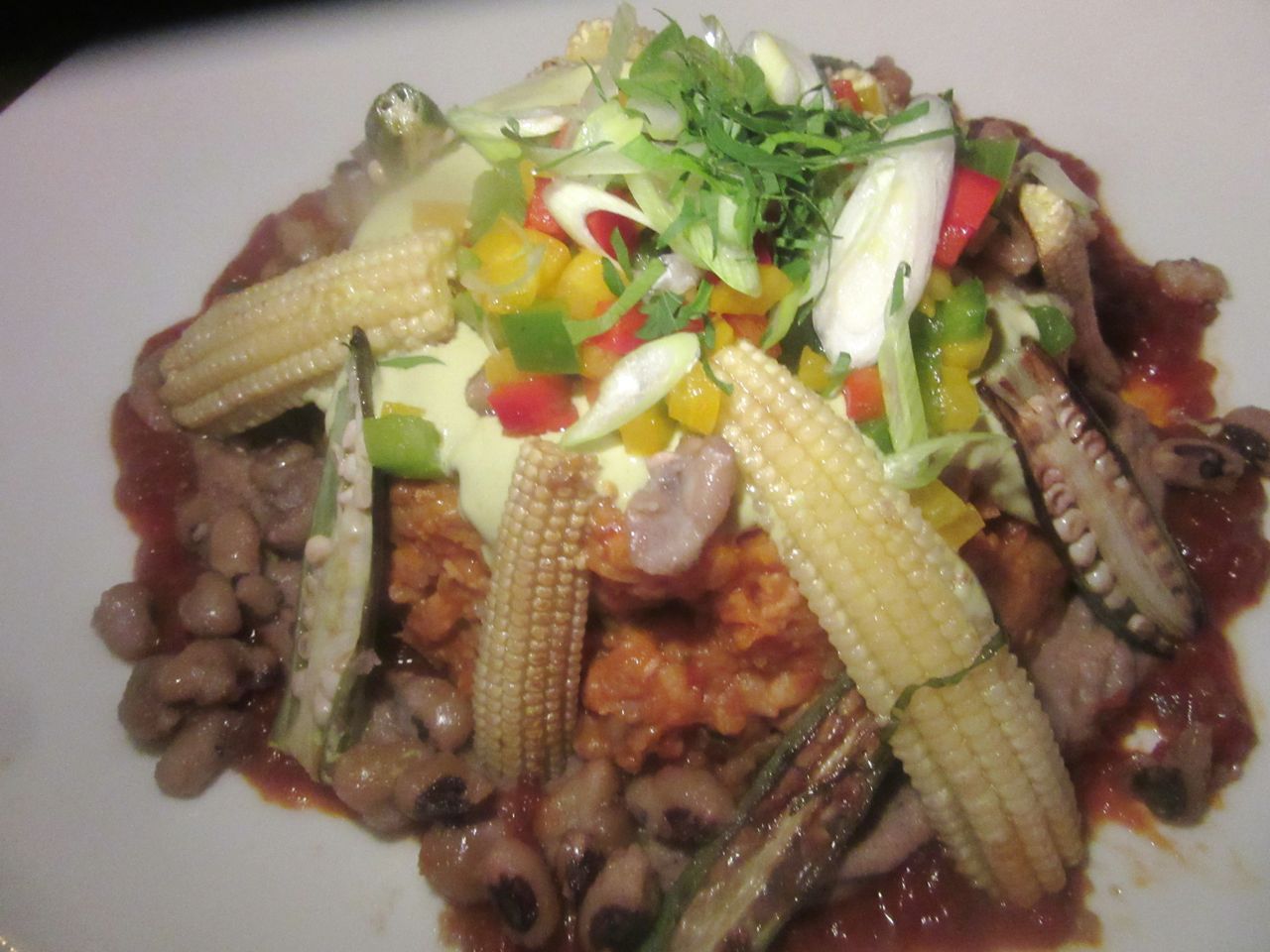 Chef Thornton makes sure the menu has options for vegans, like this jambalaya layered with smoky flavor.
          I can't resist the evening's special vegan jambalaya. My companions have lost steam, but I'm bewitched by the gathering of tomatoes, Japanese eggplant, red, yellow and green bell peppers, yellow and green zucchini, okra, baby corn cobs, Carolina rice and onions, garlic. Smoked black-eyed peas and the finishing cashew cilantro cream multiply the complexity.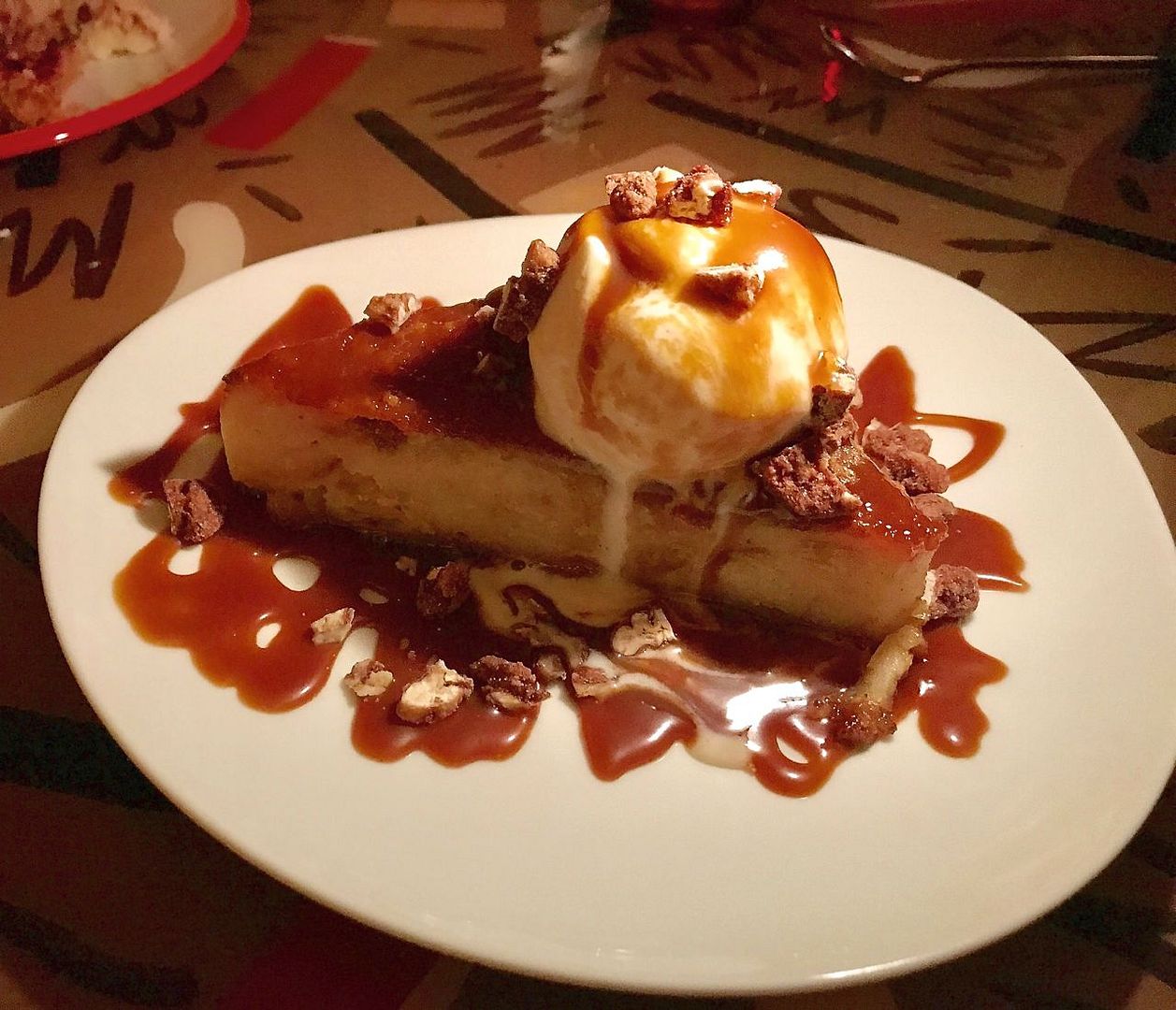 The dessert list grows. Monday added bourbon biscuit raisin bread pudding with caramel & vanilla ice cream.
          The dessert list is growing now. Thornton sends out the cherry pie again, and salted caramel banana pudding pie. "That was the dish I was doing at the Wine and Food Festival that got me on the Food Network with my show, 'Dessert First,'" the chef notes. She doesn't mention that she lost the gig when there were complaints she had borrowed recipes. She redeems any possible sins with her originality here.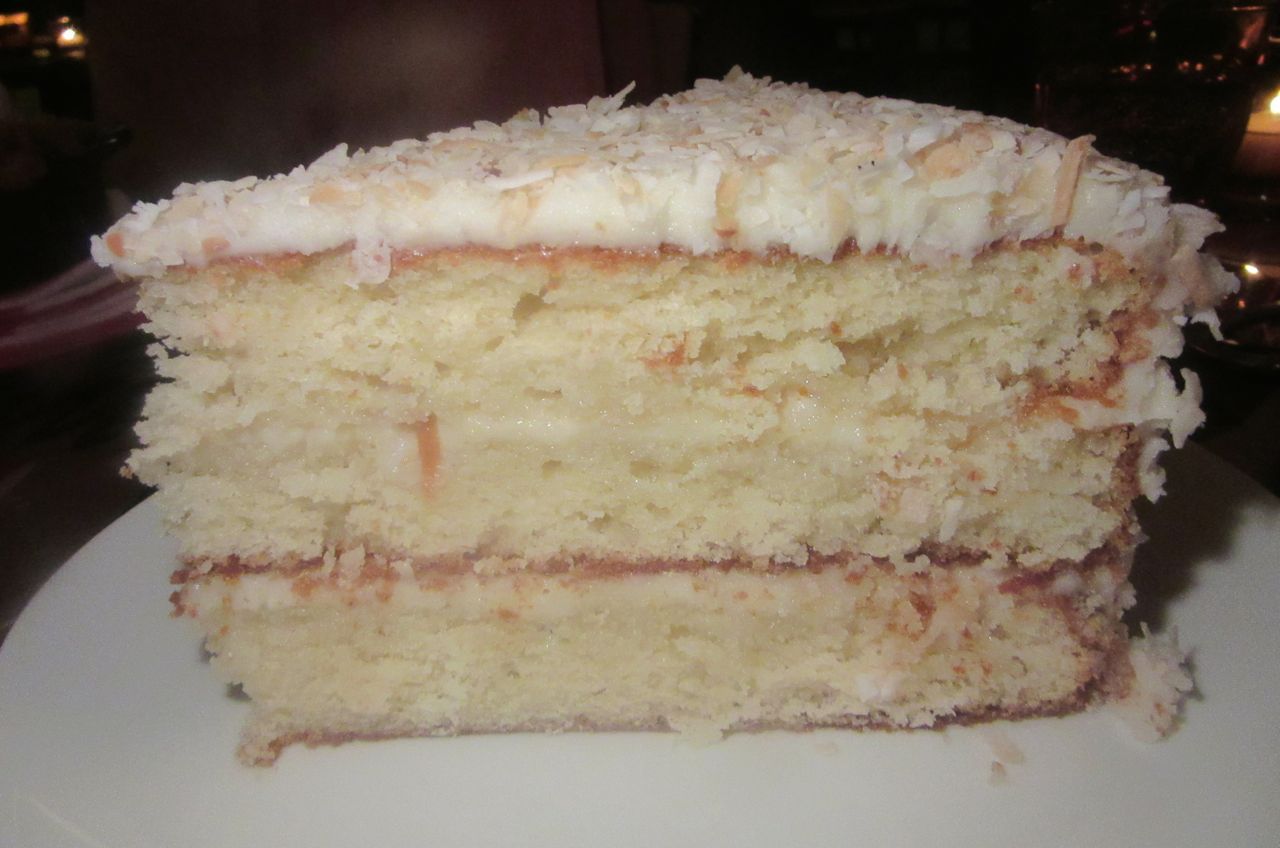 There is cream cheese between layers of the chef's grandmother's coconut cake, and chocolate to pour on top.
          We order the coconut cake spliced with cream cheese filling, "my paternal grandmother's coconut cake," she says.  "She was the most incredible baker."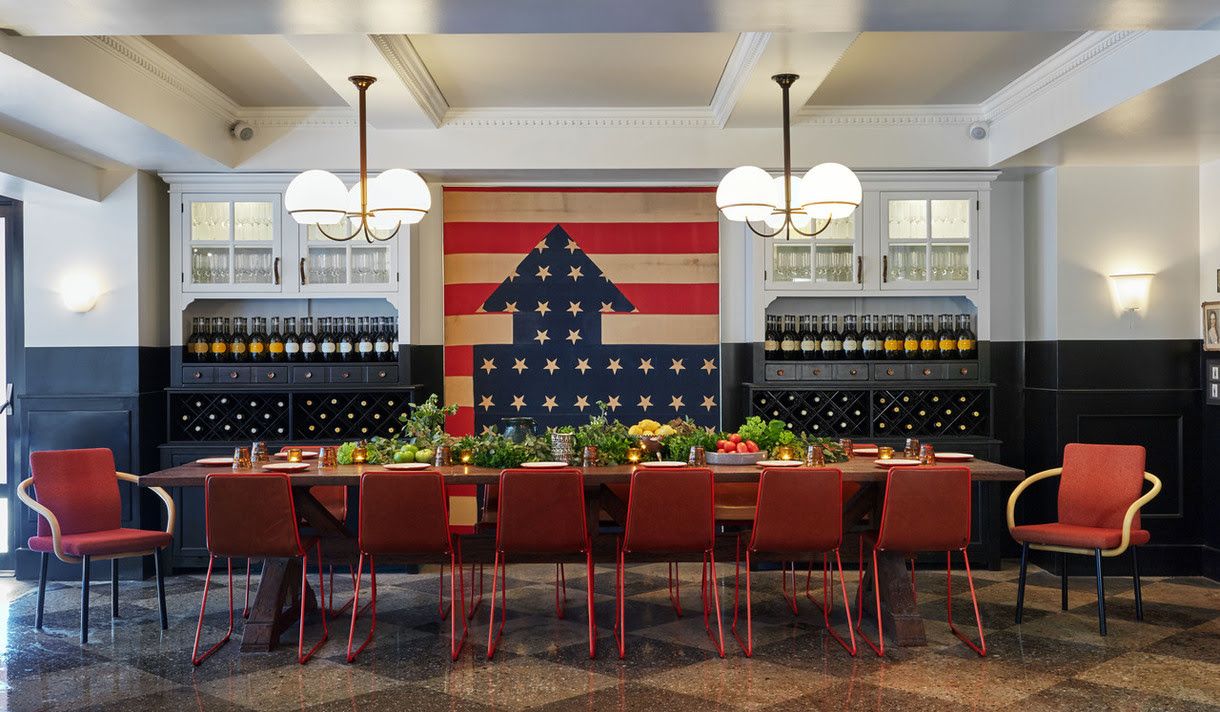 Photographer Reid Roll took this photo of a table set for a large party along a wall at 33 Greenwich.
          Over the weekend, a new front door arrived. Permission for the sidewalk café will add 36 outdoor seats to the 86 inside. When the weather is balmy, the windows will open like accordions. Soon, I expect, there will be peach and nectarine pie. I'm looking forward to plums. Meanwhile, I'll send my pals who will go anywhere for great fried chicken. It looks like 33 Greenwich intends to stay.
 33 Greenwich Avenue between 10th and Charles Streets. 646 609 3615. Open Monday through Saturday till midnight. Closed Sundays.