Swimming with the Fishes at The Lobster Club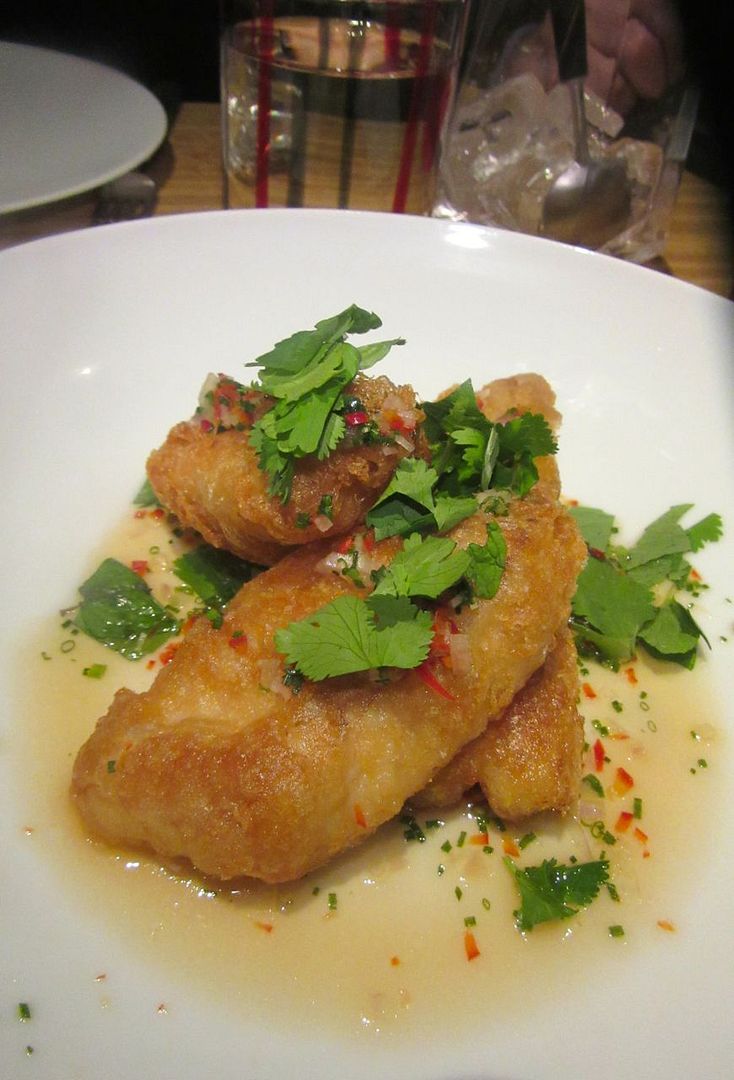 Filets of crisp Vietnamese snapper float on a puddle of lime juice, soy and fish sauce with shallots and chive.
          There was no landmark claim in force at the old Brasserie on the uptown hip of the Seagram Building, as there was at The Grill and The Pool. That gave the Major Food Group and their moneyed backers permission to go riotous. They gave designer Peter Marino free reign. Now, with black leather, mirrored ceiling, red lacquer, custom-designed tabletop accessories, and intimations of Picasso on the wall inside elevated booths, we'll never again amble into 98 East 53rd Street expecting a croque monsieur or lemon-ricotta pancakes.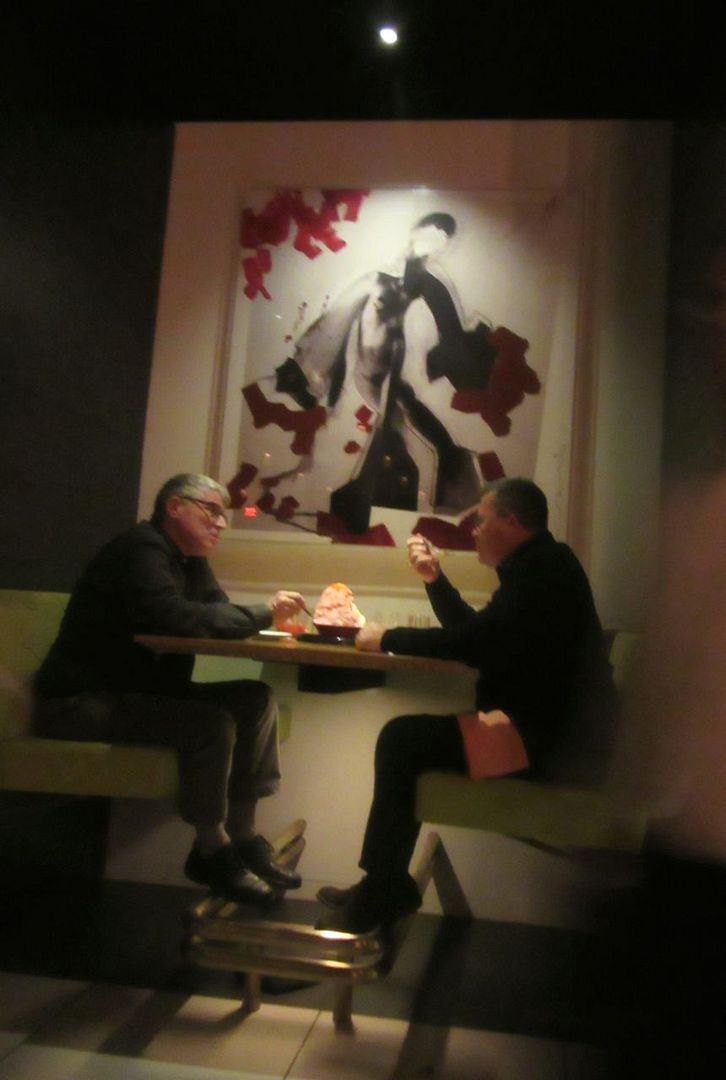 Banquettes at elevated tables along the back wall look out over the ebb and flow of the room.
           Perhaps this is a new address for you, but I'm old enough — and not too decrepit — to remember how my New York Post pals and I would walk Brasserie's entry plank after midnight for a burger or French toast and a beer. Now what used to be our late night hangout is a stage set for full-throttle decadence.
The house's excellent $18 melon mohito wears an exaggerated bouquet of mint.
          I like that the doorman comes forward to help me out of the cab (unlike the guy guarding the Grill and Pool entrance on 52nd Street. who just watches me open the door and inch across the seat). Actual stairs replace the original plank, and leather curtains with metal grommets to hide your coat hang at the welcome stand. We choose a conventional table on the lower level rather than a high banquette along the wall with rails to rest your feet. Millennials balancing plates at small cocktail tables near us look cool, but not very comfortable. I can't complain about vintage punk music from my golden years, not too loud.
The Lobster Club's partners could probably afford Picasso plates but the story is they found these in a closet.
          Among my companions on an early visit is a fussy eater. We order more than enough $18 cocktails to relax a little about feeling like the oldest citizens in the room , and order the $165 Tomahawk ribeye to sooth our anxious pal who likes to recognize what animal he's eating — not mentioning that it will be rubbed with cumin and Szechuan heat.
The $165 Tomahawk steak from the teppanyaki roster comes with a roundelay of sauces and king mushrooms.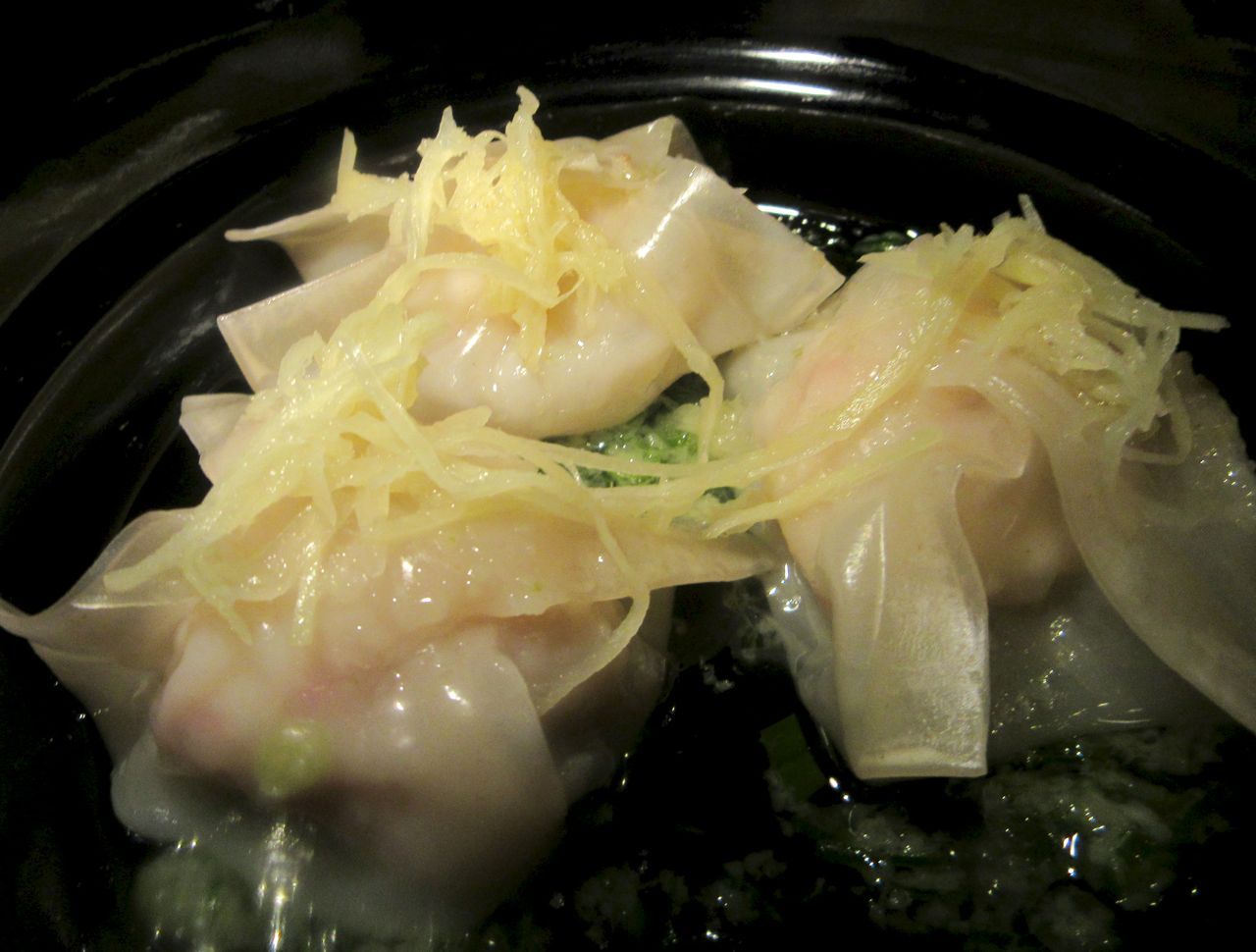 Delicate lobster dumplings are perfumed with coriander, chile and fennel seed.
           Given authority to order starters, I favor the modest, more familiar items from the roster of cold and hot appetizers, $12 to $37. Lobster dumplings scented with coriander, chile and fennel seed in delicate noodle wraps. Boilerplate pork gyoza are beguiling. The barbeque pork jowl comes in two squares piled with lemon grass. My small bite is meaty, fatty and delicious. "Should I get another order?" I ask. No one responds.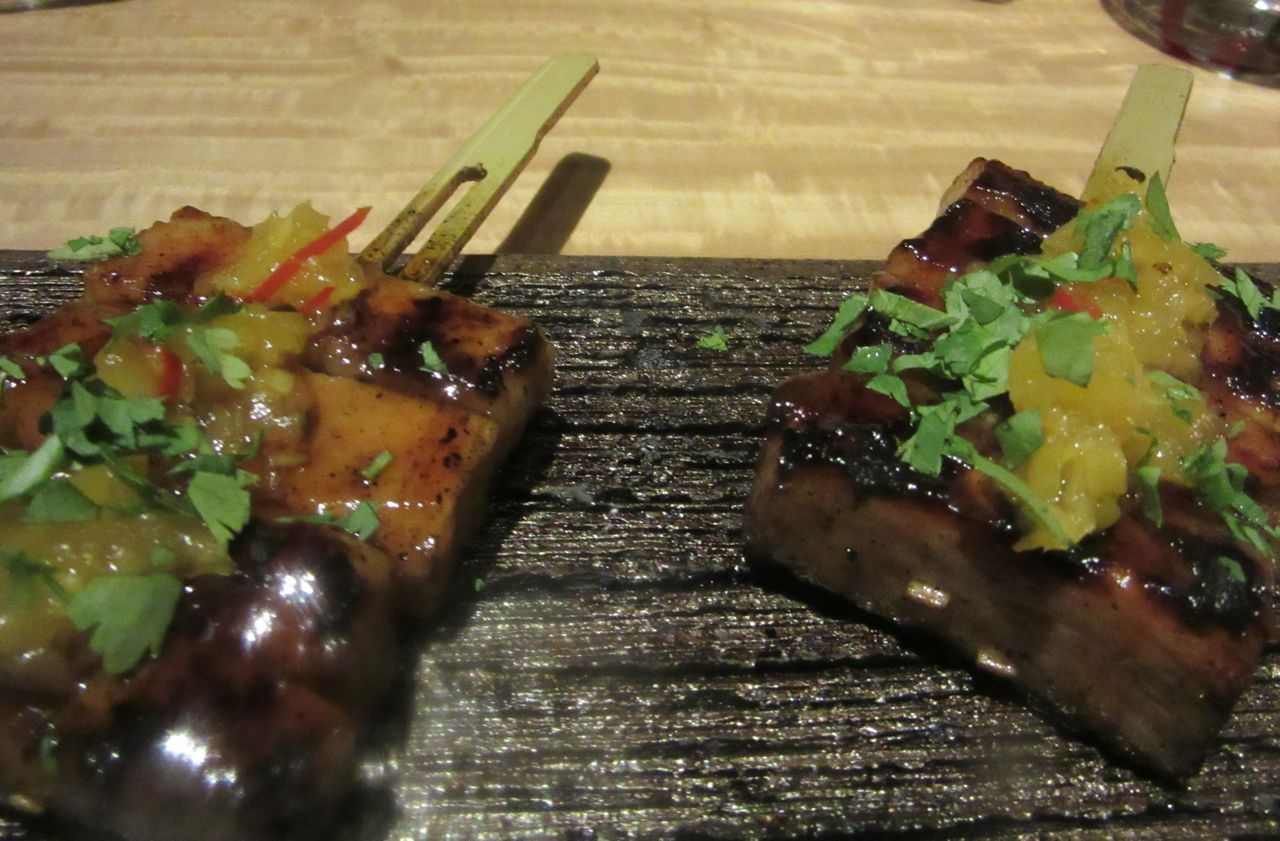 Barbecued pork jowl is served in two little cakes on skewers topped with lemongrass.
Tempura mushrooms are delivered with a traditional tempura dip.
          We're still putting away the pig, and tempura mushrooms, dipping them into the classic liquid. And then the deep-fried curry chicken wings arrive. "Oohhh, this is spicy," Ginny cries, again and again and, clearly, not because she likes it spicy. But the two of us hotheads across the way definitely enjoy the unexpected heat. It would help if the menu specified "fried" and "spicy," so scaredy-cats are not overwhelmed. It does note that the shrimp rice dish is packing heat. It's a big go-with-anything bowl for $22 that I seem to be finishing.
Dip and dabs and dribbles to drizzle on your steak or chops range from gentle to torrid.
Flat slabs of king mushrooms and roasted shishitos accompany the teppanaki dishes served hibachi-style.
          Our server identifies each sauce in the collection that precedes our hibachi steak. Soy ginger, barbeque, garlic ginger scallion, garlic confit, fish sauce, etc. I get it. I get it. And then instantly I forget it. But there's a collection of small spoons, so I drop a few little islands of this and that on my service plate and take the rarest piece of beef I can find. Odd-looking slabs of king mushrooms and shishito peppers are the house sides. I like the Russian roulette of shishitos – supposedly one in seven will be hot. But the mushrooms are dull. A swath of chimichurri helps. And the beef is excellent. I'll have a second piece.
Millennials parade into the stunning red and black back room with its partly mirrored ceiling and dramatic art.
          Three weeks later I return to celebrate my friend Bob's birthday at a table for two against the wall. There is nothing tentative about the Lobster Club anymore. It's a smash. Stylish valkyrrie in teetering, dominatrix black footwear, trailed by mere mortal escorts, head toward the rear den, walking on red lacquer under a mirrored ceiling. They look delivered by hired casting.
Tiger calamari are tossed with cilantro, green chilies, onion, watercress, scallion and sesame-rice vinegar.
          Given all the floor-walkers and the vast crew in shirtsleeves and sneakers, I'd guess there's an employee for every patron. Both Carbone and Torrisi in their immaculate whites, have escaped their own kitchens to join partner Jeff Zalaznick greeting fans. So, even though it can be intimidating, it's homey too.
Bob gives himself a seriously delicious 2007 Châteauneuf du Pape. It's his birthday, after all!
Bob trusts the sommelier he knows from who-knows-where suggest a $165 wine worthy of the celebration.
          Bob is an unabashed grapenut and a passionate collector of people. He seems to know everyone passing by our table. I'm treating tonight but Bob, remembering that I tend to choose wines "by price", enlists the sommelier (he seems to know her from somewhere, too) in choosing a 2007 Chateau La Nerthe Cheauneuf-du-Pape that turns out to be remarkably fruity and ripe and not outrageously expensive at $165.
The freshness of this raw sea bass with little curls of crispy sprouts make it an inspired opening adventure.
          Slices of sea bass served with a lineup of crispy sprout curls make a vibrant awakening. Bloomberg's restaurant critic Peter Elliot and a friend have moved into the table next to us. Bob offers them a slice. And now we're trading tastes back and forth. Bob's willing to eat anything I choose. I have proposed a dozen new dishes but, for some reason, end up ordering the tempura again and curry wings, forgetting the repetition of spicy fried batter.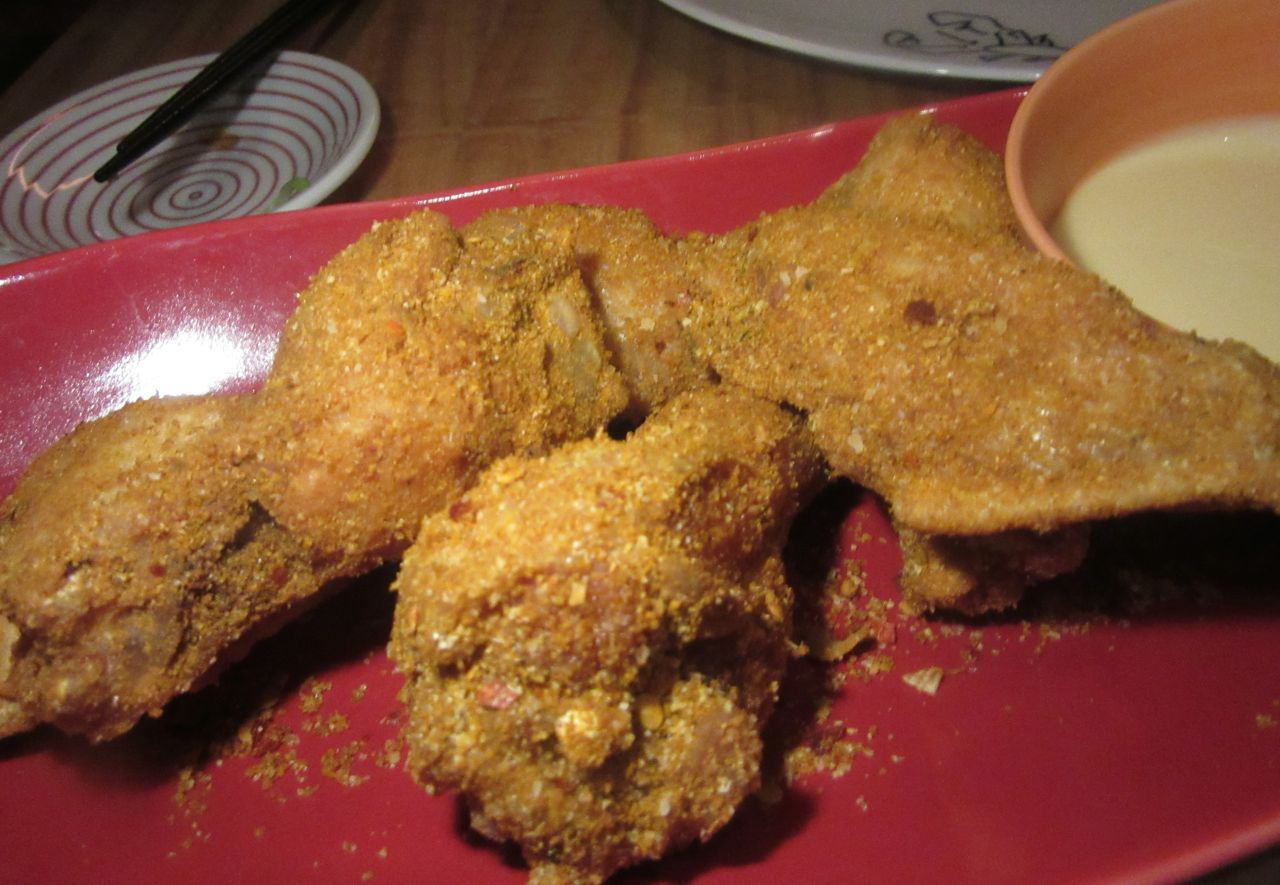 The curry chicken wings are spicy and fried: a combination that alarms one of my companions that first visit.
          Scallops are $11 each, priced by the piece. "Whatever, Bob," I urge. "It's your birthday." Did I forget all the dishes I meant to order? I'm pleased to notice, I did select the most outrageous sushi roll: tuna Rossini topped with seared foie gras and flutters of white truffle. Bob passes two cuts along to our neighbors so quickly become intimates. With Bobs effusiveness and tables barely two inches apart that should not be surprising..
At least I choose an extravagant sushi roll, tuna Rossini, with sautéed foie gras and flutters of white truffle.
           Now we're tasting our neighbors' lobster — they've ordered lobster twice, cold from the starters and seared on the hibachi. Bloomberg expense account, I figure. Chopsticks are flashing across borders here. We agree that Peter Marino's tabletop designs are fun and nicely posh. The stunning water glasses are surely hand-blown from Venice. Elliot touches the black curtain behind him. "Leather, of course," he says.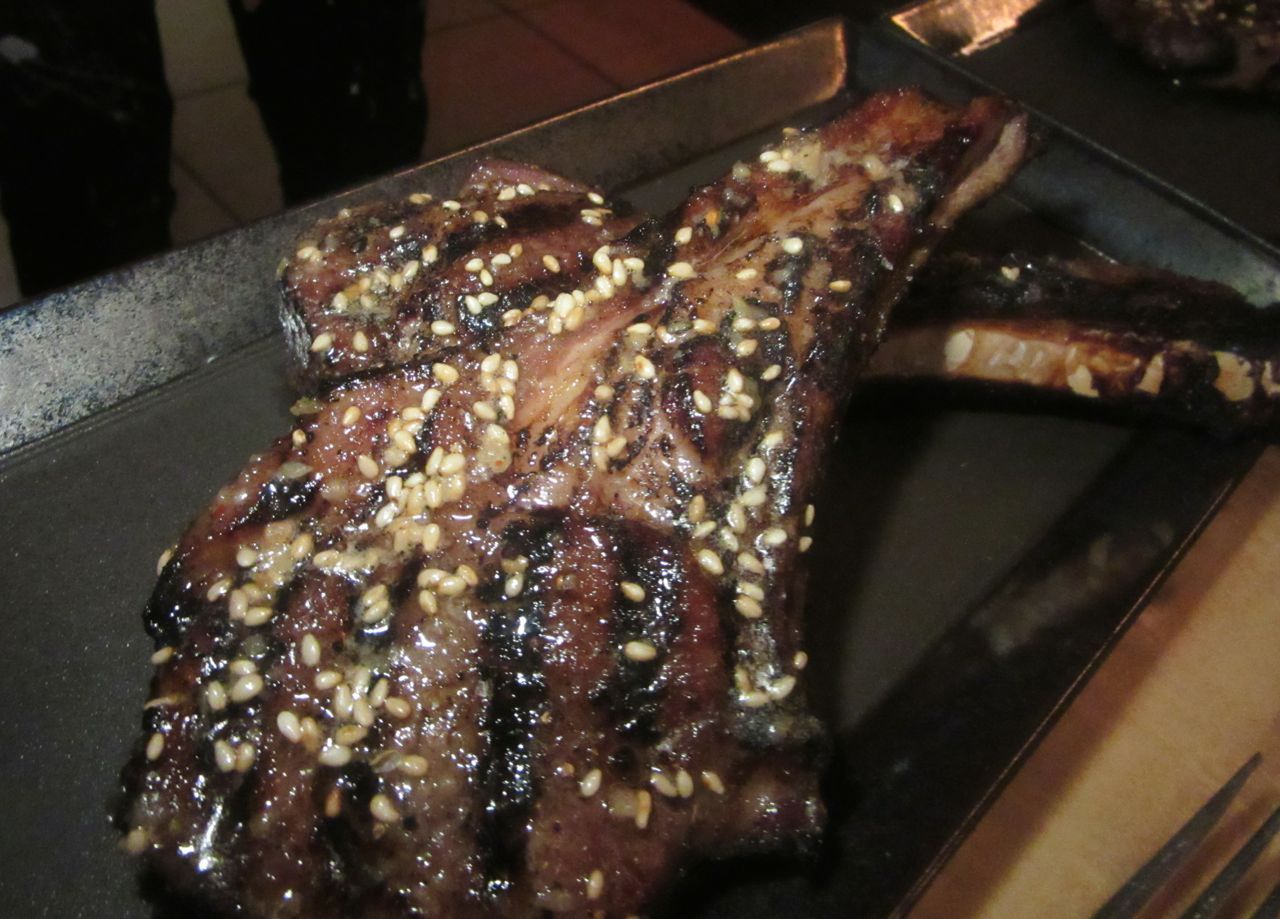 These lamb chops, priced by the piece at $21, are sensational, rubbed with whatever, and almost rare.
I will always want the spicy shrimp rice — not all that kicky — and it seems to go with everything.
           "Too bad it doesn't have a whip thrown across horizontally as a sash," I observe. Does he roll his eyes? (Will he quote me? I'm already quoting myself.) Would we like a taste of their steak? Our three lamb chops, priced by the piece on the menu at $21 each, are here, rare for me, medium to rare for Bob. The lamb wears a sensational rub that extends to boldly untrimmed bones.
          "This lamb is better than at Piccola Venezia in Queens," Bob exclaims.
The frozen blood orange Kakigori is the delicious Japanese version of so many Asian ice desserts.
           "Yes, in Astoria," says the server standing at our table, who just happens to be from that village. Instantly the server becomes part of one man's family, clearing, and then bringing clean plates. "It looks like dessert is imminent," I say.
The house sends a gift of chocolate banana opera layer cake, with no silly birthday candle.
The yuzu tart is a wonderfully tart variation on lemon chiffon pie.
           Bob spies the mound of iced blood-orange kakigori at a table across the way. Shards of frozen fruit syrup are piled high and  topped with crème anglaise dribbles, reminiscent of  Malaysian shaved ice desserts, but so much better. Too late to order. The kitchen has sent us chocolate banana opera cake, a yuzu tart and, my favorite, the warm Okinawa date cake with brown sugar toffee — it tastes like a very delicate gingerbread.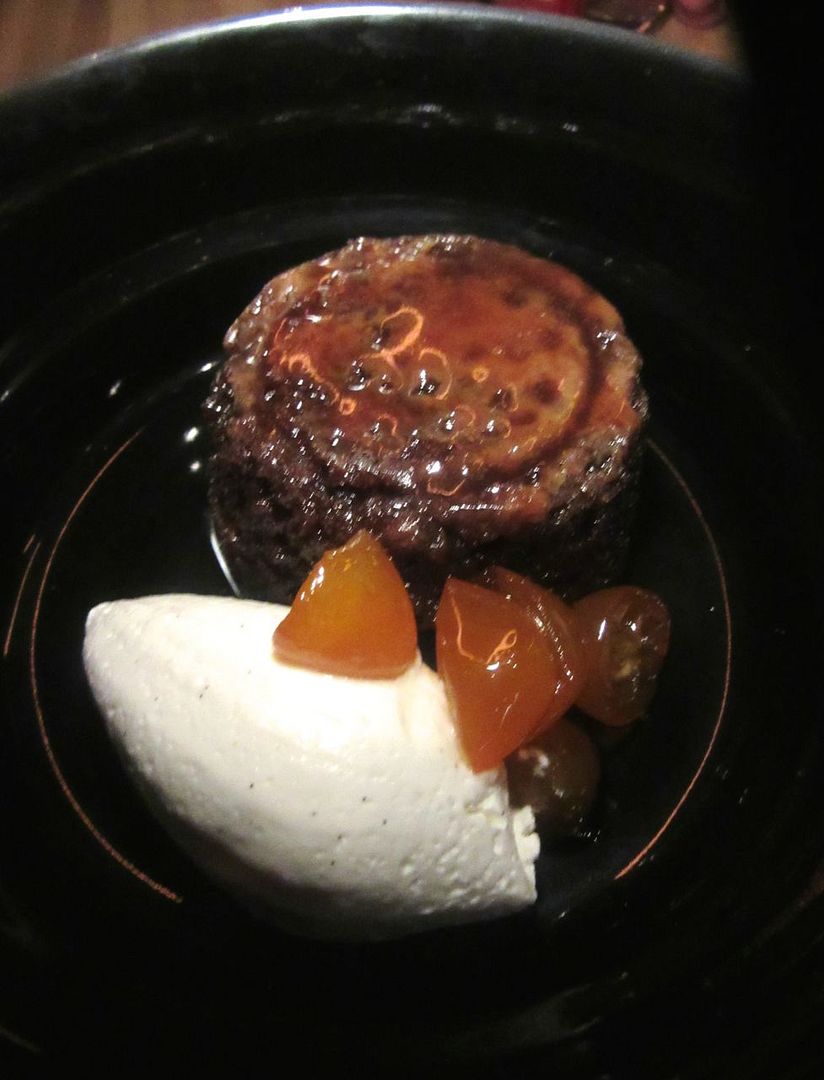 My favorite dessert is the warm date cake with Okinawa brown sugar coffee.
           "Do you realize that every table has turned once or twice and we're still here?" Peter Elliot marvels. Yes, celebrating with a beloved extrovert requires love and stamina.
98 East 53rd Street between Park and Lexington avenues. 212 375 9001. Monday through Saturday 5 pm to midnight.