The Grill is Born Again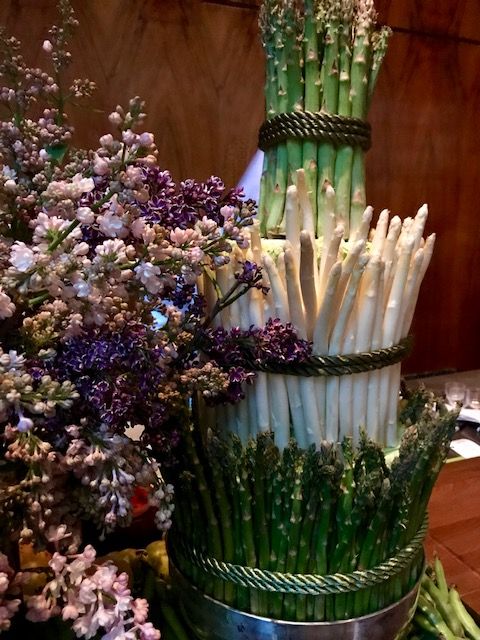 Don't pretend to be so sophisticated you can't get up to check out the Chef's Buffet. Photo by Dana Stoddard

          Of course, I'm excited to be back at The Grill again. It's where everyone in my crowd wants to be right now. And not just my senior citizen cronies staking their claims, but my Baby Boomers pals, and the Gen Xers too. The room is packed with young and old and very old, and it gets younger and more crowded as the evening goes on. There's a lot of table-hopping and whispering, "Oh, you're here too? I thought you swore you'd never come."
Is the bar bigger? Or are the flowers bigger? Or just more people? Photo by Dana Stoddard
          "Jackets not required," the website advertises. Indeed, many are jacketless with shirttails flying. I imagine Joe Baum would be startled. Have they even heard of Baum, who launched this space as The Four Seasons in 1959? I suspect James Beard, hired as the menu muse, would not have been amused. (Click here to read "Can Spring Be Far Behind?") I imagine the shock of the clever Hungarians, Paul Kovi and Tom Margittai, who bought the swooning Four Seasons from Restaurant Associates in 1973 and revived it by creating The Power Lunch in this very room.
Chef Rich Torrisi emerges from kitchen to greet friends. He'll be in charge of the kitchen for The Pool.
          It looks like an instant sellout, exceedingly hot, tables turning two and three times a night. How to score a rez? Hopefully you're a regular at the Major Food Group restaurants. Or you know someone. Maybe you hang out with Aby Rosen, who owns the Seagram Building and is a partner with MFG in the three restaurants: The Grill, "a classic vintage steakhouse," with chef Mario Carbone in charge just opened. The Pool, with a seafood emphasis by Rich Torrisi, is promised soon. The old Brasserie space, eventually.
 Seagram landlord Aby Rose and his psychiatrist wife Samantha sit in a central power booth.
          In fact, Rosen is here tonight in a prime banquette with his psychiatrist wife Samantha. She's having the avocado crab Louis salad. I watch it being tossed tableside, as David Chang and Noma chef René Redzepi stop by on the way to their table.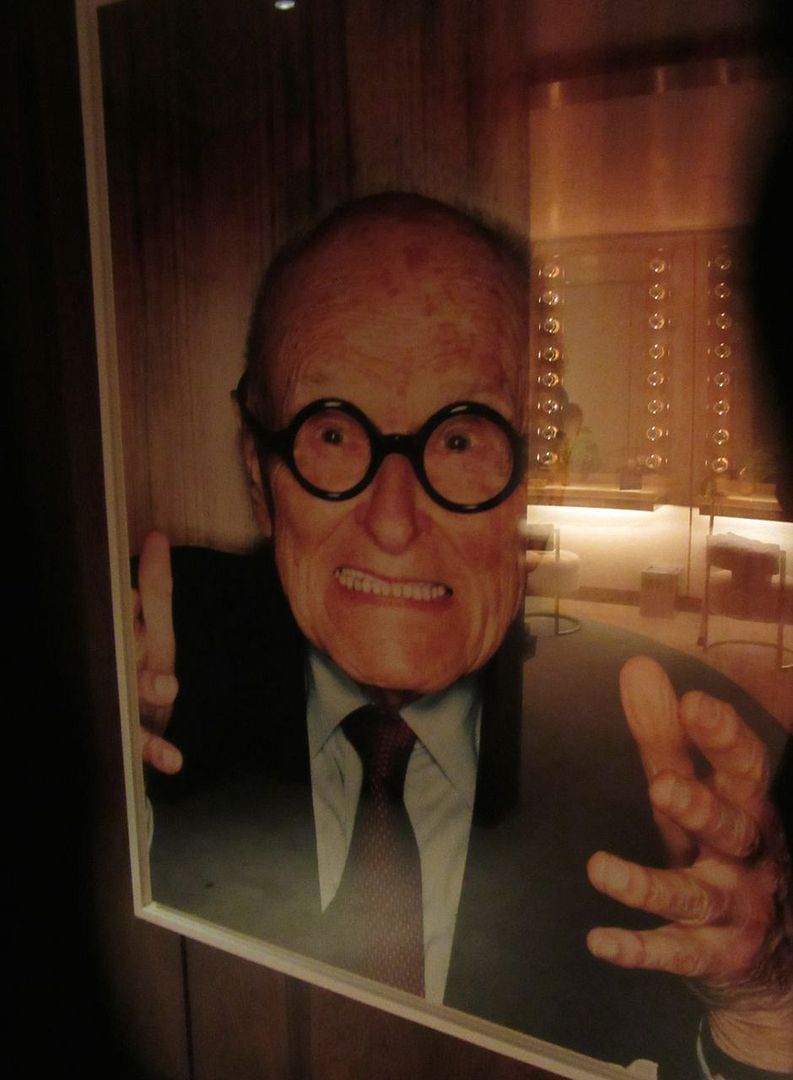 The ladies room is luxurious as always with fresh flowers. Architect Philip Johnson snarls at the primpers.
          That's Rosen's art in the travertine lobby on the ground floor, works all dating from 1958 by Joan Miró, Cy Twombly, and others. The greeting stand is down here now, and someone waits to check you in and then escorts you up the stairs to your table. That gives you a chance to study the new dark brown and sand bubble carpet. "We call it oxblood," MFG's front man Jeff Zalaznick, corrects me. The iconic interior is landmarked but not the carpet. There's music is new too, '50s and '60s R&B and Jazz.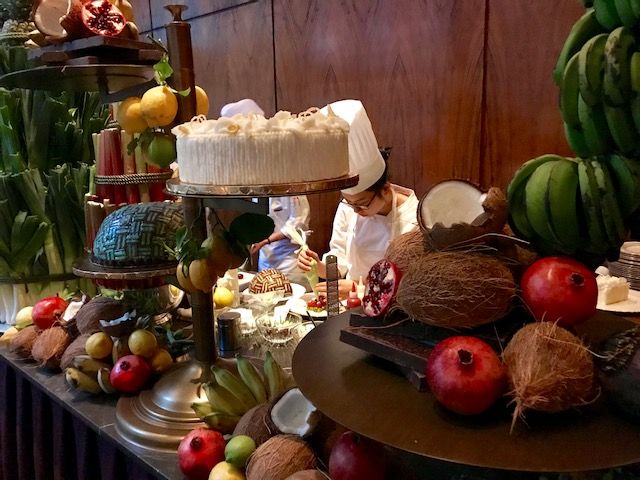 Order goose terrine, house cured salmon, salted anchovies, oysters, clams and more from the Chef's Buffet.
The glorious Chef's Buffet is a blur in the corner as you pass by. Don't be shy or too dignified to go back on your own and check out the fantasy bouquets of leeks and rhubarb and the tree of desserts on display. What's wrong with my chair, Mr. Knoll? It doesn't slide.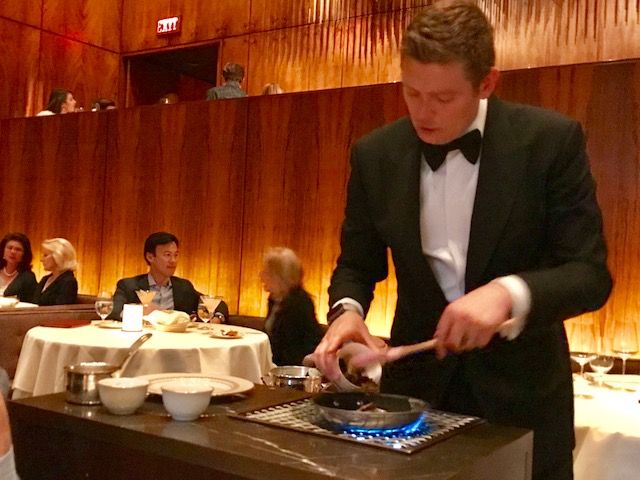 Our captain prepares the morel omelette tableside, adding lesser mushrooms to the mix as well.
          Those of us who have followed the MFG from Torrisi Italian Specialties to Carbone to Dirty French and Santina, where every venture is more than it might seem, may recognize a familiar waiter. He may even recognize you, too. Luis Sarabando, liberated from his Carbone maroon prom jacket and sneakers, no longer plots to intimidate you into over-ordering. Now sleek in a custom suit as the manager here, he swivels eagle-eyed, overseeing the action, humbly clearing a plate or sending out an extra dessert.
An inside cut of prime rib is fiercely luscious the first evening, a bit too salted the second.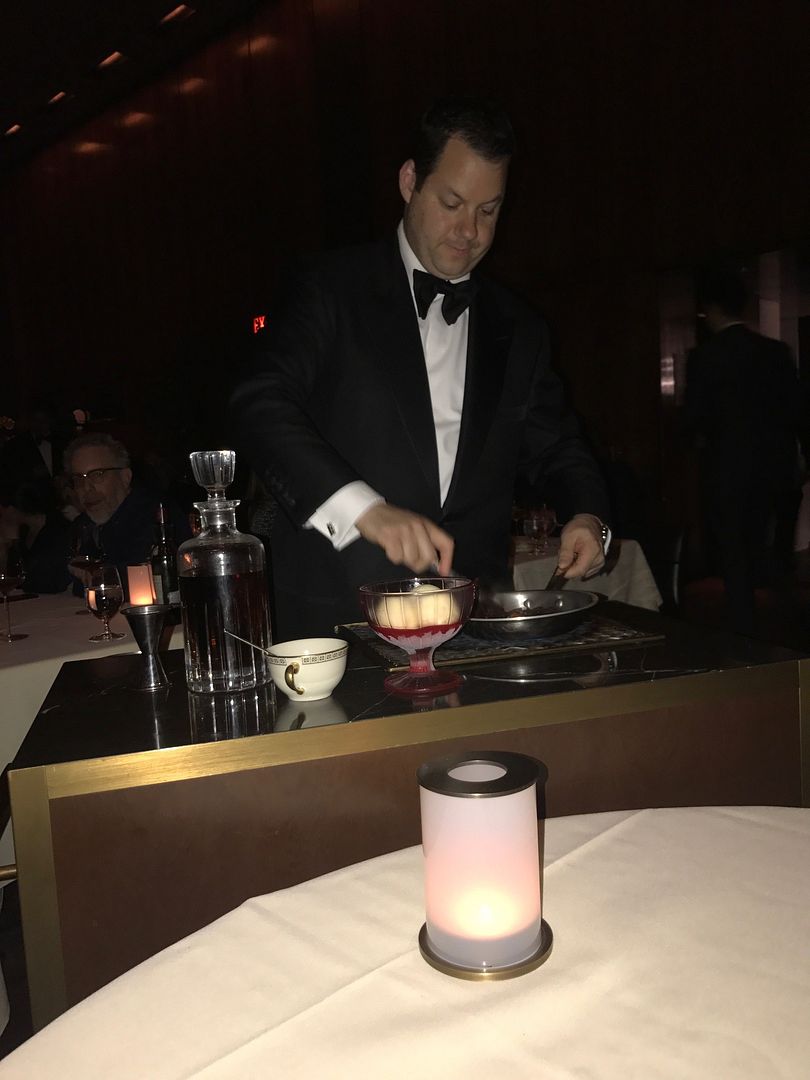 The world stops while our captain flambés cherries Melba-style to serve on top of ice cream.
          The serving crew is a vast army. Expect collisions, dodgings, and traffic jams with so many waiters and runners, and captains flambéing your cherries melba or wheeling up behind one of two serving carts. The $10,000 mahogany and silver chariots move through narrow aisles between tables, dispensing the excellent spit-roasted, salt crusted $62 slice of roast beef, grating horseradish on top if you wish.
My niece and I shared this thick perfect slice of roast beef with enough left for our three companions to taste.
          The meat is rare, thick, wonderfully serious, enough for three of us to share one evening. I'm cutting myself a chunk with the $253 Hawaiian Acacia wood handled steak knife. The crusty, blackened, deviled bone comes from the kitchen with a generous layer of juicy meat left intact. Usually a beef bone is only good for your dog. But this bone is too good for your dog. I actually think of it longingly two or three times a day.
Venison Cumberland paved with walnuts and huckleberries, cooked rare as ordered, is a kitchen triumph.
          Fussy as he was, Craig Claiborne would have no reason to complain about the $45 "Guinea Hen Claiborne" and its foie gras, sauced with Madeira and black truffle. It's exquisitely moist and rich. The venison with walnuts and huckleberries that we asked for rare is indeed rare, and first-rate too.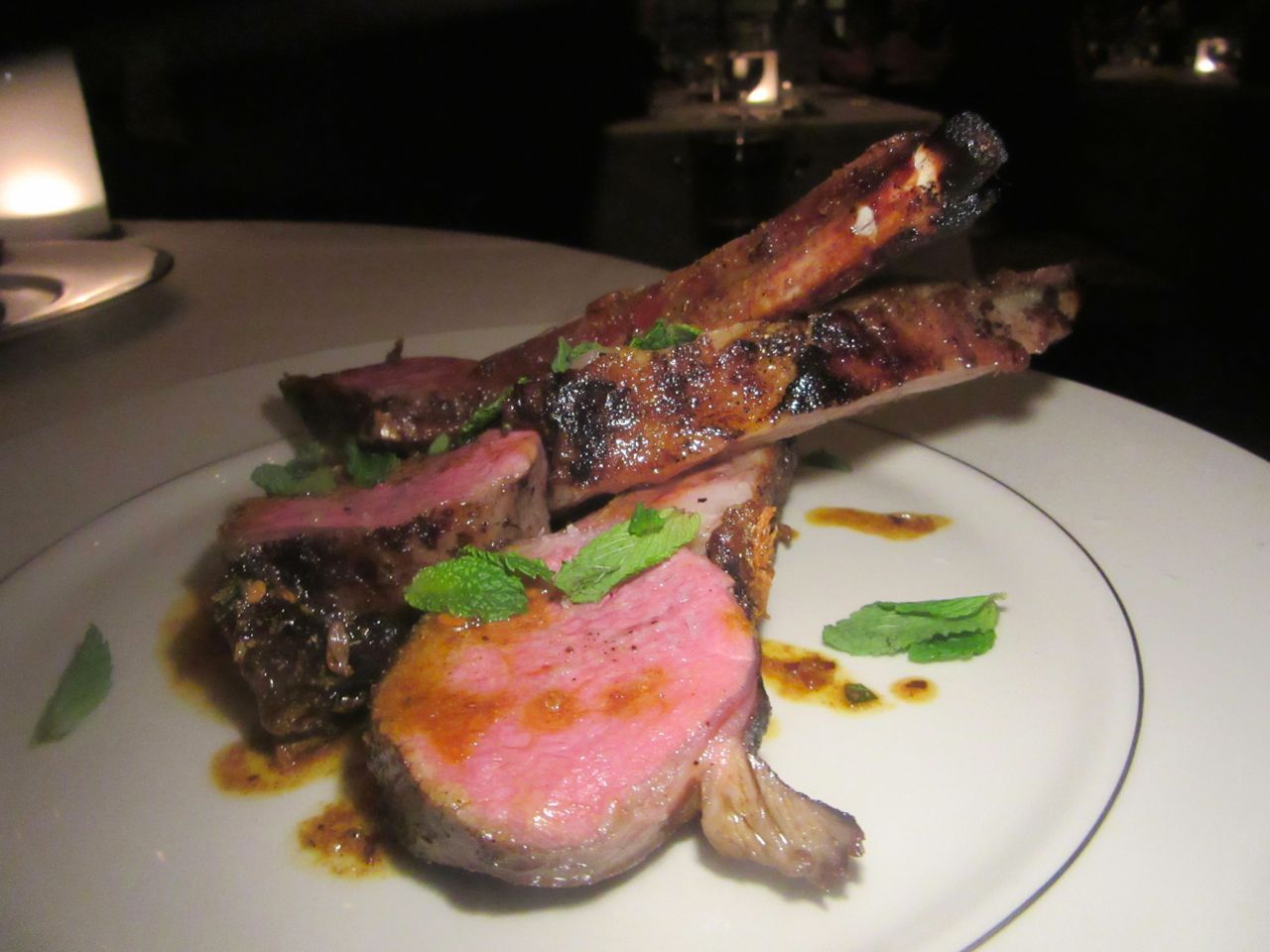 Three of us share the triple lamb chops, faintly curried and wonderfully rare.
The collection of warmed rolls and toasted bread is hard to resist for me, a bread hound with little character. 
          Two appetizers, the roast beef and a trio of lamb chops, and two potato choices are more than enough when we are just three. I should have resisted the bread, but I couldn't. It comes warm just when you're really hungry: delicate twists, crusty pumpernickel toast, and Parker House rolls with chive butter.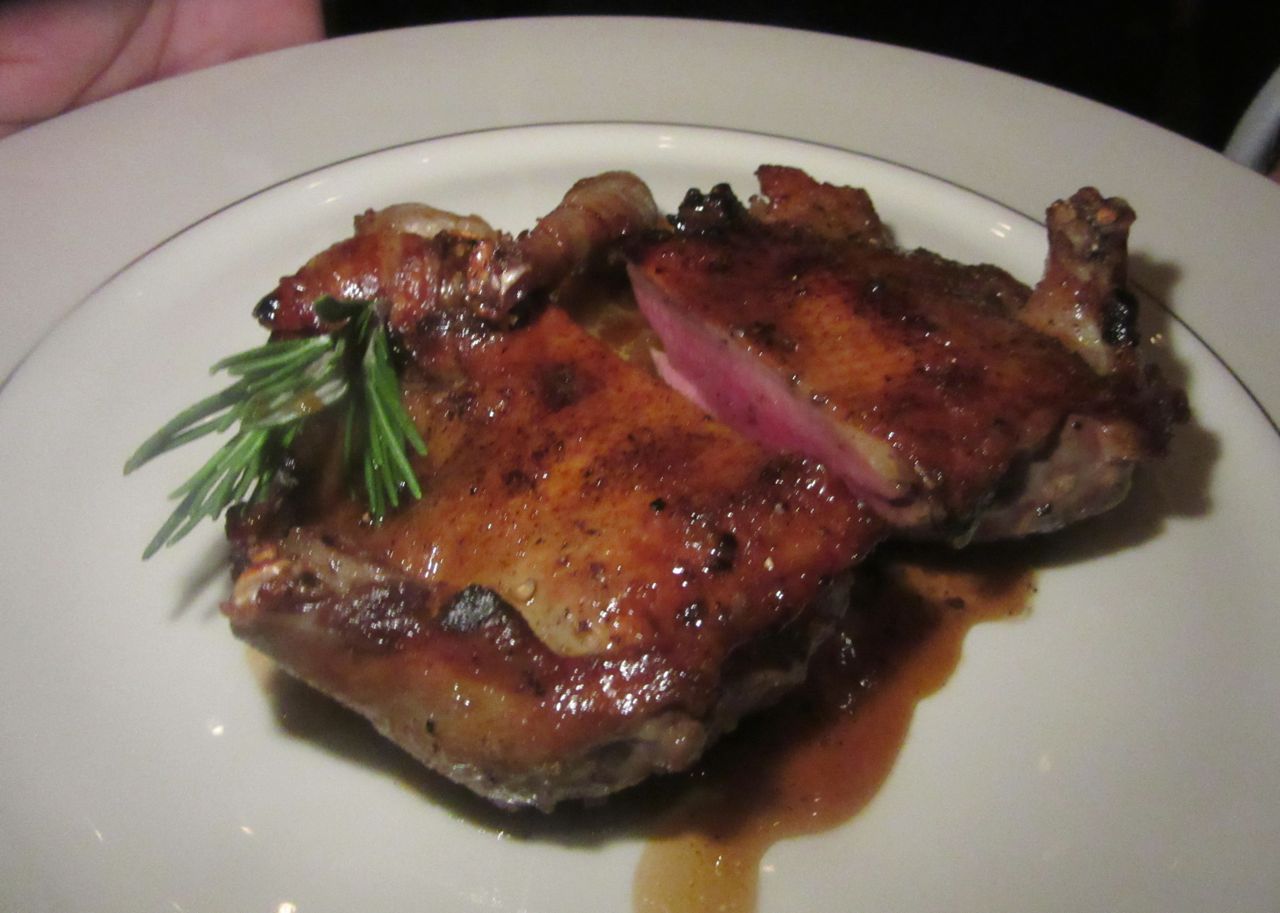 The manager sends us a gift of excellent squab, the legs fried, the kidney and liver on a rosemary twig.
          Sarabando, determined to make us forget he ever tyrannized us at Carbone, instructs the kitchen to send the $49 squab as an extra. Its legs are fried, the liver and kidney skewered on a rosemary sprig, and the bird itself is sumptuous. But we've eaten too much. Most is left untouched. Our waiter does a $100 tableside production of our $12 cherries Melba. Tart cherries, lots of them.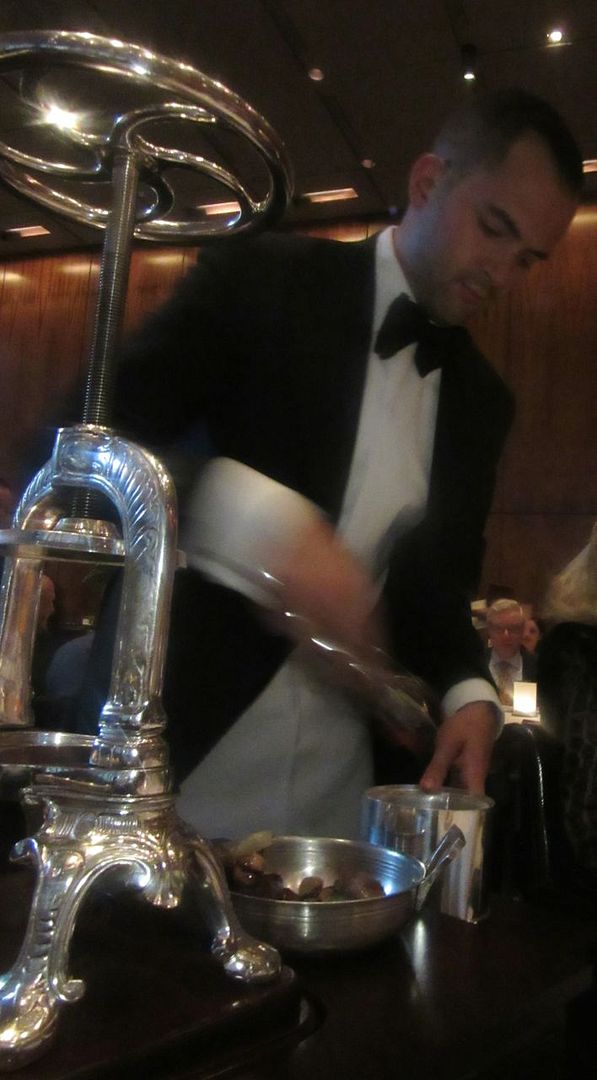 More theater! The captain presses bird legs in a duck press creating an extraordinary sauce for the pasta.
          There's almost nothing on the menu that doesn't sound familiar. Pickled sardines, Littlenecks. Porterhouse, Duckling. Steak and anchovy tartare. But most everything is original in unexpected ways. I hope to discover what "Spring Chicken a La Queen" is. Dover Sole fans have a choice of three versions: horseradish meuniere at $72, grilled Riviera, $82, and Neptune's Crown, $89.
The crusty hashbrowns O'Brien are topped with pepper relish, a better choice than the so-called cottage fries.
          I find it charming too that, at least for now, the sides come in only three categories: asparagus, potatoes and grains and rice. The "Hashbrowns O'Brien" are topped with pepper relish, better than the so-called cottage fries. I'd not likely order "Nutted Wild Rice," but it appears as another gift, complex and fine. Jack's pie is what you chose if you want asparagus in old-fashioned pastry. Not necessary, of course, but fun.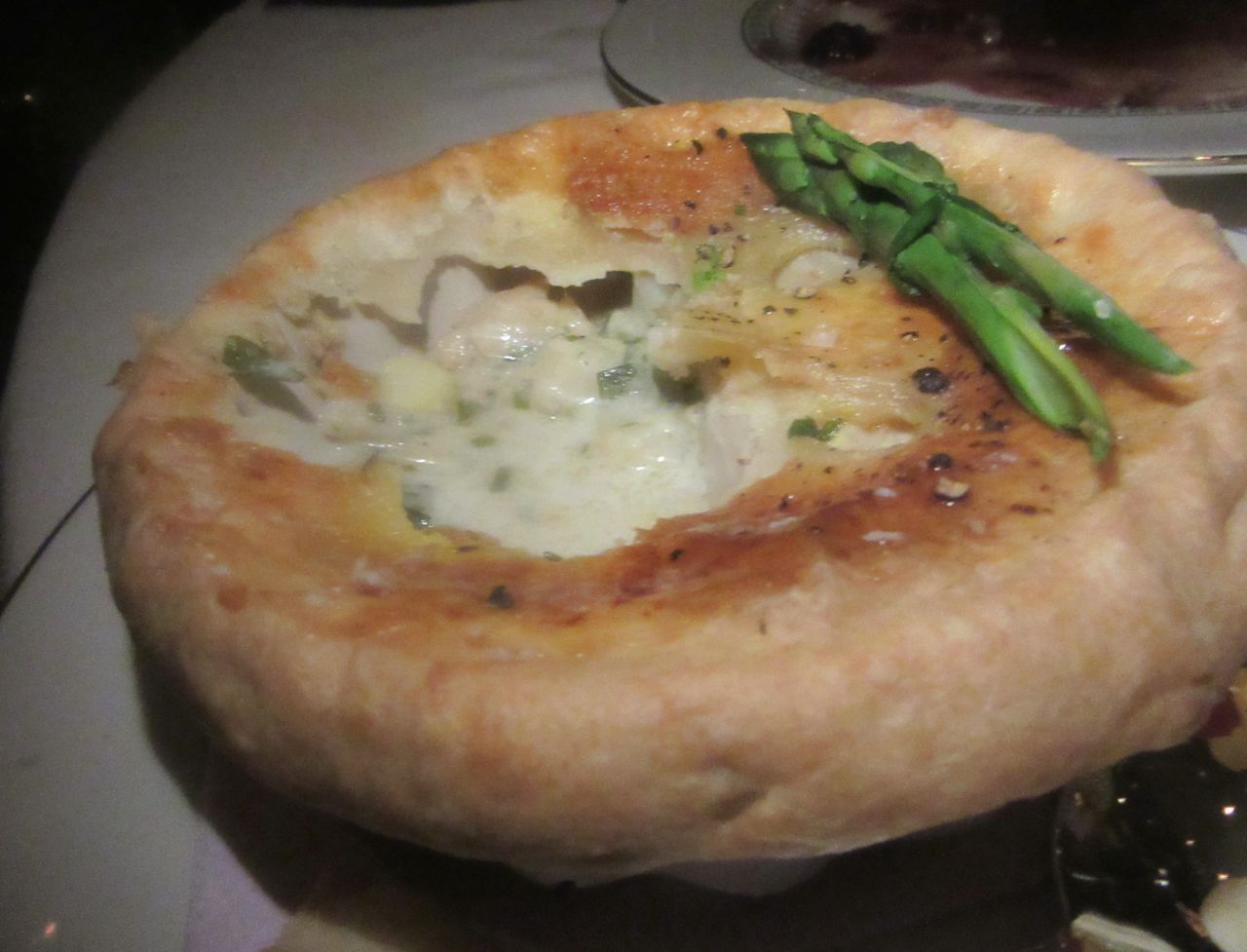 Jack's Asparagus pie salutes JFK who had dinner here the night Marilyn sang Happy Birthday.
          At an earlier dinner, five of us agree to order different dishes. There's a lot of discussion and then surprises. The Seagram crab cake is not just a crab cake. It has a coverlet of crisp fried potato thins.
To be truthful, I can't remember what the crab cake tasted like, I was so excited by the presentation.

First the captain has to liberate the shell from its baking armor and then unhinge it to reveal a perfect scallop.
          A server struggles to peel away the armor from a scallop baked in snail butter, plump and heavenly. There's a pause while another minion scrambles the morel omelette tableside. A brilliant creation. Yes, there are only few morels,  mostly trumpets and more mundane mushrooms. And the egg could be softer. But it doesn't look like anything you've ever seen. Catnip for neophiles.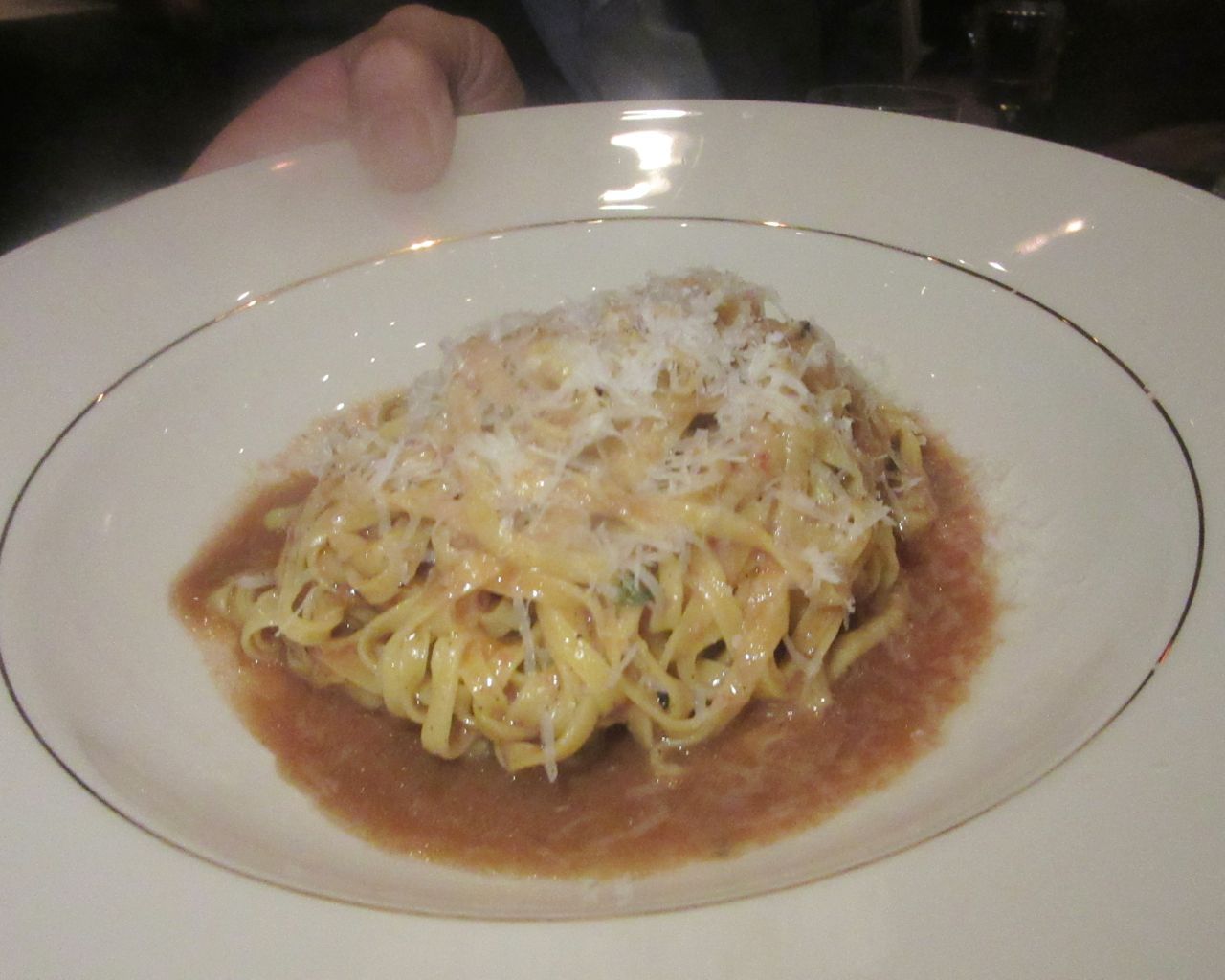 Pasta à la presse, didn't soud like much, but what a treat. I'm ordering it and the squab next time I go.
          And the pasta à la presse is sublime. There's another pause while everyone is mesmerized by it its tableside debut. A duck press is wheeled up and the server is tasked with crushing the savory juices from assorted duck and chicken wings and anything else that flies by to toss with the noodles. (I wonder how much of this show biz can survive reality.)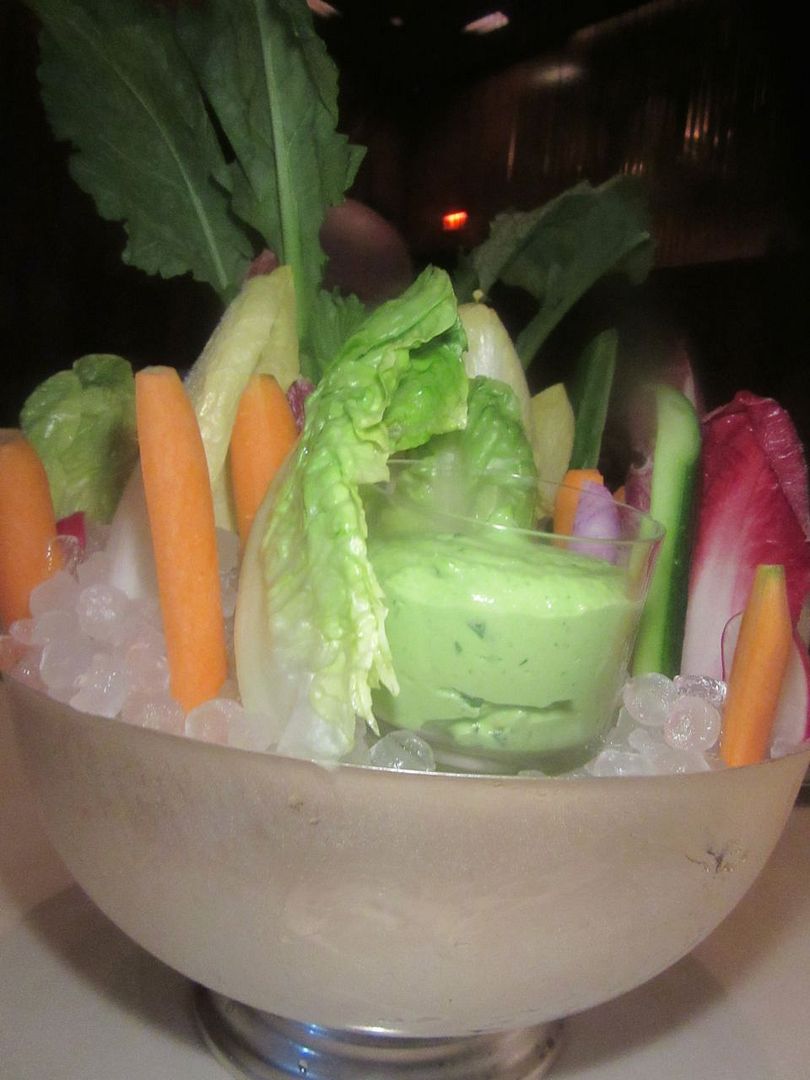 If the table looks too empty while your pals sip cocktails, ask for crudité. Mom likes you to eat your veggies.
          "Would you like something for the middle of the table," says the waiter as if suggesting I should move aggresively to fill the space as the bread quickly disappears. I choose the $23 crudities from the Chef's Buffet, selecting a leaf of romaine and then a carrot myself, trying all three dips: avocado green goddess, blue cheese, and Tomato Catalina. (Tomato Catalina? I google it later. Grandma bought it in a bottle. Maybe you do too.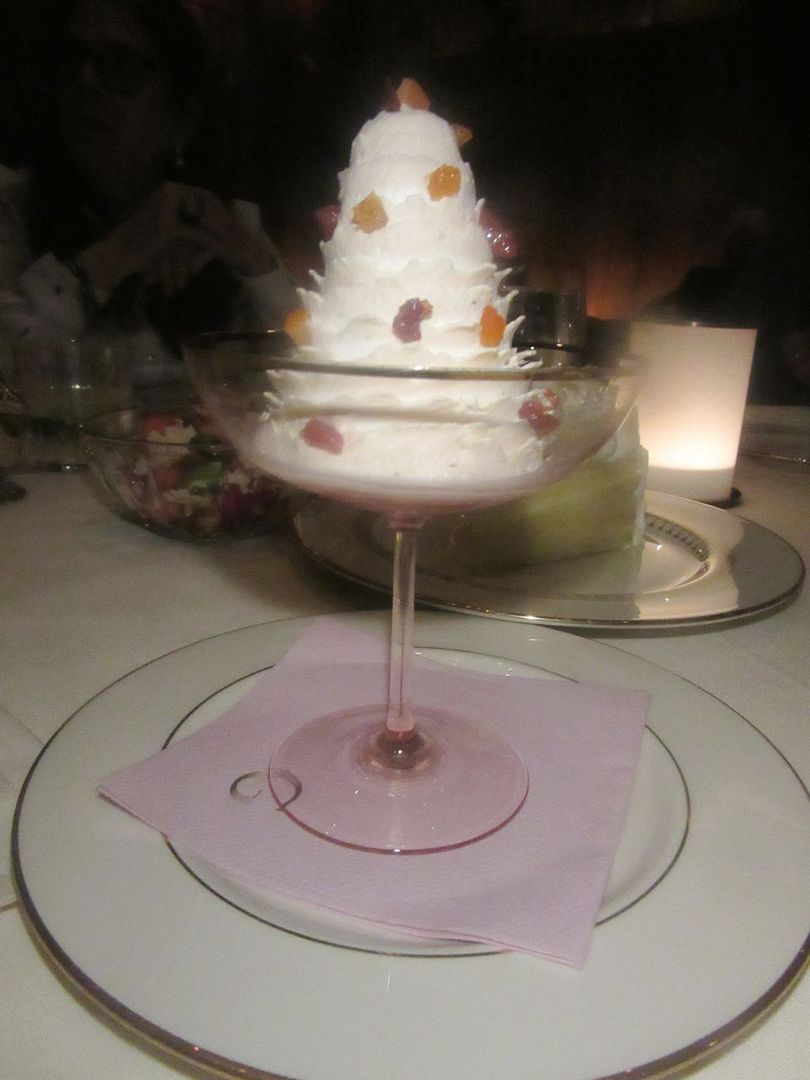 In the '60s at Le Pavillon "nesselrode" meant candied chestnuts, nothing this pretty.
          Some of this is dazzling. Most offerings are good or very good. But not everything is what it wants to be yet. The pretty chopped salad with buttermilk dressing is disappointingly bland. And one of the two times I taste the crab cake, the crispy potato crust is over-salted. The blue crab gumbo — thickened with okra and not flour, Zalaznick points out — is unpleasantly smoky and over-reduced.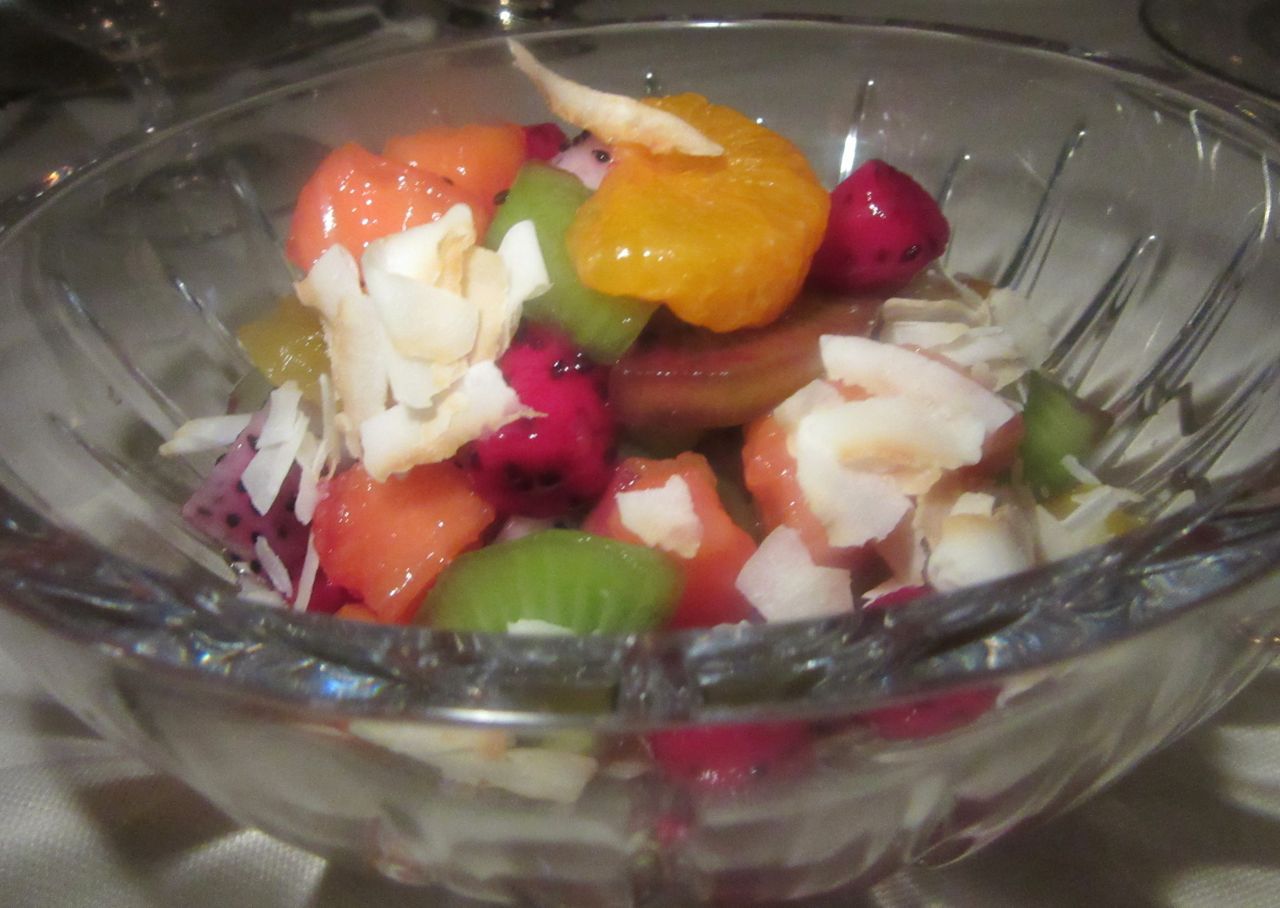 You can bet you won't get ambrosia with canned fruit cocktail here. It all fresh fruit and refreshing.
          After lovely lemon chiffon cake, grasshopper charlotte, fresh fruit ambrosia, nesselrode coupe or another sweet revival, there's a check, $130 per person one evening, $115 on another. Eater has reported that Zalaznick expects us to spend an average of $150 each, including wine. That would be a total of $36 million a year if tables are turning twice at each dinner and, ultimately, lunch. And if the market doesn't get cranky.
Cherries melba flambé is a marriage of cherries jubilee and the peche melba Auguste Escoffier created in 1892.
          Sarabando follows me downstairs tonight as I pick up my leftovers at the coat check. He asks for a kiss. It reminds me of a long ago airbrush on each cheek from the glamorous Paul Kovi, and I kiss him. It's fun feeling rich.
99 East 52nd Street between Park and Lexington Avenues. 212 375 9003. Dinner Monday through Saturday 5 pm to 11 pm. Closed Sunday.